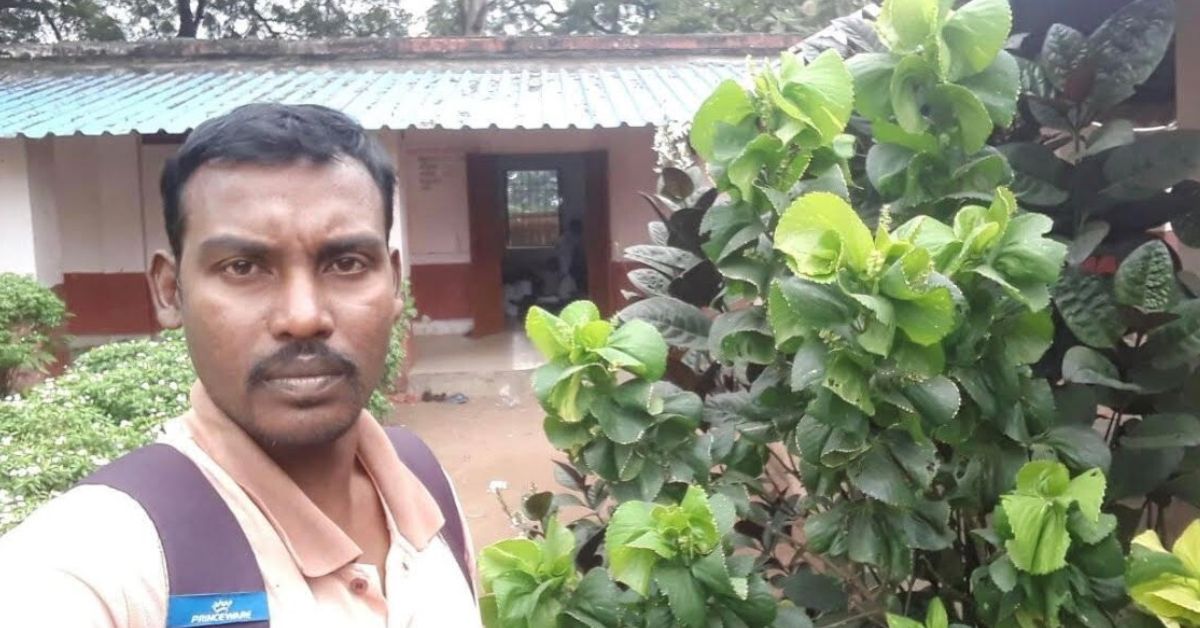 Meet digital activist Upendra Mahanand from Odisha, who has helped many residents across villages get their pensions, ration cards, access to drinking water and more with the help of Twitter.
Upendra Mahanand begins his day by setting out on his motorcycle to cover at least 4-5 villages in the Rengali block limit. On his way, he notes down grievances of residents, checks their authenticity, takes a photograph of the person with relevant documents, and immediately sends out a tweet, tagging appropriate authorities to take a look at the problem.
The 41 year-old has solved over 50 cases so far this way, and his follower base has grown to over 1,000 in one year due to his popularity. Upendra, who belongs to Manikamunda village under the Kinaloi Gram Panchayat in Odisha's Sambalpur district, has been doing this work since 2016.
Before the advent of the pandemic, many might have wondered to what extent social media could help solve local governance issues. But COVID-19, especially the second wave, has shown that social media can do wonders when people's access to government authorities is physically limited.
But Upendra caught this wave early.
The beginning of his journey was not easy, as he recalls. Neither was he technologically advanced, nor did he have any idea of how Twitter works. "Secondly, I did not know whether people would have faith in this new way of working. But after a few issues were resolved, they started reposing faith in me."
Upendra's untiring perseverance has made him a household name in his locality. His purpose of entering digital activism is to help as many people as possible, and work as a bridge between the government and people who seek support to receive their entitlements.
A good samaritan
Before embarking on this endeavour, Upendra was working with a collective where he would visit villages and hold meetings with villagers as well as other stakeholders to identify issues faced at the ground level. He had already built a sense of familiarity with the village community owing to his work with the Mahila Sangram Samiti, Sambalpur, as a ward member. He would visit villages, identify people's issues, and take them to the appropriate authorities for redressal. His work, he says, was to act as a bridge between the government authorities and communities.
Hailing from a lower-middle class family, Upendra is the sole earning member of his family of four, including his wife and two sons. "I have seen the difficulties my parents faced in raising me. I have studied with a lot of difficulties too. So serving people was my calling from childhood. I don't want people to face austerity as I had to. That's what drove me to help people as I grew older," he says. 
With the movement restrictions that COVID-19 brought along, his usual way of visiting villages and interacting with people also was limited. In the meanwhile, the collective instructed their staff to work online as much as possible.
Dear Madam/Sir,
Please look in to the matter & make necessary arrangement. @CMO_Odisha @MoSarkar5T @dmkoraput @PRDeptOdisha pic.twitter.com/TtY1lvbKMV— 12 Baje 12 minute (@12_baje) March 12, 2022
From then, Upendra began holding meetings online with his limited capacity. However, many issues were going unaddressed because of a lack of accountability and losing touch with people. That's when the idea of using social media to resolve governance issues germinated.
In 2020, he attended an online session conducted by 12baje12minute, a Twitter platform for grievance redressal. Here, he learned how he could use social media and solve people's issues quickly and transparently. He also learned about the Odisha government's 5T model, which is committed to resolving issues that come through social media platforms in a time-bound manner. Later, he received training on writing content, as well as using proper tags and hashtags on the microblogging platform to reach targeted authorities effectively.
With these learnings, Upendra has devotedly used his time and energy to tweet every possible issue he comes across — be it the non-issuance of a ration card or the denial of widow and old-age pensions, drinking water issues in villages, etc.
Nityananda Thanapati, a core member of the 12baje12minute group, says, "Upendra has been consistently using social media, especially Twitter, to highlight people's issues, many of which have been solved. Not only does he tweet from his personal account, but he also approaches us to tweet people's issues when he feels their voices should be louder, as we have a larger follower base."
"Since the current state government takes people's feedback and grievances positively, digital activism is gaining momentum among youths like Upendra, who feel this is a quicker redressal mechanism, transparent, and accountable in its process. Our effort is to create more good samaritans like Upendra who can serve as change agents in solving local governance issues."
A new wave of change
Susani Munda, a 58-year-old single woman from Langbahal village under Kinaloi Gram Panchayat, was struggling to get her widow pension even after knocking several times on the doors of concerned authorities. Upendra learned about Susani's case from one of his team members and immediately rushed to Langbahal village to see if the issue was genuine.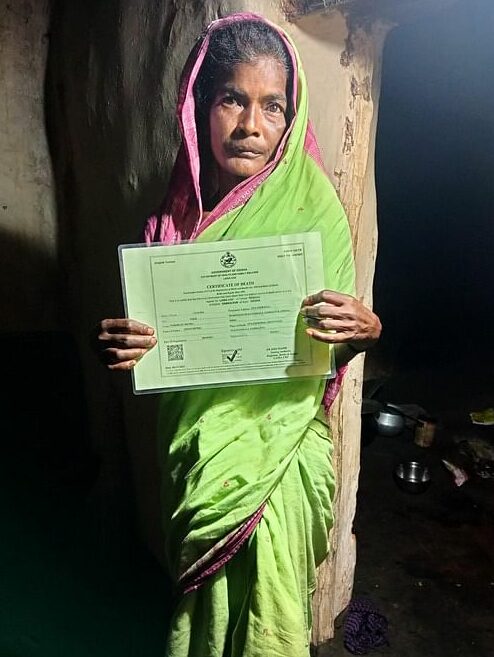 When he met Susani and learned about her difficulties, he immediately tweeted to the Social Security and Empowerment of Persons with Disabilities Department, Government of Odisha. In a week, Susani received her pension.
"Upendra served as God's messenger in my case. The pension, for which I had waited for over three years, came in just a week. He also helped two other women of our village get their pension, for which they had waited a long time," said Susani.
Apart from people's appreciation for his work on Twitter, Upendra has worked extensively during the lockdown to help children learn through a community-led education initiative Mo Chatashali, for which he was felicitated in a state-level event in Bhubaneswar, conducted by NGO Atmashakti Trust and Odisha State Commission for Protection of Child Rights (OSCPCR), in 2021.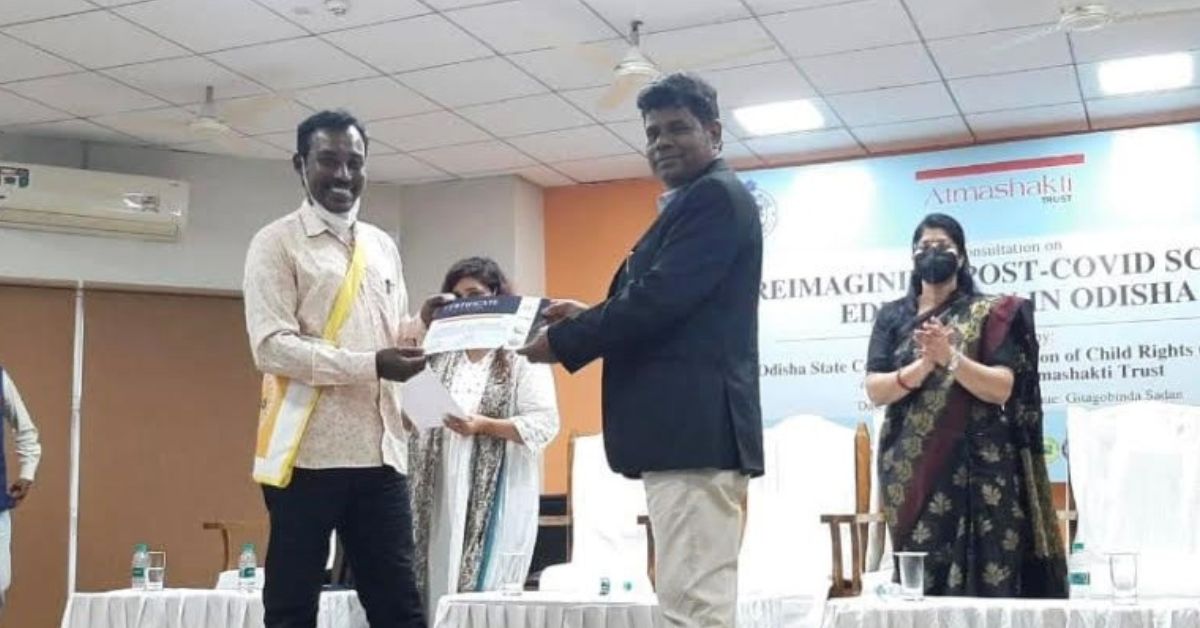 "I am tremendously pleased to be selected to receive this felicitation. It not only recognised the longstanding work that I have been doing for years, but also motivated me to engage myself more with this work. More importantly, it will push others to work for the communities," he opines.
Upendra was happy when people told them their issues had been solved, but he soon realised that he couldn't handle all their grievances at once. So he thought of bringing local youths together in this job. He is now on a mission to build Twitter warriors in his locality, where over 20 such youths learned the use of the site and are doing their bit to help people out of problems.
"Earlier, I used my smartphone for clicking photographs, reading news, watching YouTube, and so on for my personal as well as organisational reporting purposes. But I had no idea that I could use it to solve people's issues. When I saw Upendra using it successfully, I followed him and fortunately, I have so far solved five cases using twitter," says Pardeshi Mirdha, Upendra's colleague in Mahila Sangram Samiti.
Meanwhile, Upendra notes, "The use of social media in a post-pandemic scenario has gained attention and government agencies are also on it. So, what could be more satisfying than solving people's issues with a click?"
Naba Kishor Pujari is a Bhubaneswar-based freelance journalist; Edited by Divya Sethu
We bring stories straight from the heart of India, to inspire millions and create a wave of impact. Our positive movement is growing bigger everyday, and we would love for you to join it.
Please contribute whatever you can, every little penny helps our team in bringing you more stories that support dreams and spread hope.