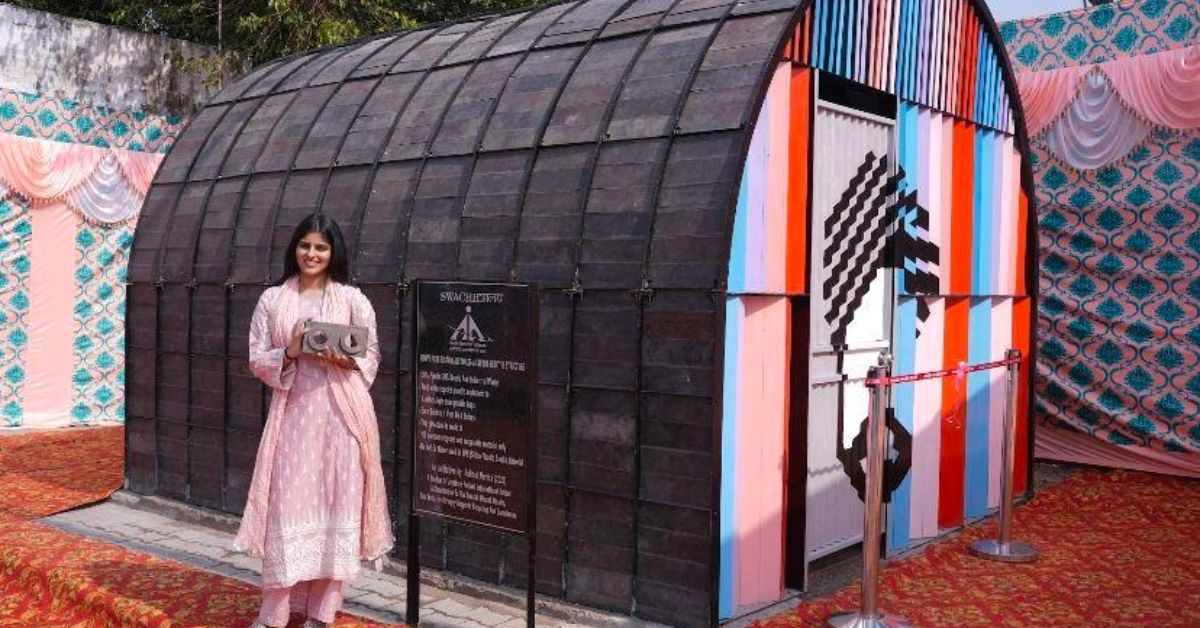 Amritsar resident Ruhani Verma, with the help of architect Shridhar Rao from R+D Studio, built India's first carbon-negative and 100% recyclable toilet at the city's international airport using silica plastic blocks.
This article has been sponsored by Wingify Earth.
At first glance, the colourful igloo-shaped structure at Amritsar's international airport parking lot seems like an art installation with eye-catching graffiti. So it would be hard to believe that it, in fact, also houses a public toilet.
Once you approach this fancy-looking washroom, you'll be in for another surprise when you see the board outside, which reads — "Swacch-Aalay: India's first sustainable toilet — A carbon negative structure…An Initiative by Ruhani Verma".
And if this isn't enough, here's something else you should know.
Ruhani was then a 17-year-old high school girl at Jayshree Periwal International School, Jaipur. One day, she decided she wanted to take up an eco-project. And a result of that resolve is this sustainable public toilet — a need of the hour for the many people who come to the airport from distant towns and villages, often waiting in the parking lot to either receive someone or wait to be allowed inside.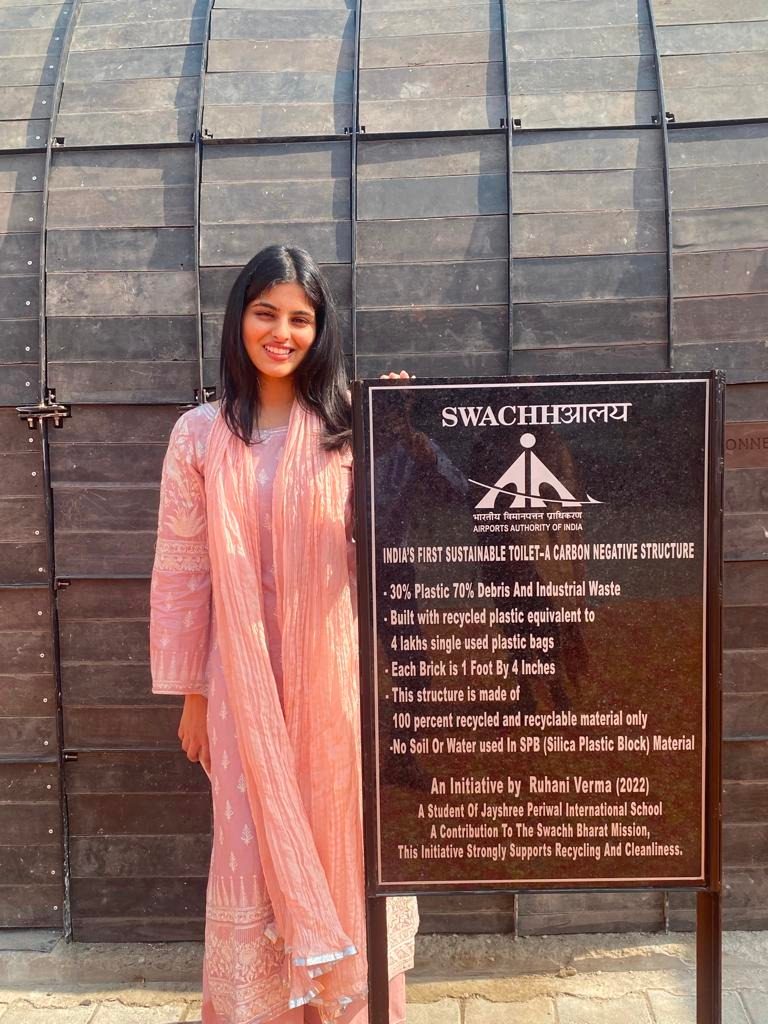 The brainchild of an eco-conscious Gen-Z
Hailing from Amritsar, Ruhani Verma, now 18, recalls how she has always cared for the environment since her childhood in small ways — like keeping her surroundings clean, recycling plastic waste, etc. When she got to high school, she interned at an architectural firm during her summer break, where she became curious about different ways of building structures. It was there that she also found out how much the construction industry adversely impacts the environment — from water wastage to air pollution.
"I started researching environment-friendly bricks by watching videos on YouTube and reading articles on the internet. I found out that a lot of people in the UK and the US were using these bricks in various projects. But while the concept was there, most did not consider these techniques seriously and did not think it was a feasible option," she says.
Ruhani informs that her research phase lasted around three months, after which she felt determined that she wanted to use plastic waste to build a sustainable structure. And to brainstorm the idea further and put it into action, she decided to discuss this with her parents and professionals.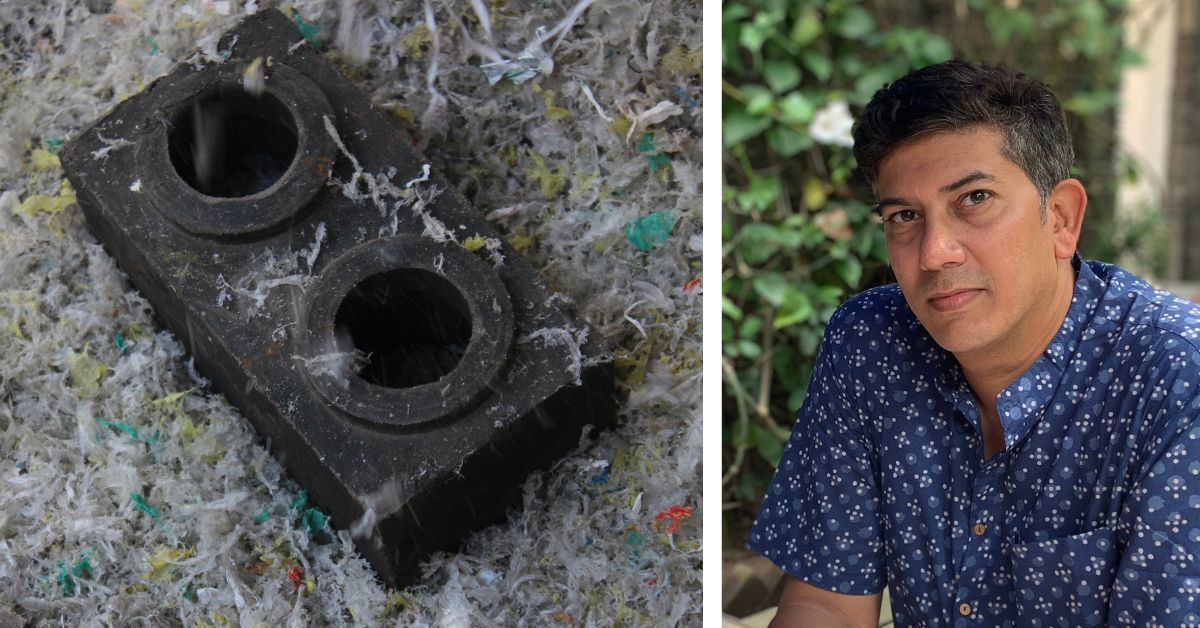 That's how Ruhani was put in touch with architect Shridhar Rao (46), who is a partner at R+D Studio and had been experimenting in the field. He says, "Ruhani contacted the team at Green Banana, which makes SPB bricks. They put her in touch with our team at R+D Studio, as we have been collaborating with them to contribute to research and development of various projects."
Made from foundry dust and plastic waste, the Silica Plastic Block or SPB is a sustainable and recyclable building material that can be shredded back and turned into new blocks to be repurposed.
He adds, "She told us she wanted to set up a sustainable public toilet. We saw she was really serious about taking up this project, so we joined her."
So a team comprising Shridhar as team lead architect, Shikha Doogar (47) as partner architect, Rana Sarkar (27) as project architect, Manavi Dixit (25) as junior architect, and Abhishek Singh (27) from the graphics department got started on designing the toilet.
Ruhani shares that once the project got the necessary technical support, she started using her free time in school to collect plastic waste. "I stay in a boarding school, and we [students] order a lot of parcels from e-commerce sites. So there's a lot of plastic waste that is generated right here. I spoke to the bhaiyas [sanitation workers] and found a way to segregate the plastic waste and send it to the R+D Studio team's work site, where the bricks were being manufactured."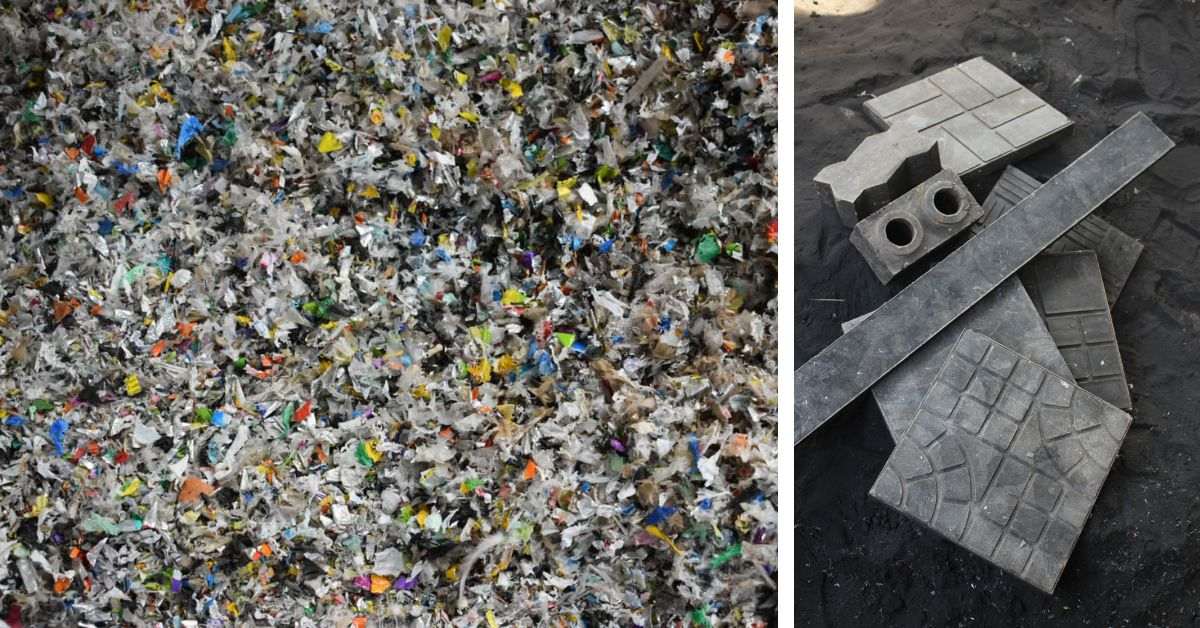 She adds, "With the help of my parents, we also did plastic donation drives back home in Amritsar."
"Once we started working on the project, the R+D studio team brainstormed the designs, and we decided to go with this arch-shaped toilet, which would make the structure stronger and more spacious. They took care of all the technical aspects and explained them to me throughout the process," she notes, adding that she visited the site often to see the project's progress.
"After Ruhani collected the plastic and shipped it to us, we made SPB Lego-style bricks and flat planks out of them. While constructing the toilet, we were very aware and conscious about what materials we used apart from the bricks — such as MS angles, PVC pipes, HDHMR boards, metal, corrugated sheets, etc, which are all recyclable," says Shridhar, adding that their execution team — Pawan Batra, Bhawna Seti, Manikant Sharma and Pancham Yadav — was on the ground constructing the first-of-its-kind toilet.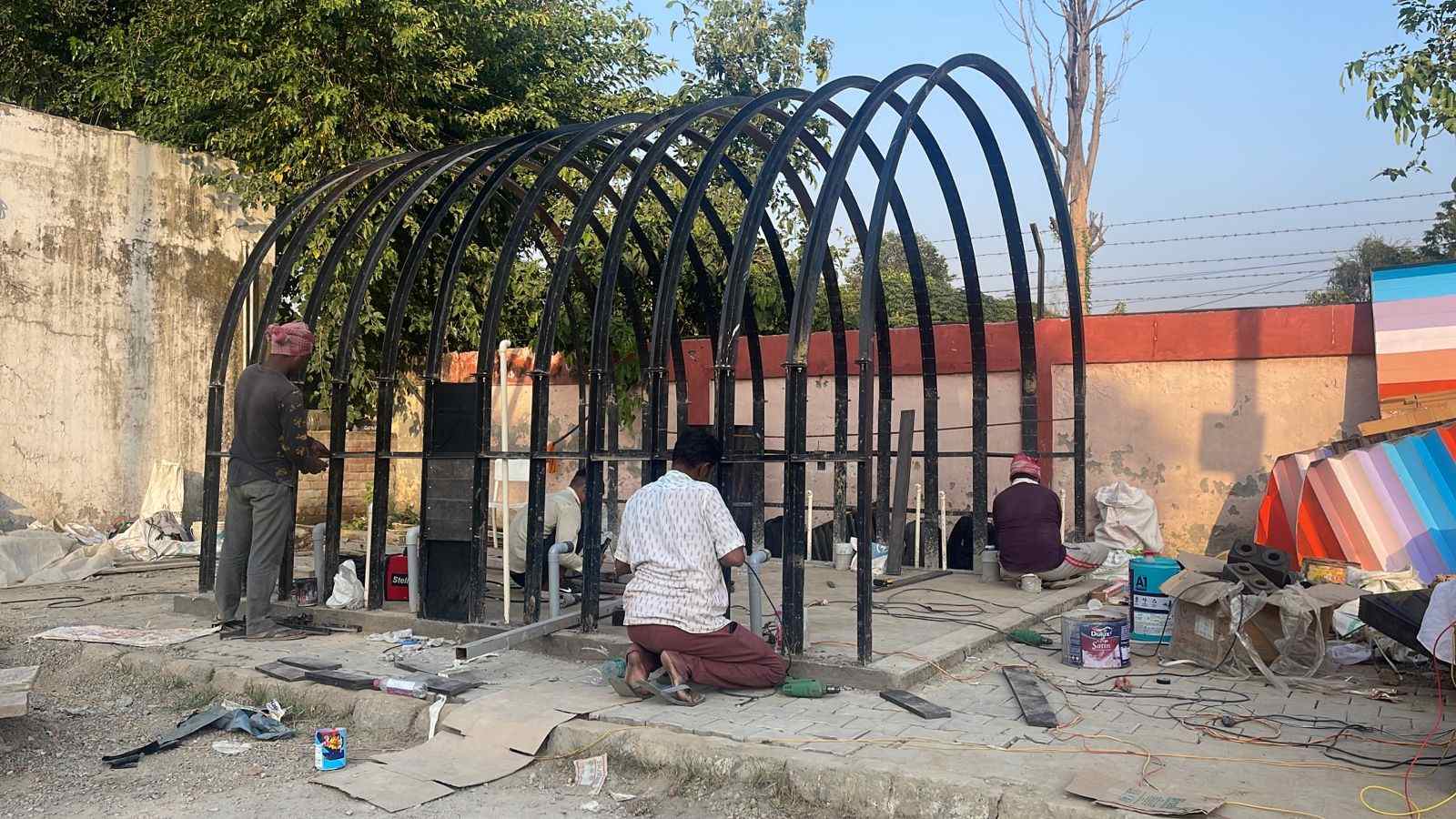 Toilet 01 – A colourful, sturdy, sustainable public toilet
Toilet 01, the 100% recyclable public toilet, was finally launched in September 2022.
Around 1,000 flat planks and 150 Lego-style bricks made out of about 4 lakh single-use plastic bags have been used in building it. Ruhani says, "If you line up these many bags, it would go on for 150 km!"
Shridhar shares, "Since this was the first project, it took us close to two months to construct it, but ideally, we should be able to complete it in two weeks in future projects. We think the structure will last a minimum of five years. As far as the material itself is concerned, we produced the first of its kind probably four and a half years ago, and it's been sitting outside, exposed to all the elements. There has been no change of shape or anything. The metal may start corroding because of rains, and a paint job once in two years should take care of that."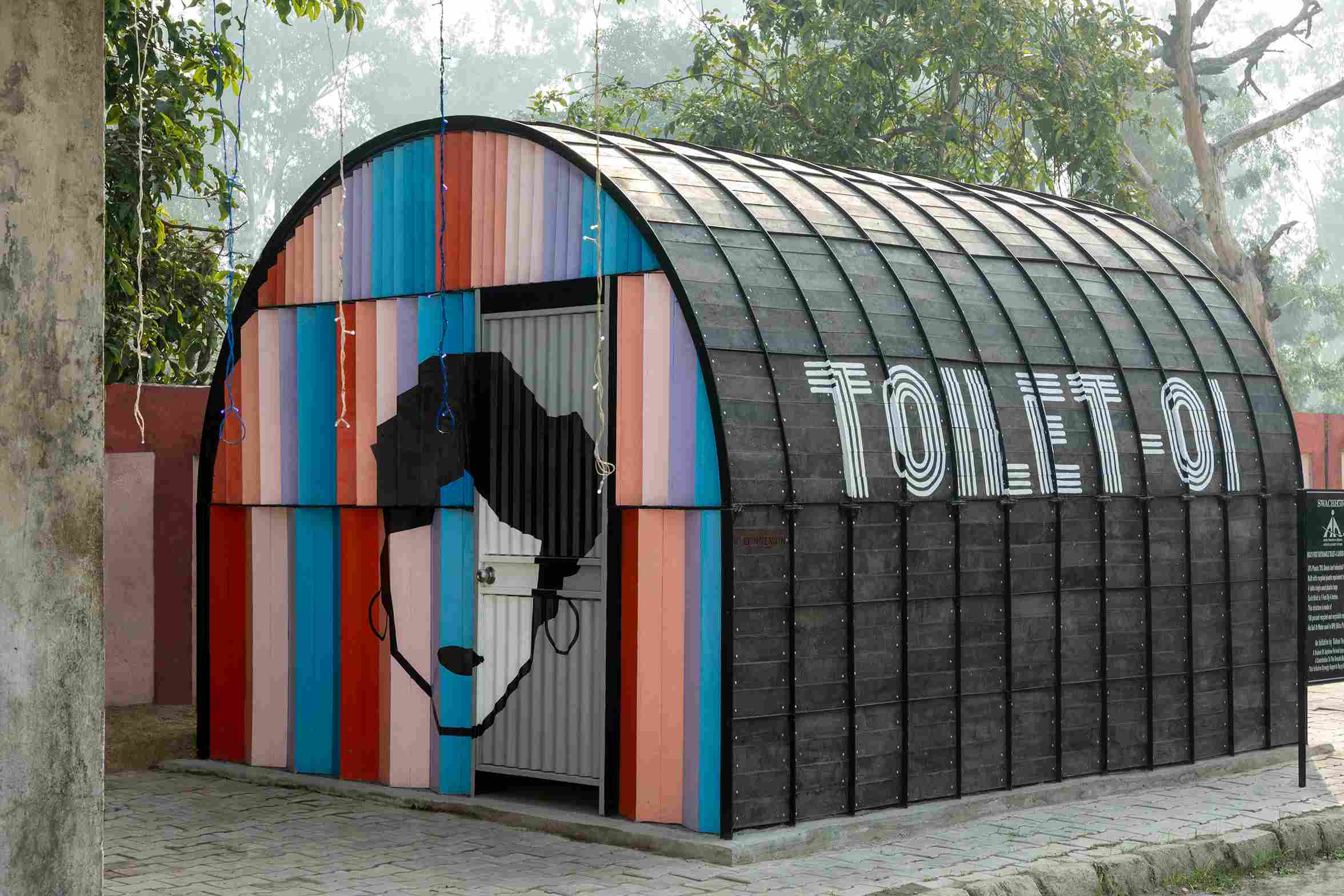 On the colourful exteriors, he says, "Public washrooms generally tend to be and look very dirty. So we thought these toilets should not ruin the aesthetic of any place. We wanted it to look attractive, maybe even to a point where people just gather around because it becomes an icon. So, we asked the graphic designer in our team to create graffiti that is bright, appealing, and simple enough for people to understand that it's a toilet. Also, the idea was to use local iconography, so because this was in Punjab, there's the Sardar image!"
"After we built this toilet, we compared it with the conventional construction as to how we've fared. We found out that this toilet is actually carbon negative," he informs, adding that they're still evaluating and getting the project audited, and will soon have the results to share.
He adds, "Eventually, the world is going to a state where every company and every structure will be audited for its carbon footprint. So, when that situation does arise, the work we are doing now will have a big role to play. People will then want to use 100% waste material to create sustainable structures. And the only thing we use in the process of manufacturing the bricks is heat; we don't use any natural materials, which is a major plus point."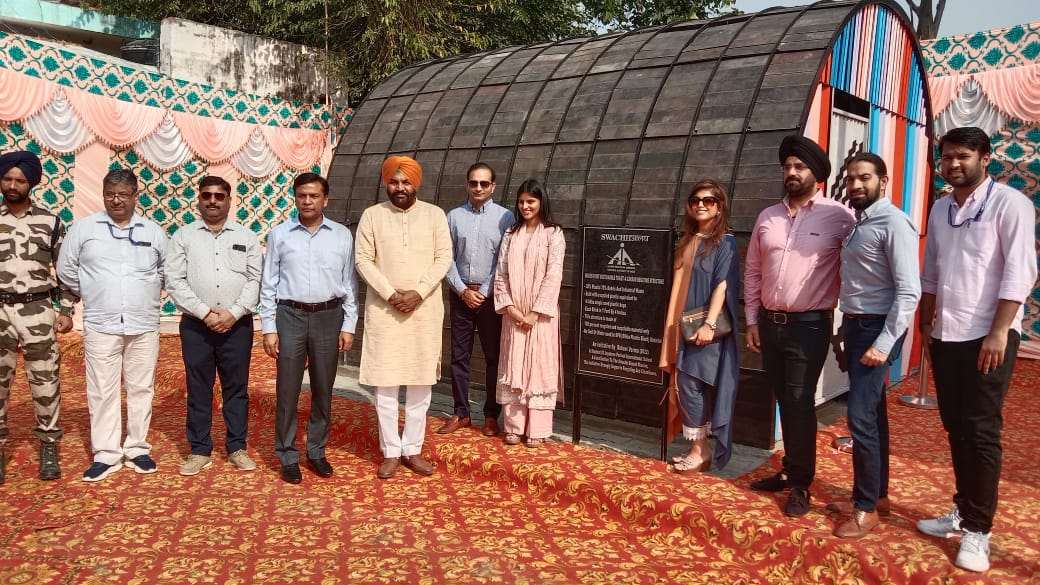 On what made Ruhani zero in on the parking lot at the Sri Guru Ram Dass Jee International Airport, Amritsar, she says, "I initially wanted to do this in a local park, but then I thought since it's the first of its kind in India, we should install it somewhere important [like the airport], where it will be used and also be noticed by people from all walks of life for its sustainable concept. I wanted it to serve as a reminder for people to consider such practices in our day-to-day construction decisions," she says.
"I spoke to the airport director and discovered that they had a department in charge of undertaking sustainable projects in the airport. And they were considering building more toilets in the parking lot. So it all came together, and I got the necessary permissions with my parents' help," she notes.
The toilet was handed over to the Airports Authority of India after completion and is currently being run by them as part of the Swachh Bharat Mission. Ruhani says she still visits it from time to time to supervise its maintenance as she wants to make sure the vision behind the installation is not compromised.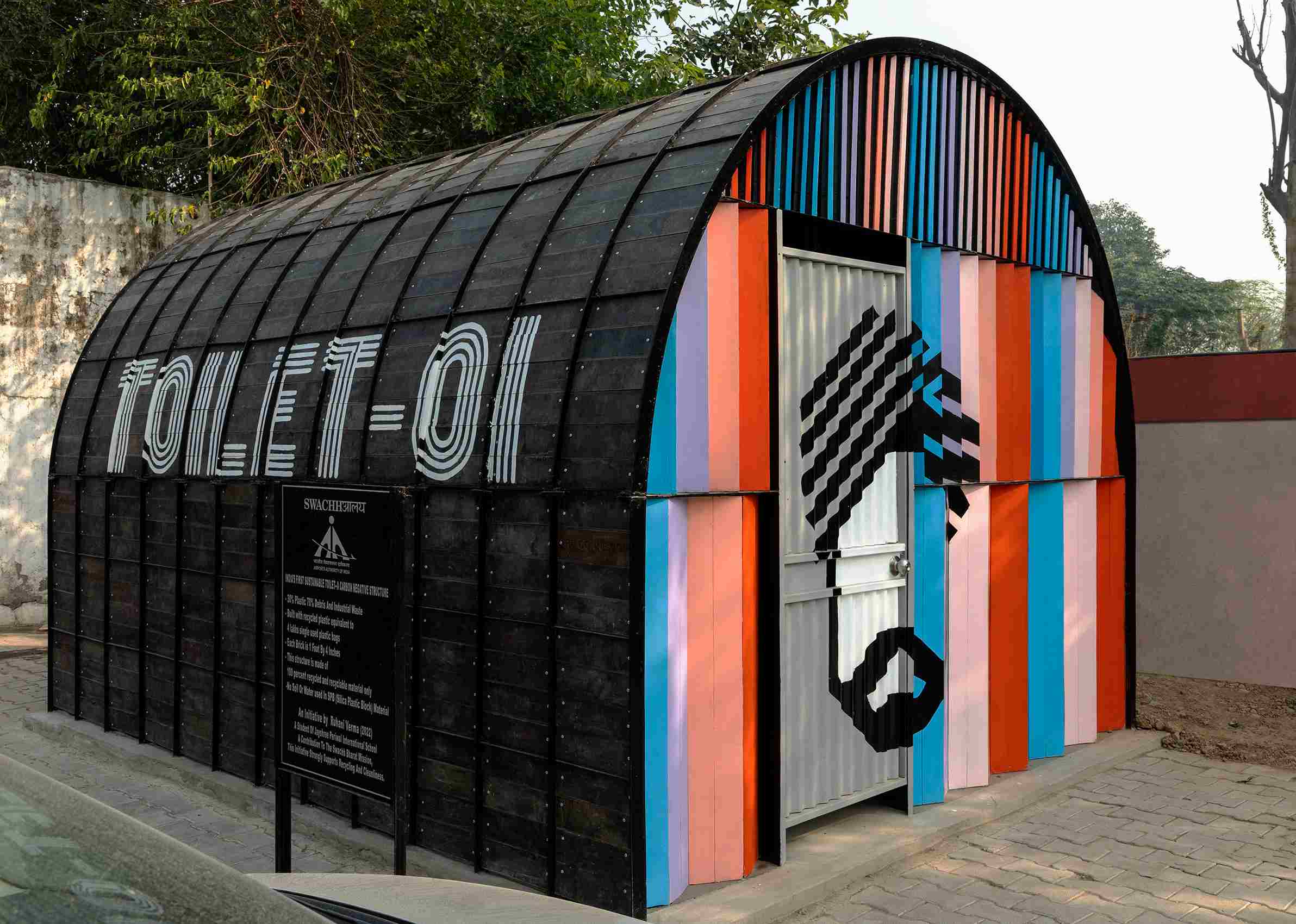 About the project's funding, "I initially thought of crowdfunding it but was not sure whether it would work as this was a new concept, and there was no proof or example to show people. So my friends and family supported me with the required funds," she says.
"I will soon be moving to the US to study further, but I want to expand this project in whichever way possible. I have plans to contact establishments with public toilets and ask them to consider this model," says Ruhani.
Shridhar adds that some establishments have already contacted them in Punjab to replicate the model, and they are in talks to take it further.
Edited by Divya Sethu
We bring stories straight from the heart of India, to inspire millions and create a wave of impact. Our positive movement is growing bigger everyday, and we would love for you to join it.
Please contribute whatever you can, every little penny helps our team in bringing you more stories that support dreams and spread hope.