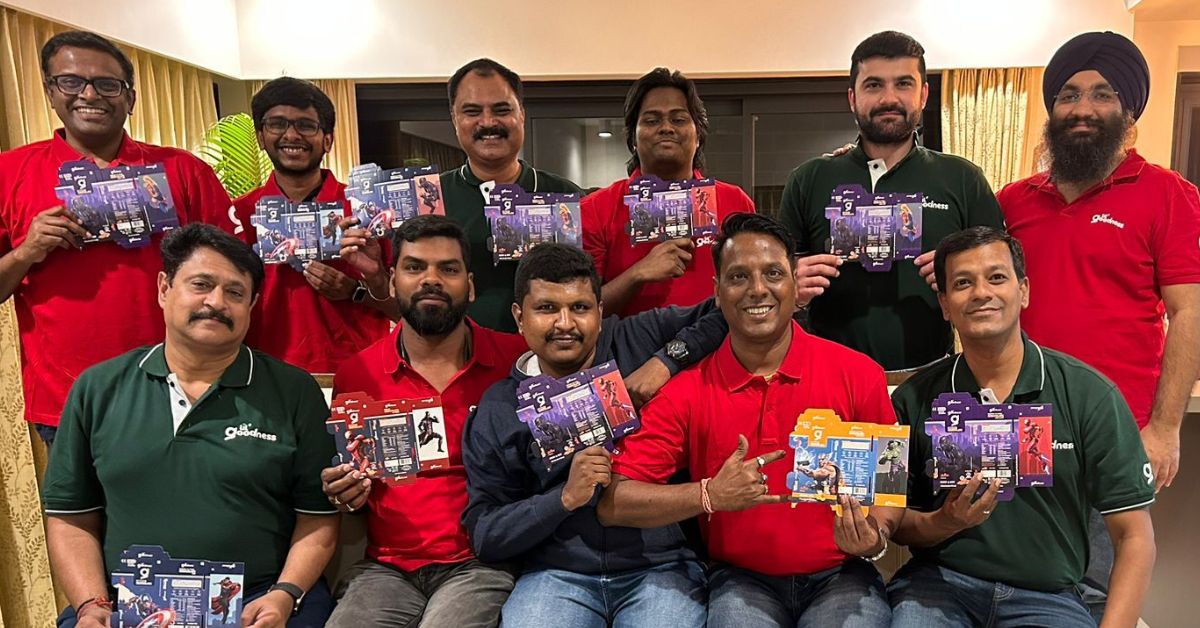 After learning the horrifying statistics of Diabetes in India, Harsha Vardhan S quit his job, and along with Damanbir Singh, started a food and nutrition brand called Lil' Goodness to provide healthy and affordable snacks that also satisfy taste cravings.
Bengaluru resident Harshavardhan S was content with his well-paying job in TATA Health and TATA Industries Limited, until one day in 2017, when he became aware of India's horrific diabetes statistics.
That year, his company collaborated with the Telangana Government and launched a programme in which nearly 1.3 million people from the state were screened for diabetes. It was found that 2,600 of them had advanced diabetes. Surprisingly, none of them was aware of the illness. Without the diagnosis, their condition would have probably resulted in a cardiac arrest within six months, informs Harshavardhan, which could have been fatal.
"The insights from the screening programme helped the government to take action in terms of medication and diet interventions at rural levels. The fact that we could diagnose so many people with diabetes and enable corrective action to prevent further damage was very satisfying. I also realised that so much more needs to be done at all levels of society, especially on nutrition to reduce the risk from metabolic disorders, which are very often ignored," he says.
The screening programme results pushed Harshavardhan to start a business with a philanthropic objective, but the same year, he was blessed with a daughter. As a new father, he wanted to make sure his daughter is exposed to better food choices than what he had while growing up.
So, he decided to get into the food industry and produce snacks that are nutritious and can be consumed by everyone — be it kids, adults or even people with diabetes, which led to the brand Lil' Goodness.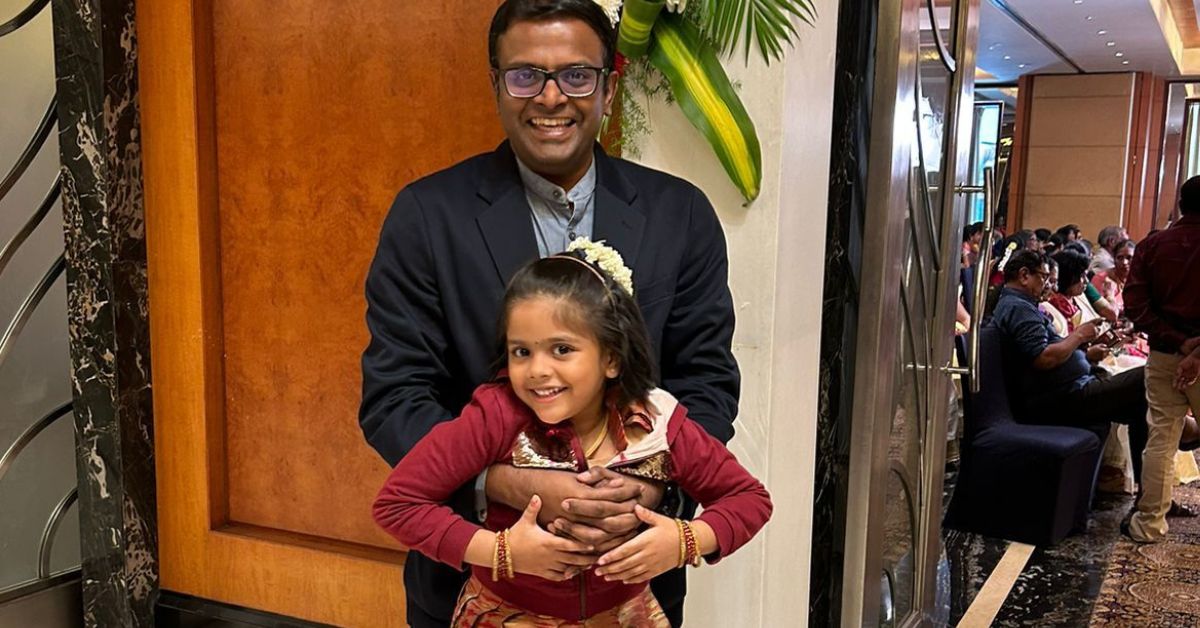 Adding health to taste
"During my college days, I also developed bad snacking habits. Back then, I didn't know that regular chocolates, including the so-called healthier ones, spike glucose. I used to have higher sugar levels although I exercised regularly," he recalls, adding, "But a strict diet helped me control my sugar."
He says that a poor diet that's low in fibre and high in fat, cholesterol, salt, and sugar can lead to obesity and diabetes. "Some of these dietary habits are formed at an early age when people are prone to succumbing to poor eating habits due to easy access to products that have low nutritive value. Unfortunately, most companies that manufacture such food items often optimise for margins and not nutrition," he adds.
That's why in 2019, the MBA graduate, who has over a decade of work experience, quit his job. And then in 2020, Harshavardhan co-founded Lil' Goodness along with his colleague Damanbir Singh.
Lil' Goodness is a new-age family food and nutrition brand that offers scrummy, nutritious, and healthy food options to kids and teenagers. "The philosophy is simple. If our future generation eats healthy today, then there will be fewer diabetics in the days to come," the 37-year-old CEO tells The Better India.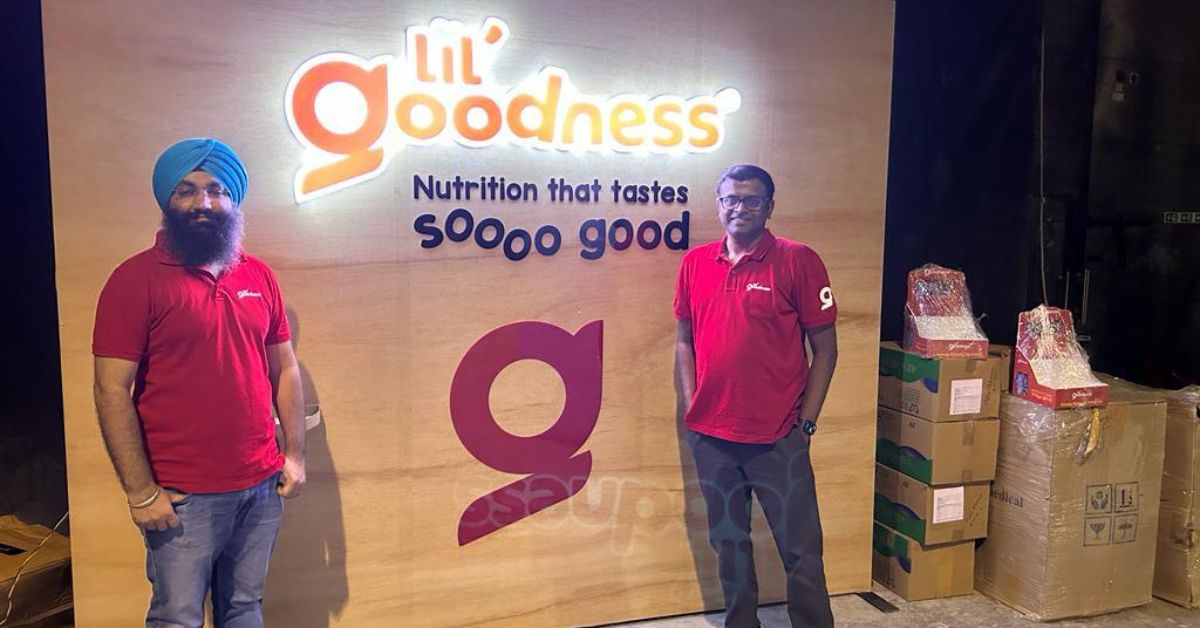 "As a brand, we stand for goodness — in terms of the kind of food we eat, the kind of nutrition we provide to families with children. While we wanted our products to be tasty, we also wanted to prioritise adding goodness to every bite. A lot of food and nutrition engineering effort went into product development," he adds.
Before starting the brand formally, the entrepreneur set up shops in flea markets and malls to test different consumer preferences for different product types. He observed that while people showed interest in products that had strong health benefits, the products with better taste had repeat consumers. So, the challenge was to come up with a brand that provides healthy snacking options that also satisfy cravings.
Healthy alternatives to go-to food options
The brand offers gut-friendly dark chocolates which Harshavardhan claims are "India's first prebiotic chocolates". Similarly, the brand also offers other healthy products like its milkshakes, which have 40 percent less sugar, more fibre, and more oats, and extruded snacks made with quinoa and super grain teff.
"All food items are chemical and preservative-free," he says, highlighting that usually, chocolate costing between Rs 5 and Rs 10 is made using vegetable fat and lots of sugar. Whereas, healthy chocolate bars are expensive, costing between Rs 60 and Rs 80. So, to introduce a healthy and affordable option, Harshavardhan, a chocolate lover himself, came up with fibre-rich dark chocolate priced at Rs 20. He says, "It contains 56 percent cocoa in the dark variant and has naturally derived prebiotics."
The entrepreneur wants to change the common perception that healthy food is always distasteful and expensive. "We are able to price the chocolates at Rs 20 because of the portion size. It is a 13-gram bar, which provides the indulgence of eating chocolate while ensuring portion control," he says.
He further adds, "Because of the scale at which we sell, we have been able to bring down the cost of manufacturing while maintaining the same premium quality throughout the entire product range."
Harshavardhan says that their milk chocolate product contains turmeric in it. "We have testimonials from consumers who say that our chocolates taste better despite containing turmeric!"
He shares that from mothers who struggle to include fibre in their children's food to grandparents on dietary restrictions, everyone is now able to enjoy their fibre-rich products that can also improve gut health.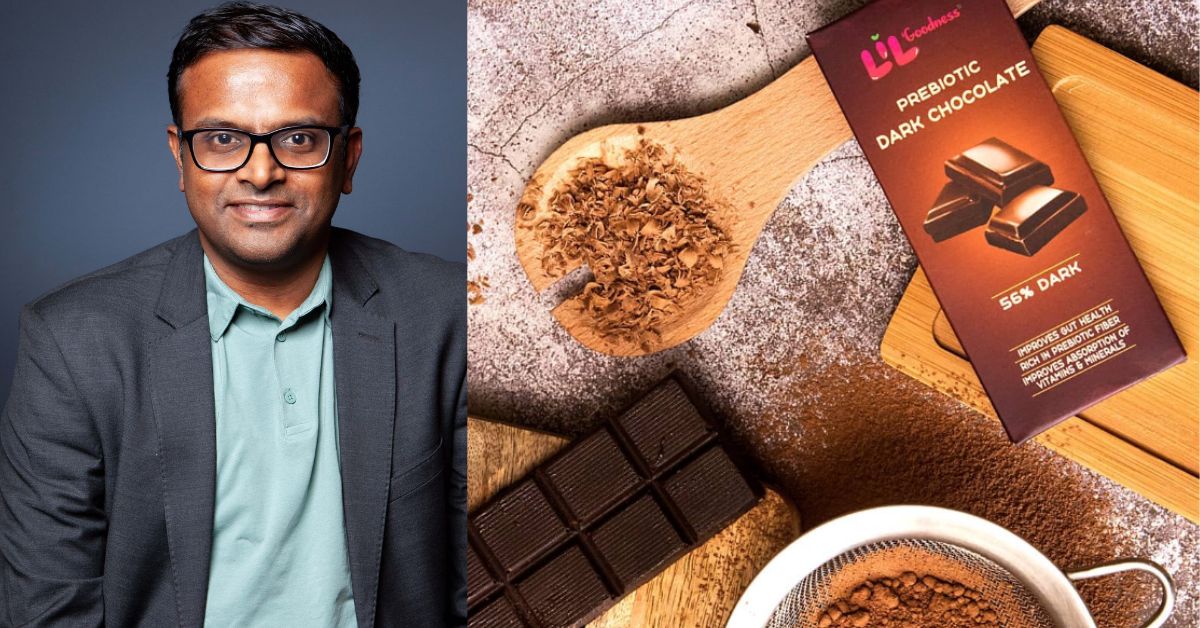 Apart from adding nutrition to snack options, he has also ensured that the packaging used for the products is reusable. Focusing on the concept of goodness, Harshavardhan shares that he imprinted cartoon characters from Avengers, Disney, etc, whose cutouts can be used to make toys. Besides, a QR code is imprinted on every product, which encourages children to play gut health-related games.
The brand started three years ago amid the initial phase of the COVID-19 pandemic, and now, has its presence in around 4,000 kirana (retail) stores across the country — including Jharkhand, Meghalaya, Manipur, Karnataka, Uttar Pradesh, Delhi, and Bihar.
"We want to be in school canteens and kirana stores so that anyone can access our products easily. We are also going to grow our healthy snack varieties and expand our presence to nearly 10,000 stores soon," says Harshavardhan.
Harshavardhan has employed 19 full-time employees and about 70 women from underprivileged sections to package the products, keeping his initial philanthropic philosophy in mind.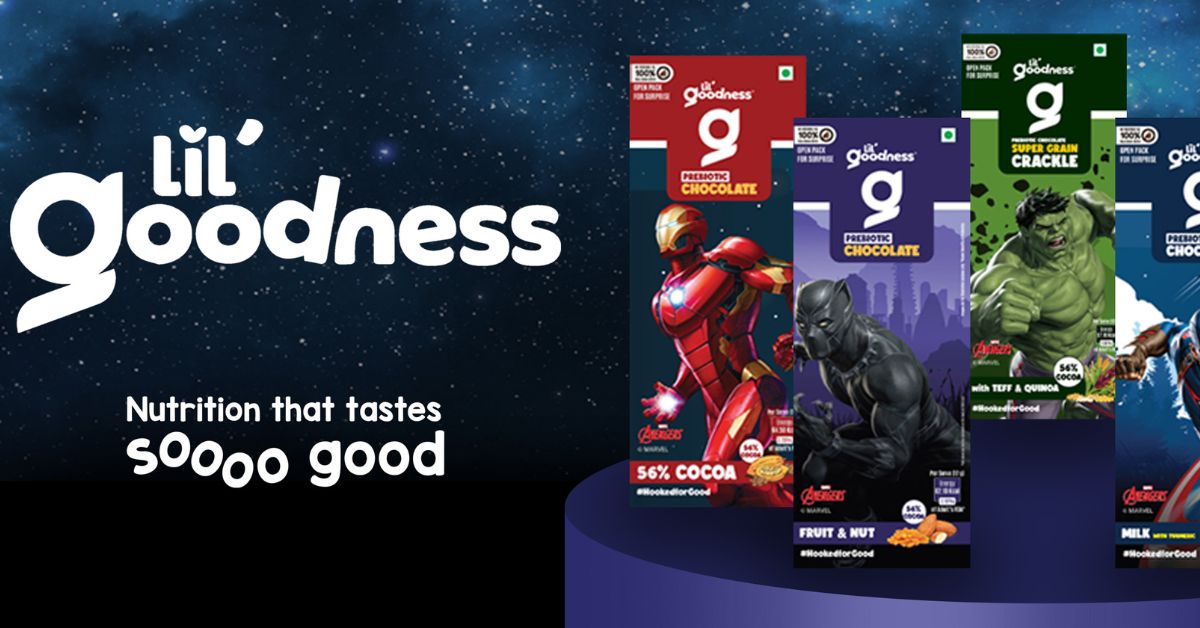 So far, the brand has catered to around 1.6 million consumers. He notes that about 30 percent of its sales come from offline retail stores, whereas, online sales — through its website, marketplaces and instant grocery channels — account for 70 percent of its revenue. Lil' Goodness clocks an annual revenue of Rs 2 crore and is expecting five times revenue growth this financial year, he informs.
Vinod Naik, who hails from Bengaluru, has been a regular consumer of their products since the initial phase of the pandemic. "I get a package delivered from them [Lil' Goodness] every month. I have faith in brands like these which are trying to make a difference," the 43-year-old tells The Better India.
Of all products, he says his favourites are prebiotic dark chocolates. "They are very tasty, and definitely a good replacement for regular chocolates," he shares.
Harshavardhan says that his vision was to be a part of a larger movement that makes indulgence healthier, portion-controlled, and accessible to a larger population. "With this brand, I have been able to create a product platform that provides healthy snacks that are also easy on the pocket."
Edited by Pranita Bhat. All images: Lil' Goodness
We bring stories straight from the heart of India, to inspire millions and create a wave of impact. Our positive movement is growing bigger everyday, and we would love for you to join it.
Please contribute whatever you can, every little penny helps our team in bringing you more stories that support dreams and spread hope.