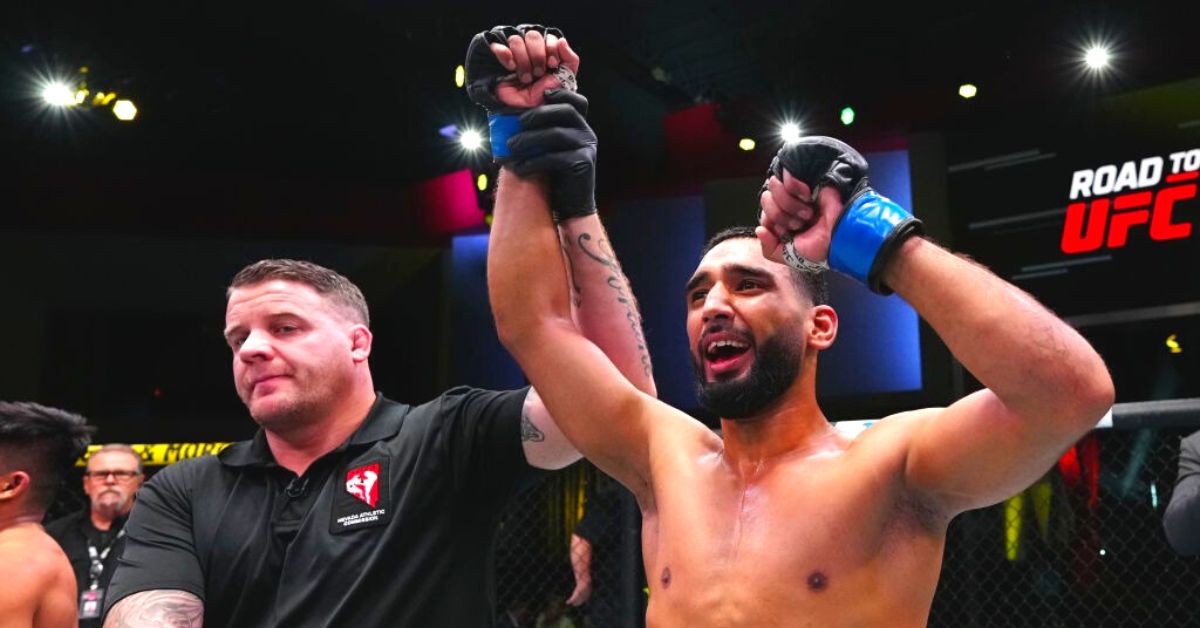 On 4 February 2023, Anshul Jubli defeated Indonesia's Jeka Saragih in the final of the Road to UFC tournament. The lightweight fighter from Uttarakhand now becomes the second Indian fighter to compete in the UFC, the world's premier MMA promotion.
"Namaste UFC, we have arrived! India is here!," exclaimed Anshul Jubli, the mixed martial arts (MMA) fighter from Uttarakhand, after his dominant second-round TKO (technical knockout) victory versus Jeka Saragih in the final of the Road to UFC tournament on 4 February 2023.
In defeating the dangerous Indonesian, Anshul took an enormous step in his pro-fighting career by earning a contract with the Ultimate Fighting Championship (UFC), the premier MMA promotion in the world. The Dehradun-based lightweight (LW) fighter representing the Crosstrain Fight Club gym in Delhi is only the second Indian-born fighter to compete in the UFC.
Watching Anshul secure the win at the UFC Apex facility and his post-fight interview with MMA legend Michael Bisping in Las Vegas, USA, felt like a watershed moment for Indian MMA after false dawns in the past.
But how did the 28-year-old Anshul feel at that moment? The answer may surprise some.
"I wasn't too happy or excited. I had visualised this moment so many times. I knew that I would get the finish in the second round and the referee would stop the fight. In fact, I had told Coach Mike (Ikelei) and Coach Siddharth (Singh) that I would get the stoppage [win] in the second round. Nothing about the moment surprised me. The thing we trained so hard for was finally done, and now, I can move on to the next thing," says Anshul, speaking to The Better India.
Meanwhile, Coach Siddharth Singh, the founder of Crosstrain Fight Club and a Brown Belt in Brazilian Jiu-Jitsu (BJJ), felt immense relief at watching Anshul secure the win.
"I know the amount of effort that went into his training and the immense sacrifices he has made. I also knew the sacrifices his team has made. When the fight was going on, we knew Anshul was sticking to the game plan. Everything we had worked on during training camp was working," recalls Siddharth.
"We saw Jeka struggling when he got stuck in a gift wrap position (when you wrap someone's hand behind their neck) from either half guard or side control. Anshul followed this up by throwing a barrage of punches and elbows. That was a key part of the game plan going into the fight. Once Anshul got the gift wrap in place, we knew the fight was over. But the overwhelming feeling was one of relief, given that this was the culmination of years of hard work," he adds.
It was the events after the fight that overwhelmed Anshul. He met UFC president Dana White, who congratulated him personally and welcomed him to the organisation. In November 2021, Anshul sent a DM (direct message) to Dana on Instagram predicting that by 2023, the UFC would have a native Indian-born fighter on its roster and an Indian UFC champion in 2026.
Well, the first part has come true. After meeting Dana and recovering from minor injuries and an illness that had created issues for Anshul before the fight, it was a long flight back home.
"When I landed in Delhi after a nearly 30-hour connecting flight, I got a wonderful welcome from my team at Crosstrain Fight Club. It was so special because these were the people who I had been training with for the last five years. This is the place where I grew up in the sport," he says.
When Anshul landed in Dehradun, however, he received a hero's welcome. "Thousands of people were celebrating, and there was a road show. It was a surreal moment," he recalls.
However, the question does arise whether the Uttarakhand native and former Maths tutor can deal with the newfound fame and adulation.
When asked about it, here's what Anshul had to say:
"Maybe my life is changing now, and it still feels like a dream. But I am made for this. It's not so much about being famous as much as being successful in life. Fame comes with it, and I will deal with it. My main goal is to be the best fighter in the world and get that UFC lightweight championship belt as soon as possible. Last night when all the celebrations were done, I went to a spot in Dehradun where my friend and I used to hang out. People there recognised me and talked to me. Now, in Dehradun at least, I can't go anywhere and act silly. This is very new to me, but I'm enjoying it. I'm honoured to receive all this love and recognition."
Evolution of a fighter
Following Anshul's career since his stint at Matrix Fight Night (MFN), India's premier MMA promotion, it's hard not to notice his remarkable evolution as a fighter. In fact, one could see a marked improvement even between his semi-final and final fight on the Road to UFC.
"I always talk about the evolution of Anshul from one fight to the next," says Coach Siddharth.
Anshul's first professional fight at MFN came against Sanjeet Budhwar, a very strong opponent who is today the face of the featherweight division (145 pounds, 65.8 kg) in India and a devastating fighter. At the time, however, he was fighting at lightweight. Anshul was offered that fight at the last minute because nobody wanted to fight Budhwar back then.
Anshul fought him in his professional debut and won, shocking everybody during the promotion.
"In his second professional fight, however, he was looking way better than his first fight, and so on. That's what Anshul Jubli is all about. I remember telling him after the Budhwar fight that he beat the best Indian fighter at 30% capacity [of his potential]," recalls Siddharth.
Today, Anshul has a professional record of 7-0 (7 wins, no losses).
"Despite earning a UFC contract, I strongly believe that he's only reached 65% of his capacity in terms of skill set and what he has displayed inside the octagon. He's super technical, crafty and skilled but has just not put everything together yet. I'm sure it will all come together down the line. For all the fans of Anshul Jubli, I'd like to tell them, 'the day you see him reach 100%, he's going to be a real phenomenon!'," he adds.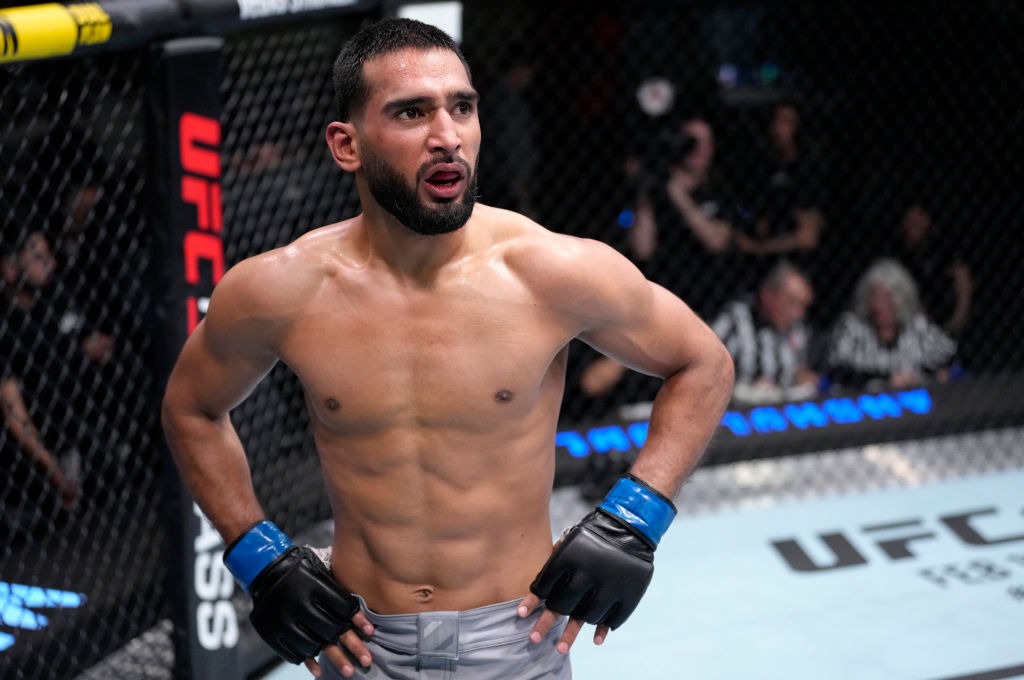 What more would Coach Siddharth like to see from Anshul?
"It's a question of time. He's still very young in the sport. This is still barely his fourth or fifth year actually training full-time in professional MMA. Sending him to elite gyms outside India, we're now getting him to train against some of the best fighters in the world. He's sparring with them on a daily basis. Today, in whichever gym he trains, whether it's in Thailand or Bali, Indonesia, he's in the top 5% of the class. But I don't want him to be satisfied with it. Anshul should be the top guy in any gym he enters, and everyone should be looking to him as the benchmark. That's when he will touch 80-85% of his capacity," he says.
For about his first four years in the sport, Anshul trained exclusively at Crosstrain Fight Club. Soon, however, he had become a top exponent of MMA in India, and there weren't any other fighters around the gym that he wasn't dominating. It was too easy for him.
"That's when we first sent him to Thailand last year to Tiger Muay Thai gym where I wanted him to train with UFC fighters and just see where his level stands. He did really well. He was training hard and being competitive against a bunch of UFC fighters there. Later on, one of our other fighters Punyajit Likharu, who was training at the Bali MMA gym in Indonesia at the time, told us that the UFC Performance Institute team from China were training there," he recalls.
The team had a bunch of Road to UFC contenders training at the gym. Punyajit suggested to Siddharth that they should send Anshul to train there with Road to UFC calibre fighters.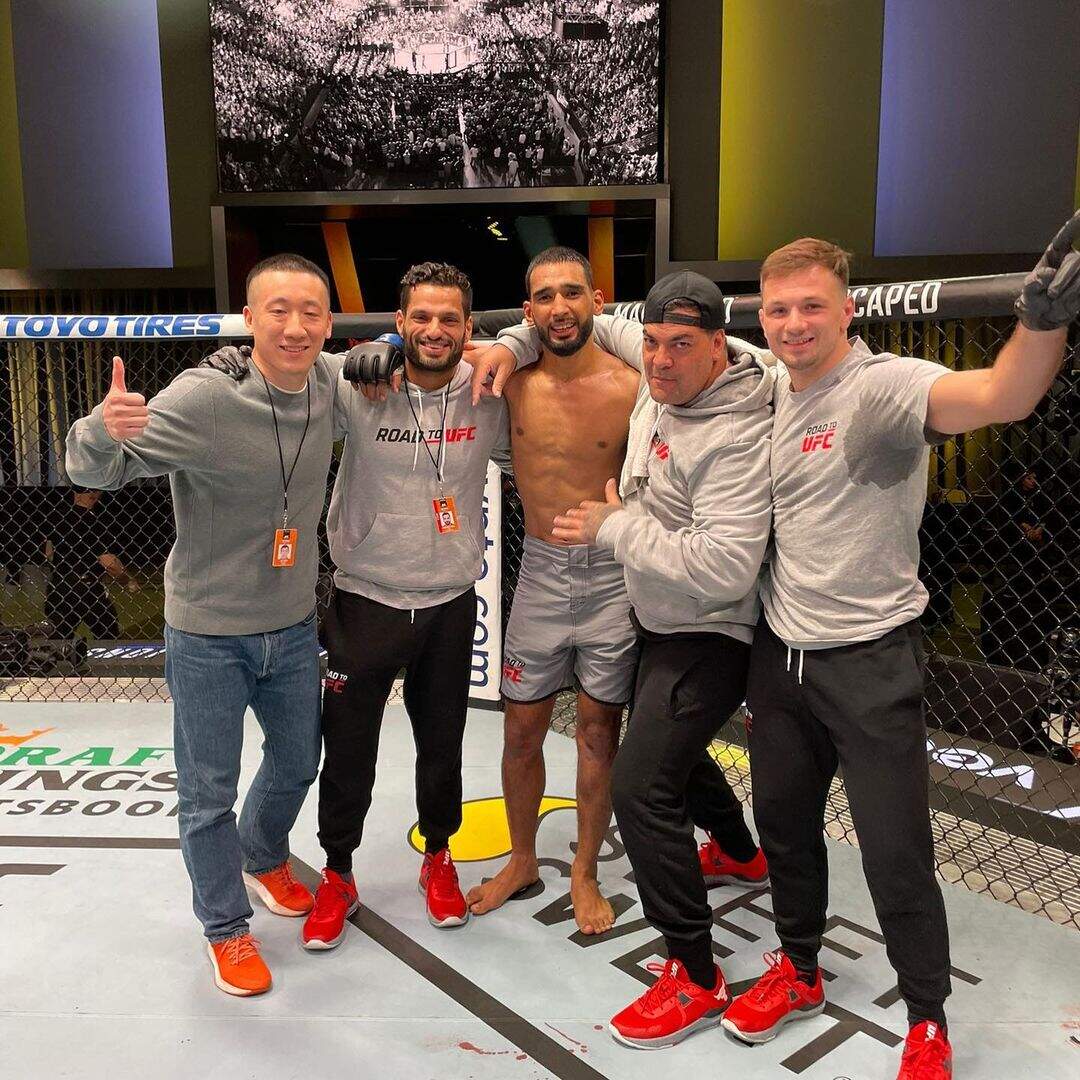 "We sent Anshul there, and that's when he started to train with other Road to UFC fighters from South Korea, Japan and China. Anshul was as good, if not better than those fighters. When he was in Bali MMA, a new gym opened up nearby called Soma Fight Club. Mike Ikilei, head coach and co-owner of Soma Fight Club, took a liking to Punyajit and Anshul, and invited them to train at his gym. It's a gym with a lot of high-level fighters. Training there, he's getting better. It's important for Indian fighters to train with high-calibre international fighters," explains Siddharth.
However, for talented Indian fighters to make it to promotions like UFC, it takes a lot more than training with international fighters. Here's Coach Siddharth Singh explaining what it takes:
Can India produce more Anshul Jublis?
When Anshul won that UFC contract, it was also a significant moment for Indian promotions like Matrix Fight Night (MFN). One of their fighters had qualified for the best promotion in the world.
But what more can India do to produce more fighters like Anshul Jublis who can reach the UFC and other top MMA promotions like Bellator or the PFL?
"I think promotions like MFN are doing a lot of things right in terms of the way they are promoting their fighters, sending them to train abroad, giving them the necessary training, and calling in coaches from around the world. You require an ecosystem where fighters get opportunities to train, compete, and literally make a livelihood out of this sport. If all these three things are taken care of, then it's on the fighter whether he or she makes it or not," claims Siddharth.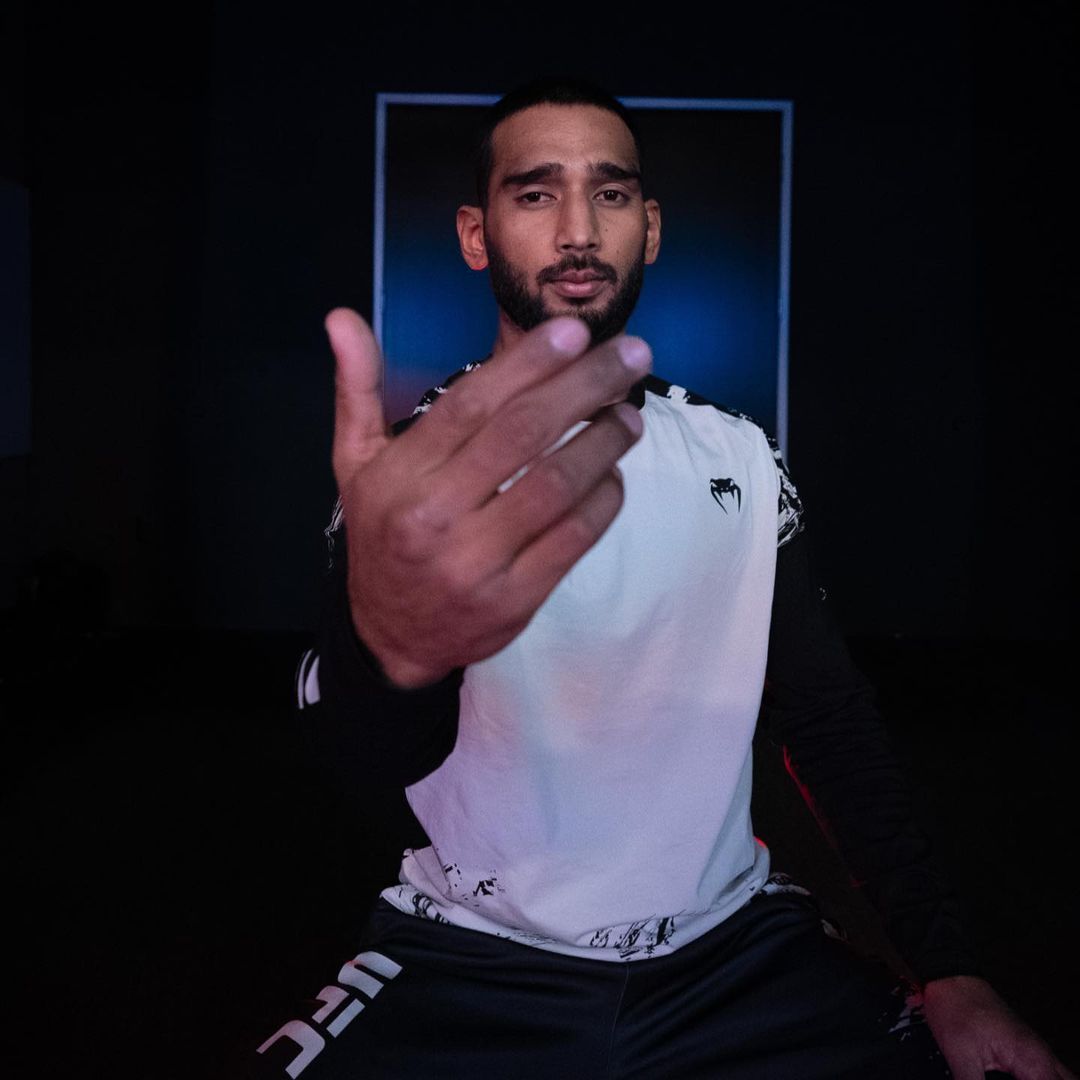 "In fact, I'm seeing coaches from around India who have taken their game to the next level. Meanwhile, fighters are also realising that sometimes it's good to train abroad, save some money, go out and compete with the best," he adds.
"I want to be as active as possible since I've just started my UFC career," says Anshul. Given his strong coaching team and the fact that he was recently signed to the sports management group Paradigm Sports, this shouldn't be a problem. The agency is renowned for representing some of the biggest names in combat sports, including Conor McGregor, Israel Adesanya and Leon Edwards.
While the Indian prospect takes a short break after his monumental win earlier this month, Coach Siddharth Singh is preparing to compete in the Jiu-Jitsu Asian Championship in Thailand scheduled for later this month. After all, the hustle never stops.
(Edited by Pranita Bhat; Images courtesy UFC India/Twitter and Instagram/Anshul Jubli)
We bring stories straight from the heart of India, to inspire millions and create a wave of impact. Our positive movement is growing bigger everyday, and we would love for you to join it.
Please contribute whatever you can, every little penny helps our team in bringing you more stories that support dreams and spread hope.