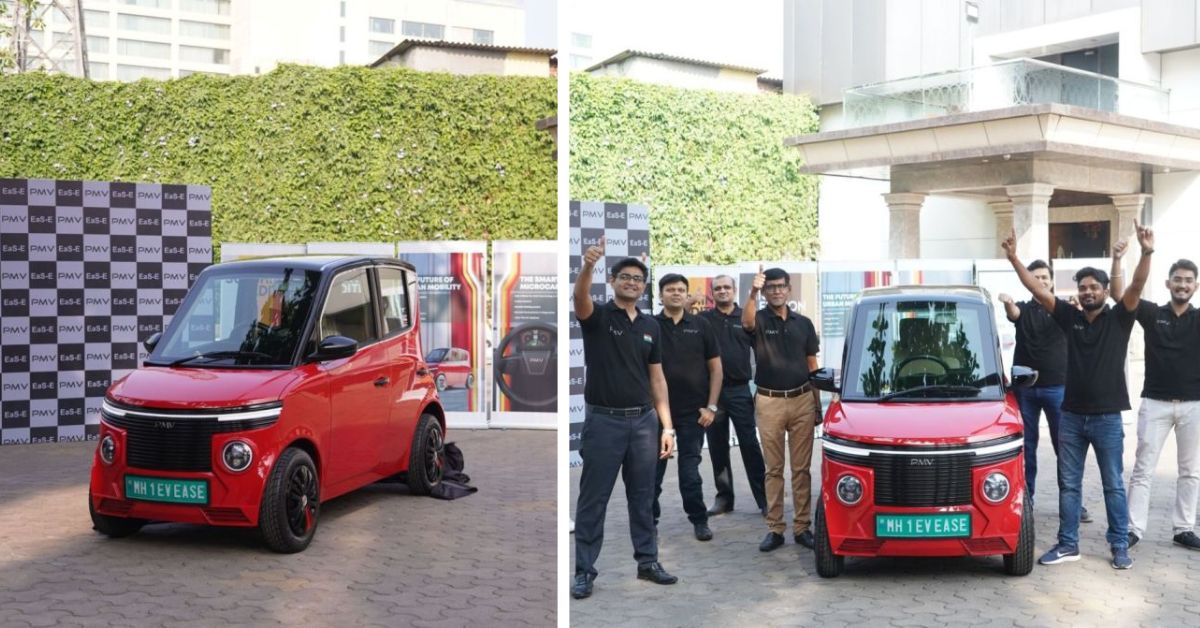 Watching congested roads filled with SUVs and sedans, engineer Kalpit Patel found a greener solution. He built EaS-E, India's first electric microcar that can easily navigate busy roads, cuts carbon emission and energy use, and more.
This article has been sponsored by Wingify Earth.
Spending hours stuck in traffic on his way to work, 35-year-old Kalpit Patel from Mumbai would observe the road and people on it.
"I noticed that most four-seater and five-seater cars would have one occupancy. Since most of the people on the road at that hour are on their way to work, the car would be empty, but occupy so much space on the road," he recalls to The Better India.
What would a budding engineer with a knack for innovation do with such an observation? In Kalpit's case, it was brainstorming solutions.
Today, Kalpit is the founder of PMV Electric, which stands for Personal Mobility Vehicles, and has launched India's first electric microcar called EaS-E— a two-seater eco-friendly car that will swiftly navigate city traffic.
The road to innovation
After completing his engineering in 2009 from Mumbai and his MBA from Pune in 2011, like any other graduate, Kalpit took up a job.
"I started working at Citi Bank and stayed there for four years. Even when I was working there, doing my own business was on my mind. I clearly remember thinking 'Is this what I want to do? Should I start my own business' during my orientation. In 2015, I quit my job and then first started conceptualising the idea," he says.
He continues, "Initially, entering the automobile industry was not on my mind. I was just a curious engineer working out a plan and finding out possible solutions. With a small team of engineers and designers, I started to build prototypes. It was after many failed attempts and a good two and a half years of research, we were able to land on something viable. While discussing it with our fellow engineers and people from the industry, we realised that this can be commercialised."
It was during this time that Kalpit became a father. "When I saw my baby, it hit me how bad the environment is going to be if we don't start living sustainably. With the climate changing so rapidly, I wondered what kind of world we will leave behind for our children."
In November 2018, PMV Electric was formalised, and Kalpit threw himself into making the microcar a success.
"What you see now is the fourth iteration of our initial designs. It was a unique journey from having a vague idea of what we wanted to do to experiment with engineering and designs to EaS-E," Kalpit says.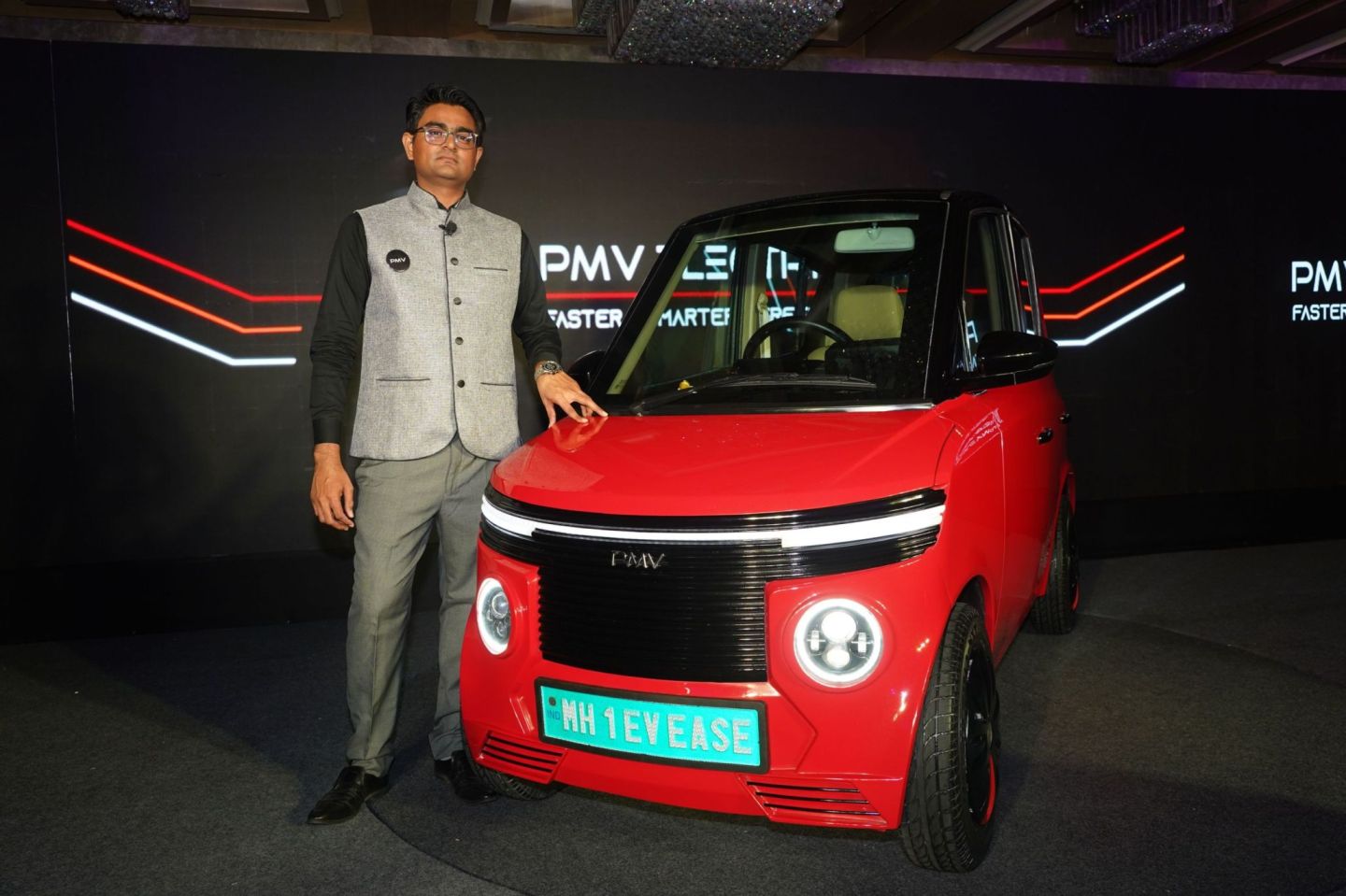 'A faster, smarter and greener drive'
"The core of my principles is always to have a sustainable side to whatever I make. Even my earlier plans revolved around sustainability. EaS-E is not just like a regular EV. If I wanted to make an EV, making a two-wheeler would be more reasonable, but we chose a car," he says.
"It is because we truly believe that it is more sustainable. Unlike a micro car, our EaS-E's electricity consumption is 50-70 watt hours per km, rather than a regular car's 100-120 watt hours per km. This reduces the carbon emission to almost half. The transportation industry is a major contributor to increasing pollution and we want to address that issue," Kalpit explains.
Talking about the reason behind choosing to make a micro car, Kalpit says, "If you look at the current trend in the Indian market, people are more inclined to buy SUVs. Even Maruti Suzuki, their bread and butter has been hijacked by these bigger vehicles."
The higher disposable income has led people to buy bigger cars and so companies are rolling out higher-priced, better-margin products, he explains.
"Look at the US — a country that is very SUV inclined. But the country has wider roads to manage the kind of traffic and space occupied by these cars. On the contrary, this is not the same for India, so we want to provide a viable solution," says Kalpit.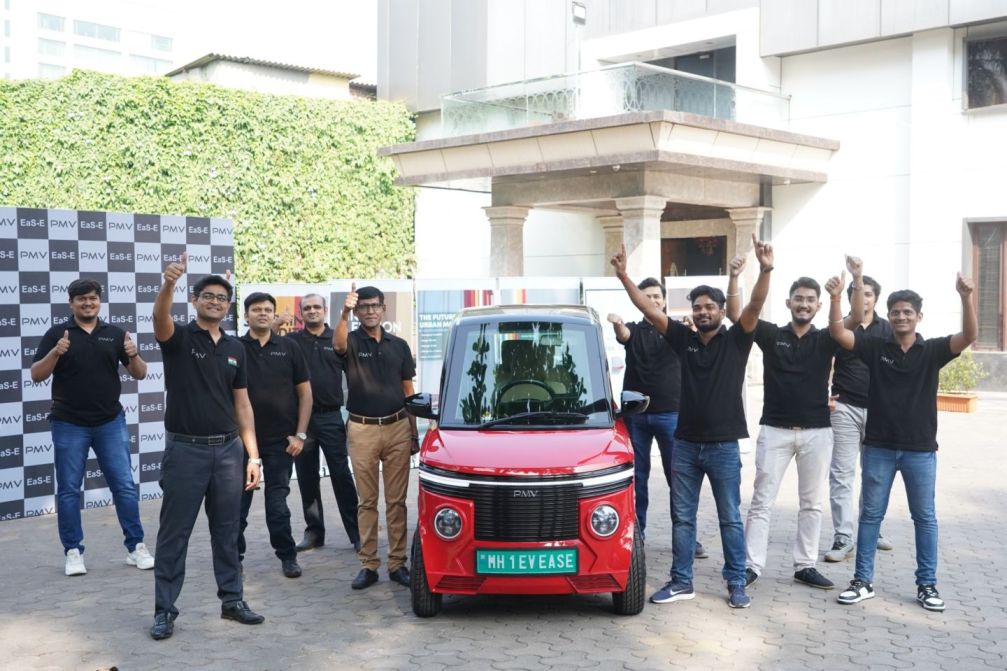 He continues, "We want to show the consumers that there is a car that will help you go green, as well as move smarter and faster on the road. While we know that the market is inclined towards the bigger car, we know there are conscious people out there who will appreciate the microcar."
True enough, the company has been flooded with pre-orders since its launch, including from Mumbai, Bengaluru, Pune, Chennai, Delhi, and parts of Europe, Kalpit says.
"When I started, if someone asked me what I expected our sales to be in the first year, I would have said not more than a thousand. But the response has been amazing. We already have 7000 pre-orders. This has been overwhelming, and we are excited to deliver what's expected," he says.
The vehicle is the first two-seater car made of sheet material to ensure safe driving. Eas-E can run 160 km on a single charge and takes less than four hours to be fully charged. Additionally, the microcar is 1,100 mm in width, which ensures easy navigation on the narrowest of roads while occupying less parking space.
"We are also trying to provide some high-end benefits like remote park assist, and our very own EaS-E mode, which allows you to drive the vehicle at the touch of a button without using your feet. We also have remote connectivity and diagnostics. You can switch on the horn of your car or headlights remotely and locate it in a huge parking lot," Kalpit explains.
With a load of pre-orders, Kalpit is now focusing on delivering the products to the market. "Keeping 'make in India' in mind, the product from its sketching, designing, to its engineering everything is made in India. We are planning to start delivery of the cars by the third quarter of this year. Our ultimate aim is to have PMV as a category just like SUVs and sedans in the long run," he notes.
Edited by Divya Sethu
We bring stories straight from the heart of India, to inspire millions and create a wave of impact. Our positive movement is growing bigger everyday, and we would love for you to join it.
Please contribute whatever you can, every little penny helps our team in bringing you more stories that support dreams and spread hope.