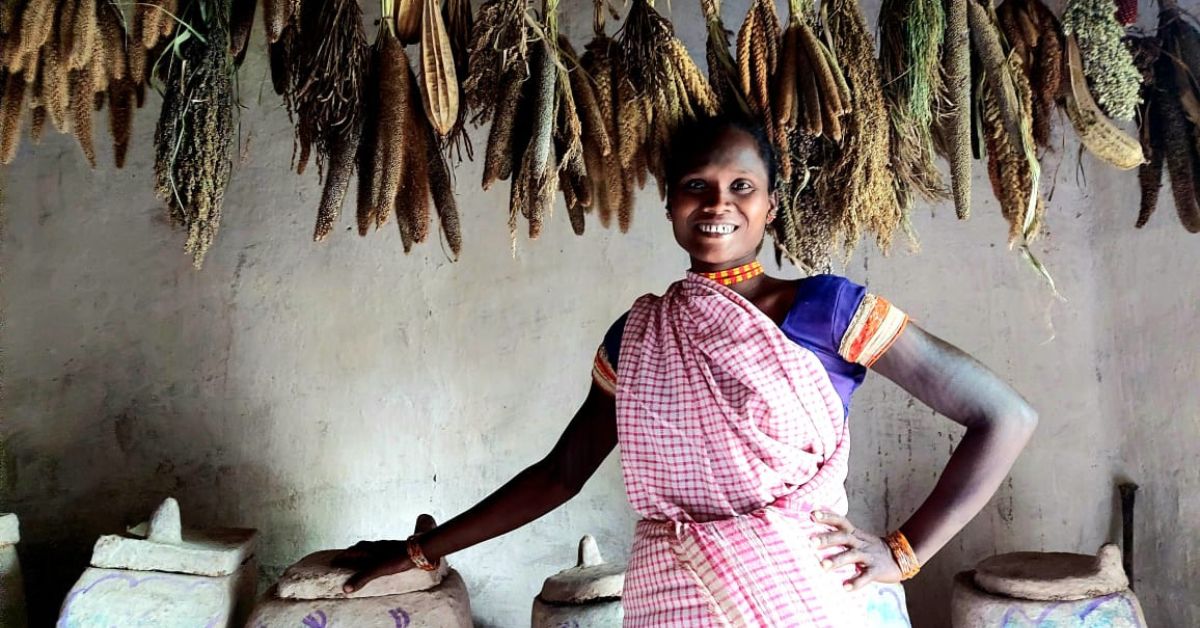 Lahari Bai, a Baiga tribal woman from Madhya Pradesh, was declared the brand ambassador for the 'International Year of The Millet'. So far, she has conserved over 150 varieties of rare millet seeds in her beej bank.
After getting lessons from her grandmother on the health benefits of millet, the grain that has started disappearing, Lahari Bai dedicated her life to preserving its seeds.
She belongs to the Baiga (healer) tribal community, a particularly vulnerable tribal group (PVTG) in Madhya Pradesh. It is believed that the people from this tribe possess a deep knowledge of their environment and its biodiversity, which they pass on from one generation to the next through oral traditions.
Inspired by her grandma's words, Lahari, who hails from the remote village of Silpadi in the Dindori district, started collecting seeds at the age of 18 years. She continues to collect the seeds even now from forests and farms by wandering in nearby villages.
"Collecting seeds makes me happy. People would mock me and ask why was I collecting seeds. So, at times, I would go when no one was around," Lahari tells The Better India in her native language Baiga, adding that the elderly people in her community help her recognise the indigenous varieties of seeds.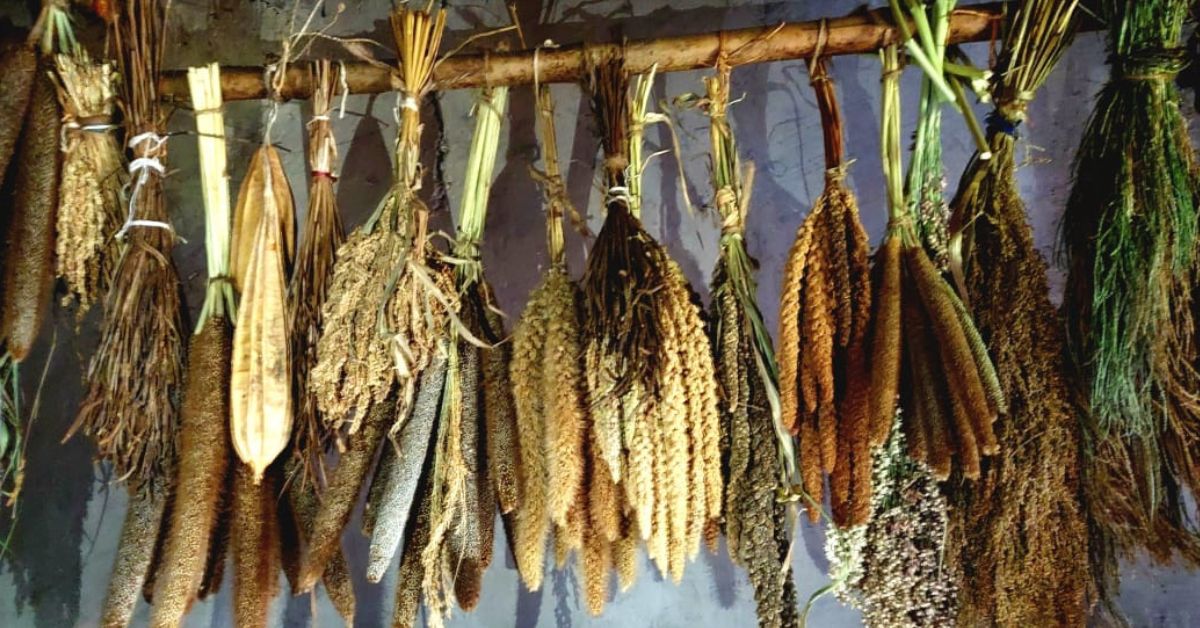 The voice of millet
Millet is a storehouse of nutrition, rich in protein, fibre, and abundant vitamins. Their consumption helps protect cardiovascular health, prevent diabetes, and lose weight. The tribal woman, who never went to school, understood the importance of conserving these seeds long ago.
"These are taakat wala anaaj (the powerhouse of nutrition). People do not get sick after their regular consumption. It saves them from the expense of medicines," she says.
For the past decade, the 27-year-old has collected more than 150 varieties of rare millet including kodo, kutki, sikiya, salhar, sawa, and chena. "These native seeds are getting extinct. I want to bring them back in use," she says.
She distributes these millet seeds to farmers for cultivation. In return, they gift her a small part of the produce after they harvest the crop. For instance, for a kilogram of seeds that she offers, the farmers gift her 1.5 kg of seeds back of the same variety. She says that she does not do this to earn money but to collect more seeds.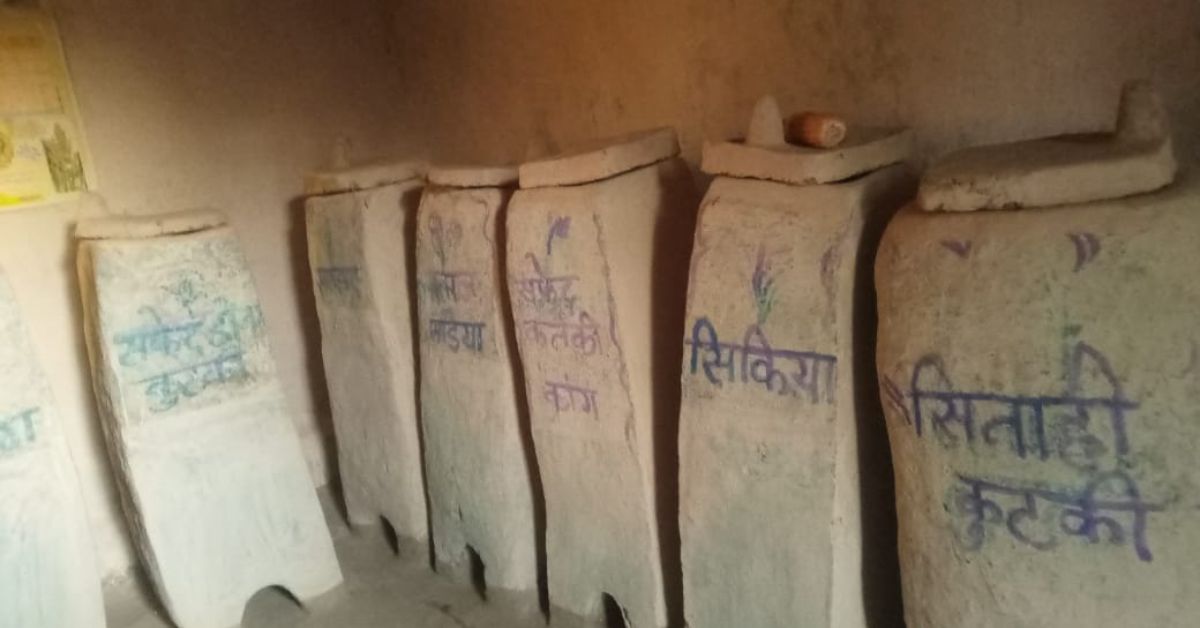 Lahari also uses these seeds to make pej (a kind of drink) from kodo and kutki seeds. She drinks it along with takodey ki bhaji (forest vegetable).
The Baiga woman leads a simple life with her old parents in a two-room mud house in her village that has no network connectivity.
The family uses one room as the living room and kitchen. Their clothes are hung on a wooden pin in one corner, and in another corner is a chulha (stove) arranged along with a few utensils and all their belongings. The second room of the mud house is dedicated to storing varieties of millet seeds.
Lahari has many large mud containers with the names of different seed varieties printed on them in her beej (seed) bank. A variety of millet seeds that look like decoratives also hang from the roof.
Apart from distributing these seeds for free, Lahari does labour jobs and sells forest produce and firewood for a living. She manages to earn up to Rs 3,000 a month.
Becoming an ambassador for millet
This year, the Indian government is striving to make India a global hub of millet cultivation and research. During the union budget speech, Finance Minister Nirmala Sitharaman also referred to millets as Shree Ann — the mother of all grains.
Proud of Lahari Bai, who has shown remarkable enthusiasm towards Shree Ann. Her efforts will motivate many others. https://t.co/rvsTuMySN2— Narendra Modi (@narendramodi) February 9, 2023
"I met her one morning when I was on one of my regular tours to rural areas. I was impressed by her dedication to conserving millet seeds. Two months ago in December, when the Government of India was making plans to lead the 'International Year of the Millet' initiative, we decided to choose Lahari Bai as the brand ambassador," District Collector Vikas Mishra tells The Better India.
Recently, she was invited as a chief guest at the Republic Day parade in Dindori by the District Collector. This was the first time Lahari stood on the stage. "Entire janta (public) was looking at me. It feels so nice to get so much recognition. Now the same villagers who mocked me, get jealous," she says.
Post Republic Day, Lahari has given interviews to more than 100 journalists from the state capital of Bhopal and the national capital of New Delhi. Lahari has only two pairs of clothes but dresses up neatly whenever she travels for interviews.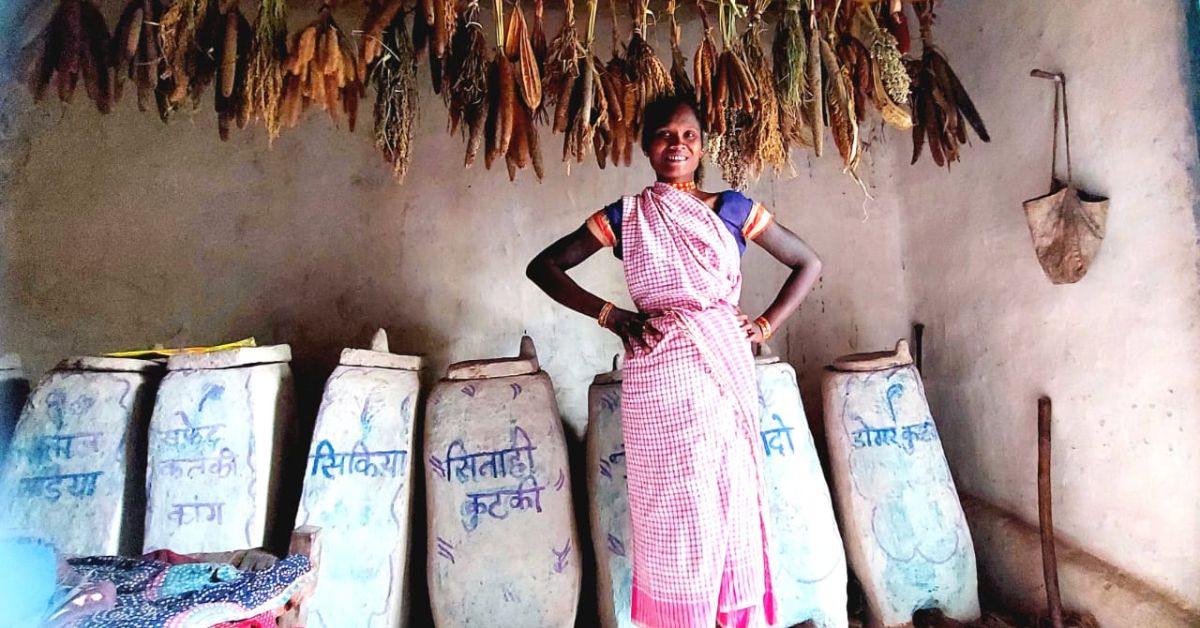 On choosing the tribal woman as chief guest, the District Collector says, "The people from this primitive community have extensive knowledge about the environment. Half of the kodo kutki [millet] production is done by the Baiga community. Lahari is very enthusiastic about her work. Her beej bank is praiseworthy," says Vikas, who is also promoting millet by organising cookery shows, where women make cakes, pastries, and biscuits from millet, and also process them into healthy soups.
He has nominated Lahari for Rs 10 lakh scholarship from a Jodhpur-based ICAR. "If she succeeds in getting this scholarship, she would be seen guiding the PhD students," he says, adding that the government has also sanctioned a house for her.
Meanwhile, far from materialistic possessions, Lahari says that she aims to further expand her beej bank and serve her old parents.
Edited by Pranita Bhat
We bring stories straight from the heart of India, to inspire millions and create a wave of impact. Our positive movement is growing bigger everyday, and we would love for you to join it.
Please contribute whatever you can, every little penny helps our team in bringing you more stories that support dreams and spread hope.