Lovingly called didi, Sukla Debnath has empowered over 5,000 Adivasi women by training them to be beauticians, so they become financially independent and don't fall prey to human trafficking.
Pinki Kurmi, from the remote area of Kalchini in West Bengal, discovered a newfound zeal for life. Today, this 28-year-old wakes up every morning, looking forward to going to work every day. But just a year ago, she was sitting at home with no source of earning money and was completely dependent on her parents.
She would spend her days helping her mother, whereas what she actually wanted to do was support her family, financially. Her wish came true when she attended a free course in cosmetology and became a beautician.
"At first, I could not believe that the course was for free. I got trained in threading, haircutting, and makeup. Earlier, I had no source of income and I felt trapped at home. But today, I earn Rs 5,000 a month on average. It has given me so much confidence and the will to fend for myself," says Pinki.
And she is not the only one, a similar tale was narrated by Nisha Orao from Dima, who used to work in tea gardens for minimum wages.
"My life has changed completely since I got this training. I come from a humble background, and the training has given me so much financial freedom. This has truly helped me find my footing," she says.
Nisha, Pinki and 5,000 other women from in and around the areas of Hasimara, a small town in the Alipurduar district, like Salbari, Dima etc, have found new livelihoods, all thanks to 35-year-old Sukla Debnath. A graduate and a trained beautician, she is empowering the girls and women in her village single-handedly.
How? Well, here is her story.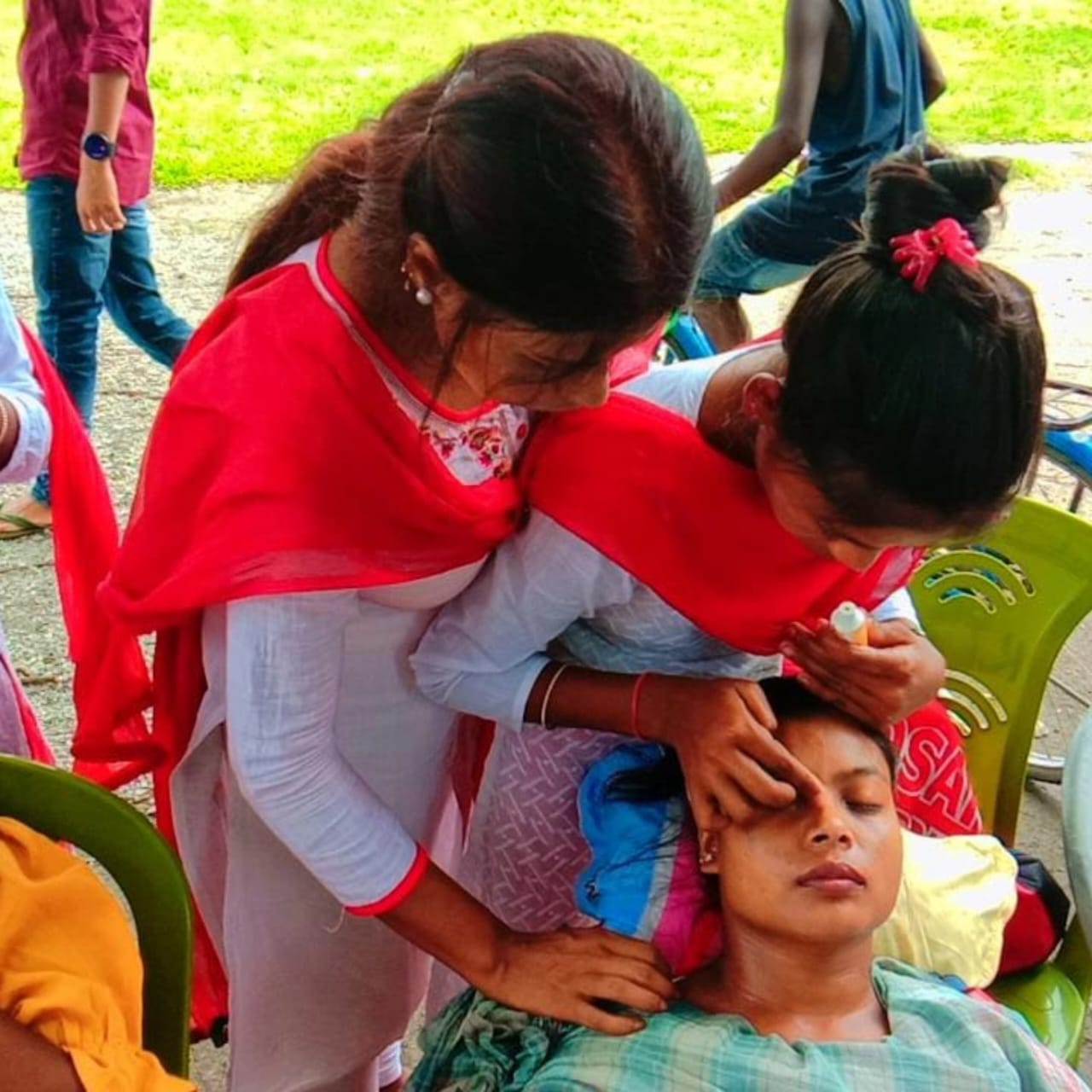 Helping Adivasi women take control of their future
Even as a young girl, Sukla would worry about her four older sisters and their marriage. Her father had a small sweet shop in Hasimara, and the family faced financial difficulties.
"As any father would, my baba also used to worry about our marriages. Having seen this, I decided that I will not be a burden to my family. In a small village like mine, women have only two options — work in the tea gardens or wait for marriage. But I wanted to break this cycle," she recalls.
"I funded my own education by giving tuition to primary school kids. After completing my schooling, I sold my cycle for Rs 1,200 and paid the beautician's course fee in 2003. It was a huge amount to be paid, but I did it," she informs.
After completing the course, she had two paths to choose from. One was to earn money and support her family, and the other was to serve society, which mostly comprised people from the Adivasi community. And Sukla chose to do the latter, for more reasons than financial stability. She says that she was alarmed by the increasing number of women being trafficked from her village and the areas around.
"Unemployment and financial troubles are the main reason behind this. Some people approach families and promise them Rs 50,000 a month if they send their daughters along to work for them. The possibility of earning so much money blinds them, and they agree. But those girls never return and mostly end up in unimaginable places," Sukla says.
She continues, "You might read about human trafficking every day in newspapers. But for us, it is a reality. Most times, those women who headline the newspapers are those we personally know. It is horrifying to see my people end up in the wrong hands."
Once she had decided to help the women in her community, she started devising a plan of action.
"Tea gardens pay a daily wage of Rs 200, which amounts to Rs 6,000 per month. This amount is not enough to raise oneself, let alone a whole family," she says, adding, "If a woman gets trained as a beautician, she can earn a minimum of Rs 7,000 for bridal makeup in the village, and in the town, she can earn even more. This is a very good option compared to what she would make in the tea gardens."
So, Sukla began visiting the tea gardens to talk to the women and convince them to get trained.
"I would ask them, 'Do you know how much money you carry inside your body? You have two kidneys and one liver. Anyone with the wrong intentions will take you by promising wealth in return, and then sell your organs'. It was a bit harsh, but they knew it was the truth. This way, I convinced them to take up the course," she says.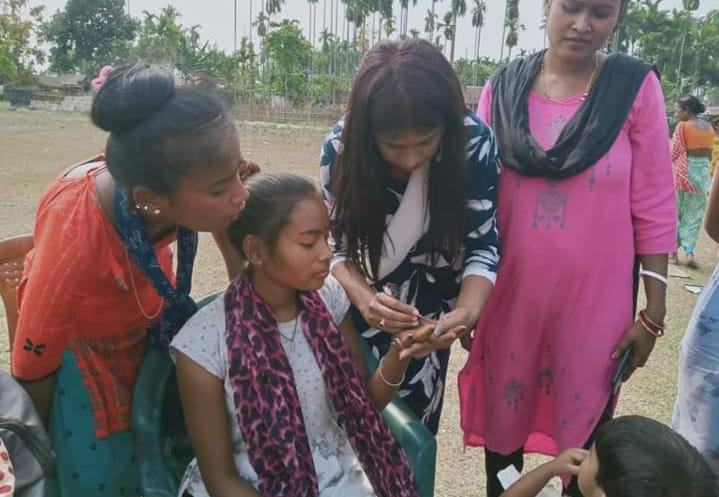 "They were hesitant at first as leaving even a day of work at the tea gardens would mean losing their daily wages. But a few showed up, and I have not stopped ever since," she adds.
'My baba was my biggest cheerleader'
"When I went to college, my family expected me to become a teacher. The path I chose was not what they had expected at all. My mother was not very happy and quite sceptical about my line of profession. It was my father who would motivate me to follow my heart," says Sukla.
"My father would tell me, 'Become a cobbler if you want. No job is big or small, but ensure that you serve your people'. This became my biggest inspiration. My father has taught me to bring a smile to someone's face and live for others," she adds.
Having dedicated her life to serving people, she has never charged a fee from any of her trainees and has never raised any funds either.
"I am very happy with what I earn. All my sisters are married today, so there are no more responsibilities to fulfil for my family as such. Whatever I earn, I spend on various activities to serve these women. In addition, I learnt karate to teach self-defence to young girls," she informs.
Lovingly known as didi, Sukla feels a sense of responsibility towards all these women from her village. From being the youngest sister in her family, she has now become everyone's older sister.
"I want to keep going and support these women. I want to make them capable enough to never get trapped in human trafficking and not be a financial burden to their families. I saw my father worrying day and night, wondering how he would marry off five daughters. I don't want any fathers to worry like that by making their daughters financially independent," she says.
She even helped her fellow villagers when the pandemic hit. She gave free coaching to children and used her savings to feed people who could not afford food.
"Manav seva hi ishwar seva hai (serving the people is service to god). I may not have an NGO or funding, and my work may be on a small scale, but if I can change even one person's life, I'll be satisfied," says Sukla.
To help Sukla further her cause, you can reach her at 8967012077.
Edited by Pranita Bhat
We bring stories straight from the heart of India, to inspire millions and create a wave of impact. Our positive movement is growing bigger everyday, and we would love for you to join it.
Please contribute whatever you can, every little penny helps our team in bringing you more stories that support dreams and spread hope.