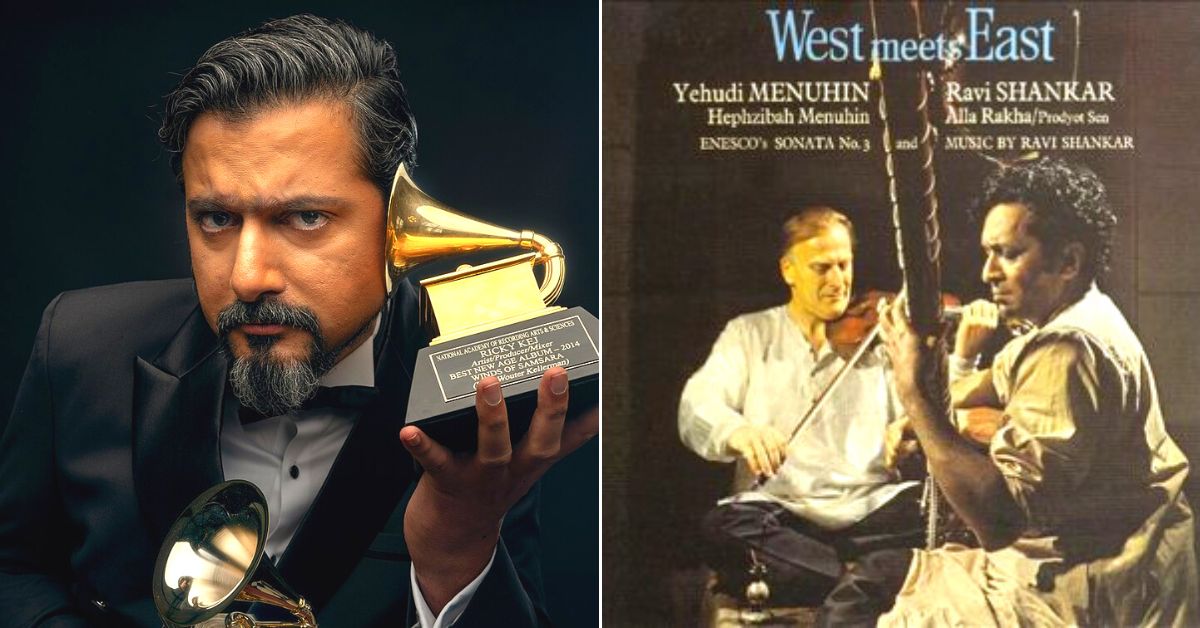 At this year's Grammy Awards, composer Ricky Kej took his third win. We take a look at the first Indian to win at the awards, Pandit Ravi Shankar, and how his win created history.
At the 2022 Grammy Awards announced earlier today, India's Ricky Kej made history by winning his third one for Best Immersive Audio Album for his album Divine Tides with rock legend Stewart Copeland. But do you know who was the first Indian to win one?
It was the late sitar maestro Pandit Ravi Shankar, who collaborated with legendary violinist and lifelong friend Yehudi Menuhin to release 'West Meets East' in January 1967.
An eclectic work of art, the album won the Grammy for Best Chamber Music Performance in February 1968. The album was recorded following a groundbreaking duet they performed in June 1966 at the Bath Music Festival in the UK, where they mesmerised audiences.
But how did this collaboration first come about? Before we dwell on this historical friendship and the Grammy Award-winning album it produced, it's important to present some context.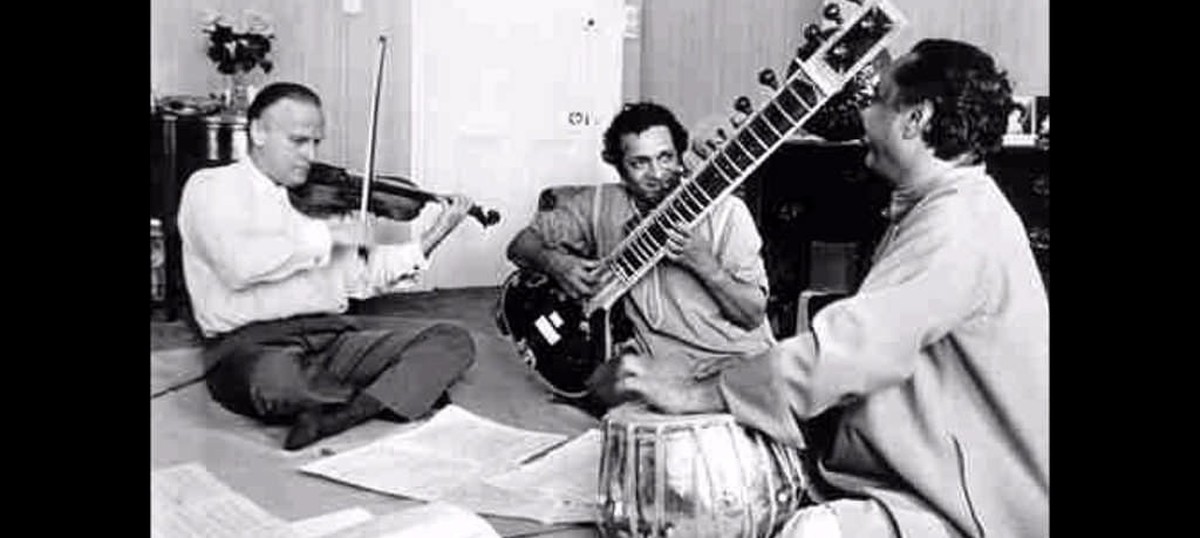 From different worlds
Born to Russian Jewish parents in New York City in 1917, Yehudi Menuhin first picked up the violin at the age of four. He had performed his first solo piece with the San Francisco Symphony by the time he was just seven years old. There was no looking back for this prodigious talent and master of the violin as he embarked on an illustrious musical career.
Despite his talent, Ravi Shankar took a different road to music stardom. After his parents died in his teens, Shankar gave up a career in dancing in 1938 to study the sitar and Hindustani classical music under court musician Allauddin Khan. After completing his training in 1944, he worked as a composer and performed in a variety of locations taking Indian classical music to the world and building a reputation as one of the country's greatest musicians to date.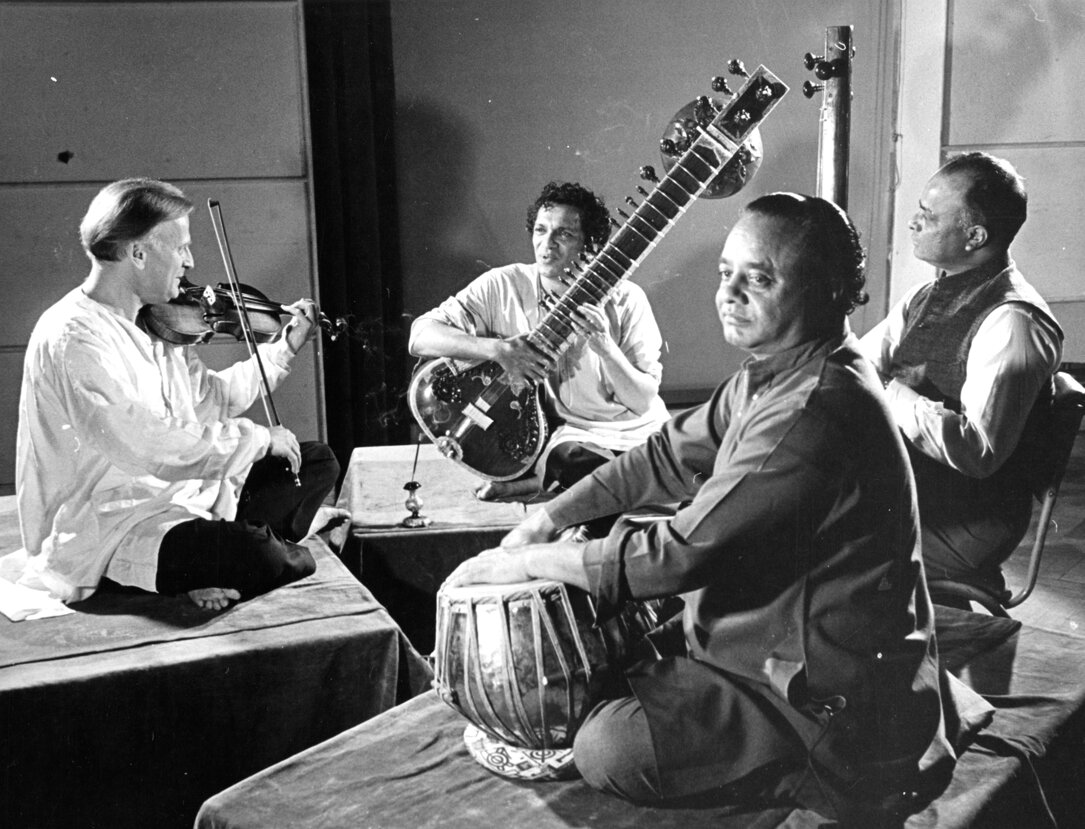 Meeting of minds
In January 1952, the Government of India invited Menhuin to perform a series of concerts across the country's largest metro cities — Delhi, Bombay (Mumbai), Bangalore (Bengaluru), Madras (Chennai) and Calcutta (Kolkata). Proceeds from these concerts would find their way to the Prime Minister's National Relief Fund. A lot of these performances were given in cinema halls, including the likes of Regal and Excelsior in Bombay and the New Empire in Calcutta.
During this 1952 visit, Menuhin was formally introduced to Shankar for the first time in Delhi, although they had met briefly in Paris 20 years earlier in 1932.
Shankar recalled to The Independent, "In January 1952, Yehudi Menuhin and his wife Diana came to India. Together with other well-known Indian musicians, I was invited to Delhi to the house of the director-general of India Radio, to play for Menuhin. Of course, I knew about him and was familiar with his music. In fact, we had already met in Paris when he was 17 and I was 13. At the time I was living in Paris with my brother, Uday, who was 20 years older than me."
Describing that brief meeting in 1932, Shankar said, "One day, Yehudi and his sister Hephzibah came to visit our house [in Paris]. Hephzibah accompanied her brother at the piano and even though I was still very young, I was overwhelmed by the sound he made. Yehudi couldn't possibly remember me from all those years ago, but I've never forgotten his playing."
During that visit in 1952, a young Shankar was asked to play the sitar for Yehudi.
Shankar recalled, "He was extremely interested in Indian music and from the moment we met, we clicked, both as musicians and as human beings. It was the beginning of not only a very great friendship but a learning and sharing of each other's work."
When asked why he loved Indian classical music, Menuhin told the BBC in a 1961 interview, "I love this music. The extreme subtlety, the incredible organisation, the incredible awareness that must be continuously present in the minds of each individual who is playing it. The manual dexterity fascinates me as a violinist. The wonderful sensitivity and rapidity of the reflexes."
Meanwhile, Shankar recalled in another interaction, "After that first visit [in 1952], Yehudi became more and more interested in Indian culture. He came back with Diana on many more visits to India in order to learn, absorb and understand our music. I know that he calls me his guru, but, to be honest, I find that quite embarrassing."
Over the years, Shankar indulged Menuhin's interest in Indian classical music. However, when the subject of playing and performing together came up, Menuhin recalled, "I was hesitant the first time that Ravi said — 'You must play music with me,' but I finally took the plunge and we locked ourselves away while he gave me lessons in the basic formation of the music patterns. I was extremely nervous at the thought of performing with him."
On the subject of why they got along so well personally and artistically, here's what Shankar had to say. "Although our cultures and our music are so different, I have never found it a strain to be with him. Not even at the beginning. From that very first meeting, I realised that Yehudi was quite different from almost any other Western musician I knew."
He added, "This is not a criticism, but many Western musicians are very uptight because Western music is very precise. It's not something you play, as it were, bet-ween the lines. Of course, confidence is extremely important for a performer but with a lot of musicians it is their ego, not just their confidence which stands out. Yehudi's humility is quite extraordinary. It's one of the things which has always impressed me about him."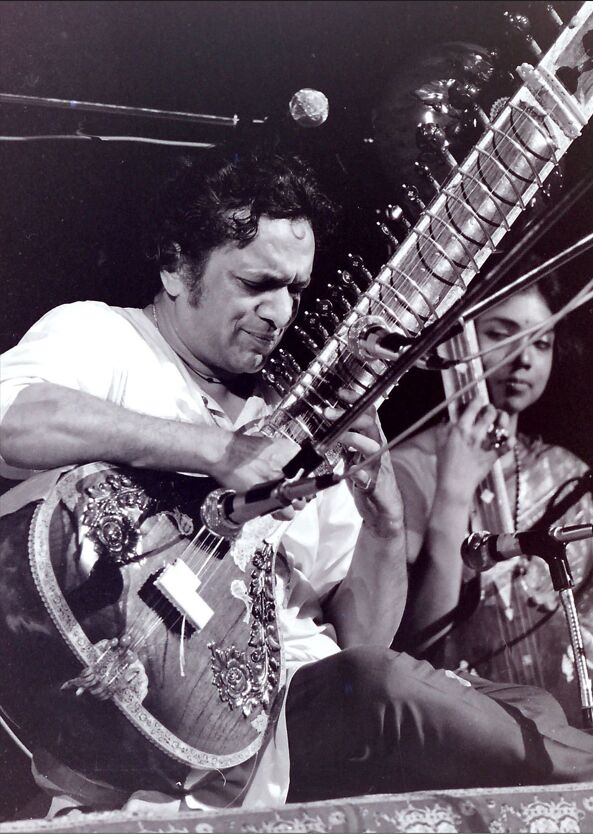 Making an album
However, it was only 14 years after their first formal meeting in 1952 that they finally combined their talents to publicly perform and record with one another. At the time, Menhunin was in charge of the Bath Festival and felt it would be a good time for them to perform together.
According to Ben Argeband of Culture Trip, "[Menuhin] was unfamiliar with Indian scales and unaccustomed to improvisation. Nonetheless, he played impeccably, becoming the first Western musician to perform a classical raga on stage with Indian musicians."
Initially, Menuhin had asked British composer and pianist Benjamin Britten, an early champion of Shankar, to write a sitar-violin duet for the duo. Unfortunately, Britten declined due to creative differences. Following this episode, Mehuhin commissioned a piece for their 1966 performance at the Bath Music Festival from German composer Peter Feuchtwanger.
A BBC Music article stated that the "rehearsals proved instructive for Shankar". It went on to add, "Feuchtwanger's composition, an attempt to write in the Indian raga Tilang, sounded strange to Shankar who rewrote most of the piece, to Feuchtwanger's annoyance."
The live performance was such a resounding success that music record label EMI offered to record the duo. Based on that performance, Shankar and Menuhin composed the first part of a trilogy titled 'West Meets East'.
This album, according to Argeband, "would set a high standard for cross-cultural playing." "The eloquent sitar and violin duet forms the centrepiece of the album and undoubtedly went a long way to winning them a Grammy in the chamber music category."
The album itself included three ragas and three additional Menuhin recordings of George Enescu's Violin Sonata with his sister Hephzibah on the piano. Enescu was a legendary Romanian composer, violinist, conductor and teacher who deeply influenced Menuhin.
Describing the finer details of the album, Oliver Craske, the biographer of Ravi Shankar wrote, "The land underfoot was Indian, for Menuhin played Shankar's music. It was the first great collaboration between virtuosos from different traditions, the precursor of countless such meetings, and it topped the Billboard classical charts for six months."
It was no surprise when the album won a Grammy. More interestingly, Shankar's work in spreading the gospel of Indian classical music would find space in other Grammy award-winning albums in the categories of rock and jazz in the same year as well as The Beatles' 'Sgt. Pepper's Lonely Hearts Club Band' and Duke Ellington's 'Far East Suite'.
Undoubtedly, when 'West Meets East' won the Grammy, it was a deeply significant moment in the history of music. After all, it brought both Indian classical music and Western classical music on the same platform for the first time. More than the album, however, the duo would make an even bigger impact on world music following another performance at the end of 1967.
They played together at the United Nations in New York, celebrating Human Rights Day. More importantly, it was televised around the world. Musicologist Peter Lavezzoli said, "The significance of 1967 cannot be overstated in terms of Indian classical music being made increasingly accessible to a Western audience", and the duo were "chief architects of this development". But this isn't where their influence on musicians around the world stopped.
They would continue to achieve greatness individually and collaborate with others. But through their album, Shankar and Menuhin brought Indian music to the West in a massive way.
(Edited by Divya Sethu)
Sources:
'HOW WE MET: YEHUDI MENUHIN AND RAVI SHANKAR' by Sue Fox; Published on 30 September 1995 courtesy The Independent
'Menuhin And Shankar: A Duet Of East And West' by Ben Argeband; Published on 13 August 2021 courtesy Culture Trip
'Yehudi Menuhin birth centenary: How India shaped the legendary violinist' by Luis Dias; Published on 22 April 2016 courtesy Scroll.in
'Abbey Road 90: Ravi Shankar and Yehudi Menuhin Record West Meets East – the first time Indian and Western Classical music come together'; Published on 10 July 2021 courtesy Abbey Road Studios
We bring stories straight from the heart of India, to inspire millions and create a wave of impact. Our positive movement is growing bigger everyday, and we would love for you to join it.
Please contribute whatever you can, every little penny helps our team in bringing you more stories that support dreams and spread hope.