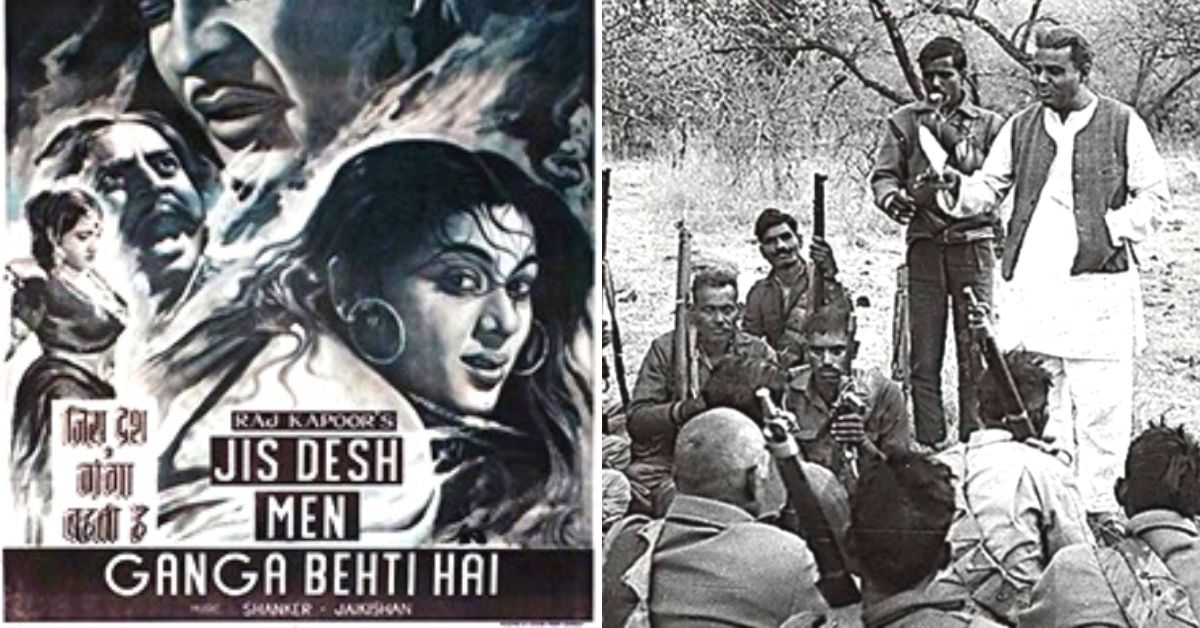 When Acharya Vinoba Bhave was able to inspire many dacoits to give up violence, his actions inspired the Bollywood classic Jis Desh Mein Ganga Behti Hai, which interestingly set the ground for future such acts of surrender.
In 1960, Vinoba Bhave, a social activist and a celebrated disciple of Gandhi, received an interesting letter.
It was from Tehsildar Singh, the son of famous dacoit Man Singh from the deep ravines of the Chambal Valley, which extends into southeast Rajasthan, southwest Uttar Pradesh and north Madhya Pradesh. The letter came from the Central Prison at Naini, Allahabad, where Tehsildar was on death row, and in it, he expressed a desire for Acharya's blessings before his hanging and arriving at a solution for the growing problem of dacoity in the region.
'Acharya' (teacher), as Bhave was fondly known among his disciples, was on a visit to Kashmir when he received this letter. After reading it, he deputed Yadunath Singh, a retired major-general in-charge of his Kashmir visit, to meet Tehsildar in prison. After visiting him, Yadunath went to the once-dreaded Chambal region to meet dacoits of the Man Singh group.
"On return, he gave Vinoba his impression that some dacoits might surrender to him if he visited the area. Vinoba, therefore, expressed a desire to visit it and try for the conversion of the dacoits," wrote Vishwanath Tandon, the author of Vinoba's 1992 self-titled biography.
On 7 May, Acharya Vinoba Bhave started his mission to help these dacoits surrender before the state, renounce violence and rehabilitate them back into mainstream society.
On the 13th, he addressed a gathering at the banks of Chambal River in Madhya Pradesh, where he said, "I have come to [the] glorious land of the brave. This is the land that has produced brave dacoits. They are noble men. The only difference between them and other men is that their train has got on the wrong track. I think they are better men than the dakus (dacoits) of Delhi, because they are unsophisticated."
"A change of heart is easier to achieve among them than among the civilised people of the cities, who have formed a hard crust of personal self-interest over their hearts. I want them to respond to my call and surrender. The solution to dacoity lies in surrender — not in firearms. Only non-violence can enable us to solve the problem of dacoity," he added.
In another address to the local police, he said, "No one is a born dacoit. It is a natural result of exploitation, miserliness, cruelty and callousness. … If we love dacoits, show kindness to them, [and] transform our village into a family, the whole problem would be solved by itself. These dacoits are very simple, brave and fearless. If we change their line of action they will easily turn into saints."
"The police cannot solve this problem. If they come to stay here, the dacoits will do likewise, and so also malice, hatred, aversion and animosity."
To ensure that his actions didn't mean giving some of these violent dacoits a free pass, he said, "One sees God according to one's own light. It is incorrect to say that the dacoits who surrendered to me had been given any assurance. All along my tour, I have been publicly stating that it is for the law courts to decide whether they are to be acquitted or punished."
Besides convincing President Rajendra Prasad to commute Tehsildar's death sentence to life imprisonment, his initiative saw about 20 dacoits surrendering to the state.
"By the time Vinoba left the region, the number of surrendering dacoits was twenty. To utilise the changed climate generated there, a Chambal Peace Committee was constituted by the Sarva Seva Sangh under the guidance of Vinoba. It helped in the expediting of the cases in law courts of the three concerned States, collected funds for the reclamation of wastelands in the ravines and started a few cottage and village industries to train the dacoit families," wrote Tandon.
Although this particular campaign in Chambal Valley didn't garner anywhere close to the kind of success as the Bhoodan movement, it was a victory of non-violence and good sense. More importantly, it would set the precedent for future acts of surrender that saw many more dacoits, who prefer to be called 'Bhagees' or 'rebels' against the state, re-enter mainstream society.
Initiated in 1951, the Bhoodan ('Land Gift') movement attempted to persuade wealthy landowners to voluntarily donate a percentage of their land to landless people.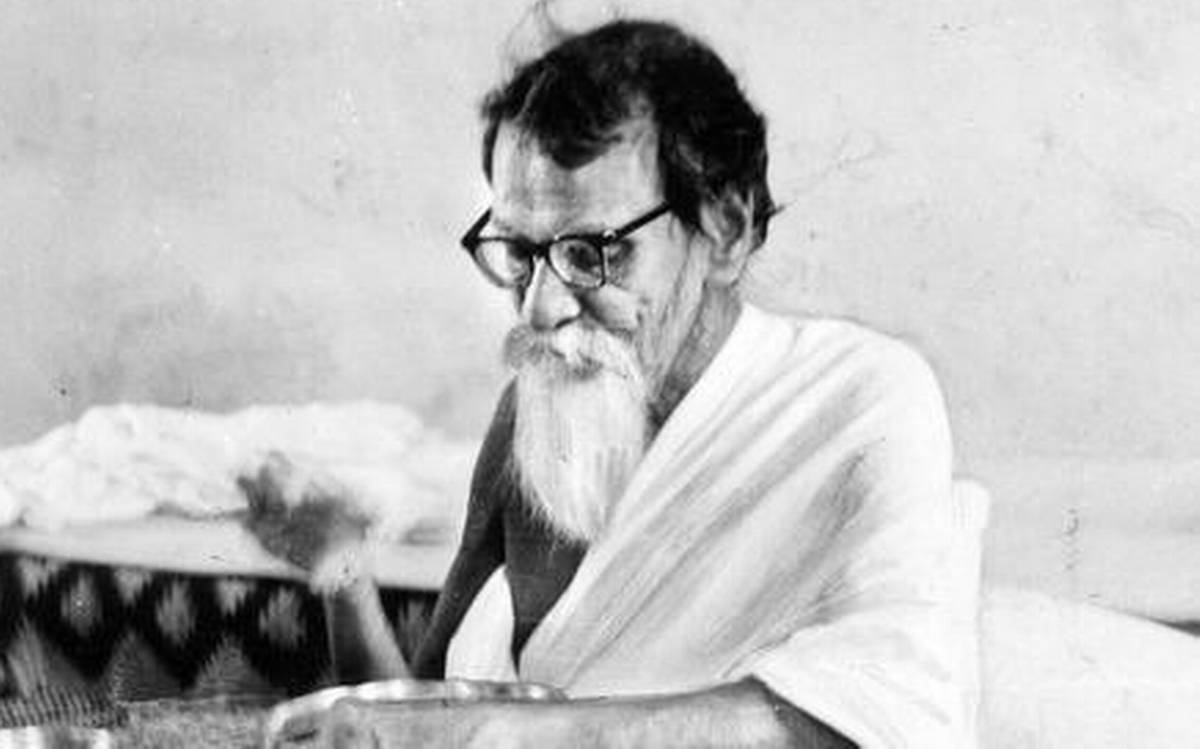 Real life inspires movie
Acharya Vinoba Bhave's remarkable act of convincing hardened dacoits to give up their arms and surrender without shedding a single drop of blood inspired Radhu Karmakar, a cinematographer and close associate of legendary Bollywood actor and filmmaker Raj Kapoor.
Karmakar narrated his idea for a movie based on this episode to Raj Kapoor. Not only did he agree to make this film, but asked his favourite cinematographer to direct it as well. The film they released in August 1960 was called Jis Desh Mein Ganga Behti Hai (translation, The country in which the Ganges flows) starring Raj Kapoor in the lead alongside Pran and Padmini.
As per some accounts, the movie almost didn't get made. When the idea was first narrated to Raj Kapoor, legendary lyricist Shailendra and music directors Shankar-Jaikishan, Shankar allegedly stormed out of the room. The source of Shankar's apparent dismay was the misconceived notion that there would be no scope for music and songs in a film about dacoits.
Shailendra told Shankar not to fret and that he would write lyrics to fit their songs for the film. Among the first words he penned for the movie was, Hoton Pe Sachai Rehti Hai, Jahaan Dil Mein Safai Rehti Hai, Hum Us Desh Ke Waasi Hai, Jis Desh Mein Ganga Behti Hai. (Translated as "Truth lives on the lips where the heart is clean. We are citizens of that country where the river Ganga flows".)
When Shankar heard these words for the first time from the lips of Raj Kapoor, he allegedly broke down in tears. Shankar-Jaikishan would go on to write one of the finest Bollywood film soundtracks of all time.
According to Ziya Us-Salam's book Housefull: The Golden Years of Hindi Cinema, "It is said that in a bid to bring authenticity to the role of a dacoit, Karmakar's film had a real life, former dacoit on the sets. He would correct the director if he felt the depiction was not quite right."
In short, the film's plot revolves around Raju, the main protagonist played by Raj Kapoor. He is a simple and honest orphan, who through a series of events ends up taking up the responsibility of trying to convince a group of dreaded dacoits to give up violence, surrender themselves and take their families back into mainstream society. Look out for the dramatic finale when you watch this film on a variety of OTT streaming platforms including Zee5 and YouTube.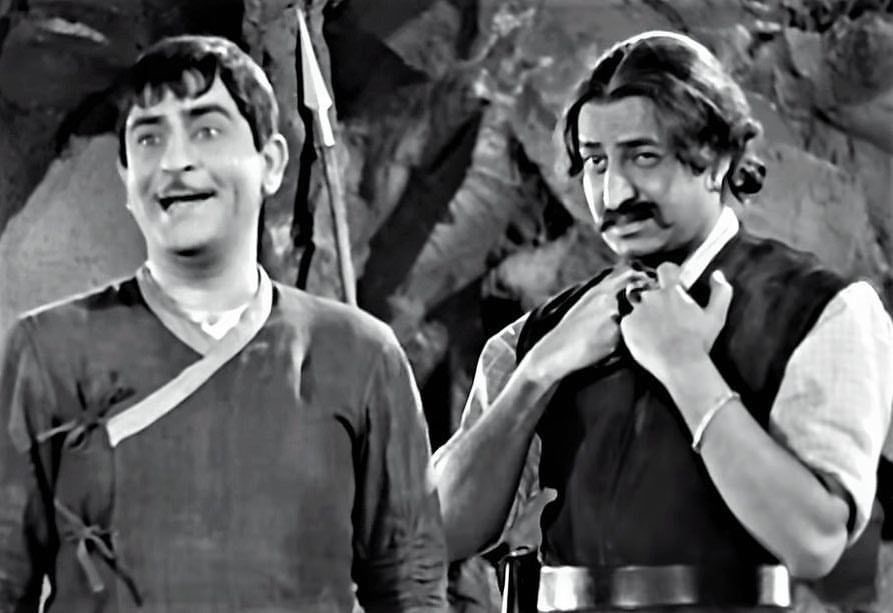 When art inspires life?
Twelve years after Acharya Vinoba Bhave's act of compassion and the film it inspired, another disciple of Gandhi and legendary socialist leader Jayaprakash Narayan managed to convince a much larger group of dacoits to surrender voluntarily. This story was vividly captured in a report by journalist William Stewart writing for TIME Magazine.
Describing the context behind JP Narayan's act, he wrote, "Travellers venture along the winding dirt roads of the Chambal Valley at their peril. The sharp ravines provide good hiding places for fugitives from the law. In 1971 alone, India's notorious dacoits committed 285 murders, 352 kidnappings and 213 robberies, all within an area smaller than the state of Maryland."
He went on to add, "The [police] campaigns [to apprehend these dacoits] were frustrated as much by the local people, who regard the bandits as baghis (rebels) rather than thieves, as by the cunning of the dacoit gangs. The bandits, many of whom like to take from the rich and give to the poor in Robin Hood tradition, carefully cultivate local goodwill, rewarding villagers with presents at weddings. But they are also ruthless in eliminating suspected informers."
After actively participating in the freedom struggle and a career in mainstream politics, the socialist leader and director of the Gandhian Institute of Studies found his way to the village of Jaura, located deep in the ravines of the Chambal Valley, Madhya Pradesh. At the time, he was in-charge of a Gandhian ashram in Jaura known as the Change of Heart Mission. Some of the inmates at this ashram included former dacoits.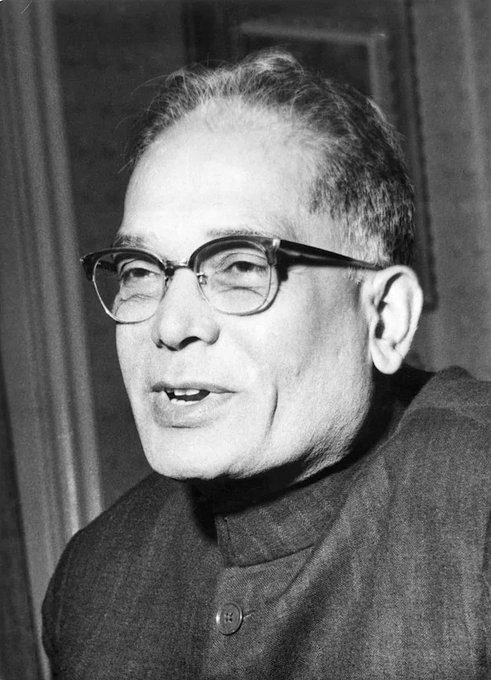 In October 1971, Narayan was visited by a man claiming to be a "lesser dacoit" who asked him to negotiate the surrender of dacoits before the state. The police were ramping up the pressure to nab these dacoits using any means necessary which meant more bloodshed.
Narayan was finally convinced to undertake the task of negotiating their surrender once this 'lesser dacoit' admitted that he was none other than Madho Singh, one of India's most wanted men with a significant bounty on his head. Singh reportedly told Narayan that dacoits in the Chambal Valley were ready to surrender "if the government would promise not to hang any of the men, to prosecute within six months and to rehabilitate their families".
When asked about the prospect of surrendering, Singh said, "Whatever we say we'll do, we go ahead with it, even if it means death for us. Sometimes we are scared of jail, but we remember that our great national leaders underwent the same incarceration. I tell the rebels who are scared of jail to think of it as a house you have rented. You don't even have to pay the rent."
Eventually on one fine morning in April 1972, before a crowd of 10,000, Madho Singh "placed his weapon at the feet of Narayan and asked the crowd for forgiveness." As Stewart reported, "Then he touched the feet of the police chief, and surrendered. At the end of the day, 167 dacoits were in jail." More recent news reports, however, claim that over 200 dacoits surrendered in Dhorera village, which lies 36 km from Madhya Pradesh's Morena, on that day.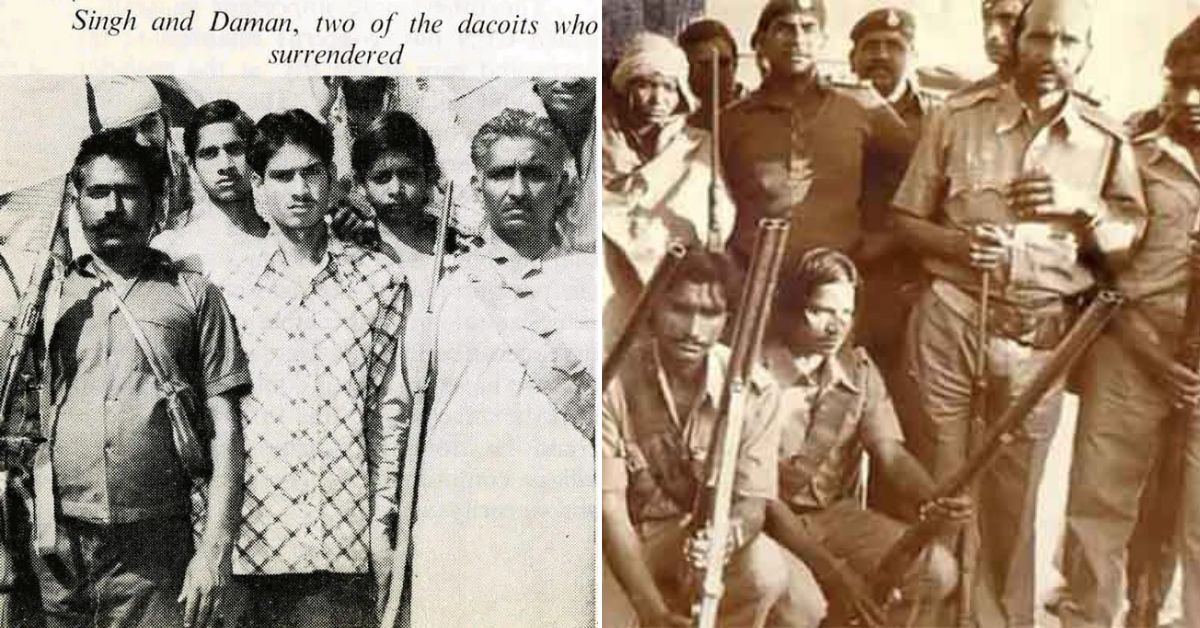 Following this historic moment, the government promised to commute all the death sentences that the courts may hand down, besides taking care of their families and providing scholarships for their children. Madho Singh was involved in 23 murders and nearly 500 kidnapping cases, and carried an award of Rs 1,50,000 on his head, according to a 1981 report for India Today by S Premi. After his early release from prison, Madho replaced the gun with a magician's wand. Back then, his troupe of two dozen was holding magic shows in former dacoit territory.
Another such former dacoit, who surrendered on that day, was Pancham Singh. He was accused of killing over 100 people during his reign of terror. Like many of his contemporaries, Singh was the subject of violence and injustice by the state before turning to dacoity.
Following his surrender in 1972, however, Singh and his gang received life sentences. But upon the completion of eight years, he was released from prison for good behaviour. After his release, he lived a life of social work, built temples, a school, donated his home to an institution and vowed to work for peace. Speaking to The Hindu in 2017, Singh said, "I regret what I did. On my release, I visited the family of each person I killed and sought forgiveness," he said.
The mass surrender of dacoits in 1972 was the first of its kind event in the history of the Chambal Valley, but wouldn't be the last. Was this event inspired by Raj Kapoor's film? The film probably had some role in popularising the notion that men who had taken to crime can be rehabilitated back into society. But the ball of surrendering dacoits was set rolling by Gandhians.
(Edited by Divya Sethu)
Sources:
'Acharya Vinoba Bhave' by Vishwanath Tandon; Published in 1992 by the Publications Division, Ministry of Information and Broadcasting
'Chambal village marks 50 yrs of 1st mass surrender of dacoits' by Shruti Tomar, Shiv Pratap Singh; Published on 13 April 2022 courtesy Hindustan Times
'Former dacoit Madho Singh shuns the gun for a magician's wand' by S Premi; Published on 15 May 1981 courtesy India Today
'Former dacoit is now a crusader for peace'; Published on 24 October 2017 courtesy The Hindu
'Housefull: The Golden Years of Hindi Cinema' Edited by Ziya Us Salam; Published in 2012 by Om Books International
'Vinoba Bhave, the Walking Saint who 'talked' bandits of Madhya Pradesh into surrendering' by Kairvy Grewal; Published on 15 November 2019 courtesy The Print
'INDIA: Surrender of the Dacoits' by William Stewart; Published on 1 May 1972 courtesy TIME Magazine
We bring stories straight from the heart of India, to inspire millions and create a wave of impact. Our positive movement is growing bigger everyday, and we would love for you to join it.
Please contribute whatever you can, every little penny helps our team in bringing you more stories that support dreams and spread hope.