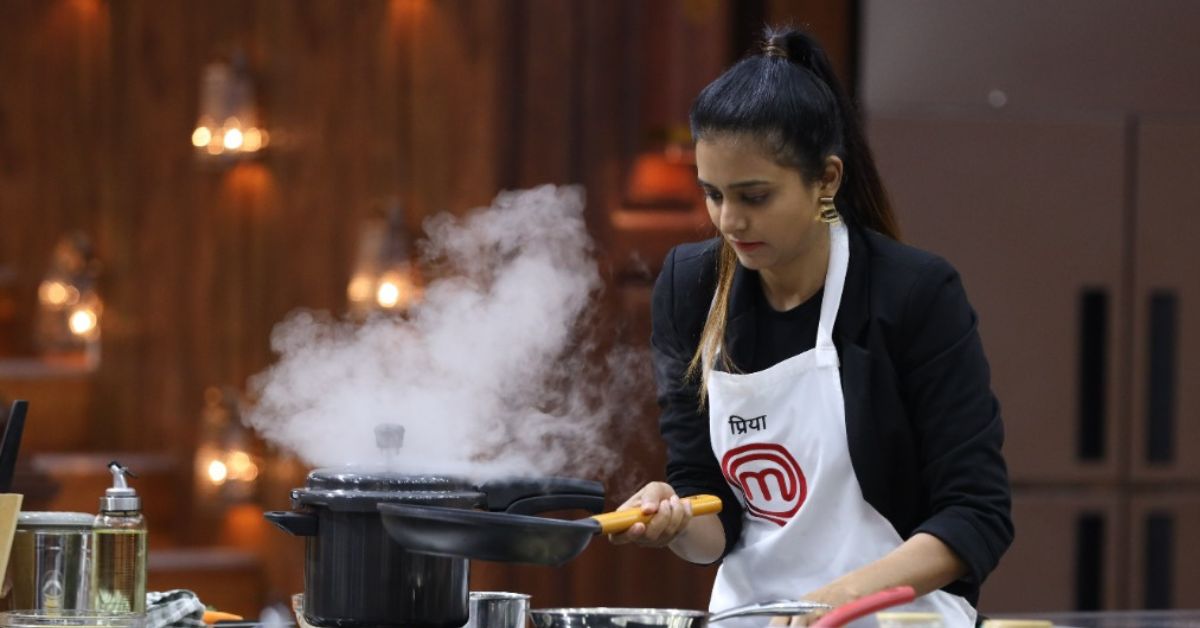 After years of ill health, commerce graduate Priya Vijan decided to quit her job and create plant-based recipes, which won her a spot on MasterChef India 2023.
All through her school and college years, Priya Vijan suffered from allergies. Every morning, she'd wake up sneezing and with a runny nose. "I would get chest congestion, sinusitis and severe migraines regularly, and used to consume antihistamines every second day for close to 10 years," says Priya, who hails from Bengaluru.
After college, she started working as a freelancer with event production companies. But she knew that a corporate career was not for her, so the commerce graduate quit her job in 2011, planning to start a business from home that requires little investment. On a friend's advice, she decided on baking, though she had no particular interest or background in cooking until then.
But in 2012, she kicked off Melt It Down, a home baking business, learning everything from scratch. Within a year, she had started taking up orders.
In 2019, she took a break from baking and enrolled in a nutrition course. And that is where she understood the importance of a plant-based diet and the negative impacts of animal products, dairy in particular.
Eventually, her concept of food transformed from being a means of satisfying one's taste buds to a source of nutrition. Priya opens up about her journey towards good health in a conversation with The Better India.
From parathas soaked in butter to legumes and millet
Following up on what she learnt in the nutrition course, Priya stopped consuming dairy products, as an experiment.
Born in Kashmir's Baramulla to Punjabi parents, it was not easy for someone like her to give up on dairy as it is an integral part of Punjabi cuisine. But after a 21-day experiment, she noticed that she did not need to take her medicines as frequently as before. She went back to consuming dairy just to see the difference and the frequency of medicines went up again. Clearly, dairy was not agreeing with her stomach.
The entire transition period of going off animal products including dairy, meat and eggs took her six months. Her diet completely changed from parathas soaked in butter and paneer to more vegetables, legumes and pulses. "Earlier, I had only two to three kinds of dals in my pantry, now I have at least 15 types of legumes and grains. I also introduced millet into my diet. The choices evolved from trial and error," says Priya.
"By the end of the period, the number of pills that I took came down from one every two days to zero. My migraine disappeared. My haemoglobin count, which was never above 9.5, shot up to 12.5," she recalls.
"I realised that a plant-based diet can cure you of many of your ailments. Simply put, it's a diet which involves more vegetables, cooked with basic ingredients. The aim is a fibre-rich food that is not sourced from animal products," she adds.
A plant-based diet, Priya claims, can help reverse type II diabetes, hypertension, obesity and auto-immune diseases.
Winning the MasterChef apron
In October 2022, Priya made it to MasterChef India with her simple and healthy plant-based recipes.
Recalling her MasterChef journey, she says, "At the audition, I introduced myself as a plant-based food, health and fitness enthusiast. I believe that good health results from a culmination of all three. I mentioned that India is the diabetes capital of the world. Lack of awareness and junk food add to the health hazards."
Her primary purpose in getting into MasterChef India was to speak about her journey, and to help heal people across the globe through food.
"It was this aim of mine, rather than the food, that won me the apron. Chefs Ranveer Brar, Garima Arora, and Vikas Khanna were really happy. MasterChef is a show that celebrates food, and I'm glad I received such a platform," says Priya, who is the only plant-based contestant at MasterChef India Season 7 2023.
Her personality reflects in each dish she cooks, and she adds plant-based ingredients to each recipe.
One of the plant-based dishes that Priya has cooked so far in MasterChef is a plant-based version of yam galouti, which is usually cooked with meat and butter, with vegan makhani sauce and a rice platter. The plant-based version tastes equally good, she swears, thus shattering the stereotype that healthy plant-based food cannot be tasty.
Among the other plant-based dishes that got her appreciation from the judges were a Kashmiri-style pulao and sukh wangun cooked with brinjal, served with walnut and raisin chutney.
Spreading the message online
After digging more into plant-based diets and observing the changes, Priya started sharing her experiences on social media, which a large number of people resonated with.
In 2020, she started giving speeches, online and recently offline, on healing through a plant-based lifestyle. "I also started tutoring people on alternatives for animal products. So far, my speeches have reached around 12,000 people across the globe," says Priya.
Today, she conducts free workshops on plant-based, gluten-free alternatives for animal products, such as tofu, nut curd, varieties of dairy-free cheese, gluten-free bread and pasta. Priya has also written an e-book titled 'Slick Belly' on basic plant-based recipes.
She hopes to speak about the benefits of adopting a plant-based diet to many people as possible so that they can take charge of their own health, solely through a change in diet.
Edited by Asha Prakash; Picture courtesy for all images: Priya Vijan.