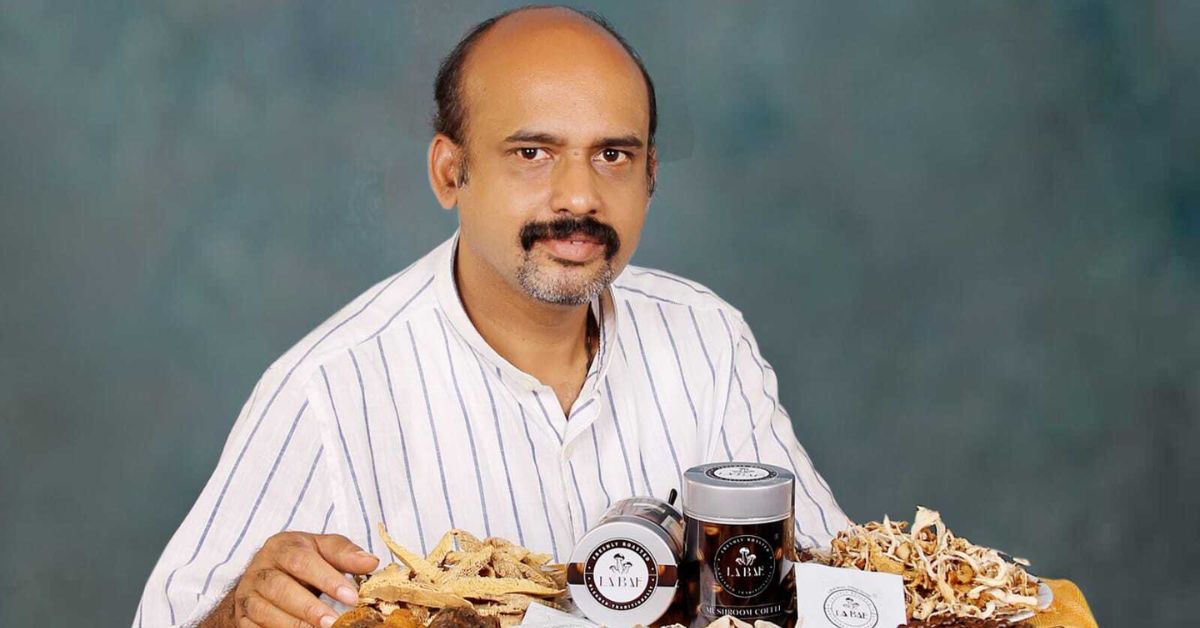 NRI Lalu Thomas returned to India after 15 years in the UAE and is all set to launch La Bae, a mushroom-infused coffee that is said to have numerous health benefits as per research. He shares how he developed this in collaboration with the Krishi Vigyan Kendra.
While working as a chef in the United Arab Emirates, launching a startup was never on Lalu Thomas' mind. But creating a value-added food product was. By the time he completed 15 years in the UAE, the 45-year-old started feeling homesick and wanted to return to his hometown Kollam in Kerala.
"I lost my job in 2019, which is when I decided to come back for good and start my own venture in India," Lalu tells The Better India.
On returning to Kerala, Lalu initially decided to take up mushroom farming which had been his mother's hobby during his childhood.
"I started growing mushrooms but soon found that it was not profitable at all. We live in a remote area in Kollam where there isn't much of a demand for mushrooms. Also, it was not really what I had in mind as my business plan, but I was sure I would do something in the food industry," he recalls.
In search of ideas, he reached out to Krishi Vigyan Kendra (KVK) in Kollam and appealed to do research with them.
"I spoke to many of the researchers at the Krishi Kendra, and they too suggested that I create a value-added product that is unique and new. There was a lot of brainstorming, but I was quite fixated on making use of my farm-grown mushrooms. I suggested mushroom soups at first, but the idea was turned down because while there is a huge market for them, there are a lot of brands selling the same product," he says.
It was then that Lalu mulled over the idea of tapping into Malayalis' love of beverages — especially tea and coffee. And this idea was the inception of his fusion food startup Chef Bae, which launched in November 2022. Under its aegis, Lalu has also launched a unique brew — La Bae, which is made with mushroom-infused coffee powder.
Like a regular cup of joe, but with an extra edge
"I had heard about mushroom-infused drinks, but never explored the idea myself. We started out with tea, but it did not work out the way we wanted, so we zeroed in on coffee. With the help of researchers at KVK, I was able to perfect a unique blend — the mushroom coffee," Lalu says.
Mushroom-infused coffee is a blend of powdered mushroom and coffee, which makes for a dark, smooth and exotic brew. While the flavour of the blend is similar to regular coffee, many consumers have reported it to have an 'earthy' taste.
Mushroom coffee can be used to make delicious mochas and lattes, but Lalu suggests boiling the powder in hot water without adding milk or sugar to enjoy the flavour to the fullest.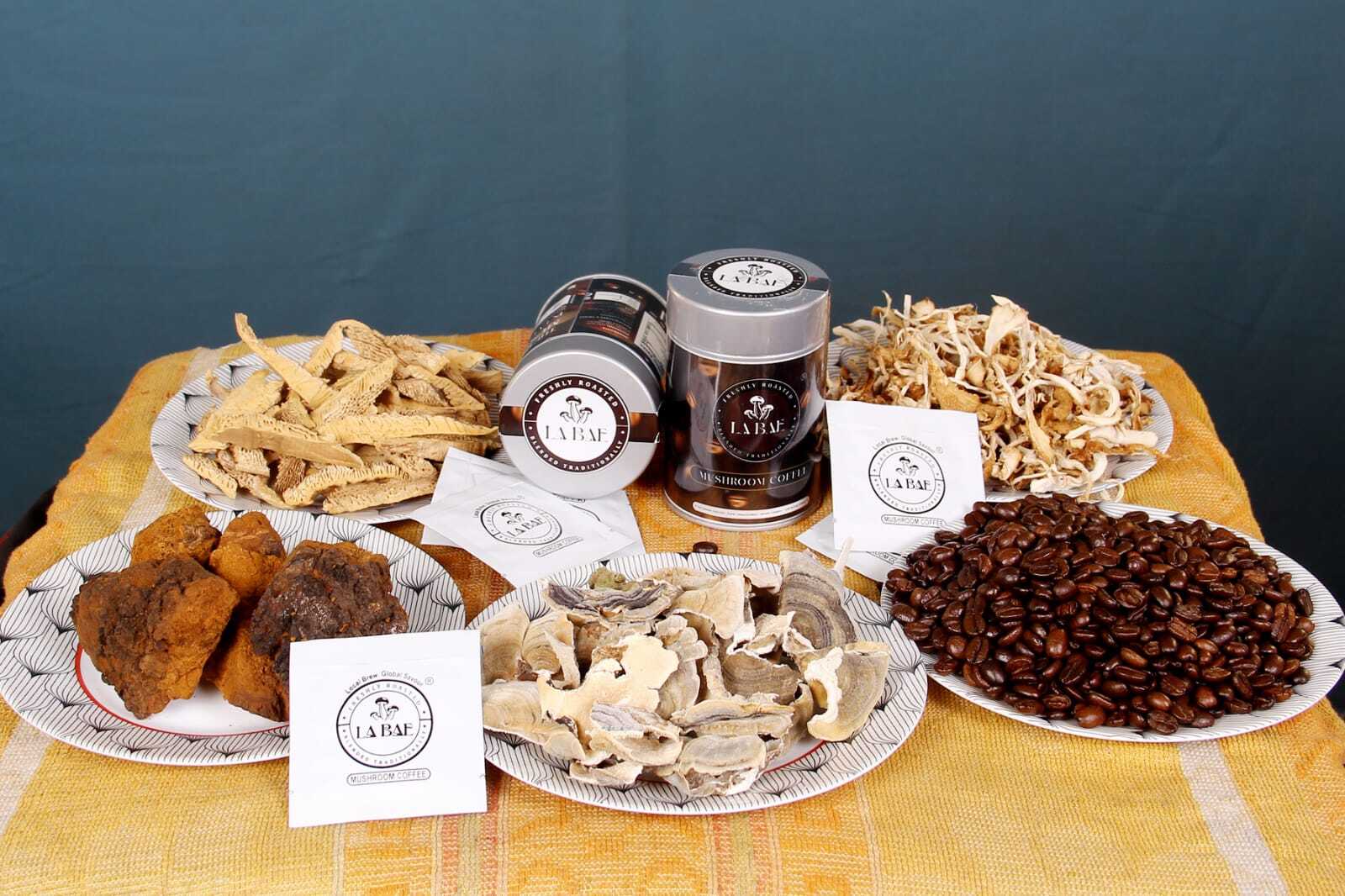 Think of it as your regular coffee, but with the extra edge of being healthier, reports Healthline.
"We use five kinds of mushrooms — taiga, oyster, turkey tail, spawn and milky — which are collected, cleaned and dried using solar-powered machines, before being chopped and ground to powder. This is added to the coffee, which gives a very unique texture to the drink. It would taste pretty much like regular coffee at first, but leave a subtle hint of mushroom at the end," he says.
But the process of perfecting the blend wasn't easy, and it took Lalu two years to come up with the correct proportions of mushroom coffee.
"In every packet, 70 percent will be mushroom powder and 30 percent coffee powder. We use 100 percent Arabica coffee without chicory, which is usually added to the coffee powder," he explains. "The mushrooms are sourced from our own farms and also purchased from Maharashtra. We don't have coffee plantations, so we get the coffee from Wayanad."
The nutritional value and shelf life of the mushroom coffee were later evaluated at the laboratories of the Council for Food Research and Development (CFRD).
"Since we do not use preservatives, our coffee's shelf life is 12 months. Mushroom coffee is a more sustainable source of caffeine than regular coffee, as the energy boost is slower and more long-lasting. Some people also claim that mushroom coffee helps them feel more focused and alert, without the jitters or crashes often associated with regular coffee," Lalu explains.
How good is mushroom coffee?
A blend of mushrooms and coffee is not only a delight for your taste buds but has numerous health benefits as well, as per a Lifestyle Asia report. Quoting Dr Bindiya Gandhi, a double board-certified integrative and family medicine physician, they explain, "Mushroom coffee is essentially coffee with mushrooms — not just regular mushrooms, but medicinal, adaptogenic mushrooms that help with energy, focus, and stamina. So you get caffeine without the jitters which often impact your cortisol [the hormone associated with stress] production."
Lalu notes, "Studies suggest that mushrooms have anti-inflammatory properties and can help in relieving stress and promote better sleep. Certain types of mushrooms have immunity-boosting properties, especially varieties like Chaga. Coffee is also a good source of antioxidants, so a combination of the two makes a great health drink."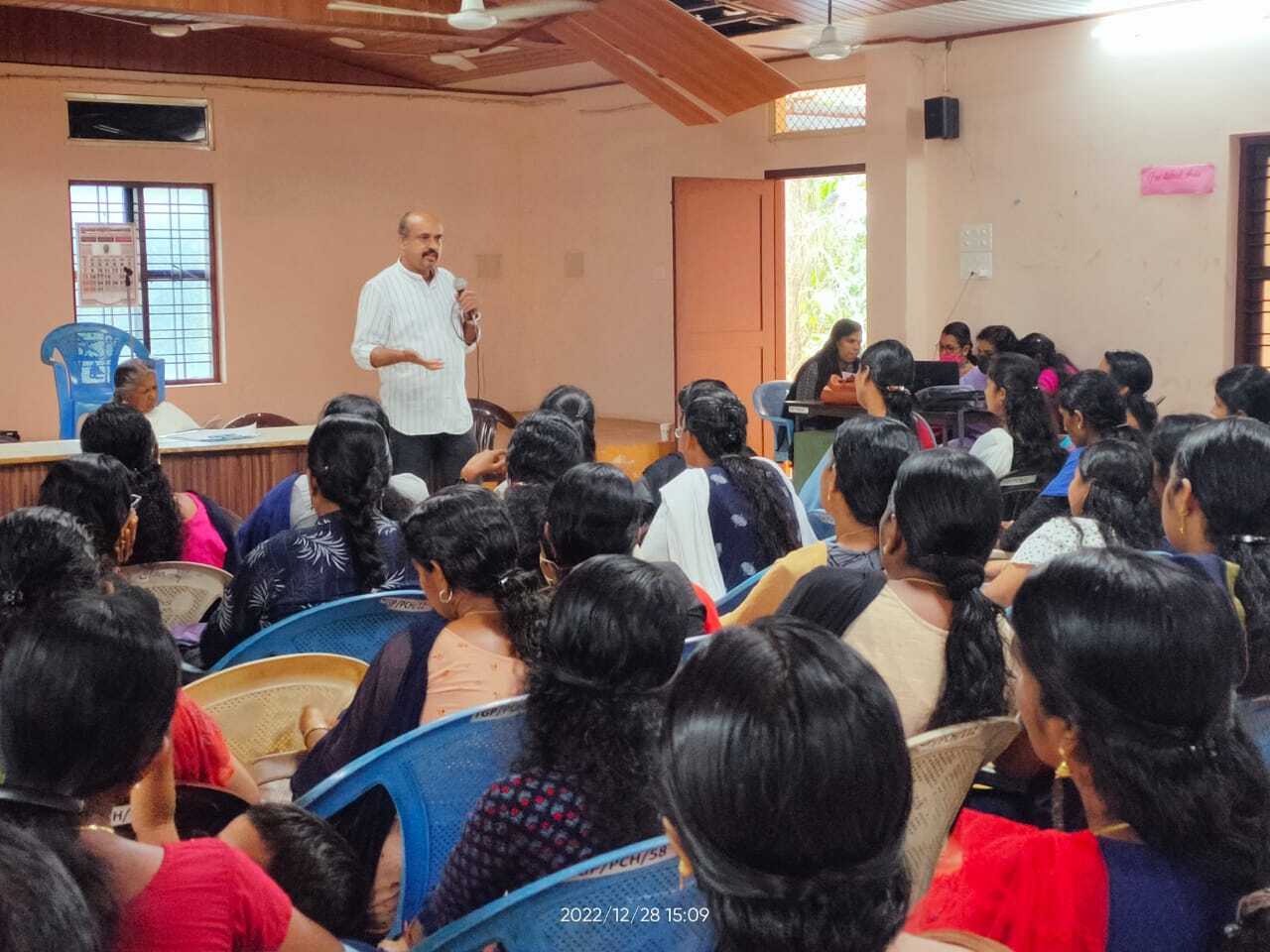 La Bea is preparing to hit the national and international markets in the coming months. "The product is undergoing packing and manufacturing, and will be available for sale in India by March 2023. We will be shipping it to the UAE as well. In India, it will be available on e-commerce sites like Amazon and in certain retail stores too," Lalu says.
Meanwhile, Lalu's thirst for fusion food is very much alive. Ask him about his future plans and he says, "I have ideas for more of such unique fusion products with mushrooms — mushroom honey, mushroom chocolate, mushroom cookies, etc. Mushrooms are very versatile and healthy, so we want to explore as many possibilities as we can."
Edited by Asha Prakash