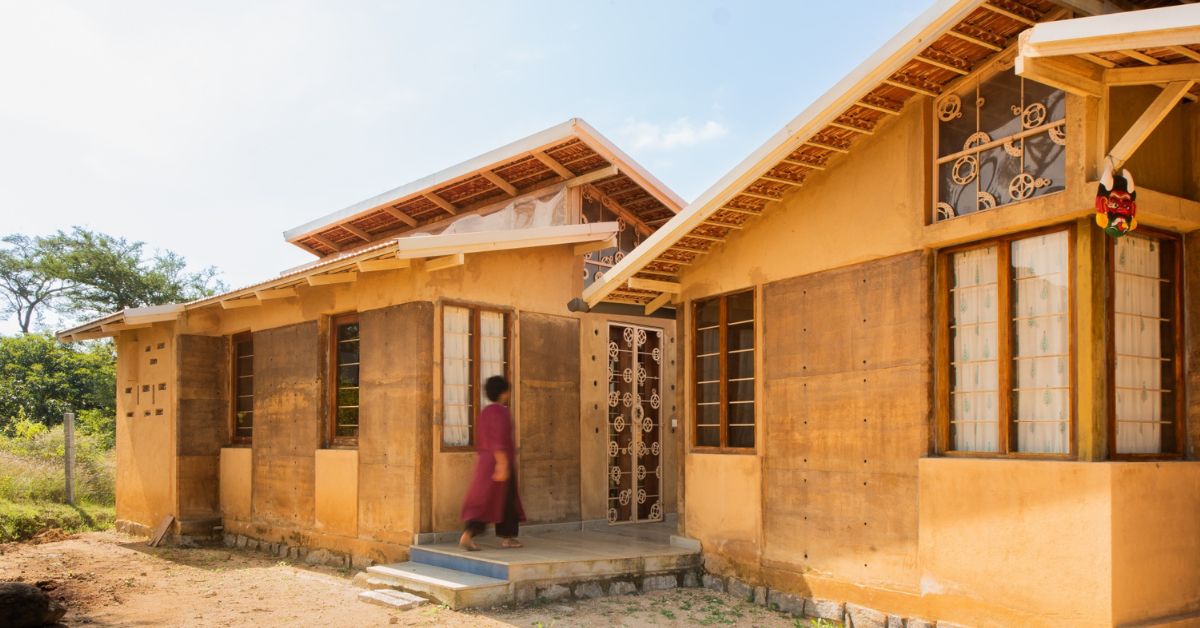 Bengaluru architect Sharanya Iyer runs Studio Verge, wherein she builds eco-friendly 'earth buildings' that ensure comfort and convenience. The venture has built over 50 projects across South India.
This article has been sponsored by Wingify Earth.
Bengaluru architect Sharanya Iyer's enterprise is aptly named 'Studio Verge', for her work "is on the verge of the old and new, of urban settings and the natural environment," she says.
The 41-year-old architect focuses on making 'earth buildings' — those made of earth as a material of construction, and using sustainable earth-friendly techniques.
She gives these eco-friendly buildings a contemporary feel, with a minimalist aesthetic and facilities that ensure comfort and convenience. Studio Verge, founded in 2013, has been involved in over 50 projects over the past decade in Karnataka, Tamil Nadu, Kerala and Telangana.
"Around 25% of these projects have been earth buildings. But these days I am being more selective, and 75% of my projects are based on sustainable construction techniques," Sharanya says.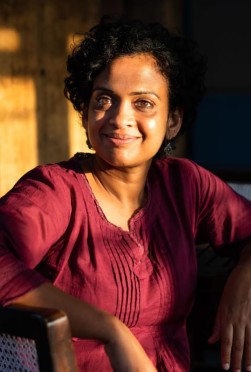 "Interestingly, nowadays five out of seven inquiries I get from individuals are for earth homes. That is so exciting! However, in the case of office buildings, this is not the case. There is a mindset that they should have a certain look with glass facades. Apart from independent houses and apartments, I have done a few schools and learning centres."
How it all began
Often, the image associated with that of mud homes is a dark, cramped home where walls can be washed away in heavy rain. There are anxieties and misconceptions, says Sharanya. But earth homes need not have a traditional look. In fact, Sharanya's design aesthetic is minimalist and each project aims to achieve a balance between functional needs, sustainability, durability and ease of maintenance, she explains.
Her journey with eco-friendly construction began when she was a student at Jawaharlal Nehru Architecture and Fine Arts University (JNAFAU), Hyderabad.
"In 2003, a family friend asked me to design and construct a meeting space for a self-help group. The site was in Zahirabad, Telangana. I enthusiastically did my research and found out that laterite stone was the locally available material. So, that's what I primarily used in construction. That experience taught me that sustainable solutions need to be linked to local materials, knowledge and skills to have a wider impact," she says.
Her next exposure to earth construction was a month-long mud construction workshop at Puducherry offered by the Earth Institute in Auroville. Many architects begin their journey in earth construction with this workshop, she says. She also went to COSTFORD in Kerala to learn the Laurie Baker style of alternate construction.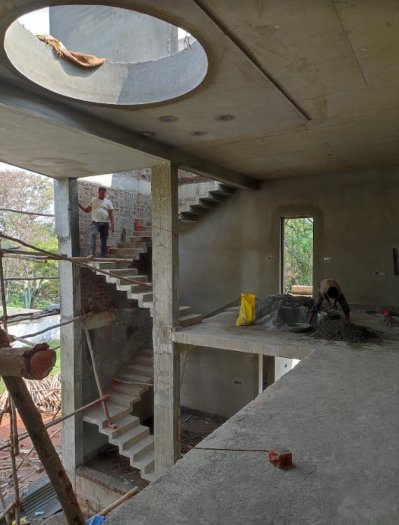 Subsequently, Sharanya went to do her masters in urban design from the University of Cincinnati, USA. She worked for four years in the US in the mainstream construction segment, but was bored quickly. She picked up the LEED green building certification given in the US, as well as the GRIHA certification in India.
"After coming back to India, I started working for others. But the work was not satisfying. And as a single mother, the hours were difficult. I decided to strike out on my own and set up Studio Verge. I never dreamt that I would stay afloat for a decade, let alone have prestigious clients like the Infosys Foundation and the Department of Tourism, Karnataka," she says.
Specific techniques
Elaborating on the techniques to make earth buildings, Sharanya says, "Typically, earth from the same site or close by is used and moulded into different forms. There are three main techniques — cobb, rammed earth, and mud blocks. The raw earth is stabilised and strengthened by adding cement and lime."
The cobb technique involves making thick mud walls, and is an ancient form of earth construction that was commonly used for 'vernacular' homes – traditional homes found in rural areas. Earlier, mud blocks were made with moulds to replace bricks. Today, the process is mechanised and faster using a hydraulic press.
Sharanya favours the rammed earth technique, where a nine-inch-thick wall is made after compressing mud between two planks of plywood. The planks are moved higher and higher to make the wall taller. The plywood is removed after the mud sets, which takes around a day. This technique is easy to implement and fast, she says.
Championing local craftsmanship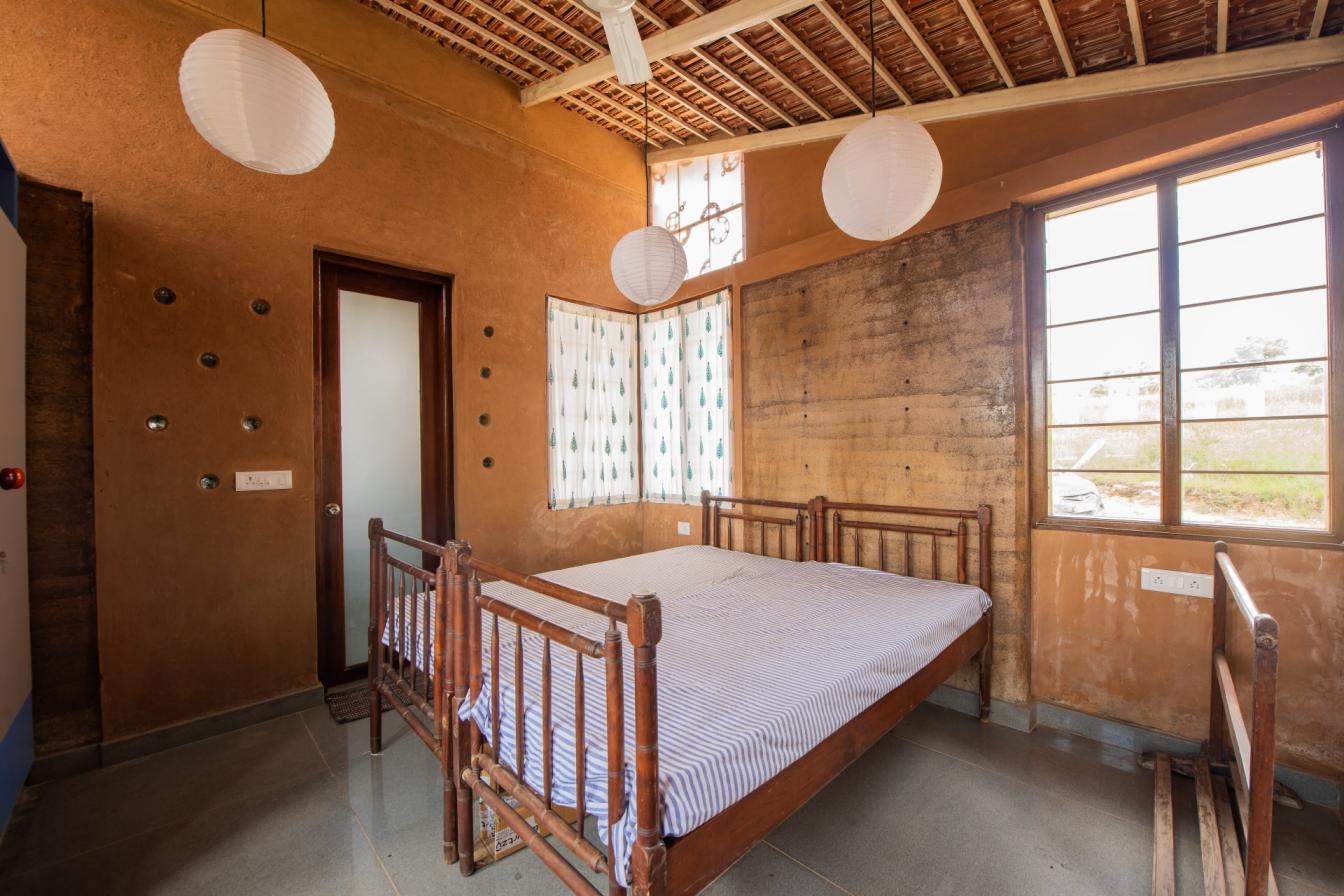 Earth buildings are as sturdy as conventional buildings and climatically sensitive, asserts Sharanya. "When we design earth buildings, we extend the sustainable idea holistically to include energy and water conservation. We use both passive (windows, skylights, suitable shading of windows) and active (solar energy, rainwater harvesting) methods to achieve this."
Earth homes also reduce the dependence on air-conditioning and heaters. The designs ensure adequate cross ventilation and glare-free natural lighting, material selection and details in a building, she explains. Some of the critical factors are suitable orientation of windows, shaded courtyards, heat absorbing/insulating walls, and designs that enable the funnelling of breeze.
The use of materials indigenous to the region where the site is located reduces the carbon footprint. "Earth buildings are not just nature friendly as they leave a minimal energy and carbon footprint, but also occupant friendly, with better air quality (fewer toxic chemicals), appealing green spaces, and more natural light."
"In conventional construction, there is greater use of steel and concrete, which benefits large corporations. Also, these materials involve more embodied energy — the energy used to make them. Much of the process is mechanised and the labour component has been declining steadily," says Sharanya.
In the case of eco-friendly construction, material and labour cost is almost 50-50, she notes. Earth buildings take almost the same time to build as conventional structures. They cost the same as well, ranging from Rs 1,500 to Rs 3,000 per square foot depending on choice of finishes.
"However, more is spent on labour and craftsmanship as compared to conventional structures. Also, we are employing local labour and building their skills," she adds.
There are a few disadvantages of earth buildings. Firstly, they require greater maintenance, as well as termite treatment and replastering at regular intervals. They also need larger sites to be dug up to store mud and make bricks. There are certain limitations in terms of height and size of rooms. These disadvantages are overcome by not going in for 100% earth construction, says Sharanya.
Even architects who are enthusiasts of mud construction hesitate to use the cobb technique, because the thick mud walls occupy too much space, there is more dependence on manual labour, and difficulty in obtaining perfect finishes, she explains.
Two significant projects
Most of the earth buildings constructed by Studio Verge are in semi-rural and rural areas. The enterprise is building Shalini Thally's farmhouse, 50 km from Bengaluru.
Shalini and her husband are computer engineers based in Bengaluru. "A few years ago, we took a sabbatical to travel and try farming. As part of that journey, we felt we wanted a sustainable home. We have participated in earth construction workshops. We have also stayed in earth homes and really liked the feel," she says.
"Our farmhouse is coming up beautifully. Buildings made of concrete and steel would stick out like a sore thumb in a natural environment. It is a small house as building something large itself has a bigger negative environmental impact. In our earth home, most of the walls are made of rammed earth. A large section is a cobb wall, where the sun is the harshest. Significantly, recycling has been practised [in the making of the house]. For instance, Sharanya repurposed used tiles in mosaic form. She has also repurposed used doors and some sanitaryware," elaborates Shalini.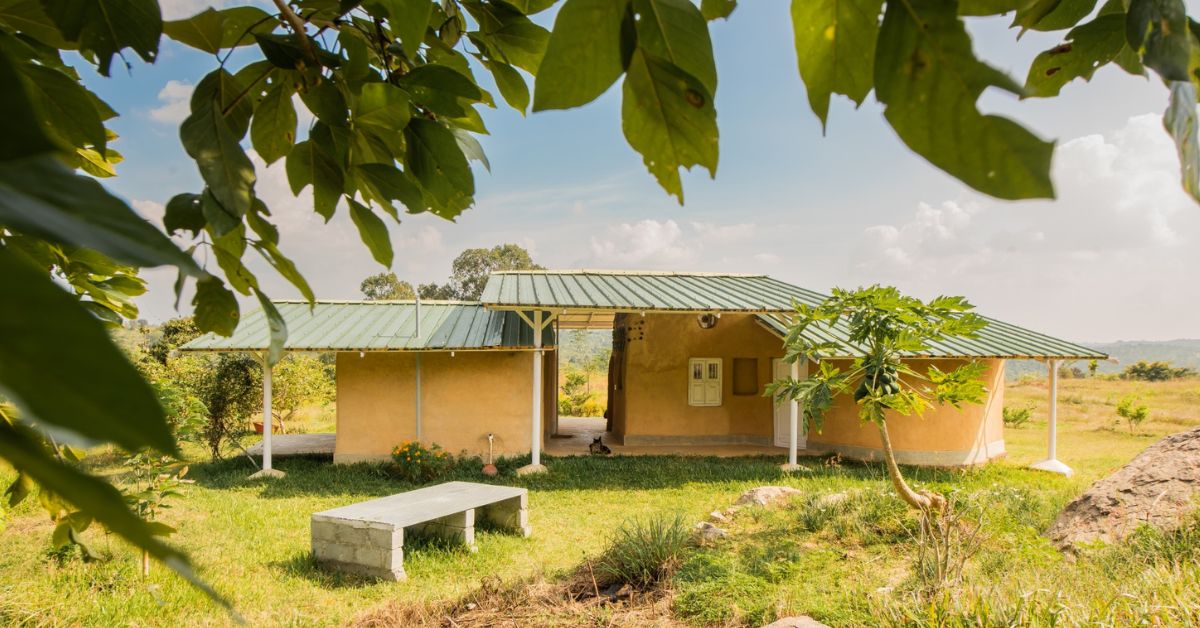 Additionally, Sharanya's latest experiment in terms of a contemporary earth home is in Bengaluru. The house gives a sense of vastness and openness even in the middle of the city. This, coupled with green spaces, creates a tranquil atmosphere.
For this house, Sharanya has used rammed earth walls in the central courtyard to create an element of sculptural drama, and terracotta jalis to capture breeze and shade. She has also implemented technologies such as solar lighting, rainwater harvesting and wastewater recycling to improve the ecological performance of the building.
An environmentalist's viewpoint
Kartikeya Sarabhai, leading environmental educator and founder of Centre for Environment Education (CEE) in Ahmedabad, has a very positive take on earth buildings. The Padma Shri recipient says, "Earth construction scores over using bricks for a major environmental reason. To make bricks, the topsoil from farm areas is taken away. Topsoil is a very valuable, nutrient-rich, restricted resource needed for cultivation."
"Earth buildings can be used in a variety of contexts. Rammed earth is a very interesting technique. After the Gujarat earthquake, there was a significant amount of earth construction in Kutch. That people are becoming conscious about the materials used in construction is an important change in mindset. Architects need to present wider options to clients. Earth construction is a viable and environmentally sound option with a lot of potential," he notes.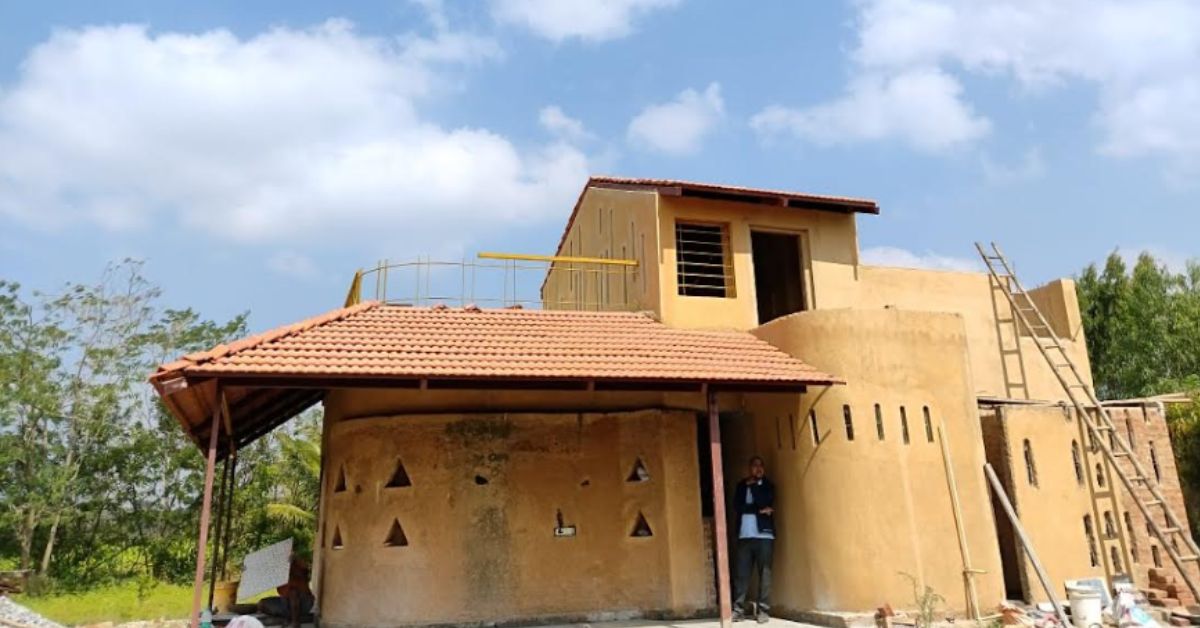 British-born Indian architect Laurie Baker had also noted, "Most materials have their own special characteristics, and if used honestly and simply, they contribute to the 'looks' of a building merely from their colour, their texture and the patterns formed by joining them together. There is no need to cover them over with costly finishes. Let a brick wall look like a brick wall and a stone wall should look like a stone wall."
Meanwhile, Sharanya's dream is that more and more people go in for earth construction. "I don't want clients to use their earth homes for occasional use. Neither do I want them to compromise on their lifestyle. That's why I give those living in cities flexibility in terms of the extent they want to adopt eco-friendly features in their houses."
She also teaches eco-friendly construction in two colleges of architecture in Bengaluru, alongside conducting awareness workshops for children. Another plan is to collaborate with nature lovers in Bengaluru to popularise earth buildings, she says.
Edited by Divya Sethu; Images: Sharanya Iyer