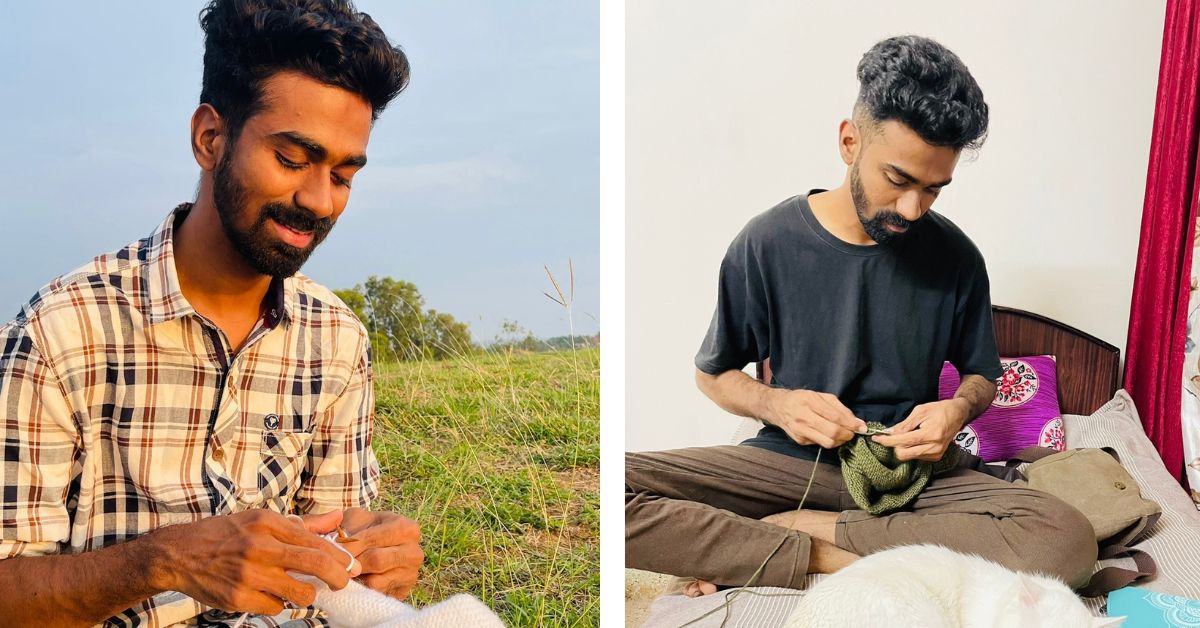 When the pandemic hit, Bengaluru engineer Sohail Nargund started knitting to overcome anxiety. Today, his hobby earns him million of views on Instagram and a neat profit too.
While many still associate knitting with women, Sohail Nargund, a 28-year-old engineer, has been breaking this social stereotype for the past couple of years.
When the pandemic hit and the world came to a halt in 2020, Sohail's personal struggles began. Originally from Hubli, he was living in Bengaluru, at the time, working from home while struggling to cope with growing anxiety.
"Initially I was anxious over small things, but gradually my condition worsened. I would overthink all the time and my heart would race — partly because of the workload I had and partly because of the uncertain times we were all living in," Sohail tells The Better India.
Then one day, he stumbled upon an online post that recommended knitting to help with anxiety. Fearing that his mental health may worsen, he decided to give knitting a chance. "So, that is how I started to knit. When I picked it up, I realised how it soothed me and calmed me down. I felt relaxed and occupied; it was working for me," says Sohail.
Soon, he started an Instagram page called '@the_rough_hand_knitter', where he started posting pictures and tutorials. Today, he sells various handmade products through the page and inspires many knitting enthusiasts, while breaking stereotypes.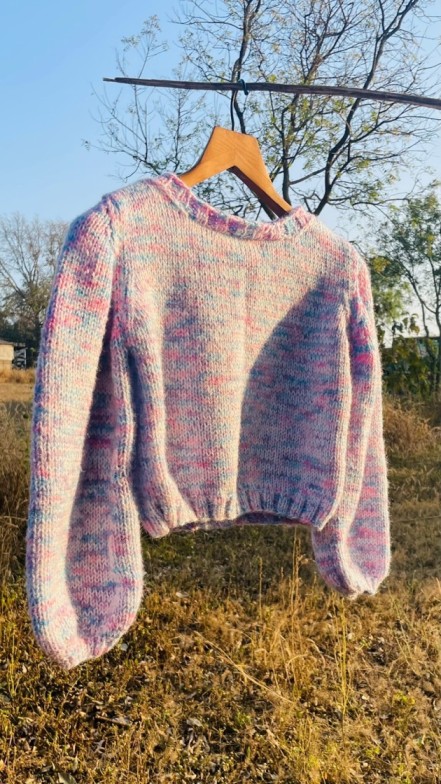 'I knit anywhere and everywhere'
"As a kid, I would pick up many hobbies and then fail to succeed at any. So initially, I bought only some yarn and sticks and started learning how to knit on my own, mostly through YouTube videos. Later on, as my interest built up, I approached a knitting coach on Instagram who helped me a lot," shares Sohail.
Talking about how knitting has a gender stereotype in society, he says, "I was really shy to show my work to my father. I was expecting him to say something which would upset me, but to my surprise, he was very impressed and happy with my work. He even told me that knitting has nothing to do with gender, and that gave me validation and satisfaction."
With validation from his father and support from his sister, Sohail decided to take a step towards breaking the stereotype.
"My father was ill and we had to admit him to a hospital. I took my knitting with me to the hospital. I sat in the hospital and started knitting, and people around me reacted in such a heartfelt way. This gave me the much-needed courage to knit in public. Now I knit wherever I want, just like one would use their phone. Whether I'm waiting for the doctor or travelling in a taxi, train or bus, I knit. It took me a lot of courage to do this, but here I am today," he says.
The first sweater that Sohail made was for his sister, which she adored. Then, he decided to share his knitting work on Instagram.
"When I started sharing the knitting process and pictures on my personal page, I got a lot of love and well wishes. I did not want to spam people who were not interested in my stories, so I started another page," he says.
The Instagram page dedicated to his knitting adventures is called '@the_rough_hand_knitter'.
"I started posting the entire process of knitting a piece and people started following me. One day, my sister's friend asked to buy a sweater from me; I quoted Rs 1,000 and to my surprise, she said, 'No! That is too low and you need to quote more'. She ended up paying me Rs 1,700; that was my first order," he says, adding that this made him realise not to underestimate one's own work.
Sohail knits and sells a variety of products — sweaters, beanies, gloves, headbands and mufflers for women and babies. "I also try to knit pieces inspired by something. For instance, I have a design named 'Bougainvillea Sweater' because I love the flower; it has a combination of different colours and is my best-seller," he says.
He continues, "I also try to make unique pieces and not repeat them so that every customer wears something unique. I have sold over 90 beanies and nearly 30 sweaters so far. Since this is something I do for fun and to ease my anxiety, I take my time and put all my love into the piece. We are a slow fashion place; it takes months to complete one sweater."
Today, Sohail earns around Rs 30,000 every month and has been inspiring many knitting enthusiasts through his Instagram page.
One of his customers, Lakshmi B, bought a beanie from Sohail. She says, "It smelled and felt so good. The piece was unique and the fabric was so good. I loved how it fit me and the fact that it was handmade," she says.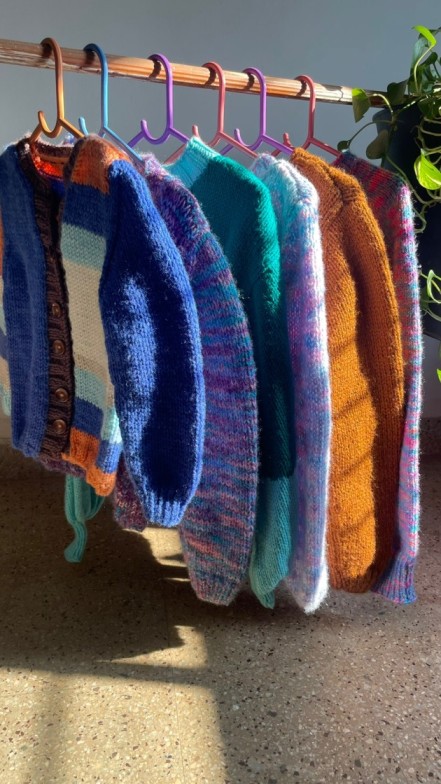 What's in store?
"It is just me who knits; my sister helps me out. So, my brand is not size inclusive yet. But, I aspire to make products of bigger sizes too. I am still learning, and I know there is a lot to master," he says.
Sohail has also started a YouTube channel, where he intends to teach people how to knit. "I realised when I was learning that there are not many tutorials which give step-by-step methods of different designs. I had to struggle a bit with that; so as a future plan, I want to use my channel to post detailed step-by-step knitting videos that anyone can learn from," he explains.
"My focus is never on the revenue or the number of products I sell. A lot of guys message me, on my page, saying that they also love to knit but are shy about it and that I inspire them. I grew up in a house which did not have any gender bias. I learnt cooking way before my sister did and my sister was the one who learnt to drive first. It still took me a lot of courage to knit in public. I want to change that by promoting knitting," concludes Sohail.
You can buy his products from his Instagram page.
Edited by Pranita Bhat.
We bring stories straight from the heart of India, to inspire millions and create a wave of impact. Our positive movement is growing bigger everyday, and we would love for you to join it.
Please contribute whatever you can, every little penny helps our team in bringing you more stories that support dreams and spread hope.
Tell Us More