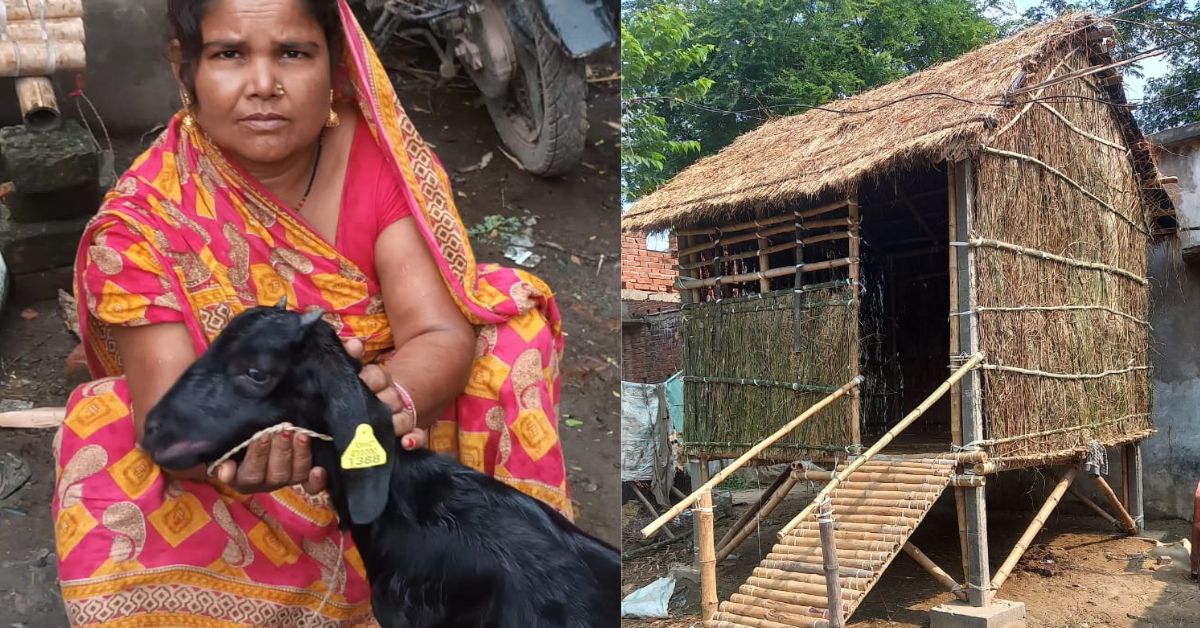 The unique goat shed model by SEEDS India, a non-profit, has come to the rescue of impoverished cattle rearers. Costing as low as Rs 8,000, the first-of-its-kind model is designed to withstand floods, earthquakes, and even cyclonic storms.
Bihar is synonymous with floods; unplanned development and lack of disaster preparedness have been amplifying the magnitude of devastation in the region, putting the most vulnerable communities, especially in rural areas, at even greater risk.
The annual catastrophe not only ravages the homes of impoverished villagers but also the means of their livelihood. Livestock is one of the primary sources of income for rural residents in the state.
Loss of lives, assets and livelihoods is reason enough to force affected people to leave their natives and migrate in distress. So, it's no wonder why a large number of Bihar residents are forced to migrate to other states in search of work.
However, Sanju Devi is free from this hassle. A goat rearer, the 35-year-old doesn't have to worry about damage to her livestock during floods anymore.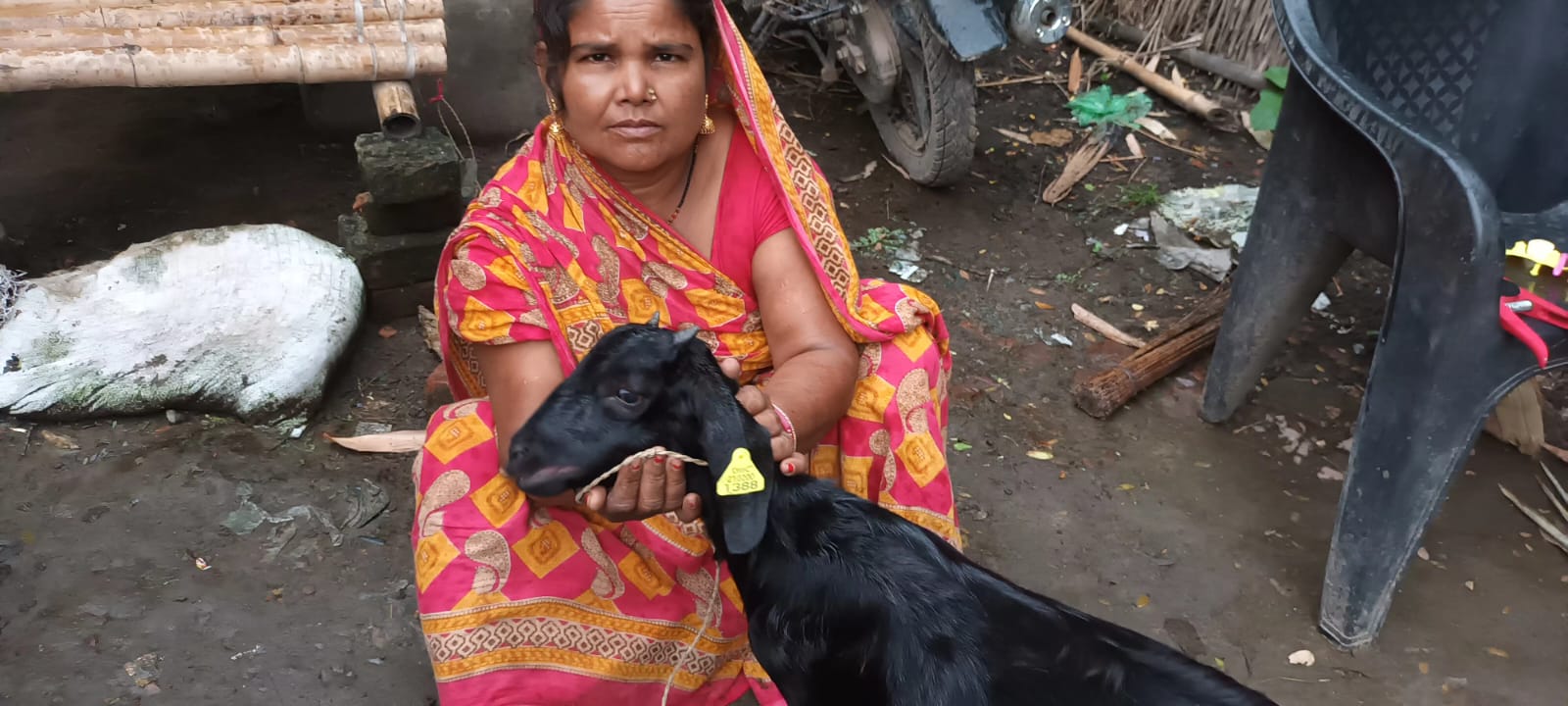 "Earlier, my goats would die during floods after getting sick; I lost nine of my goats. Later, I lost eight more goats and only one survived. We remain in distress every year," Sanju, who hails from Buari village, a flood-prone area of Darbhanga district, tells The Better India.
"But, this year is different. Six months back in Baisakh (April/May), I constructed a goat shed, which has been very useful and convenient for us. Our goats can now survive the catastrophe. I get compliments from people, but some are just jealous! And some others have asked me to help them get a shed constructed too," says Sanju, who has six healthy goats now.
What is a goat shed model?
The goat shed model in Bihar promises to protect livestock during natural disasters. The first of its kind, this model is designed to withstand floods, earthquakes, and even cyclonic storms.
A non-profit SEEDS India has been working with the vulnerable communities in Bihar to build their resilience to disasters through innovative approaches. The goat shed model has been constructed by SEEDS in collaboration with donor Heifer International.
Prashant Kumar, the programme expert, says, "For at least six months, most of the areas in Bihar remain waterlogged, putting the livestock at risk. During floods, people keep goats on their palangs (beds) or tie them to the bedside. The water exposure makes goats vulnerable to skin diseases, and also makes it difficult for people to live around them with the foul smell of urine and excreta."
"We have developed the model keeping health risks in mind. So, these structures are constructed at a distance of 10 feet from the homes. This climate-resilient space is dedicated for goats only," he adds.
How is the goat shed constructed?
The goat shed is constructed 3.5 feet above the ground level in waterlogged areas; typically a 10 by 10 shed with four concrete pillars at the corners. The shed is made completely using bamboo, ropes, and grass.
To enhance its natural durability and protect it from insects, the bamboo is treated with borax – a colourless powder that dissolves easily in water and acts as a natural insect repellent and preservative. "This increases the lifespan of bamboo used in the structure. Normally, bamboo does not rot for up to three years, but treated bamboo has three times more durability. Sustainable architecture has been intrinsic to us," informs the SEEDS experts, adding that these sheds can survive up to 13 years.
The total height of the 10 by 10 shed is 12 feet, and it can house 10 goats at a time. "By keeping goats in the raised structure, their faecal urine is expelled outside from the shed," he adds.
The goat shed is claimed to withstand earthquakes up to a magnitude of 4.5 as well. "We have dug a three feet pit and brick soiled it to provide a stable and strong sub-base to the foundation of the shed before concreting work," says Prashant.
The construction costs between Rs 8,000 and Rs 30,000 depending on the capacity and availability of the land. It takes up to three days to raise concrete pillars and make the bamboo grass roof and walls.
"We have started this project in 16 panchayats of Darbhanga district. We work with self-help group members, mostly women. We help them get loans from the bank and help them construct the goat shed. We connect them with FPOs (Farmer Producer Organisations) who provide them with goats. We also help them to get their goats vaccinated and insured as well," says Prashant.
"We get requests via SHGs for goat shed structures. So far, we have got 130 requests, of which, a loan has been sanctioned to 59 beneficiaries and 30 such structures have been constructed. People have started adopting it, and we are planning to expand this in other districts of the state," he adds.
Edited by Pranita Bhat; All images: SEEDS.
We bring stories straight from the heart of India, to inspire millions and create a wave of impact. Our positive movement is growing bigger everyday, and we would love for you to join it.
Please contribute whatever you can, every little penny helps our team in bringing you more stories that support dreams and spread hope.
Tell Us More