One girl. Two governments. Millions of well-wishers. This is the story of 'Geeta', a speech and hearing impaired girl who has been cared for in Pakistan for the last 15 years, and the search for her family in India. You can become her real life Bajrangi Bhaijaan. Here's more about her stay in Pakistan and the little clues she has been giving to track her family.
"Pakistan" – "Enemy"
"Minister"- "Corruption"
"Movies" – "Just Entertainment"
"Twitter and Facebook" – "Timepass"
Our brain is programmed so negatively about the above words on the left that we relate them only to the adjectives on the right. But, yesterday morning, something happened that will change your attitude towards these five words completely.
Pakistan
15 years ago (year 2000)
Bilquis Edhi, the founder of Bilquis Edhi Foundation, Karachi, Pakistan, is a professional nurse and one of the most active philanthropists in Pakistan. She has been nicknamed, 'The Mother of Pakistan.' Along with her husband, she runs a charity that has saved over 16,000 unwanted babies.
One day, a 5-year-old deaf and dumb girl was brought to her orphanage by the Punjab Rangers of Pakistan.
The girl used to do namaste and touch the feet of elders in respect. This led Bilquis and her team to conclude that the girl was Hindu. And so, they gave her the most sacred Hindu name: Geeta.
Slowly, as they got used to Geeta's sign language, they learnt that Geeta was from India and had seven brothers and three sisters. She even managed to recognize the map of India and pointed her finger at Jharkhand and then Telangana, trying to convey something about her past.
Bilquis Edhi tried very hard to find Geeta's home and family but was unsuccessful and disappointed at every turn.
Geeta is 23 now and the shelter has made every possible attempt to ensure that she feels at home. They have decorated her room and given her a space where she can pray. They have also placed idols and photos of Hindu gods for Geeta.
Geeta copies Hindi words from magazines and rewrites them. In her writings, the number 193 makes a frequent appearance. Is that a clue to a house number? Some other address? No one knows as yet.
In the meantime, Pakistan's former Federal Mister for Human Rights, Mr. Ansar Burney, got to know about Geeta. Mr. Ansar Burney is also the Chairman of Ansar Burney Trust International (https://m.facebook.com/AnsarBurney.Official). He visited India in October 2012, along with the pictures and details of Geeta, but failed to locate her parents.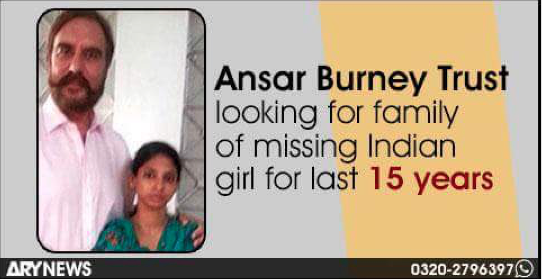 India
Year 2015
Kabir Khan, an Indian film director, makes a film, Bajrangi Bhaijaan, which resembles the story of Mr. Ansar Burney and Geeta. Bajrangi Bhaijaan makes it to the blockbuster charts, in both India and Pakistan.
On watching Bajrangi Bhaijaan, Mr. Ansar Burney once again starts his mission to search for Geeta's parents.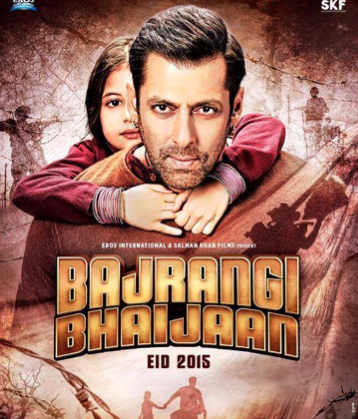 2nd August 2015
6:55 PM
Twitter
Mr. Ansar Burney tweets to Minister of External Affairs, Government of India, Mrs. Sushma Swaraj, about his concern for Geeta.
3rd August, 2015
10:06 AM
Mrs. Sushma Swaraj tweets that she has asked Indian High Commissioner to Pakistan, Dr. T.C.A. Raghavan, to go to Karachi and meet Geeta!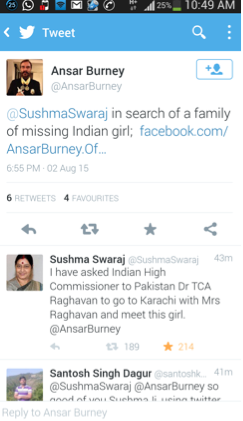 Within a few hours of this tweet by Sushma Swaraj, the entire Indian media is focused on Geeta's story.
3rd August, 2015
5:50 PM
Mr. Anwar Burney gives his consent to The Better India to write this story.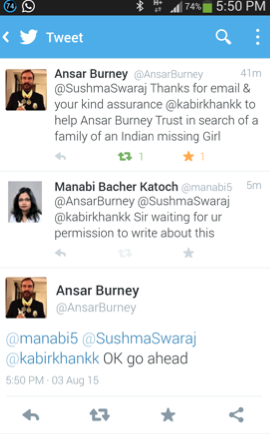 Mr. Ansar Burney also wrote a letter to Kabir Khan regarding this matter and he did a detailed story on NDTV about Geeta.
Hopefully, Geeta, who was lovingly called Guddi by her mother, will finally reunite with her family. Best wishes to Mr. Anwar Burney and Geeta from the entire The Better India team!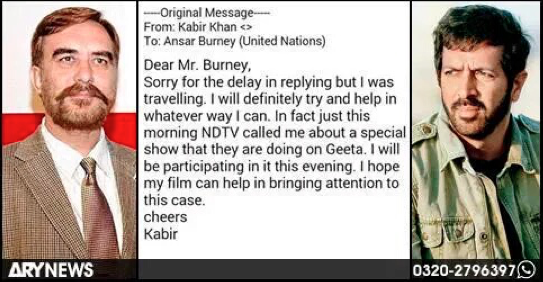 With inputs from: Shreya Pareek & Nishi Malhotra
Like this story? Or have something to share? Write to us: contact@thebetterindia.com, or connect with us on Facebook and Twitter (@thebetterindia).