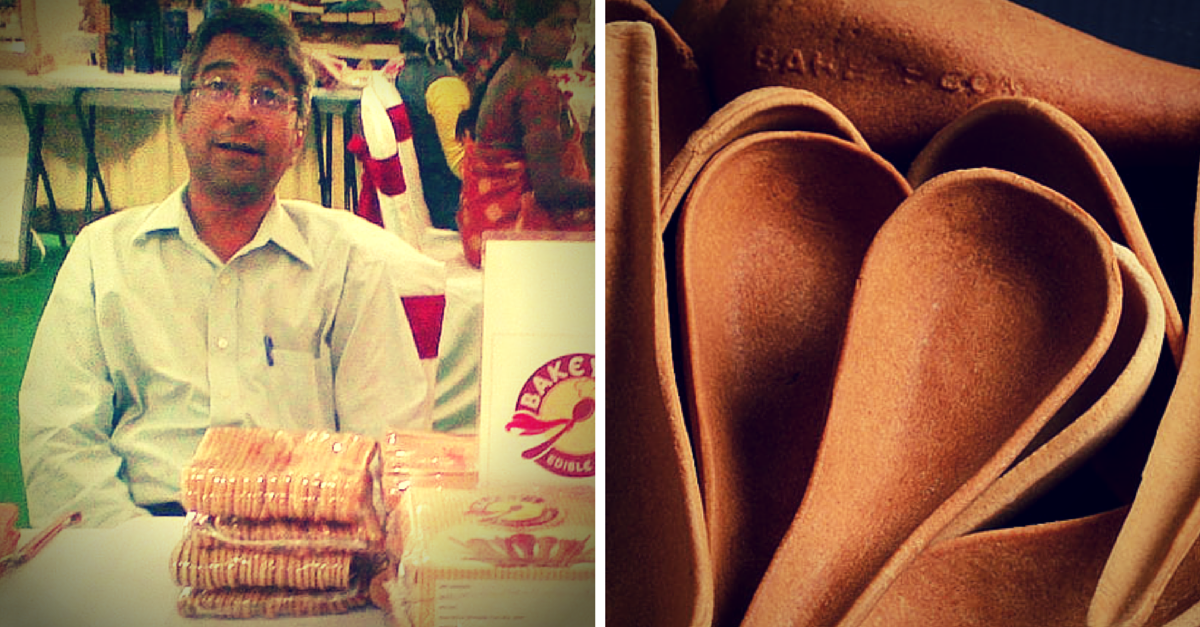 When Narayana Peesapati became aware of the harmful effects of plastic, not only to the environment but also to our health when used as cutlery, he was stunned. But he did not stop there. He came up with a solution that most of us wouldn't have thought of, and actually made it happen!
Editor's Note: This widely shared article was originally published in 2015. In 2019, several readers have alleged that they have faced serious issues with the business practices of Bakey. 
Bakey itself has not issued any clarifications on the issues. 
Therefore we would like to advise our readers that we can no longer verify or confirm the details mentioned in the article below.
---
Original Article: 
When Narayana Peesapati became aware of the harmful effects of plastic, not only to the environment but also to our health when used as cutlery, he was stunned. But he did not stop there. He came up with a solution that most of us wouldn't have thought of, and actually made it happen!
India Innovates – Episode 4 – Edible CutleryIndia Innovates Episode 4 – Edible Cutlery
Eat with it and then Eat it!
This edible cutlery is a perfect alternative to harmful cutlery, it is not only environmentally safe but also enriched with nutritious ingredients.
Posted by TheBetterIndia on Tuesday, March 15, 2016
Click here if you are unable to watch the video above
"Whenever I travelled, I used to feel terribly guilty about using plastic cutlery because it created so much plastic waste. Why couldn't we create an alternative?" asks 48-year-old Narayana Peesapati, the founder and Managing Director of Bakey's Food Private Limited. Today, he has found a way to replace plastic cutlery with edible cutlery.
Ok, so plastic is bad for the environment. Everyone knows that. But what's wrong with not washing plastic cutlery and putting it in one's mouth? Narayana says it is because we "abuse and misuse plastic; plastic should not be applied to food." He has said as much in this talk, where he gives many reasons as to why plastic, especially cutlery, should be taken out of our lives. Some of these reasons have to do with the manufacturing process for plastic cutlery (explained further down) and others with hygiene.
So does he have an alternative then? He does, and Narayana has been developing it since 2010. Bakey's manufactures edible cutlery, including spoons in different shapes and chopsticks.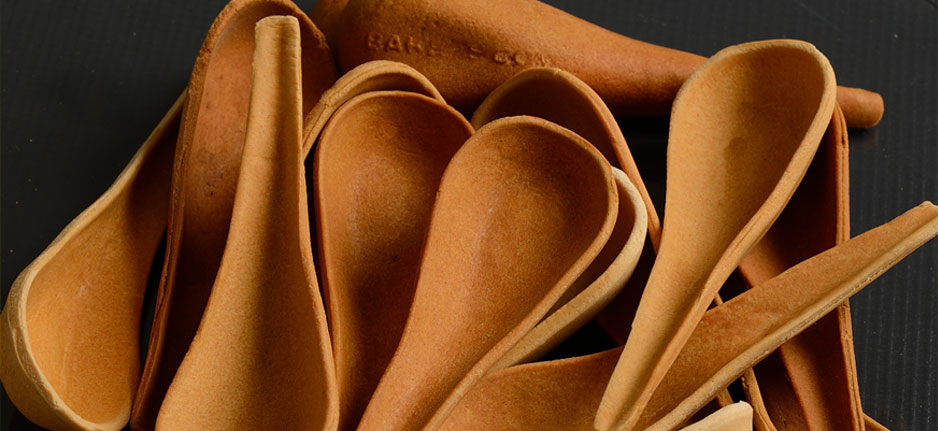 Bakey's edible cutlery is made from a mix of jowar (sorghum), rice and wheat flour. The spoons and chopsticks do not get soggy if placed in water and food. They only soften after some time (10-15 minutes), and thus can be eaten easily at the end of the meal. Even if discarded, they decompose within five to six days, if not eaten by insects or rodents.
The idea about how to make the cutlery struck Narayana during a flight from Ahmedabad to Hyderabad when he saw a passenger using a piece of Gujarati khakra as a spoon to eat dessert.
Why is plastic bad for your health?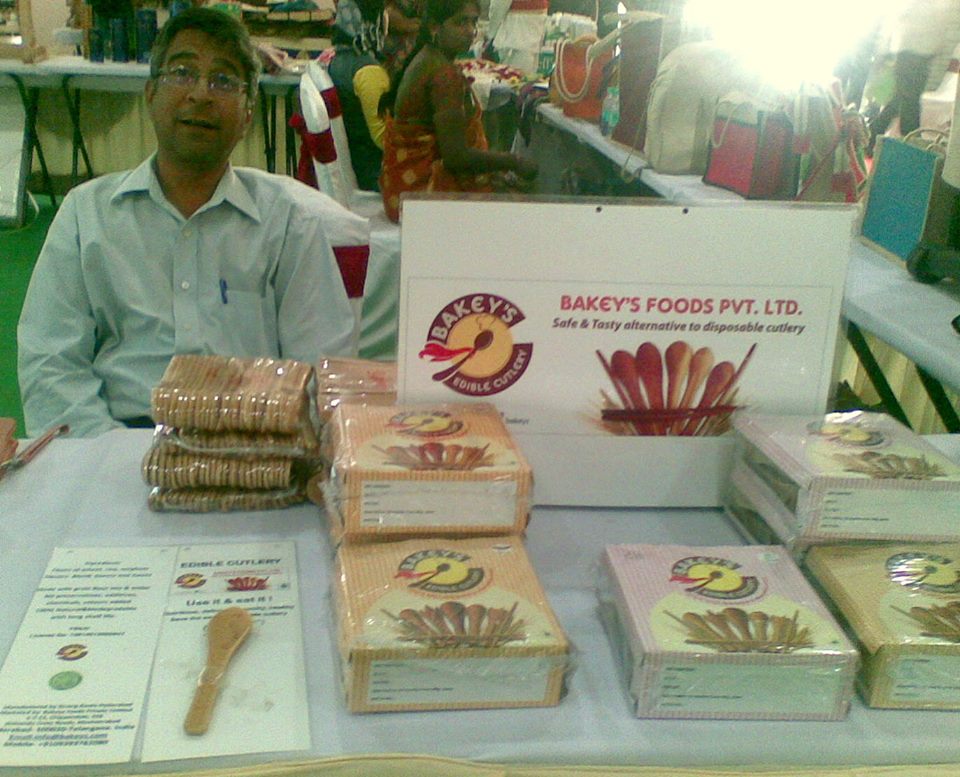 Plastic consists of many chemical components which are toxic and carcinogenic and can leech into food. Narayana, who has been to several manufacturing units of plastic cutlery in the country, has observed that the way in which it is manufactured is not very safe for use with food.
"The irony is that there are very stringent food safety norms in India. But there are no norms when it comes to manufacturing the utensils in which we consume food," he says.
In this very competitive market, he says, hygiene has become the first casualty of cost-cutting. The process of cleaning the cutlery by manufacturing units in India that he visited, involved just a rag of cloth being used to wipe the final products that came out of the mould in which molten plastic was injected.
This, he feels, leaves consumers at the risk of plastic intake.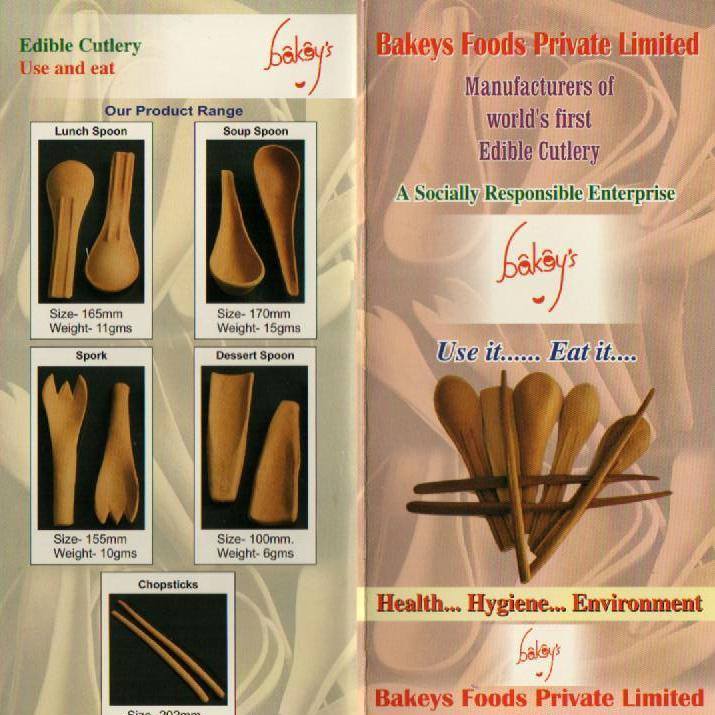 "Even after scraping the extra plastic, there are chances that some micro-granules of plastic get dislodged and can enter the body with our food if a spoon is not washed," he says.
A thought even scarier than this struck Narayana when he noticed that in spite of such a huge consumption of plastic spoons, they are nowhere to be seen in the same numbers after disposal. This, he found, was because they were being reused, which makes plastic cutlery a source of bacterial contamination as well.
Why edible cutlery could be good for you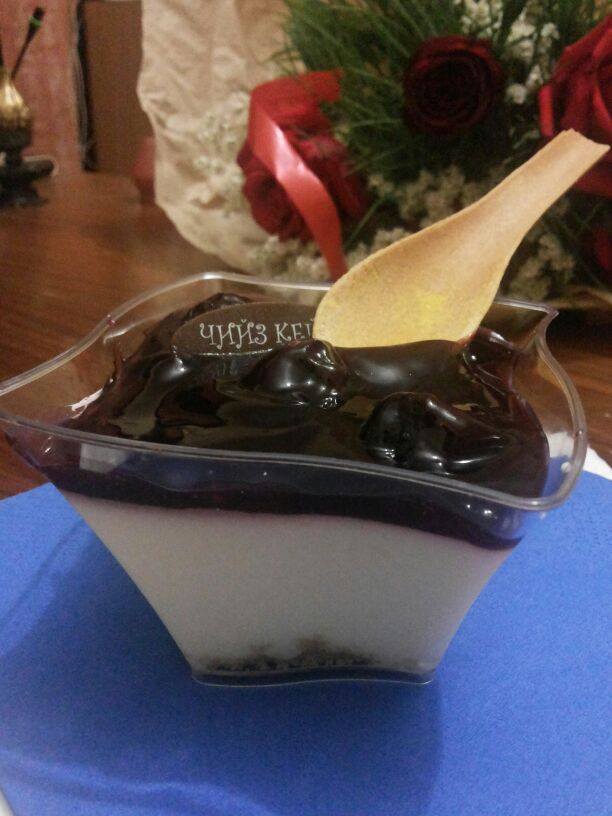 Prior to becoming a manufacturer of edible cutlery, Narayana was a researcher at the International Crop Research Institute for Semi-Arid Tropics (ICRISAT), Hyderabad. Here, he undertook research on groundwater management, studying why groundwater levels were reducing. He concluded that producing less rice and more dryland crops like jowar would help stabilize the levels of groundwater. It was soon after this that he started thinking about creating a huge market for jowar, and this is one of the main reasons why jowar is the chief ingredients in edible cutlery.
With the product being widely acclaimed, Narayana has been able to communicate the ill effects of plastic to a wide audience.
Bakey's cutlery has made a mark in the international market as well, with orders coming in from the US and UK.

Being a new concept, working on the idea was a challenge initially, as there was no established technology. Everything had to be developed with learning and research. According to this report, it cost Narayana more than Rs. 60 lakhs to develop the prototype machines and moulds and get started (he had to sell two homes he owned to raise the money). But one of the bigger challenges now is to create awareness about the harmful health effects of plastic. The use of plastic is also a behavioural issue according to Narayana—people accustomed to using plastic products will not find it easy to switch to edible cutlery.
Other than selling the cutlery directly from their website, Bakey's also sets up stalls at places like organic bazaars and exhibitions. The company is only breaking even as of now and has not started making a profit, says Narayana.
Once it does, he hopes to develop an automatic machine for manufacturing the cutlery.

Based out of Hyderabad, the manufacturing unit is an all-women enterprise, which Narayana's wife, who is currently working as a director in the company, will soon be taking over.
To know more about this initiative you can visit their website here.
Like this story? Or have something to share? Write to us: contact@thebetterindia.com, or connect with us on Facebook and Twitter (@thebetterindia).
We bring stories straight from the heart of India, to inspire millions and create a wave of impact. Our positive movement is growing bigger everyday, and we would love for you to join it.
Please contribute whatever you can, every little penny helps our team in bringing you more stories that support dreams and spread hope.