A 23-year-old student has designed water resistant socks which do not get wet on coming in contact with water. The socks look like a regular pair of athletic socks and can be worn daily. Here's more about Jaspreet's innovation.
Imagine a scenario where you have to open your shoes, but you don't want to get your feet dirty, so you keep your socks on. But then, the floor is wet. So now, you are in a situation which will just make you feel uncomfortable for a few hours.
A 23-year-old, Indian-origin student from the US has found a perfect solution to this problem by developing water-resistant socks.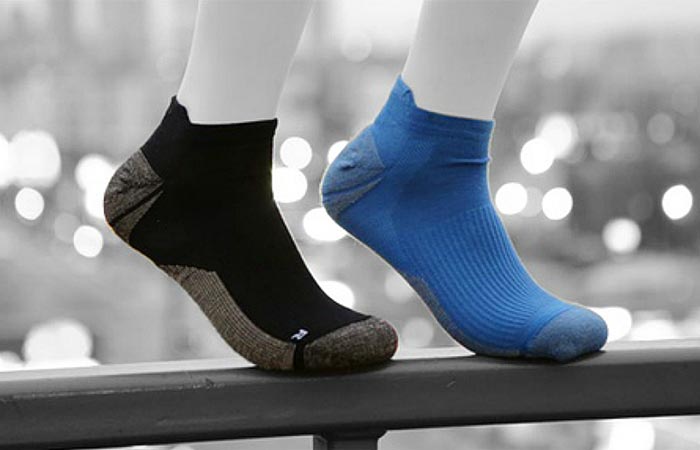 Photo for representation purpose only. Source: www.jebiga.com
Jaspreet Singh, a law student at Wayne State University in Detroit, is the man behind this idea. The socks look like a regular pair of athletic socks, but when they come in contact with liquid, it beads up and runs off because of the fibres which are fused with water-resistant particles.
Singh got the idea during a public speaking class at the University of Michigan where he was supposed to pitch in a business idea. It took him about 18 months to come up with the final prototype for hydrophobic athletic socks.
When submerged into water, they will get wet, but not as quickly as regular socks, and they will dry faster.
There are completely waterproof socks in the market, but they are not breathable and are not soft. On the other hand, Singh's socks are for everyday use, he says.
He launched an online crowdfunding campaign to raise funds for his project and managed to raise more than his goal of $10,000 just within two days.
The socks brand name is 5 Water Socks, which is inspired from both Punjab and Detroit. The five is to signify the Great Lakes and also because Punjab is known as "the land of five rivers".
Like this story? Or have something to share? Write to us:contact@thebetterindia.com, or connect with us on Facebook and Twitter (@thebetterindia).