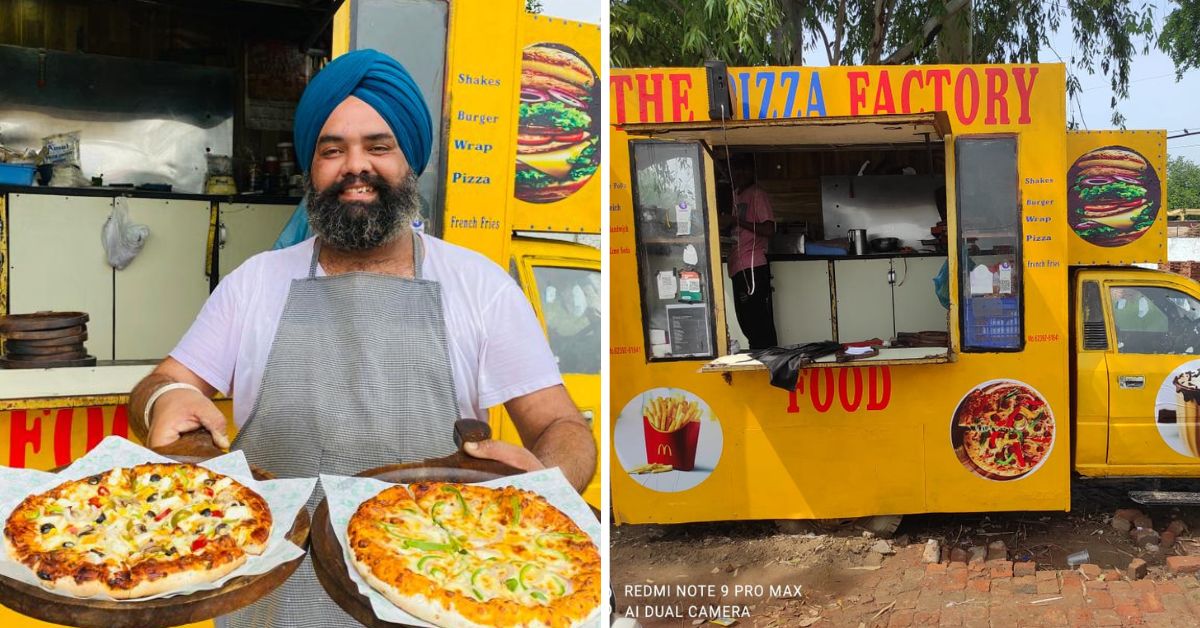 Punjab-based Deep Singh Cheema started The Pizza Factory, a food truck, after he lost his corporate job during the COVID-19 lockdown.
This article is part of The Better India's series #EarnYourIndependence, with which we celebrate Indians achieving financial freedom in innovative ways.
"For a long while, I refrained from telling people that my husband ran a food truck. I did this not because I was embarrassed by what he did but because the jibes and taunts never stopped. I was just tired of hearing it all," says Manpreet Kaur, wife of Mohabat Deep Singh Cheema (36).
After losing his job during the COVID-19 lockdown, Deep moved to his village Dhilwan in Punjab and set up a food truck called – The Pizza Factory. The unique part about it is the price point where at just Rs 199 one can enjoy unlimited pizzas, burgers and fries.
Having started this in August 2020 with an investment of Rs 4 lakh, Deep is today earning close to Rs 2 lakh per month.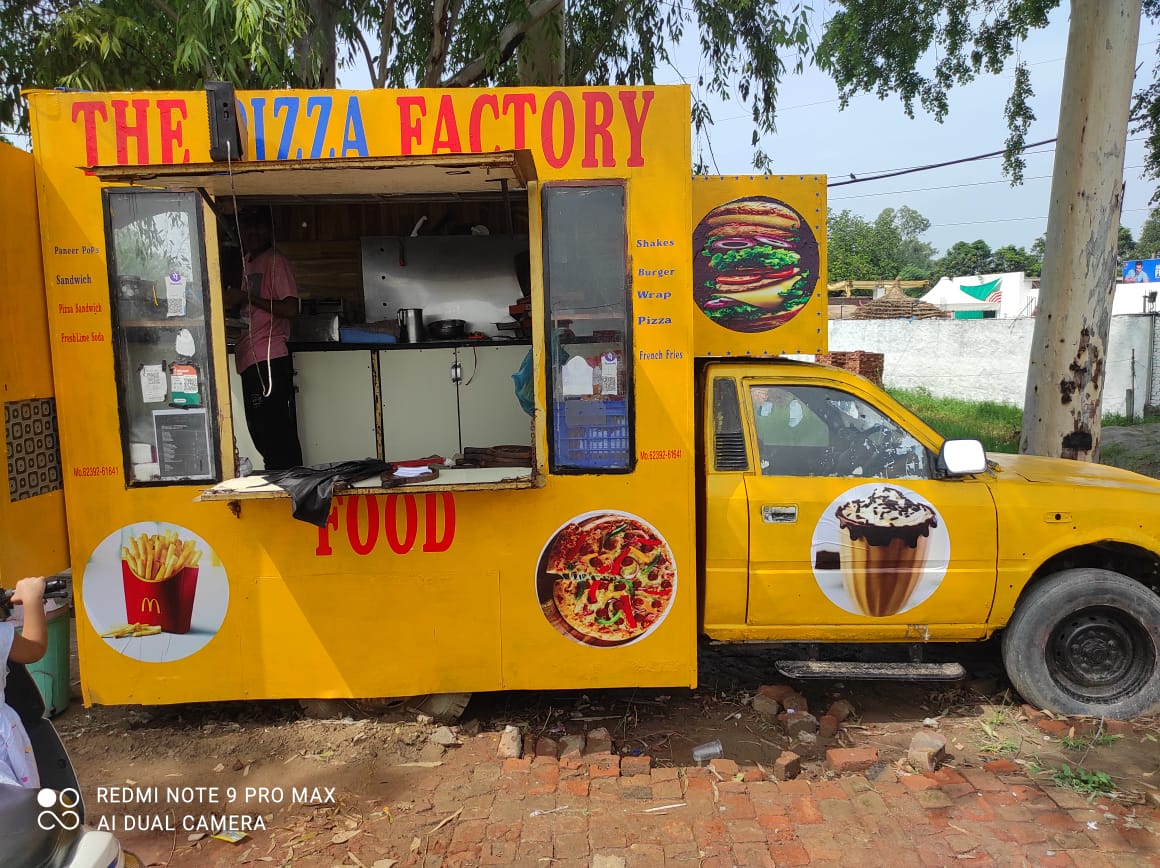 "Today, people recognise me as his wife and often come up and tell me how much they enjoy the pizzas that he makes. I am proud that he stuck to what he wanted to and has come this far with this unique business idea," says Manpreet.
Returning to roots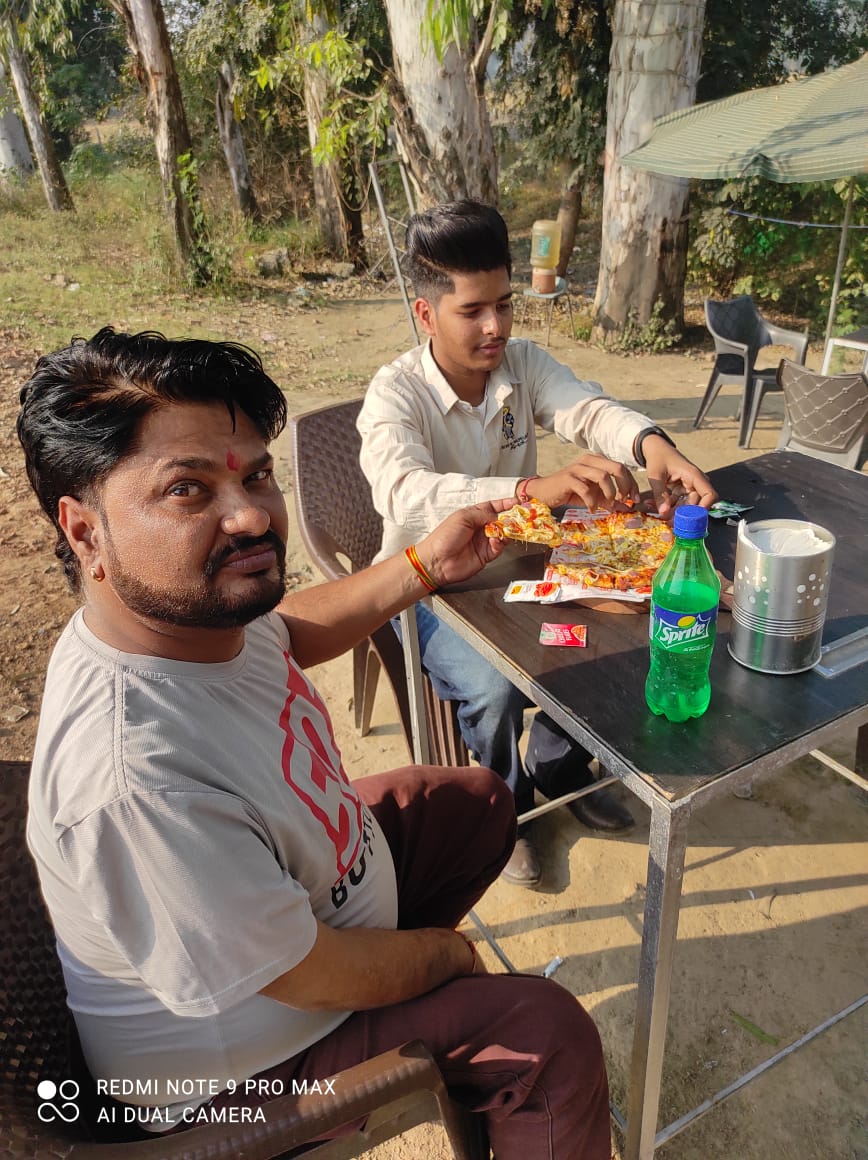 Deep, a smiling Punjabi man tells The Better India in a phone interview, "I was born in Dhilwan, Punjab and when I was four, I was sent to live with my paternal uncle and aunt in Delhi. I spent close to 30 years of my life in Delhi/NCR, where I not only completed my education but also took on various jobs."
Having completed his Class 12 from a Delhi school, Deep started working with an MNC for a monthly salary of Rs 5,000. "I completed my graduation alongside working and post completing that I got a job with an IT management company. I also worked with other multinational conglomerates. Starting work early was both a choice and a necessity," he explains. "I was living with my uncle and did not always like to ask them for money and thus took on these jobs."
At that time, he did not want to return to Punjab and thus working and fending for himself was the only option he had.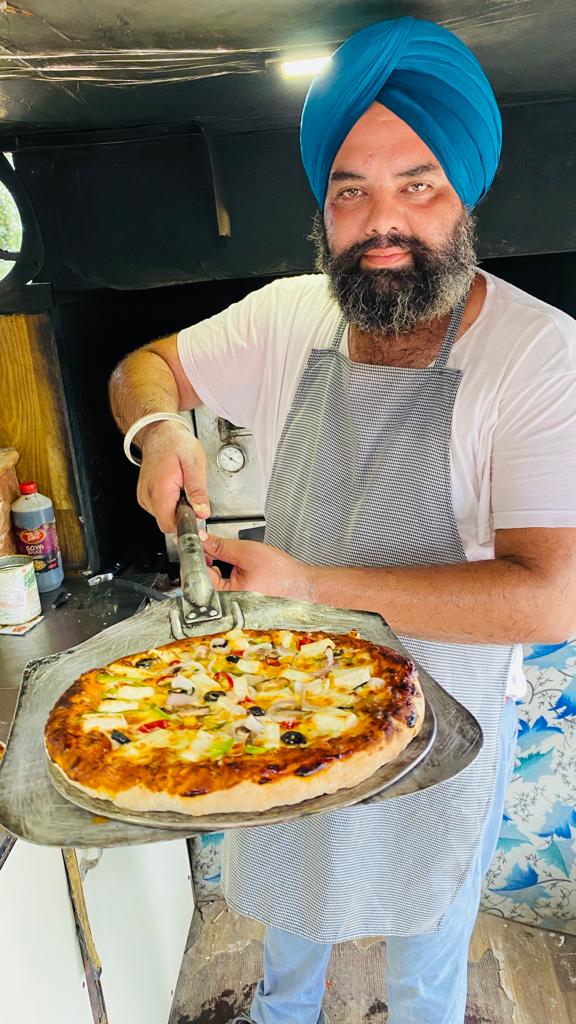 "I grew up feeling that my parents did not care much for me. The fact that I was sent away with my uncle only added to that feeling," he says. Having worked hard to establish himself and find security in his job, he says, "At the time I lost my job, I was drawing a salary close to Rs 2.5 lakh and losing that monetary security was hard."
He continues, "While the initial shock was hard I soon realised that I was not the only one who had suffered a loss of this nature. This had happened to so many others and that is when I decided to go back to Punjab and see what I could do next."
A plan to stay for a few weeks turned his life upside down.
Introducing pizza to an audience that enjoyed samosas and pakoda.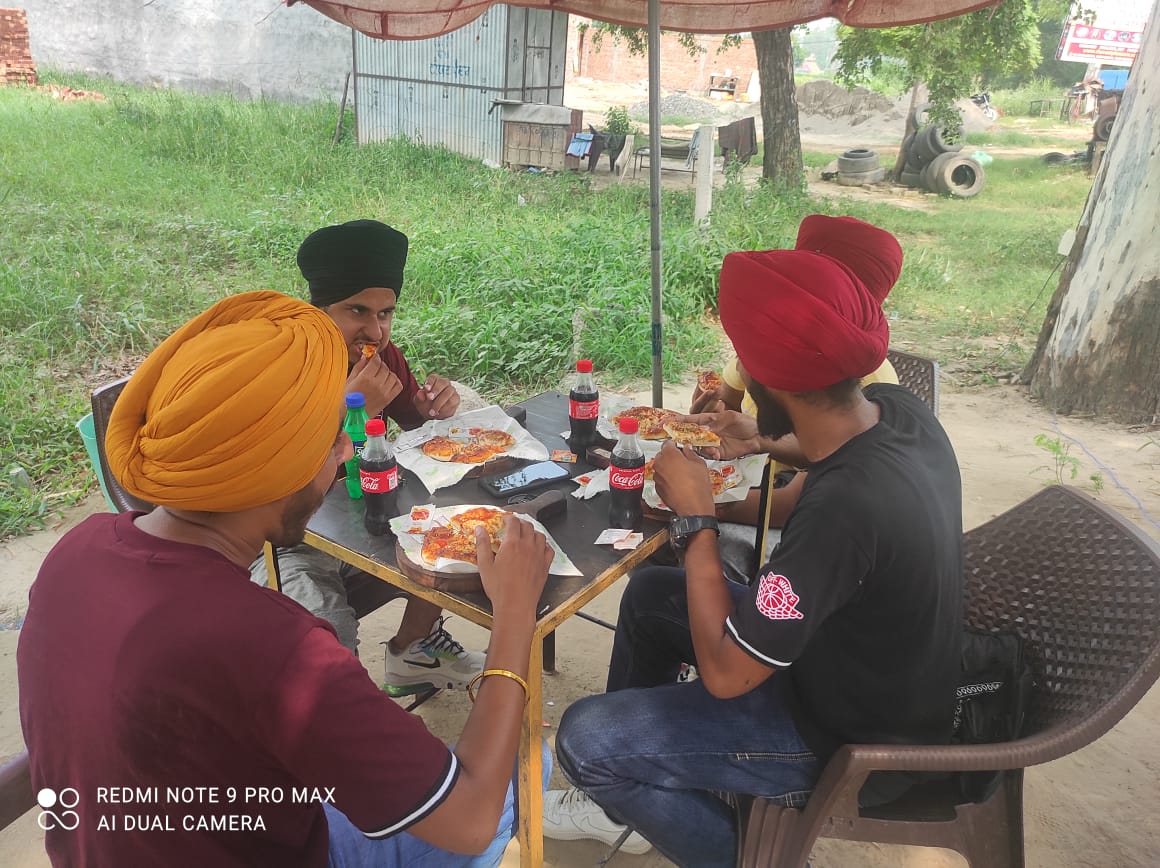 Despite being a part of the joint family that has over 100 acres of farmland in Dhaliwal, Deep says that he never wanted to venture into farming. "I am not cut out for that and chose to stay away from it," he says.
Having travelled widely, Deep had had the chance to taste various kinds of cuisines. Setting up a food truck that would serve pizza, burgers and fries stemmed from the fact that he was unable to find any authentic joint whipping up these foods. He says, "What was being sold in the name of pizzas and burgers was rather deplorable. I wanted to change that."
Armed with Rs 4 lakh, of which close to Rs 1 lakh came from his wife, Deep set up his food truck. "In Delhi/NCR the food truck culture was very prevalent. From Chinese food to kathi rolls, one could savour all kinds of food there. However, when I set it up in Dhaliwal, the initial reactions were far from welcoming. People mocked, sneered and even predicted to my face how this would fail miserably," he says.
Despite the naysayers, Deep continued to work on his idea.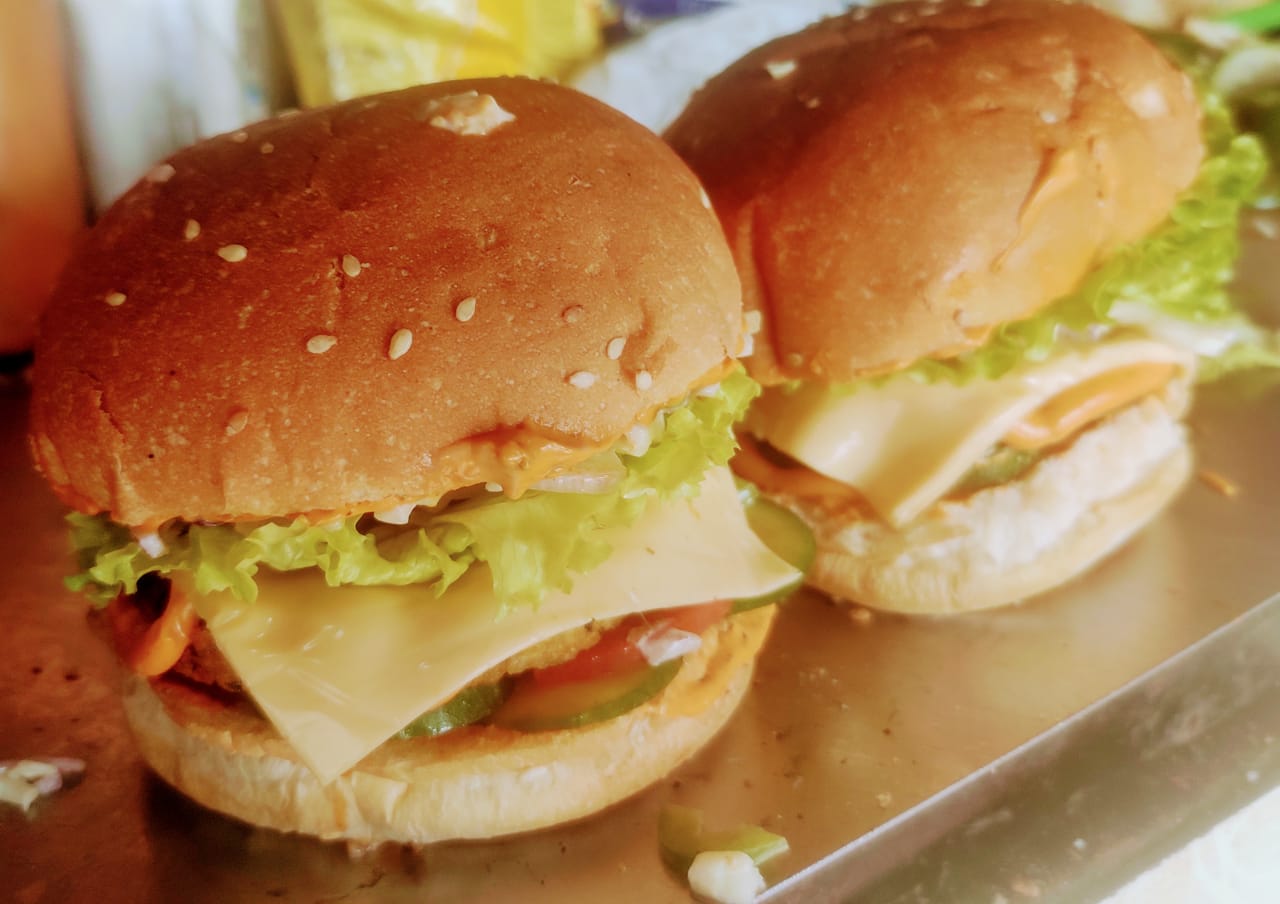 "When I started I encountered so many challenges. The biggest of them being people's mindsets. They would refer to my food truck as a rehdi (street vendor) and call me the pizza burger wala. They tried various ways to demean me but my determination to make this work was very strong," he adds.
The initial few months, he says, "were a real struggle since I had to begin from ground zero. People did not particularly enjoy eating pizzas and burgers. This was a crowd that enjoyed their samosa, pakoda and chai. Here I was trying to introduce some new foods and flavours to them," he says. It was to get more people to come and try his offering that Deep priced his menu at Rs 199.
He says, "As of now, the maximum anyone has eaten is four pizzas, burgers and fries. One cannot eat more than that. That too was a father-son duo who had visited me." The only policy that Deep follows is a 'no wastage and no takeaway of leftovers' policy. One is welcome to order and eat as many pizzas as they wish.
'Serving food is great'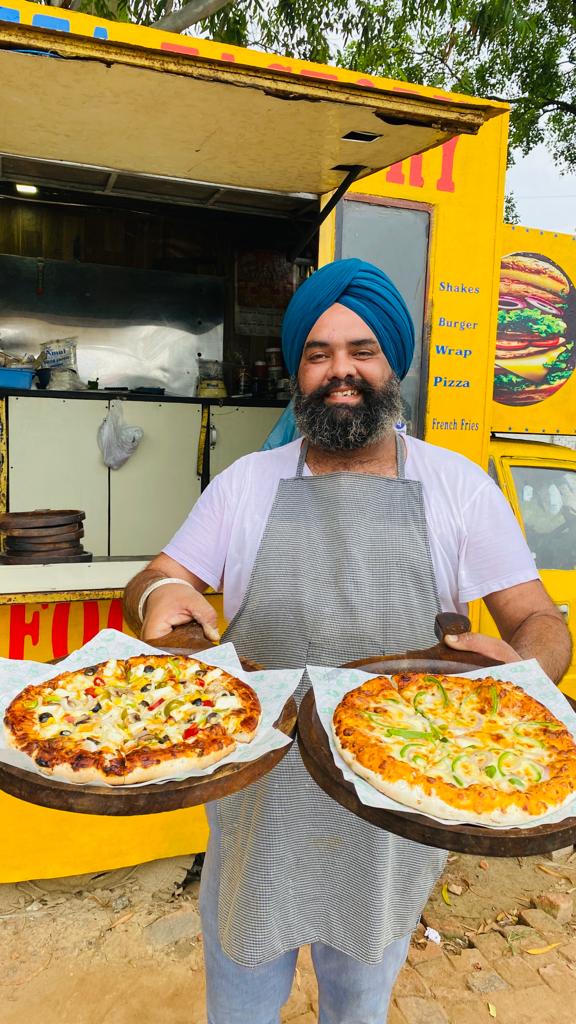 Cooking at home for family members and cooking to earn a living are two very different things and Deep understood this rather early on. "As a young school-going kid I wanted to pursue hotel management and enjoyed cooking. At that time circumstances did not allow me to do that so cooking and my passion for it was pushed to the back burner," he says.
He attributes a lot of what he has learnt to his guru – chef Ranveer Brar. "He is my guru and I am his Eklavya. Whatever little I know about cooking is thanks to his YouTube videos. From using the readymade pizza base to learning how to make the dough, it is all thanks to his tutorial videos."
Harvinder Singh, one of the customers who visits the food truck at least once a week if not more shares, "I have been visiting the food truck since 2018 and while the pizzas and burgers are of excellent quality, what I enjoy the most is the garlic bread. I haven't, so far, found the same kind of taste in garlic bread anywhere else. Even the amount he charges is so affordable that even a twice a week expenditure does not pinch the pocket."
He continues, "More than all this, Deep paaji (brother) is so welcoming and always has a nice word to say to those who visit his truck. That makes my day."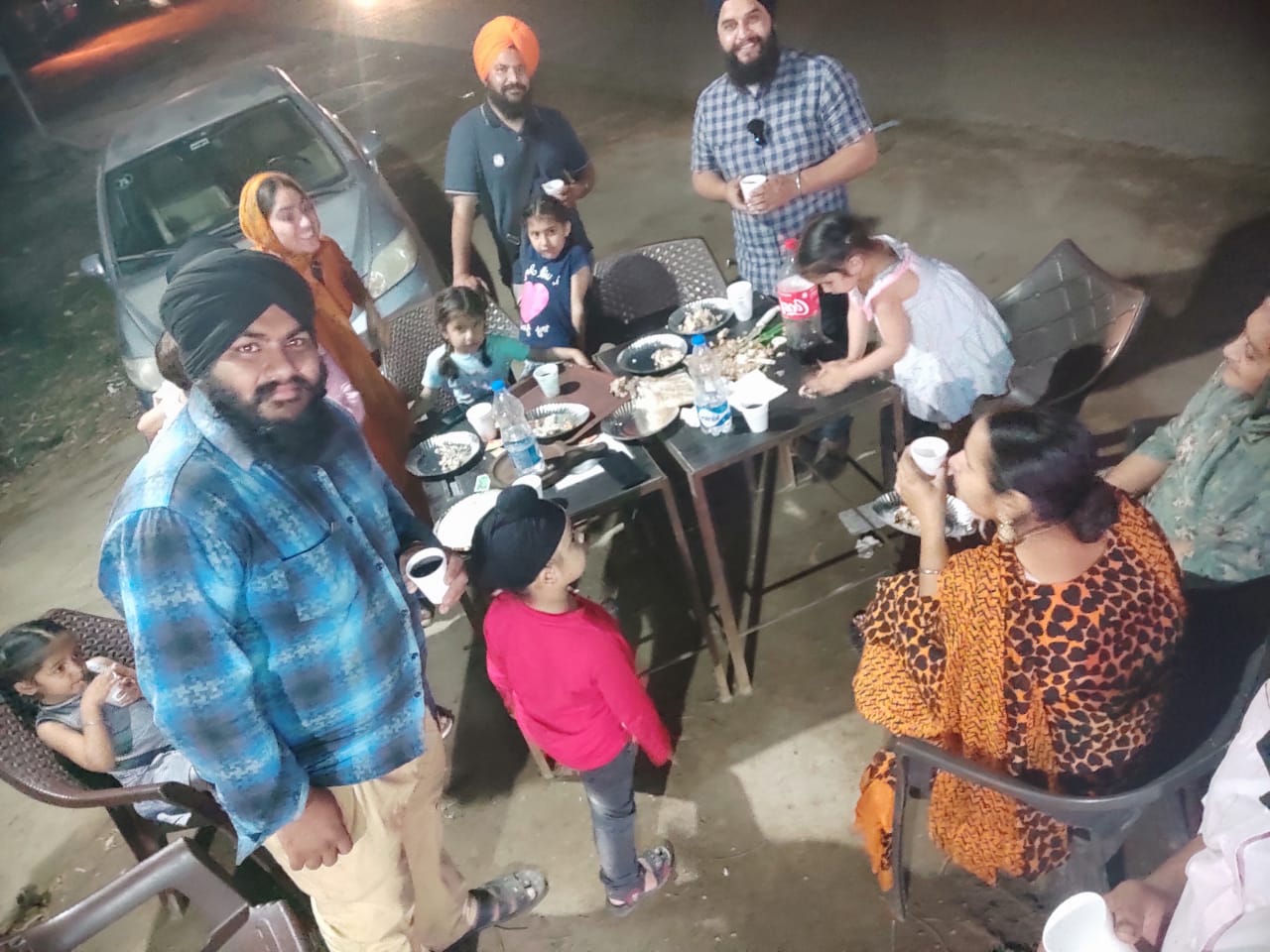 Seeing the success of the pizza truck, Deep says that four other food trucks have established their presence at the very same spot. "I'm happy that the mindset is changing. Making and serving food is a great thing and I did not understand why it was looked down upon. Today, this Dhaliwal junction is known as the 'pizza-burger junction'," he says with a grin.
Now people come from all over to not just eat the pizzas and burgers but to meet Deep and learn how to set up a food truck business as well. "I have had people come from Gorakhpur just to understand the business modalities," he says.
Manpreet also mentions that their daughters are so inspired by their father that very often their pretend games involve them turning into entrepreneurs and running their own ventures.
"Seeing this makes me believe that I am doing the right thing," he says.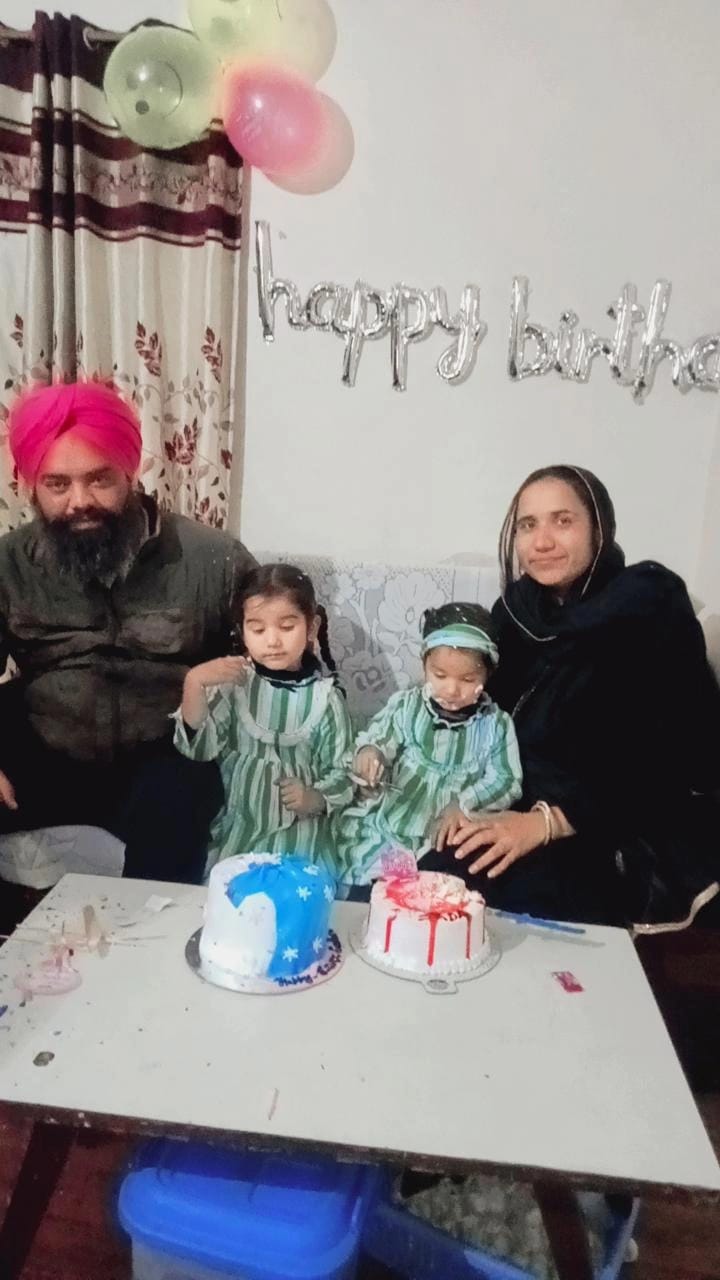 The paneer makhani pizza is a super hit and on Wednesday's with a buy one get one free offer, the food truck usually remains crowded. The food truck is operational from 11 am until about 9.00 pm every day.
The pizza factory can be found at Toll Plaza, Grand Trunk Road, near Dhilwan, Punjab – 144804.
(Edited by Yoshita Rao; All photo credit to Deep Singh Cheema)
Tell Us More
We bring stories straight from the heart of India, to inspire millions and create a wave of impact. Our positive movement is growing bigger everyday, and we would love for you to join it.
Please contribute whatever you can, every little penny helps our team in bringing you more stories that support dreams and spread hope.