"If I can, you can," says octogenarian Aabid Surti, as he walks around apartment buildings in Mumbai every Sunday, plumber in tow, fixing leaky faucets and saving every drop of water he can.
"If I can, you can," says octogenarian Aabid Surti, as he walks around apartment buildings in Mumbai every Sunday, plumber in tow, fixing leaky faucets and saving every drop of water he can.
Writer, painter, and cartoonist Aabid Surti will not let age deter him from taking on new projects. At the age of 80, he runs a one-man NGO – the Drop Dead Foundation – which is saving tonnes of water by repairing plumbing problems such as leaks, for free, in Mumbai households.
Aabid has written 80 books and seven plays, hosted 16 exhibitions of his paintings, and created much adored comic characters like Dabbuji, Bahadur and many more. In 1993, this versatile artist also received a National Award for his short story collection, Teesri Aankh.
Why does he do it?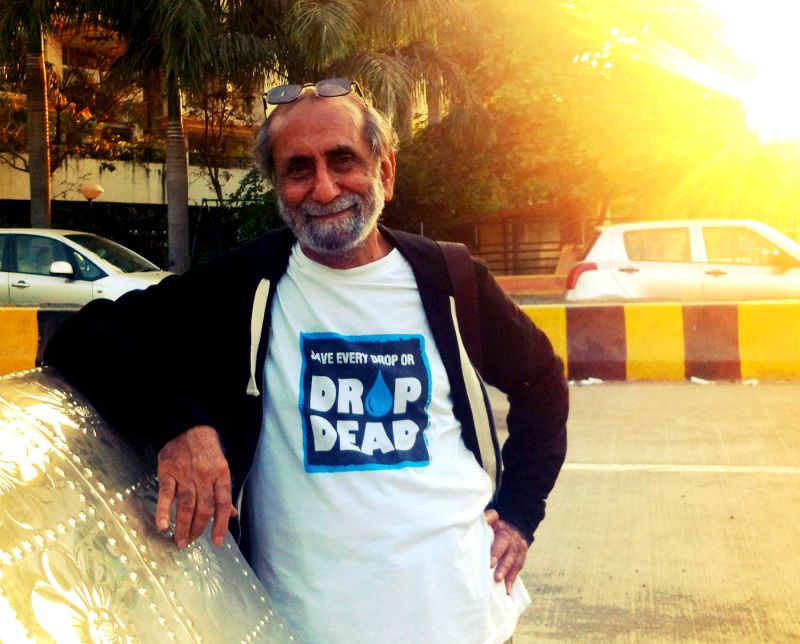 "Though I was born to a well-off family, my childhood was spent on the pavement, because our family had lost everything," Aabid says. Today, there is nothing stopping the spirit and willpower of this passionate man, whose past plays a large role in the incredible service he has taken up.
Ask him how his journey with Dead Drop started and Aabid tells you: "It was the childhood trauma. I was brought up on the pavement. There was a fight for every drop of water. Every bucket we had to fight for. And that legacy stayed with me. Once, when I went to a friend's place, I saw one of the taps leaking, and it hurt me."
Since the time when that leaking faucet bothered him so much, Aabid has not stopped. In the first year of the Foundation's existence, in 2007, he had visited ,1666 houses on Mira Road, fixed 414 leaking taps free of charge, and saved about 4.14 lakh litres of water.
How does it work?
"We target one building every Monday — any big building or apartment complex, especially in the ghettos, where poor people live in a chawl system or similar housing societies. So we target these, and on Mondays my volunteer visits there, talks to the secretary, and if the secretary agrees, we put up our posters. From Monday till Saturday, people keep on seeing the posters, 'Drop Dead,' 'Drop Dead,' all over – these words keep on hammering at them. And then, on Saturday, we distribute our pamphlets describing what the Drop Dead Foundation is and why we are coming this Sunday to their houses. Finally, on Sunday, we go and fix the leaks," Aabid explains.
Thus, with a volunteer and a plumber, Aabid is seen saving water in different places around Mumbai every Sunday.
In 2013, a blog about his work, "Saving The Planet One Drop At A Time", written by his son, was selected to be a part of children's textbooks for 2014 by Pearson Education. Aabid is modest about his achievements: "Basically I am an author and painter, so when I get an idea for a story, I just simply sit down and start writing. So when the Drop Dead idea came, it was just an idea for me, not a great idea or this and that which people are talking about. For me it was just an idea. So I called the plumber and I started moving around my neighbourhood."
Motivating others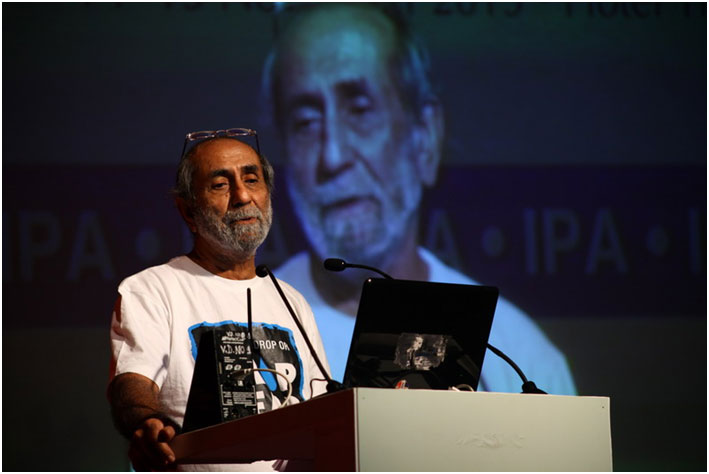 And with this idea, Aabid is building a superb human chain that is inspired by him. There are people taking up his example and beginning to help save water in their own cities. As he says on his website, "You can. One man can. So simple. Be a One Man NGO. You just need one plumber to accompany you."
Is this an idea he wants to expand and take to other cities too? "My basic idea is to motivate individuals. And they should realise that if I can, they can. Like people ask me, why don't you have 100 plumbers, then any corporation will join you. I tell them that then I won't be able to inspire individuals. People are inspired because I myself am doing it. And I am doing this only a couple of hours a week. So I want to pass on this message that look you don't have to give up your job, you don't have to have an office, or big staff – nothing."
The spirit of the work that Aabid is doing today is what has infused his work throughout his artistic career. He – who writes books on different genres like fiction, non-fiction, travelogues, children books, and more – has never stuck with a straight and narrow path. As he puts it: "My thinking is different. Whatever I like, I pick up. Whatever comes in my way, and if it is challenging, I will pick it up. Like theatre. It was not my cup of tea. But somebody came up with the proposal, and I accepted it. I wrote and directed an original play, and it turned out to be a super hit play in Mumbai."
Those who have read his books will know that he is now living a life similar to what he described in his book 'Bahattar Saal ka Bacha.' The message in the book was that life starts at 70, and one can live happily at that age. "And that is the life I am living now," he says.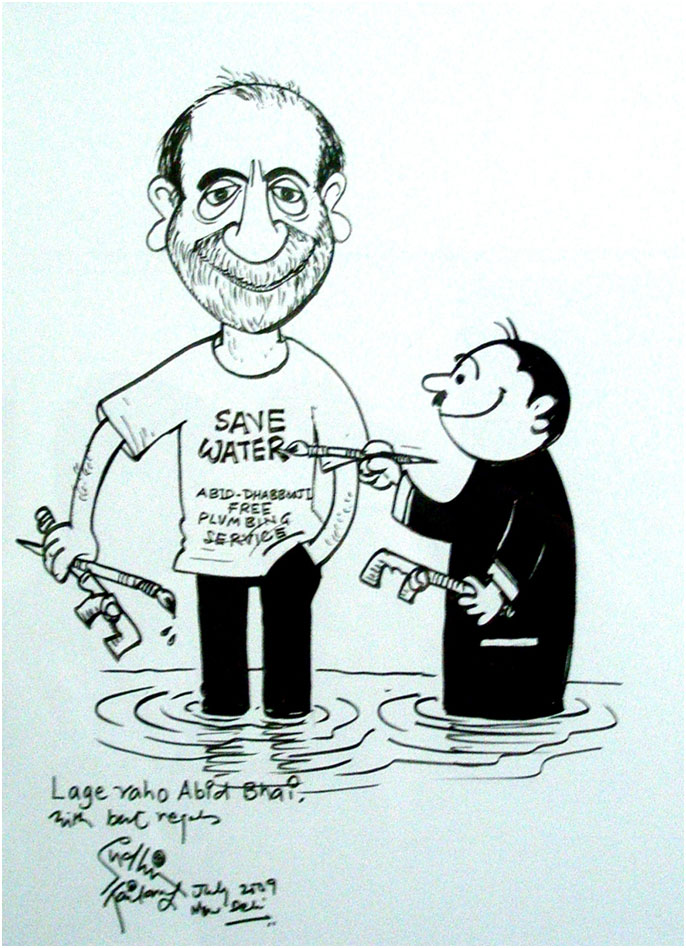 Ask this artist what keeps him going even today and he gives an encouraging answer: "It is the company of young people. Today's teenagers. When I was eight or nine years of age, all my friends were in their 30s. Now I have reversed the process. I have teenagers as friends. It's the new thoughts and new ideas that they come up with and the way they talk (because our culture is different, their culture is different), one learns a lot from them. I am also learning."
In the future, Aabid is also planning to make short 1-2 minute films to make people more aware of the importance of water.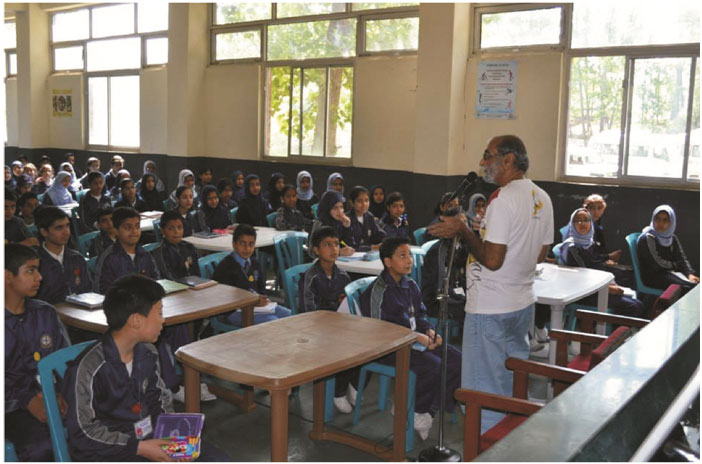 To know more about the Drop Dead Foundation, visit their website here.
And in case you want to begin something similar in your city, Aabid has the perfect answer:
"If someone wants to start something anywhere, he or she can contact me. What I do is give all the online help I can. I send them my poster designs, pamphlets, stickers, etc. I tell them to print these, delete my address and put their own address and details. It's not a franchise. It is copyright free. It is your baby. You know, I am not publicizing myself. I am publicizing the mission."
You can write to Aabid here: aabidssurti@gmail.com
Like this story? Or have something to share? Write to us: contact@thebetterindia.com, or connect with us on Facebook and Twitter (@thebetterindia).