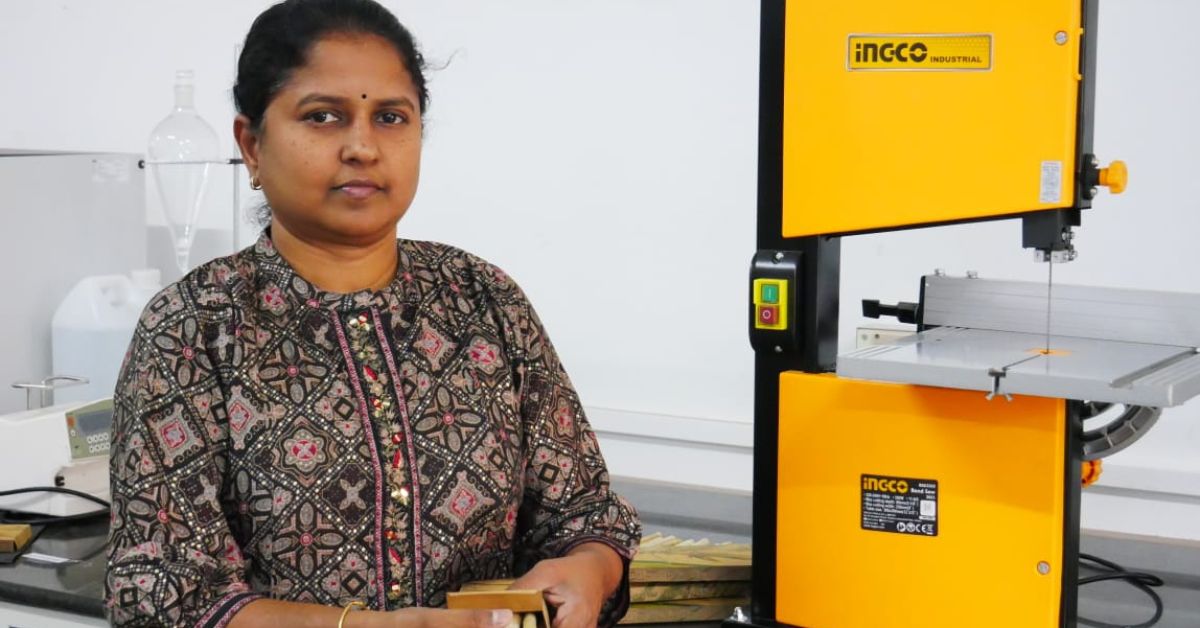 Dr Devasena, a researcher from Coimbatore, helps local shops limit their use of single-use plastic with these sustainable straws.
One day in July 2021, Dr Devasena, a PhD at the PSG Institute of Technology and Applied Research in Coimbatore, was speaking to her friends abroad when one of them mentioned how climate change was starting to be a major concern.
They began delving deeper and suddenly they started discussing straws. "In India, we use a lot of single-use plastic, no doubt," says Dr Devasena to The Better India. "But, abroad the use is even more prominent. School-going children all carry a straw with them simply because they are cheap and can be disposed of easily."
This is when her friends suggested why not Devasena concentrate her research on this issue.
"I was previously involved in core research and have always been into environmental engineering, wherein I work with sustainable development goals and innovations that limit pollution," she says, adding, "Post-COVID a lot of us have been using single-use plastic once again, though their use had been limited in the previous years. Through my research, I have understood that these contribute to 10 per cent of greenhouse gas emissions and I decided I wanted to find a solution to the problem of straws, and in turn, contribute something valuable to society."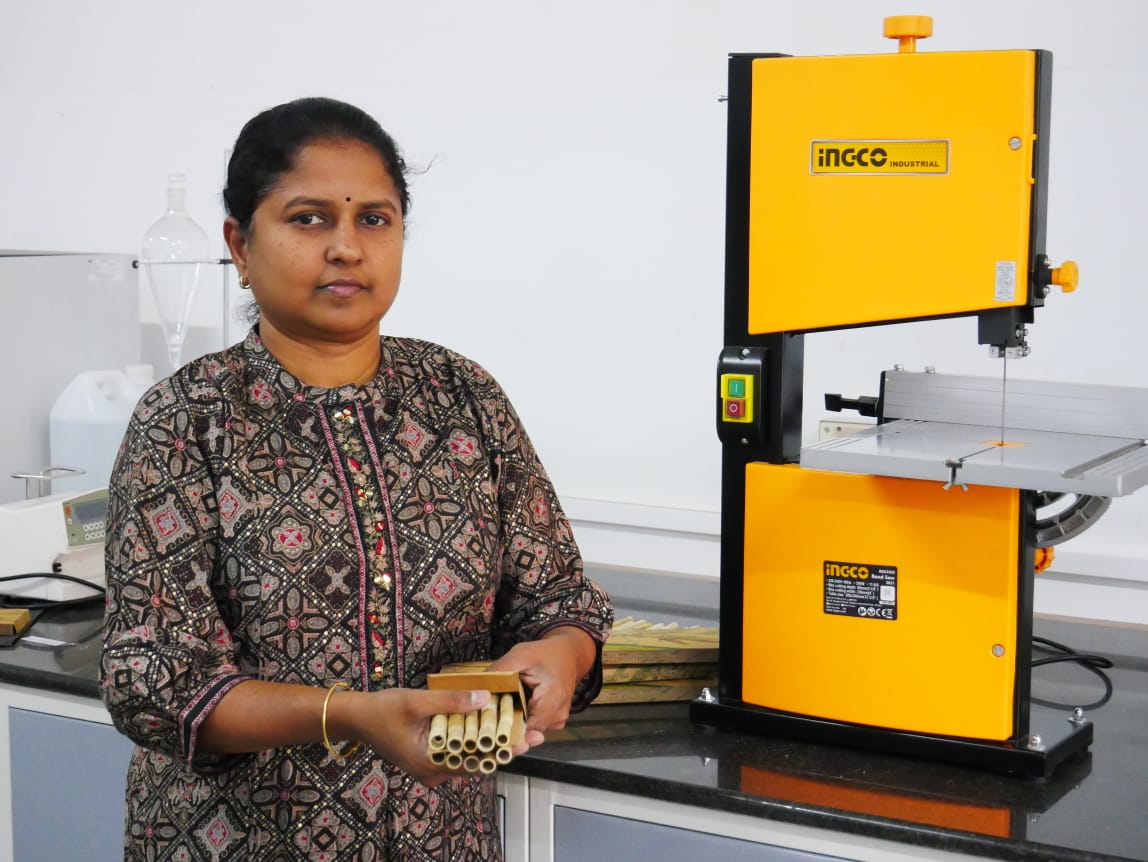 A step towards sustainability
At the time when this thought struck Dr Devasena, she was conducting a research project that involved the use of the plant Phragmites karka, a tall perennial reed with creeping rhizomes, and its use in treating industrial wastewater.
Elaborating on the project for which the PhD scholar also has a patent, she says, "Textile industries are abundant in Coimbatore, specifically in the area of Tiruppur. So, I decided to conduct a pilot project wherein I created an artificial wetland system and planted this river plant species."
Along with this, there was also a filter material with activated carbon that assisted in treating the water. The result amazed her.
"The coloured wastewater that was let into the wetland, flowed out with 100 per cent of the colour removed and TDS (total dissolved solids) removed by 60 per cent."
Following this project, one day while she was in the laboratory, her gaze fell on a few reeds of the plant lying nearby, and she noted how sturdy their appearance was. She thought back to the conversation she had with her friends about making sustainable straws, and thought why not try with this plant?
"But, this wasn't the first time the idea of using a plant's stem as a straw had struck me," she explains.
"I had tried the same with papaya but soon realised that the processing was tedious. There were too many additives needed to stabilise the final product." After two to three months of effort, Dr Devasena had given up.
So this time, she was enthusiastic to see how the Phragmites species would turn out. She started her venture EcoVise Solutions in January 2022 and began work on the potential sustainable straws.
Best from waste
"I begin by sourcing the plants from farmers in Coimbatore, or sometimes I even get these plants from the agricultural areas near the riverbank," she says. "I have a machine to trim them and follow this with a wash of salt water and turmeric water to prevent fungal infections. I then leave them to dry for a day."
The final step in the short process is sanding. For this, she has a machine with a pumice stone attached. As you can see, the processing is simple and it takes Dr Devasena two days to have 100 straws ready.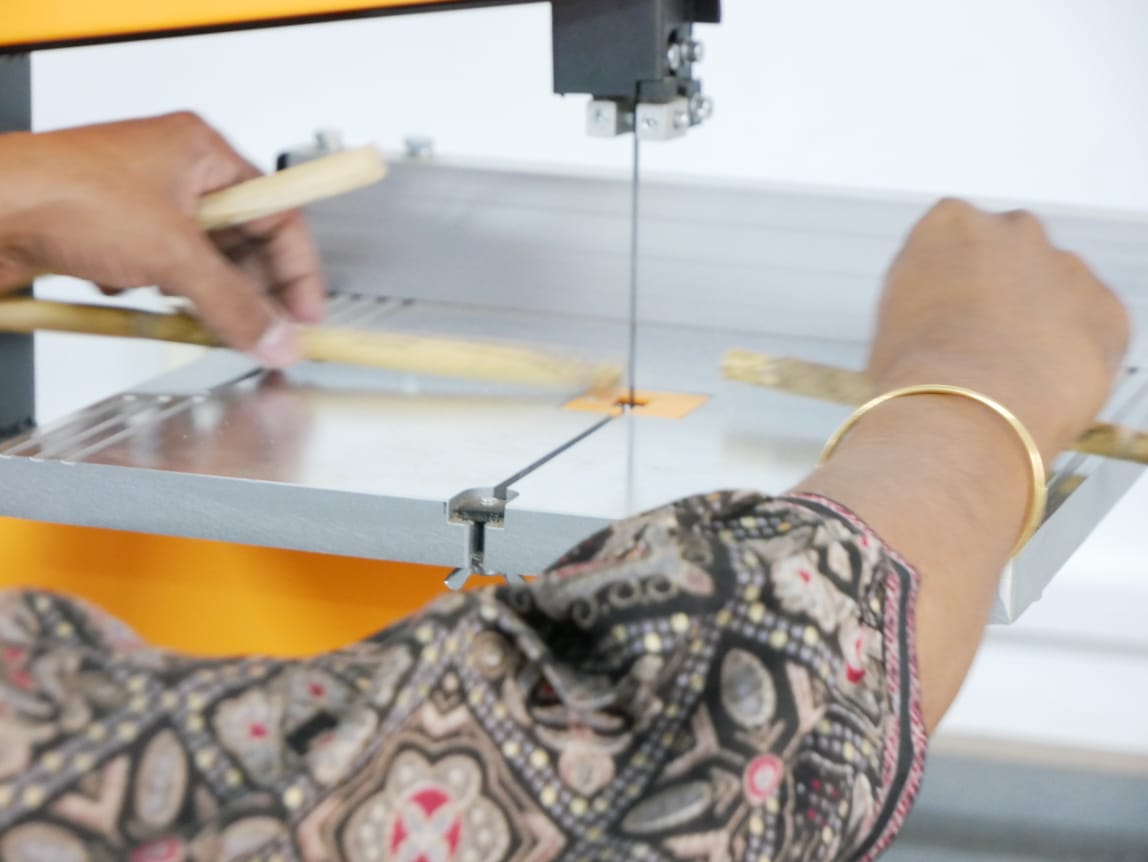 However, she says the only challenge is with procuring the plants. "There are two species of Phragmites, one of which is abundant in India, but the other, which is the karka species which I use."
Another point she adds is that the plant is often treated as a weed, and thus farmers burn it off in areas where it does grow. "If more people begin seeing the benefits of the plant — that they consider to be useless, I think India will see its potential."
As she explains, during her research, she understood that the roots of the plant were used traditionally to heal rheumatic pain and bone injuries. The shoots too are said to be great for diabetes and skin diseases.
As for now, Dr Devasena's focus is on producing more straws and selling them to the shops nearby so it will replace their use of single-use plastic straws.
The price is Rs 50 for a pack, each pack containing five straws, and she has sold 50 packs to date.
The straws are reusable, as long as they are cleaned properly with the brush that comes along with the pack, and have a shelf life of a year.
The straws can also be used as handles for bags, she says adding that she tested them for a load of 10 kg and they are sturdy enough.
"If we explore more about this plant, I'm sure, it will prove to be an all-rounder," she says. She adds she is currently exploring how this plant can also be used for the production of more reusable materials, such as plates.
Edited by Yoshita Rao