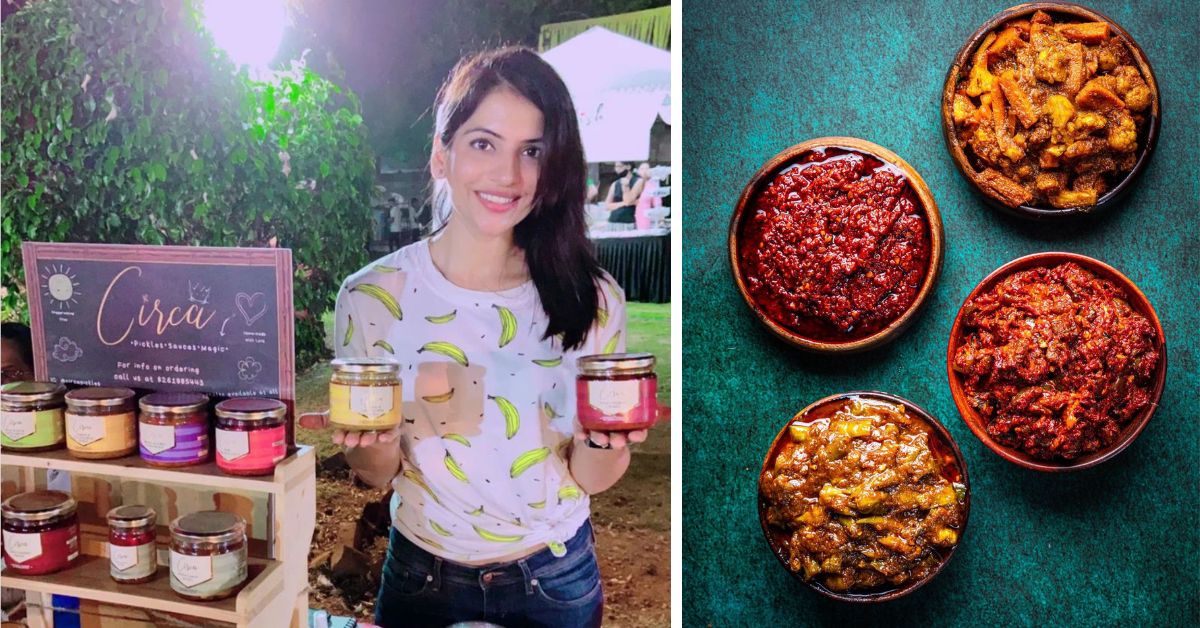 After flight attendant Yachika Chopra lost her job, she started Circa in April 2021 that is fuelled by her late mother's love for pickles.
This article is part of The Better India's series #EarnYourIndependence, with which we celebrate Indians achieving financial freedom in innovative ways.
A few years ago, Yachika Chopra (34) was a rather busy flight attendant with an airline. Focused on her career, she says that she never gave much thought to anything else until April 2020 when the lockdown was announced and the world came to a standstill.
At home in Goa, without a job, Yachika stumbled upon her mother Poonam Chopra's little black book filled with recipes. That turned out to be a treasure trove for her.
Speaking to The Better India, she says, "Building a brand that sold artisanal pickles was a dream that my mother had nurtured. However, she never mustered the courage to see this plan through. Instead in the little black book, she made meticulous notes on the resources that would be needed to start a business."
Unfortunately, Yachika lost her mother in 2020.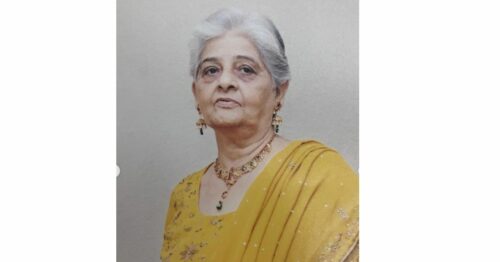 She says, "Circa was founded in April 2021 as a tribute to mom." And adds, "Never did I imagine myself being immersed in oil and spices the way I am now."
Having started with an initial investment of about Rs 20,000 Circa today fulfils between 700 to 900 orders each month with a monthly revenue of Rs 1 lakh.
Teachings from mom

While people were making Dalgona coffee and experimenting with making sourdough bread, Yachika and her husband, Ray Vaz decided to do some home cleaning. "It was during this time that I found mom's diary filled with recipes. In fact, not just the recipe but she had also made notes of the health benefits of each of the ingredients that she used."
On the insistence of her husband, she decided to make a small batch of the sweet and sour green chilli pickle, to begin with. "I remember telling him that pickles were usually grandmother's domain and I didn't see myself as someone who could make pickles. It requires a lot of work and I wasn't sure I was cut out for it. The lockdown was one major factor that pushed me to take up this challenge," she says.
The first batch that was made was distributed amongst friends and family. Almost all of them came back asking for more. "Even then I did not see myself doing it. I told people how it took me the entire day to make one batch and I wasn't ready for all that work again. But they kept insisting and I made it again. This time I was brave enough to attempt two flavours (sweet and sour chilli and carrot cauliflower)," she adds.
She recalls how the smell while making the first batch transported her back to her childhood.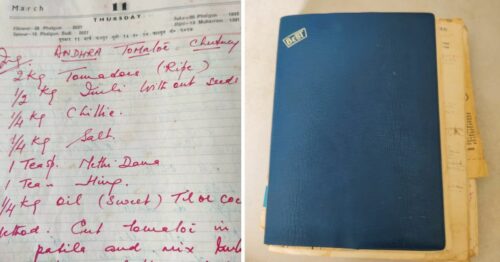 "It was that smell that sealed the deal. I knew I was doing the right thing and I had my mother's blessings," she says.
The second batch was also distributed at lightning speed. Around this time a community exhibition came up and Yachika took up a stall there. "The process of sourcing sustainable packaging for the pickles, getting the labels made and of course, the pickles making itself was surprisingly fun. What boosted my confidence further was being able to sell all 60 jars by 10 am that morning," she says.
Given that Poonam was a phenomenal cook, Yachika says that filling those shoes was a very daunting task for her. "My home, while growing up, was always filled with friends who would enjoy mom's cooking. At birthday parties, I would have my friends request mom for certain dishes, which she made with utmost joy. She would whip up the traditional Indian dishes, continental, Malaysian and even oriental cuisine with such ease."
Yachika describes her mom as someone who seemed like she had 20 hands when in the kitchen.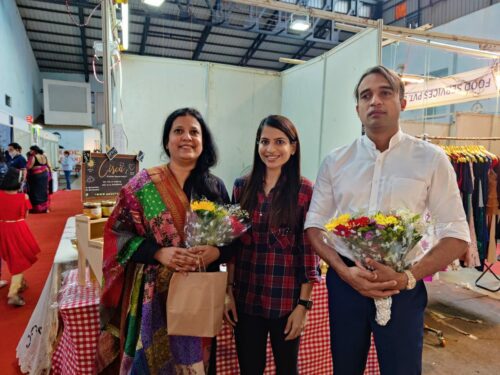 "I would always tell her I couldn't fathom how she did it all and she, in turn, would tell me she saw me doing all this and more someday," she recalls.
Yajush Malik, a professional chef and Yachika's cousin tells Yachika, "I'm absolutely certain that Bua (aunt) is dancing in heaven seeing you fulfil her dream."
He adds, "I am so thrilled to taste the exact flavour of her Carrot Cauliflower pickle in what Yachika makes. Bua truly resides in her. Here's hoping she continues to keep her memories alive for all of us to relish lifelong."
Circa: a one-woman army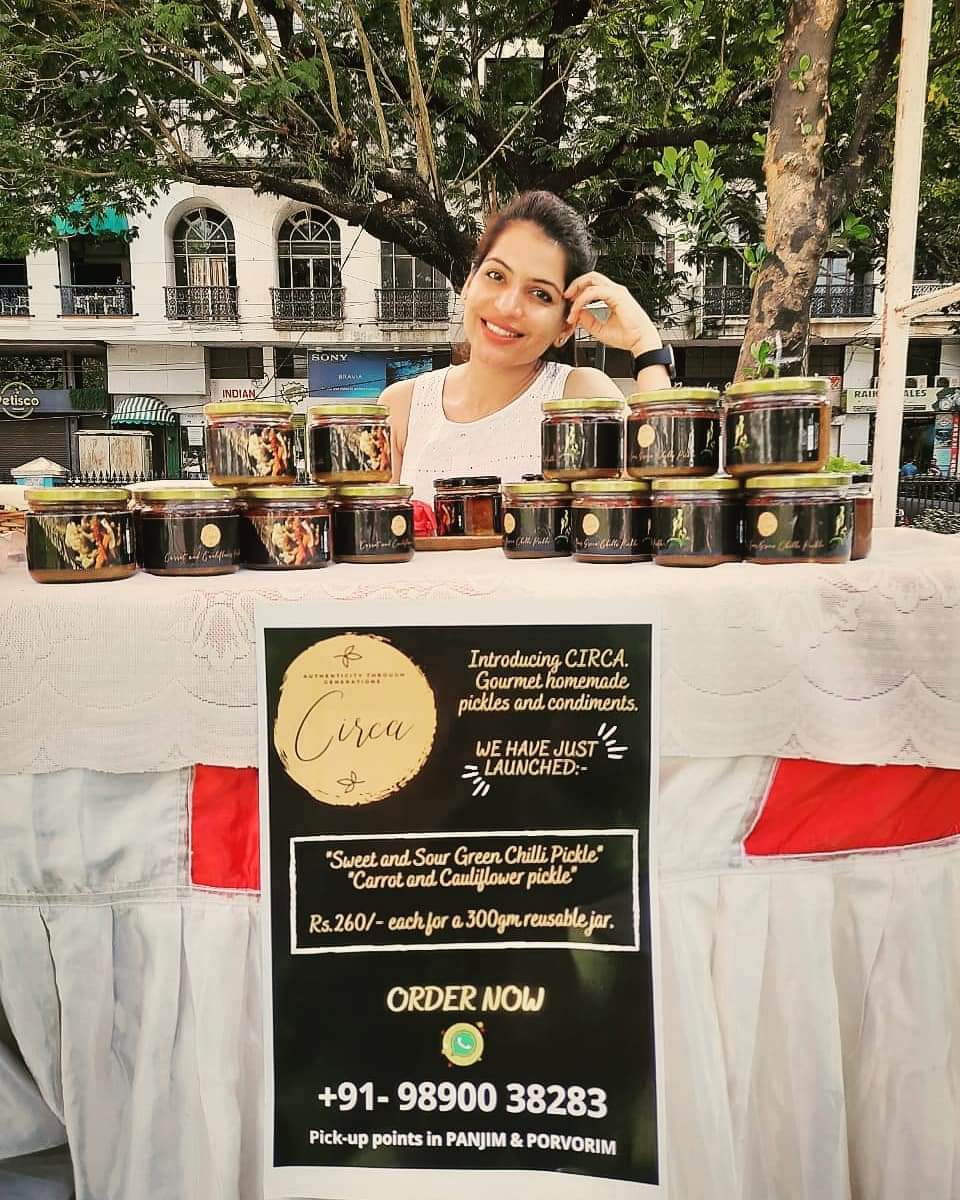 Circa, is a wordplay on 'sirka' a Hindi word which means vinegar. Yachika says that the inspiration to name the brand Circa came from the natural vinegar that is used to make the pickles. With no preservatives used the pickle enjoys a shelf-life of anywhere between 10 to 12 months. Each batch is handmade, and 100 per cent vegetarian. Yachika has been ensuring that the ingredients that she uses are fresh and locally sourced.
"The plan is to eventually build an all-woman team to help scale this company," she says.
What makes the pickles taste different are the small tweaks that she has seen her mother incorporate. She says, "We do not use the regular detergent to wash the utensils that we make the pickles in. Instead, we use all-natural cleaning products. I also ensure that the pickles are not swimming in oil, as usually is the case. Even the amount of salt I add is moderate."
Since Yachika is doing this from her home kitchen she says that she can make only up to 20 jars of pickles every batch. This also ensures that each batch is fresh. "According to the demand I make a fresh batch every month or alternate month. I have seen a spike in orders from October until December and that usually coincides with the festive season of Diwali and Christmas," she adds.
She adds here that sometime in September 2020 she got a call from the airline to resume work but seeing how much she had started enjoying building Circa, she chose to give that up and continue as an entrepreneur.
"By then I started seeing good potential in building the brand and that was such an exciting proposition for me. Perhaps this was a latent talent that I never tapped into," she says with a laugh.
'A mouthful of bliss'
With fulfilling close to 900 orders each month, Yachika now has a steady stream of consumers who enjoy her pickles. Nadia De Sa, a freelance food critic based in Goa who has been a Circa customer since its inception says, "Circa pickles are nothing but a mouthful of bliss. After initial hesitation to pick something new off the shelf, I'm glad I did it that day. There is no looking back now."
She continues, "Each batch I've tasted, is prepared with the utmost care, just like one would make it for home consumption. Zero preservatives, no excessive salt, minimum oil and the freshest ingredients handpicked are tell-tale signs of the quality they stand for. Kudos to the team, for bringing back this condiment in such a value for money, non-commercial, ode to all the Grandma's way."
The time taken to make each pickle varies. She explains, "The lemon pickle takes 65 days to mature, which means I can bottle it only once that time lapses. The green chilli is made with a particular variety and to source that is a laborious task. The other pickles require a minimum of three days for the masala to be cooked and ready and thereafter a certain period to mature, which ranges from 65 to 15 days."
Today, Yachika is making eight different pickles, six of which are made using cold pressed oil and the mango and lime pickle are also sugar-free. These pickles come in two quantities, 100 gm, which costs Rs 125 and the 300 gm jar which is priced at Rs 275. When asked about the family favourites, she says, "The lemon and mango pickle are two family favourites."
Yachika is now looking to expand this artisanal business by renting a larger space and eventually owning a piece of land where she can grow everything that Circa requires in-house. "This will also give me the chance to generate employment for others," she says.
To place an order, you can click here. Circa ships pan-India.
(Edited by Yoshita Rao)