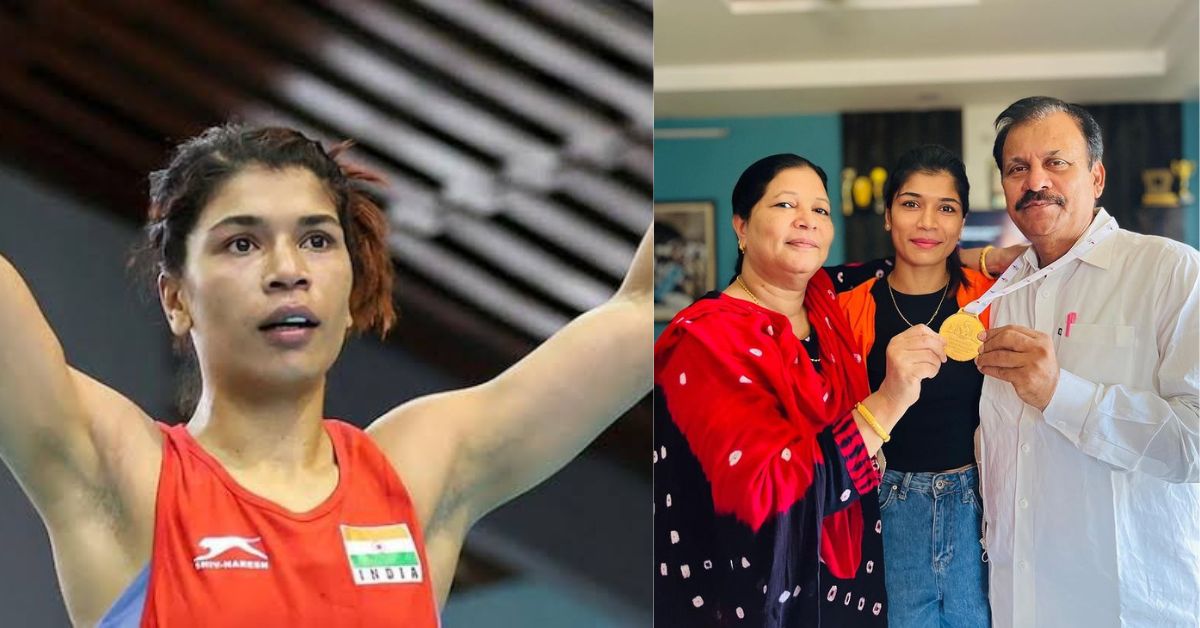 Assuring a medal for India at the Commonwealth Games 2022, boxer Nikhat Zareen overcame some incredible odds to become world champion.
World champion Nikhat Zareen has assured the country of another medal at the Commonwealth Games 2022, after entering the women's flyweight boxing semi-finals on Wednesday.
The 25-year-old, who won gold at the Women's World Championships in May this year, is now aiming for gold at the ongoing CWG. She is competing in a new weight division, the 50 kg after the new categories were announced for the Paris Olympics.
When Nikhat was a young girl, she saw that there weren't any women in the boxing ring. She went to watch the Urban Games at a stadium with her father. She asked him why there weren't any women in the ring, and if it was only for boys. Her father told her, according to YourStory, that women did box, but weren't encouraged because of injuries.
She also came home bruised one day after sparring with a boy. According to a report in the Times of India, her mother was angry, as it might hamper her marriage prospects.
These two incidents made Nikhat want to take up boxing.
The societal notion that women were weak and would face problems getting married if they took up boxing made me resolve to take up the sportNikhat told YourStory.
Her father completely supported her and left his job in Saudi Arabia to train his daughter. She was the first girl from her district Nizamabad in Telangana to train to become a boxer. This raised a lot of questions from relatives and friends.
"I was told a Muslim woman should be in purdah and asked how I could wear short clothes. Thankfully, my father did not let these comments affect him or me. He asked me to focus on boxing and work hard. When I won medals, the same people would come back asking for photos and selfies," she told YourStory.
Since then, Nikhat has proved her mettle. She won gold at the Junior Nationals in 2010 and was selected for the World Championships in 2011.
After winning many medals in the Junior competitions, when it was time to shine in the 'senior' category, a shoulder injury in 2017 threatened her career. Because she could not train for a year, she didn't get a spot in the Tokyo Olympics.
But with training and some time off, she bounced back to win the World Championships earlier this year.
After CWG, her next target is the Paris Olympics 2024.
She credits her family for her success and hopes more parents support their children.
"Support from the family is very important. Especially in my setting, because not many women went out. I am blessed to have parents who are so supportive. I can only request those parents whose kids want to achieve their dreams and play sports to support them…and definitely, they will make you proud one day," Nikhat told The Hindu.
Sources
'CWG 2022: In Nikhat Zareen's ring of fire, spirit soars while adversity melts' by Sabi Hussain for Times of India, Published on 25 July, 2022
'I took up boxing because society thought women were not strong enough to box: Nikhat Zareen' Published on 29 June, 2022 Courtesy The Hindu
'How boxer Nikhat Zareen is punching stereotypes, one successful bout at a time' by Rekha Balakrishnan for YourStory, Published on 12 April, 2022
Edited by Divya Sethu