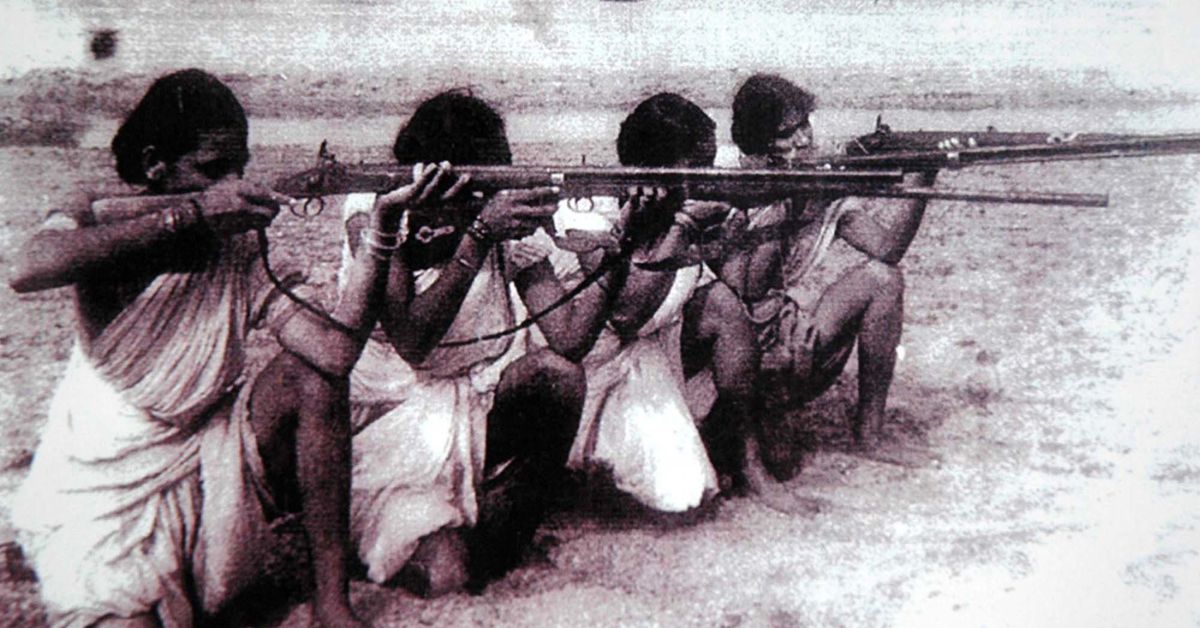 Chityala Ailamma, popularly called Chakali Ailamma, was a peasant farmer whose refusal to pay unjust taxes for her land inspired thousands to take up arms in what is today known as the Telangana Rebellion.
At its peak, the Telangana Rebellion — a pivotal point in India's history — saw the coming together of over 4,000 villages, covering almost the entire expanse of the region.
Through armed struggle, villages controlled by communist peasant guerillas saw the abolishment of vetti (forced labour) and bonded labour, an increase in agricultural wages, and peasant owners earning their lands back. 
"Women and men from the city of Hyderabad were drawn, or chose to be drawn, into [the movement] for it held the promise of freedom for cultural and intellectual oppression," wrote the authors of 'We Were Making History…': Life Stories of Women in the Telangana People's Struggle.
The revolt began brewing in the Nalgonda district when peasant farmers stood up to feudal landlords (zamindars or deshmukhs) and quickly spread to Warangal, Bidar, and other areas.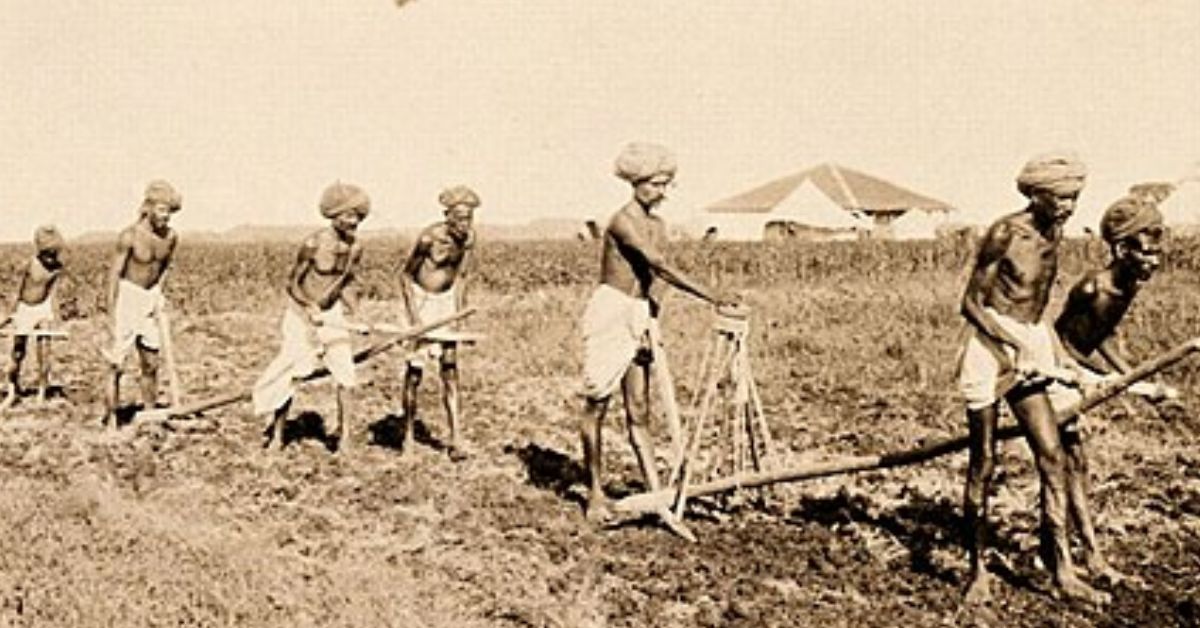 In the nearby Jangaon district, which is bordered by Warangal, Siddipet, and other districts, a woman by the name of Chityala Ailamma was among the first to revolt against zamindar Ramachandra Reddy, also known as Visnoor Deshmukh.
Politician and leader of the struggle Puchalapalli Sundarayya, popularly known as Comrade PS, wrote in his book Telangana People's Struggle & Its Lessons, "One of the early struggles…the one recounted in all histories of the Telangana struggle as the 'spark that set afire the Telangana agrarian revolt', centred on a dispute between a washerwoman and a landlord in late 1945."
Belonging to the Rajaka (also called Chakali) caste — a washing community that traditionally went from home to home of the upper castes to collect clothes — Ailamma revolted against Visnoor when he tried to take 4 acres of her farmland.
She inspired several other villagers from nearby districts to join. Together, these revolutionaries formed the legacy of the rebellion as we know it today — thousands of villages were liberated from the rule of these landlords, and over 10,000 acres were redistributed among those without land.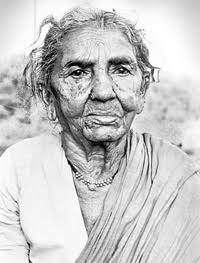 Among these stories, the struggle of Ailamma, who better came to be known as 'Chakali Ailamma', exemplifies what the inclusion of women, especially those from marginalised factions, means in revolt and revolution. 
The spirit of the people
Born around 1919 to the washerman caste, Ailamma was married when she was only 11. She bore six kids in her lifetime, who all eventually joined the family in performing forced labour for those from dominant castes.
Needless to say, the income (or lack thereof) was not enough to sustain her family, so she took up farming activities. Her 'caste work', she said, never interested her. She rented nine acres of wetland in a nearby village and declared that she would stop performing vetti and earn a meaningful living through agriculture.
Visnoor, who was the most powerful landlord in the Nalgonda area at the time, demanded money in exchange for permission to continue working on the land. He did not own the land himself but used his power to tax her anyway. She refused.
At first, Ailamma attempted to complain to a taluqdar (high-ranking government official), but to no avail. Visnoor also attempted to have a false case filed against her — by unjustly having the land registered in his name — but justice was on the washerwoman's side. Rather than pushing him to lay the matter to rest, however, this only angered the zamindar more.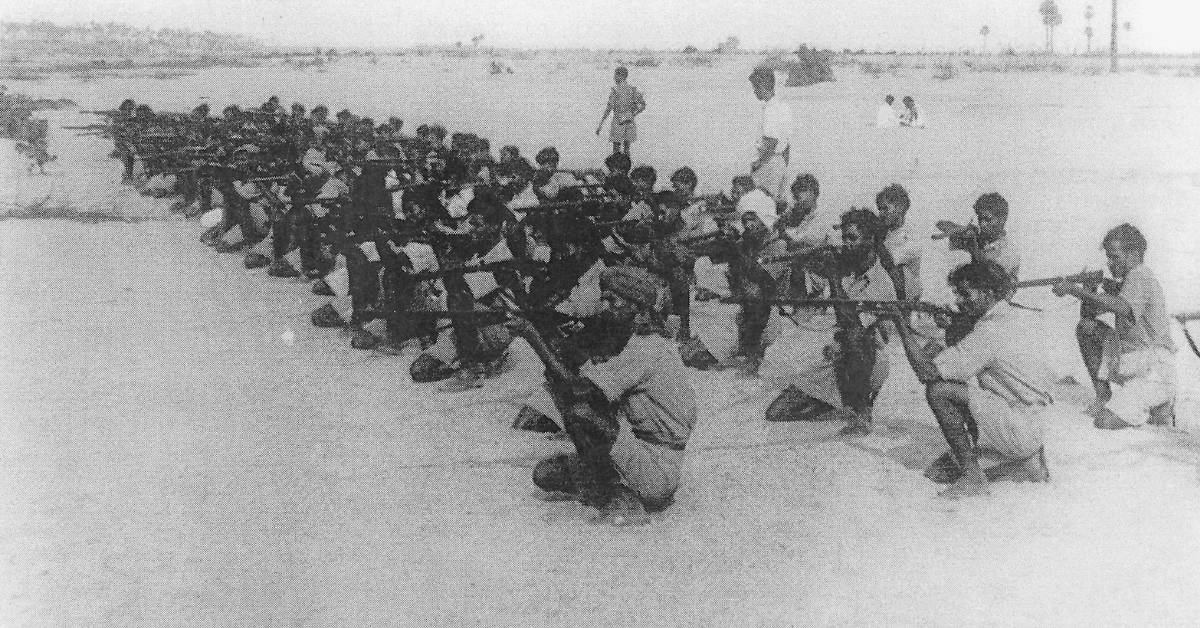 At the time, Ailamma was a member of the Andhra Mahasabha, a people's organisation that was instrumental in catapulting the rebellion along with the Communist Party of India. Her home had been a meeting place for many members of the organisation.
It is said that Visnoor sent "100 goondas and 100 farm servants — men and women — to gather the harvest. Then, the Sangham (Andhra Mahasabha) leaders and 28 volunteers, staking their lives, and armed with lathis and shouting slogans, attacked the goondas."
Sundarayya added that the goons were unable to touch a single grain on Ailamma's farm, and that seeing the way they ran from the protestors "roused the spirit of the people". Momentarily at least, they were able to drive the goons away and store her grains safely in her home, even as five of them were beaten, tortured, and arrested.
He also noted that the arrested leaders were subject to much brutality at the police station, but despite it all, "Ailamma's harvest and lands could not be seized".
In an interview with Stree Shakti Sanghatan, a Telangana-based women's organisation, she later recalled, "…Even as we were harassed, they all came and guarded us. They lived with us for three or four months. I begged in the village for food to feed them…they ate, and they guarded my grain for four months before they left."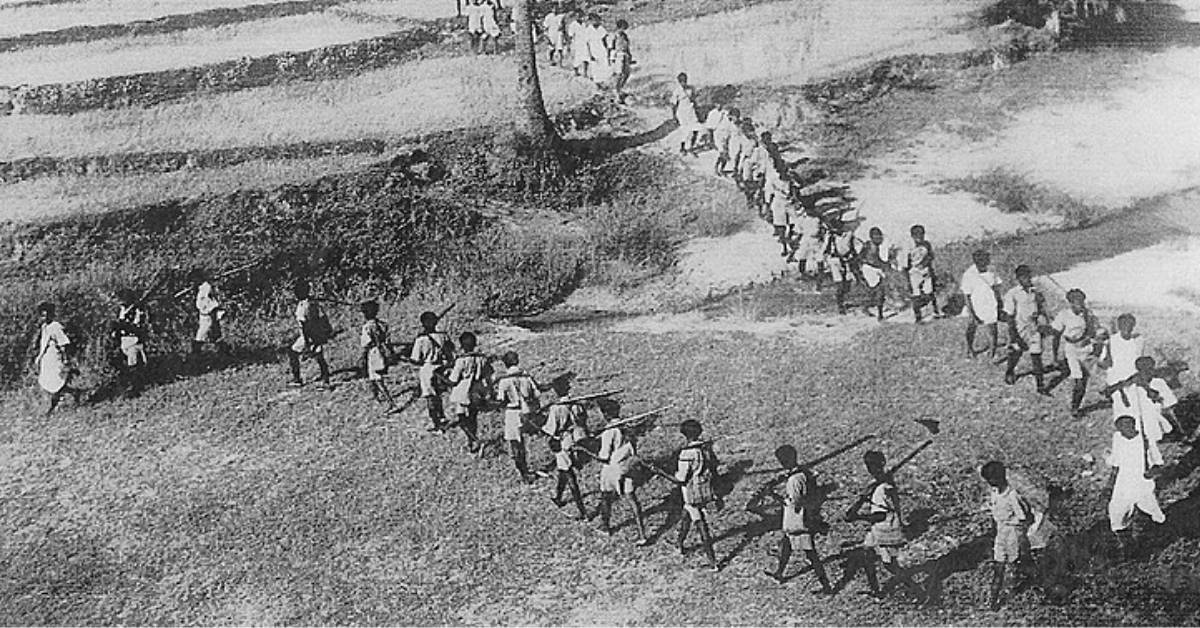 This incident would not only help rally peasant farmers across Telangana's districts, but people would recall this historic event with songs of Ailamma and the Sangham's valour. In fact, these songs would further inspire thousands of women to join the rebellion as well. 
'Who knew this would happen?'
What followed next would catapult the larger rebellion.
Livid at the humiliating defeat, Visnoor colluded with the police to launch false cases against several activists and protestors, which later morphed into a full-blown attack on Kadavendi and nearby villages.
When the goons came to attack, slogans of "blood for blood" were raised, and the peasant workers rushed forth to defend their lands. In the ongoing violence, local Sangham leader Doddi Komaraiah was shot and killed.
Angered, the peasants and activists set fire to the zamindars' fields and houses, before the police arrived and dispersed the crowd. Over the next few days, these uprisings gained momentum, and it is said that over 200 acres of land were reclaimed and redistributed among the peasants. By this time, the rebellion began gaining momentum across Telangana, as thousands upon thousands took up arms to defend their rights and land.
Among them was Ailamma, who, despite suffering a great deal, played an instrumental role in the rebellion. While giving an interview to activists from Shree Shakti, she recalled that after the Mahasabha leaders had left her home, Visnoor's goons had returned under orders to set her house on fire.
"They set fire to the house. They carried away seven whole measures of millet…eight whole measures of green moong gram…Who knew this would happen?… They loaded the carts and took it all away."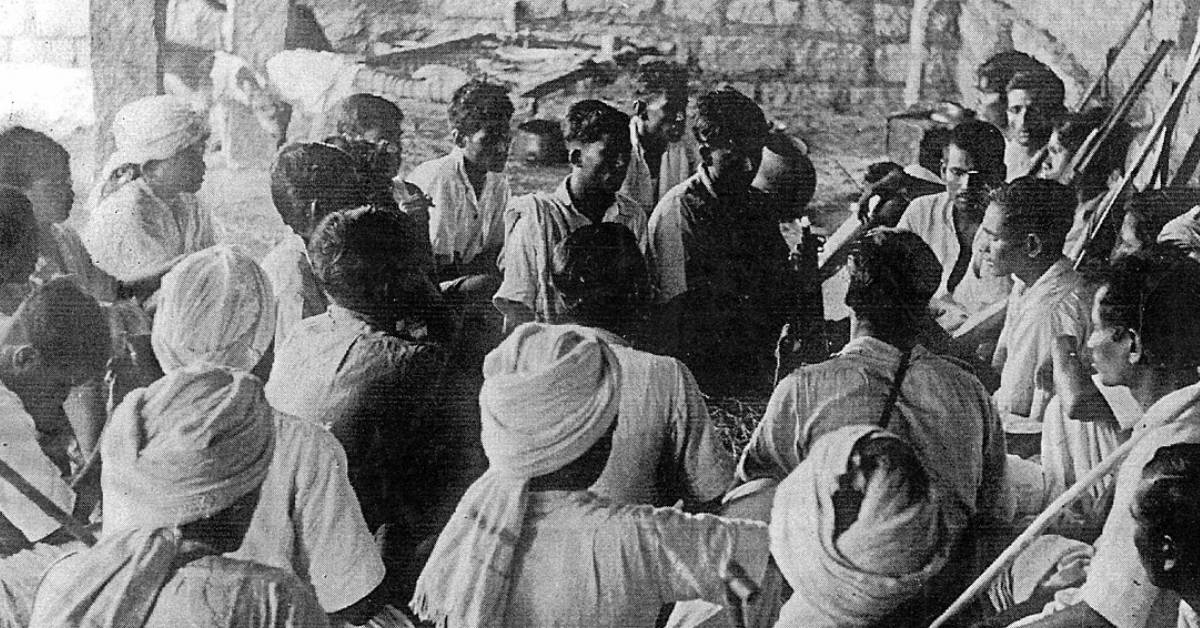 Ailamma recalled that she and her children were beaten up and that she "bled for such a long time that [she] had to keep changing her clothes". The fire destroyed much of their field and hard work. The goons raped her younger daughter, and eventually, she lost her husband and younger son to the violence as well.
Sundarayya wrote that in the uprising, as many as 4,000 activists and peasants were killed, and over 10,000 jailed for subsequent years.
"Thousands of women were molested and had to undergo all sorts of humiliation and indignities," he noted, calling them the "worst victims" of the "brutal tortures and atrocities committed by the Razakars (paramilitary volunteers who were fighting against Hyderabad's integration in India)".
By 1948, the Central government initiated police action against the Razakars as well as the communist peasants in attempts to squash the agrarian revolution began. "[Communist] activities were declared unlawful, a ban slapped on the party, and many leaders of the organisation were either forced to go underground or imprisoned," wrote India Today Magazine.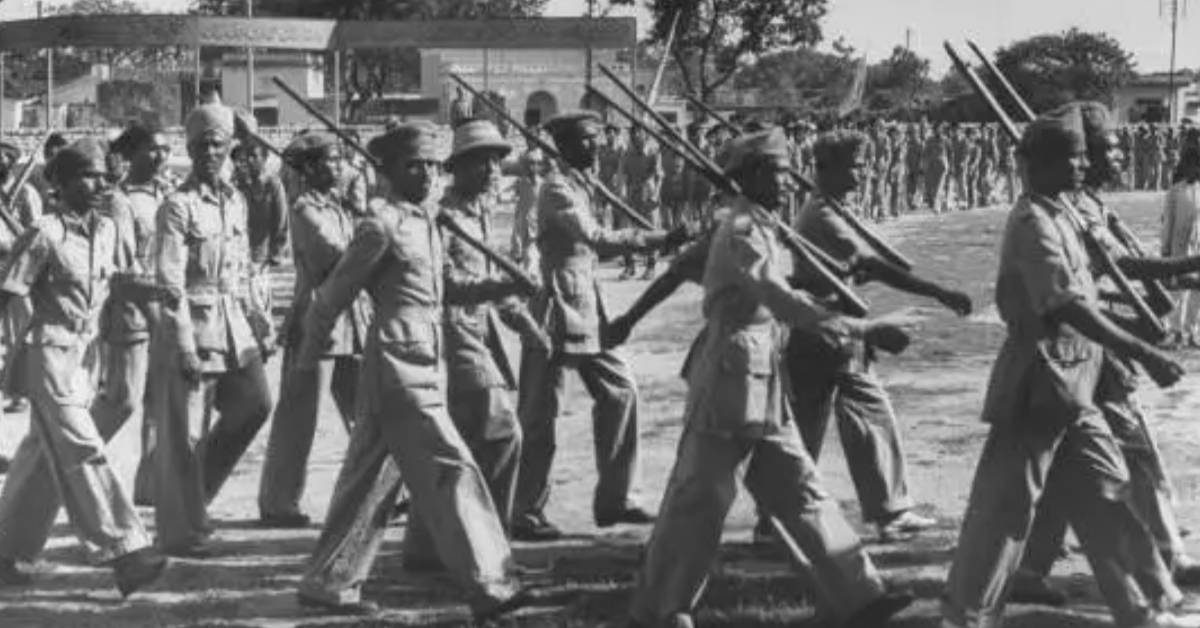 In 1951, the CPI finally called off the campaign citing "increased repression by the Indian Army", and agreed to "function as a legal party using constitutional methods to acquire power". For supporters like Ailamma, the day when their beloved Sangham would come to power never arrived.
For women in the Telangana People's Struggle, the fight was not just against oppressive caste and feudal regimes — it was a larger struggle for social and political autonomy.
When Ailamma first refused to pay tax or give up her land, her defiance aimed to encourage women to work and earn independently, without being at the mercy of men from higher castes. With no education and further disenfranchised by caste and class barriers, women like her were instrumental, regardless, in mobilising thousands to join the movement. Their homes doubled as safe houses for Sangham leaders. They became integral members of political and military factions. They stood by their husbands and sons in protest and took up arms when they were needed.
And when the tide receded, they were left to piece together the remnants of their homes and land, carrying on after the loss of their brothers, husbands, children, and loved ones.
After her husband's death and the decline of the rebellion, Ailamma's remaining sons took her land and divided it among themselves. But no one, she knew, could take away from her role in the uprising, in restoring rights and peace in her land.
"My husband was nobody," she said. "My son was nobody."
"Only my name has remained."
Edited by Yoshita Rao
Sources:
'The red revolt': Written by Amarnath K Menon for India Today Magazine, Published on 20 December 2007
Tell Us More
We bring stories straight from the heart of India, to inspire millions and create a wave of impact. Our positive movement is growing bigger everyday, and we would love for you to join it.
Please contribute whatever you can, every little penny helps our team in bringing you more stories that support dreams and spread hope.