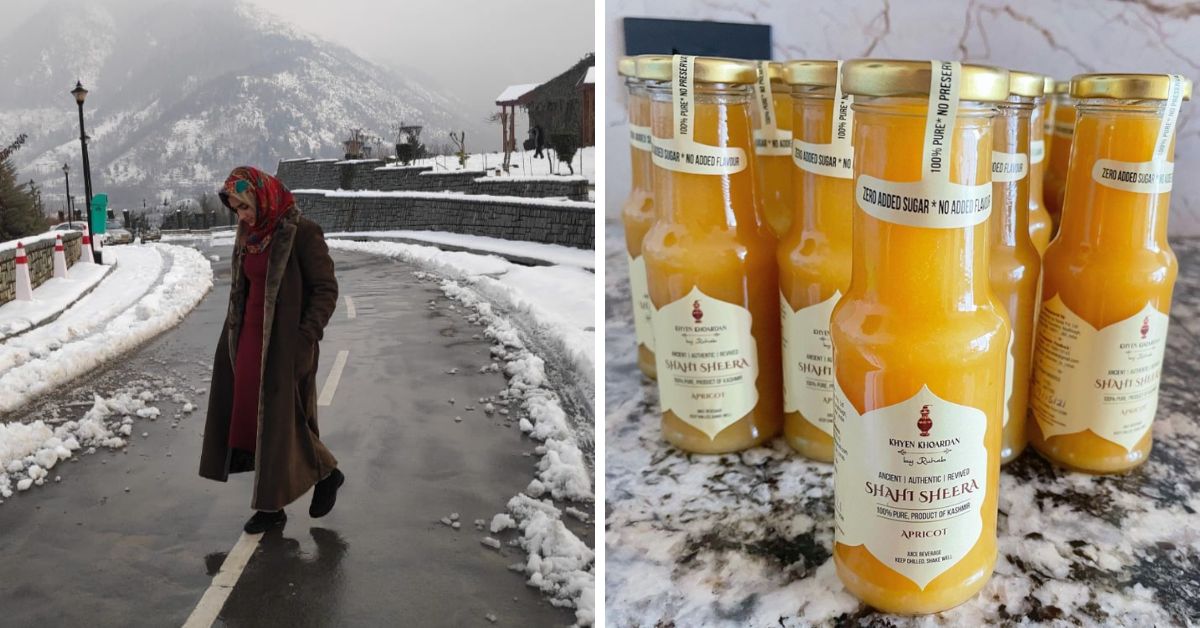 Kashmir-based woman entrepreneur Ruhab Lateef Mir started Khyen Khoardan to revive an heirloom recipe of Shahi Sheera, a traditional Kashmiri beverage.
At a young age, Ruhab Lateef Mir remembers keenly observing her mother prepare delicious Kashmiri cuisine. Her mother also instilled in her a sense of respect for the authenticity and variety of the cuisine. "But whenever I went outside, I noticed that Kashmiri cuisine has almost vanished," says Ruhab in an interview with The Better India.
"I saw that people preferred foreign cuisines instead. As Kashmiri cuisine is tough to prepare, it's slowly getting lost," she says.
Now the 28-year-old is on a mission to revive authentic Kashmiri cuisine in Srinagar, one dish at a time.
An environmental advocate, she also runs Khyen Khoardan By Ruhab. 'Khyen Khoardan' is the Kashmiri word for 'food items'.
Since launching her business in 2020, she has now received orders from over 100 weddings and her profit for this year alone has touched Rs 1.5 lakh. Khyen Khoardan's total revenue for the past year stands at Rs 3 lakhs.
Rediscovering Shahi Sheera
When it came to choosing her signature dish, Ruhab decided to focus on 'Shahi Sheera' – a tasty and healthy beverage. The reason for this, she says, was "because it was almost completely extinct" from Kashmiri cuisine.
She noticed that local chefs kept meat-based Kashmiri dishes and other drinks like Kahwa alive, but Shahi Sheera was often left out. The drink is made by extracting the juice of different berries and is a refreshing, light, juice-like beverage.
While studying law at Kashmir University, she also noticed that students preferred to have soft or flavoured drinks with preservatives and sugar.
And Shahi Sheera, with the word 'royal' in its name, was the right option for this market.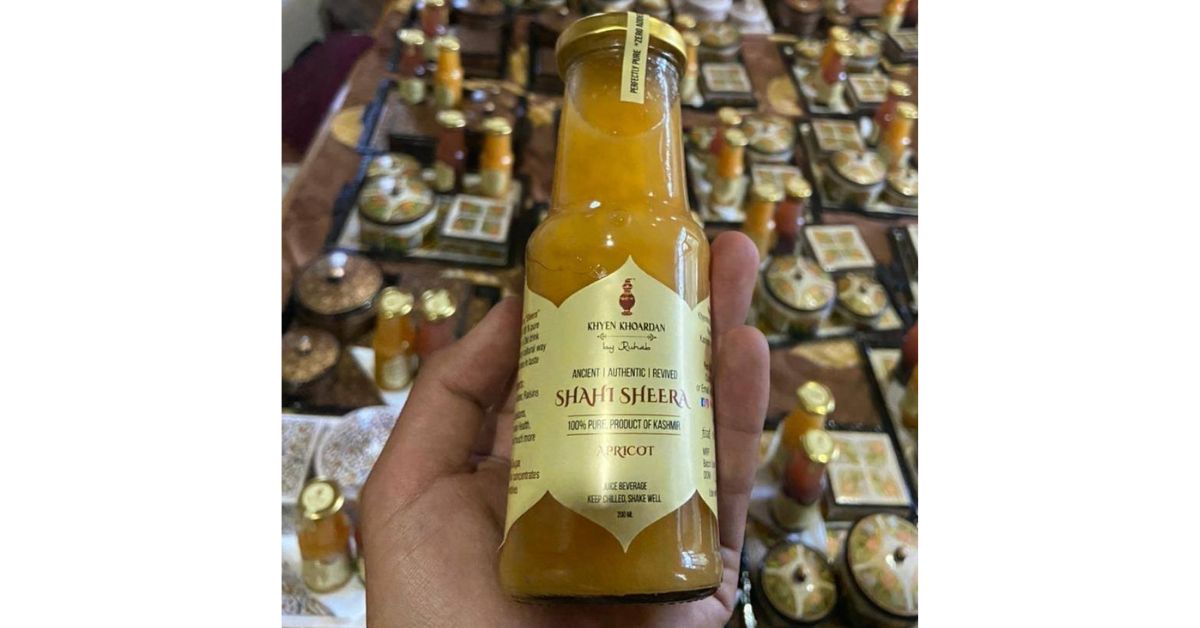 The recipe was passed down as a family legacy from her great-grandmother. "It's over 100 years old," says Ruhab proudly, adding, "It is prepared at our home during Ramzan. It tasted very nice and we were always eager to have it."
Speaking about the tedious process, she says, "It's an overnight process and takes over 24 hours to be ready."
Besides, it has several health benefits. "It helps in purifying blood, brightening skin, and alleviating stomach issues. It's rich in Vitamin C and antioxidants."
Taking it to the world
It was at a food festival during her college days that she first decided to put up a stall and serve Shahi Sheera. "I wanted to introduce this authentic dish to the Kashmiri people, educate them about our ancestral traditions, and see how people would react or whether they would like the taste."
That night she sold her Shahi Sheera to over 500 people, and this, she says, was all the confidence she needed to start a business.
In 2019, she participated in another event at the Sheri Kashmir International Convention Centre, taking the beverage to a larger audience and again receiving positive reviews. This prompted her to take Shahi Sheera to the market. However, the pandemic prevented her from taking decisive steps toward this business decision.
The biggest challenge in getting the business off the ground was the resistance she faced from family. Since she was working as an advocate, taking on the role of an entrepreneur was not something that immediately made sense to them, she says, adding, "My support was my husband. Without him, I could not have done it. He pushed me to take it forward."
Shahi Sheera also has a cultural presence in Kashmir as a wedding drink, and features in the 1977 Kashmiri film Arnimaal, where guests are sipping on the beverage during wedding festivities. She adds, "People see it as a welcome drink, served from the bride's side to the groom's side."
The following year, Ruhab served the drink at her cousin's wedding. She worked fast, figuring out the logo and design, registering the brand and setting up the business with a personal investment of Rs 10,000. "The presentation had to be good because you're presenting a Kashmiri product which would be a message to everyone about how authentic our culture is," she says.
The drink was a hit and the event managers at that wedding ordered about 1,000 bottles for other events.
Word started spreading about Khyen Khoardan through word-of-mouth and by 2021 she had provided the beverage to over 100 weddings throughout Kashmir.
Given the quality and health benefits of the product and the fact that there are no preservatives or added sugar, Ruhab has found new avenues for the drink. "Now the beverage is also purchased by pregnant women or as a housewarming/welcome gift," she says.
Ruhab prepares the Shahi Sheera in four flavours – apricot, red berry, blackberry, and mixed berry, but only the first two have been launched in the market thus far. Each bottle holds 200 ml of the drink and is priced at Rs 110 per bottle. To prepare the drink, fill the bottles, ready the product, and deliver it to customers, she now employs five other people at her processing unit.
Recently, Khyen Khoardan has also launched a second product – quince jam, which comes from the apple family. "The quince apple is another forgotten recipe and has been passed down through generations in my family. I learnt it from my mother," she adds.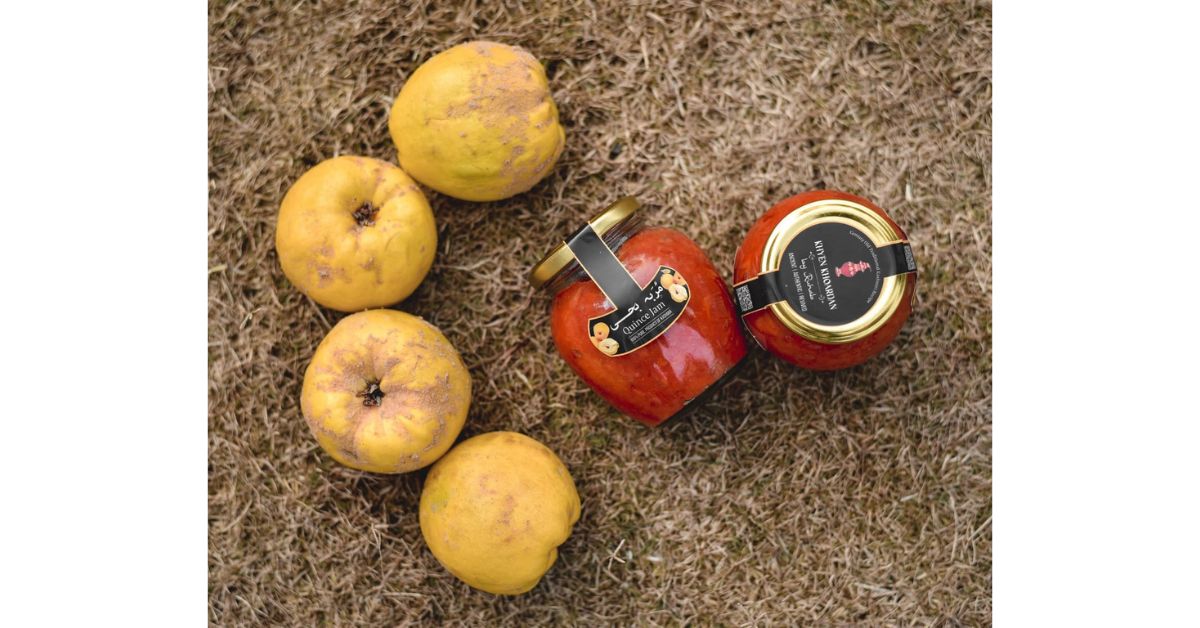 The online orders alone made them run out of stock in one month.
She's now getting enquiries from customers as far as Dubai and Kuwait, for thousands of bottles of Shahi Sheera, which she's unable to fulfil at the moment, given the limited infrastructure.
What's next for this gritty entrepreneur? She says she is taking a six-month food processing course. "My vision is to have the largest industrial unit in Kashmir for Shahi Sheera. I know the potential of Kashmiri culture and food, which has a balance of healthy and tasty components. And I want people all over the world to learn about our rich and authentic cuisine."
Edited by Yoshita Rao
We bring stories straight from the heart of India, to inspire millions and create a wave of impact. Our positive movement is growing bigger everyday, and we would love for you to join it.
Please contribute whatever you can, every little penny helps our team in bringing you more stories that support dreams and spread hope.