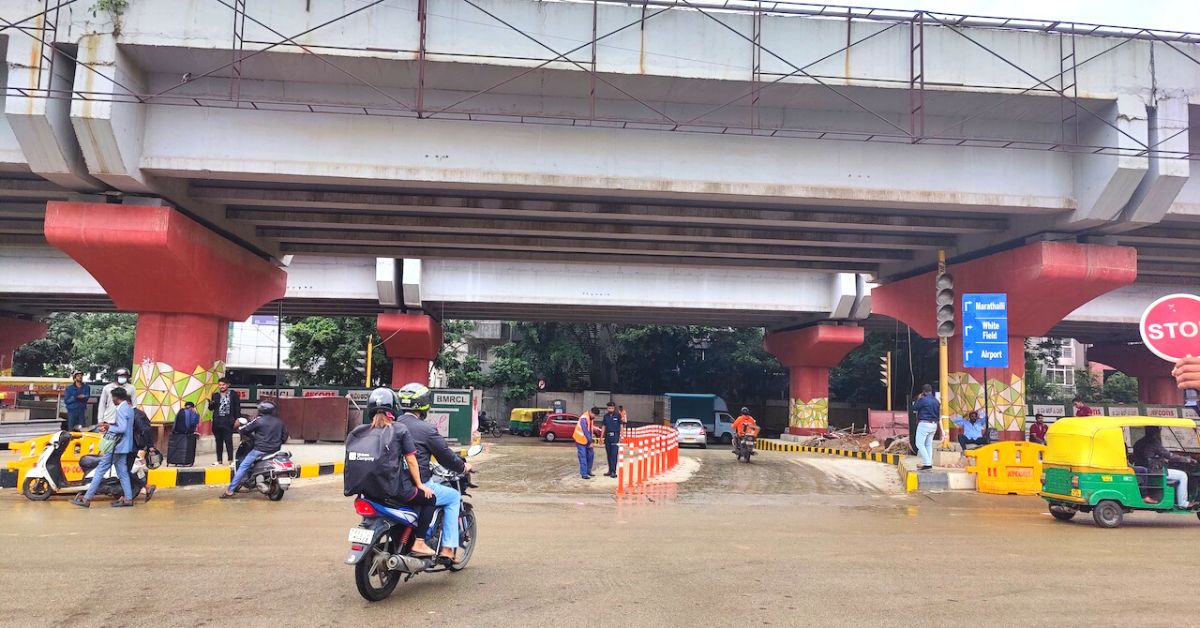 In Bengaluru, PotHoleRaja has built an innovative road using 3000 kg of recycled plastic, that's cheaper, uses less water and gives a 5-year warranty of being pothole-free.
Earlier last month, PotHoleRaja®, a social enterprise on a mission to fix roads in India, was contracted to construct a road using its patented 'eco-friendly' and 'durable' technology called GridMats® crafted entirely from recycled plastic waste.
The road, which was constructed using 3,000 kgs of recycled plastic, connects Ecoworld, an asset in Brookfield Properties India's portfolio and a large-scale commercial development in the Bellandur area, and the Outer Ring Road (ORR) to ease traffic congestion in the area.
The initiative is part of a larger infrastructural upgrade plan for the area led by Brookfield Properties in partnership with IBI, a Canada-based architecture, engineering, planning, and technology firm, Bruhat Bengaluru Mahanagara Palike (BBMP) and Bengaluru Traffic Police.
"Currently, commuters exiting Ecoworld to go towards Marathahalli have to take a big U-turn at Bellandur and the ones who are entering Ecoworld and its immediate vicinity from the outer ring road also face a lot of inconvenience due to the traffic congestion in the area. The heavy traffic is primarily due to commuters having to take a u-turn in a congested junction. A well-designed connecting road will cut down on commuting time to a great extent," says Sourabh Kumar, the director of PotHoleRaja, speaking to The Better India.
He adds, "We didn't want this to be another road which develops potholes and breaks within months because it's going to carry a lot of traffic."
Made from recycled polypropylene, GridMats are placed above the bedding layer and packed with different filling options, creating "a permanent, flat, high-quality surface in less than half the time, and at 20%-25% cheaper the cost," according to Sourabh.
On average, commuters were losing 75 minutes because they had to take a very big u-turn just to enter their work premises and go back home in the evening after office hours, mentioned the local traffic police. Brookfield Properties on-boarded IBI to identify possible solutions for traffic management near the Ecoworld in January 2022. More than six solutions were proposed. The road required immediate revamping for which PotHoleRaja was contracted.
The process of building this road began following a request from the city's traffic police.
PotHoleRaja started constructing this connecting road on 9 July, measuring 30 metres long and 15 metres wide. It isn't a very long stretch, but an important and prominent one measuring altogether between approximately 500 and 600 square metres in area.
Starting out, the PotHoleRaja team had to clear out the debris from the metro construction site. The team didn't have to just construct the road but also install road ornaments, reflectors, bollards, touch up the footpath and redesign the drain structure to make it a little wider so that people can access it freely. The actual construction process took just four to five days.
"In this project, we have used around 3000 kg of plastic waste. It consumes 30 per cent less water than traditional concrete roads and does not require any steel reinforcement," he adds.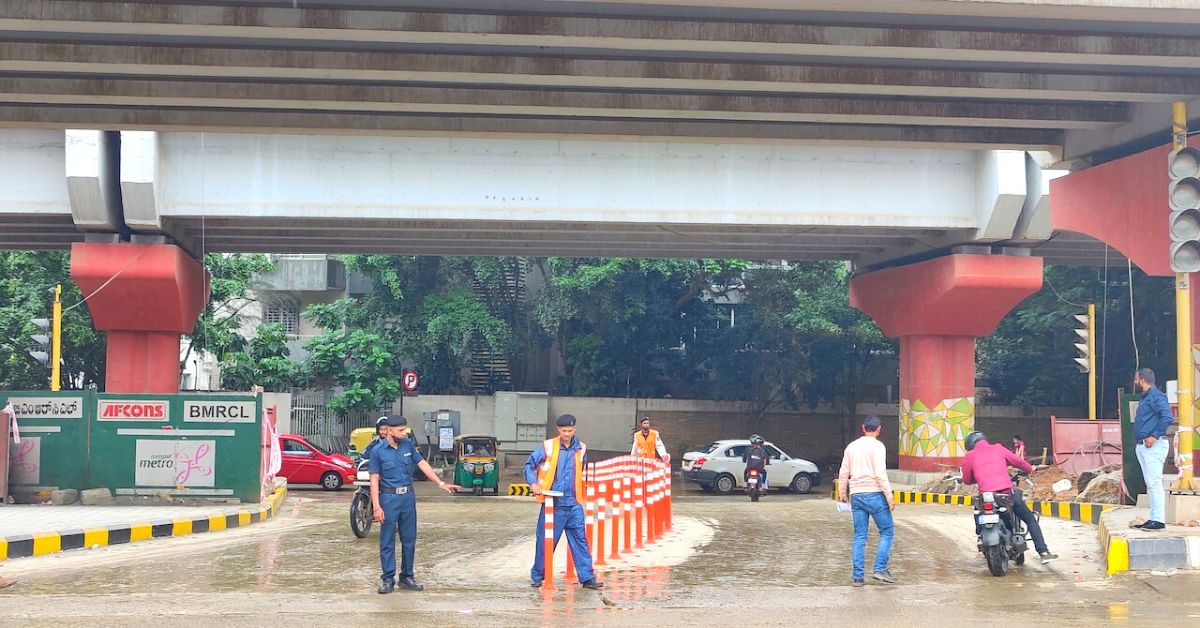 Building durable & eco-friendly roads
The major source of their recycled plastic is industrial waste. A significant amount of plastic waste generated by the industry is collected by recyclers, who segregate, wash and clean it before arriving at PotHoleRaja's factory in Hosur. This recycled plastic waste comes in the form of pellets. The factory utilises those pellets and makes GridMats, a honeycomb structure designed from recycled polypropylene waste that then goes into the construction of roads. Polypropylene plastic includes your plastic chairs, buckets, and the hard plastic used in automobiles.
Thus far, the social enterprise has done multiple road projects in the country. In Bengaluru, they have installed GridMats inside various residential and commercial properties. In the Peenya industrial area, for example, they installed GridMats outside the ABB India Limited factory. Even the pavement located at their factory in Hosur, where PotHoleRaja makes their GridMats, was constructed using these honeycombed-shaped structures.
They've made a similar installation at the Maruti Suzuki factory in Gurugram and recently made it inside the premises of a heavy-duty factory located in Jammu. After winning a recent startup competition held by the Maharashtra government, they also won the contract to construct a 200-metre stretch of road in the Ulhasnagar Municipal Corporation area.
"In most cases, our roads are constructed where heavy-duty vehicles are present. Inside factory premises, the minimum tonnage that goes on our roads is more than 50 tonnes. Our roads also come with a warranty of five years, which is unique since no one in this industry makes such claims. For any road development, we assure clients and beneficiaries that we are there right from the inception till however long they want us there," explains Sourabh.
But how does PotHoleRaja lay their GridMats on the road?
They begin by compacting the soil, which forms the base. That's a process traditional road makers also employ. "On conventional roads sometimes, a lot of soil filling is done, whereas for us it's a very thin layer measuring around 300 mm. Traditionally, this can go up to 500 to 600 mm," explains Sourabh.
This is followed by the process of laying down bigger size aggregates, which are technically known as WMM (wet mix macadam ) or WBM (water-bound macadam). While roads following WMM use stone aggregates and binders, WBM employs stone aggregates, screenings and binder material like stone dust with water. Combining these materials adds to the strength of the pavement. On conventional roads, this overlaying is done by measuring 250 to 300 mm thick, whereas PotHoleRaja only goes up to 100mm to 150 mm on top of Geofabric sheet.
Coming to the third step, makers of conventional roads will lay a thin layer of concrete measuring 150 to 200 mm in thickness on top of the stone and dust called DLC (dry lean concrete) to set up a base for the next layer of concrete. The final layer of concrete laid on the road is about 250 to 300 mm thick.
"In the roads constructed with GridMats technology, we roll and lay a very thin layer of m-sand (an eco-friendly building material referred to as manufactured sand) to help lay down their GridMats. Our GridMats are only 40 mm thick. In that 40 mm, we fill concrete in just the pockets of the honeycomb structure. The end product is only the grid with a thickness of 40 mm. That's the thickness of our pavement," explains Sourabh.
Moreover, PotHoleRaja saves on a lot of concrete. They use no steel reinforcements as well.
"With our technology, there is no place for expansion and contraction of concrete roads (and thus cracks) based on changes in temperatures. A conventional road will have four to five layers, whereas ours will only be two or three," he adds.
Also, there is little scope for re-laying roads built using GridMats. "In our case, the chances of suffering damage are very less. In the worst-case scenario, a very heavy piece of equipment falls on top of the road we built during the construction of the metro rail line. To fix it, we'll just cut that part open and re-lay it. Since we use fewer materials, the maintenance will be very less. In this industry, breaking and making a road costs more than a fresh construction," he notes.
Brief history of PotHoleRaja
PotHoleRaja was started by Dr Prathap B Rao, an ex-Indian Air Force pilot. Following this, he served for many years in the private sector. His entrepreneurial journey began in 2011, but five years later he came up with the idea of PotHoleRaja because of a myriad of complaints people were having about the state of roads and traffic congestion in India.
"At the time, I was working as a software developer. After quitting my job, I joined the journey with Prathap in making our world pothole-free. When we started, it was all about pothole fixing and improving public spaces. A lot of private road owners started connecting with us for various road maintenance projects. Our orientation from the very beginning has been sustainability. Even in our pothole fixing technology, we used cold bitumen/asphalt, which is non-heated and all-weather proof. However, we kept thinking about how we could make roads that develop no potholes, to begin with, while recycling waste plastic and rubber," says Sourabh.
In 2018-19, PotHoleRaja started conducting experiments to this end, facing multiple failures. Finally, when the COVID-19 pandemic struck, his team put a lot of focus and attention on doing a lot of brainstorming and asking about what can be done with this plastic.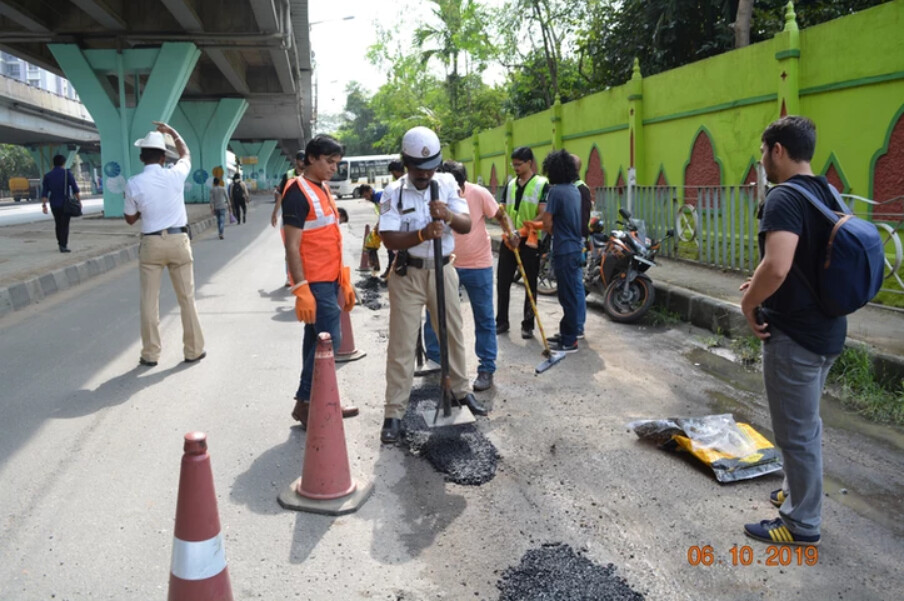 "We spent a lot of time in our warehouse, did a lot of experiments and came out with a few products that did not last as per our expectations. Those failures taught us how to better it. Finally, in 2020, we completed the design, and first production and installed small patches of GridMats to understand their durability. Last month, we received the patent for GridMats. Even before receiving the patent, we were doing GridMat installations to test the durability. Since our pothole fixing tech was garnering a lot of praise, our clients believed that our roads would also last long," he says.
Going forwards, PotHoleRaja will continue to further the work of its for-profit and nonprofit arms. Their CSR activities fall under their non-profit arm.
"When we do public road recreation and infrastructure development, we engage mostly through our non-profit. While companies that want to develop an entire road outside their periphery or maybe take up some important junctions across the city, we also employ our CSR non-profit arm. For private properties, we make complete road infrastructure and work with many builders, architects, tech parks, etc. That helps us remain sustainable," says Dr Prathap, the founder.
(Edited by Yoshita Rao)