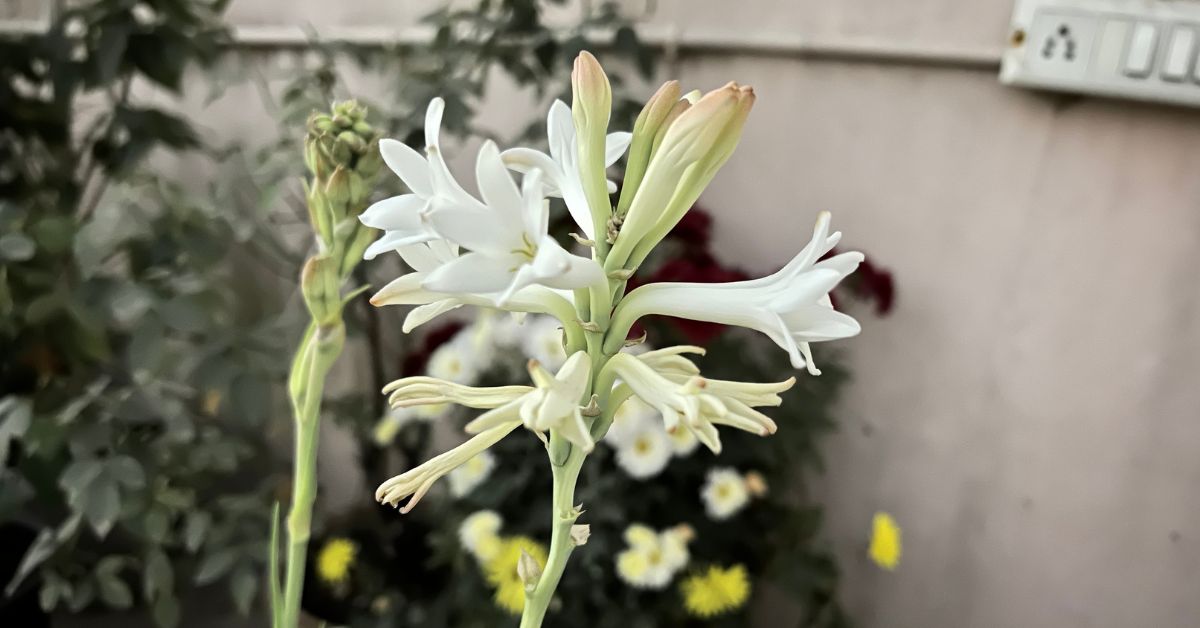 Rajnigandha or Tuberose is famed for its beautiful white flowers and soothing fragrance. Here's how to grow rajnigandha at home, with these simple steps from an organic gardener.
Rajnigandha (tuberose) is known for its beautiful white and elongated flowers, and their sweet, soothing fragrance. Unlike most flowers, these bloom only at night, and the name 'Rajnigandha' loosely translates to 'fragrant at night'.
Used extensively across the country for decorations and auspicious occasions like poojas and marriages, these flowers are believed to have originated in Mexico and brought to India by the early Portuguese settlers.
Rajnigandha is a perennial plant that comes in four different varieties, based on the number of rows of petals it has.
According to Sriram Aravamudan, an organic gardening expert from Bengaluru, rajnigandha is easy-to-grow and requires very little maintenance. "It is mostly propagated through bulbs and can be easily grown anywhere, on the ground or in a pot, with a decent amount of sunlight," Sriram tells The Better India.
He shares some tips to keep in mind to grow rajnigandha at home organically:
1. Collect bulbs to sow
Rajnigandha bulbs multiply underground and are hence easily available. You can collect a few good bulbs from a nursery or someone who already grows them.
2. Requires direct sunlight
As they are sun-loving plants, it is important to find a suitable place in the garden or balcony that receives ample direct sunlight for at least five to six hours a day.
3. Well-draining soil and pot
While planting the bulbs in either the ground or in a pot, it is important to make sure that the soil or vessel drains well. "If not, there is a chance the water could stagnate, which can lead to the bulbs rotting," he says, adding that any pot bigger than eight inches would be perfect for planting rajnigandha.
4. The right potting mix
"You can also prepare a potting mixture by blending red soil, compost and coco peat in the ratio 2:1:1. This mix generally works well for almost all garden plants, especially flowering plants. The compost can also be replaced with animal manure like cow dung," suggests Sriram.
5. Plant it right
While planting rajnigandha, make sure you maintain enough space between each bulb, so that each gets sufficient nutrition and thrives well.
6. Do not overwater
After planting the bulbs, water the soil well and make sure it's moist enough for the plant to germinate. Once it germinates, water it only when the soil looks dry.
This is because these are bulb plants, which are capable of storing water within. "The plant can be watered after checking the moisture content of the soil. Make sure to not overwater it. I would suggest watering once or twice a week, and if it is raining, then there is no need to," says Sriram.
7. Combating pests
In case pests like snails or slugs attack, the only way to combat them is to remove them manually.
The best season to plant rajnigandha is between the months of March and September. "It stays dormant during the winter season due to the lack of warmth and sunlight," adds Sriram.
It takes around 90 to 120 days for the plant to flower. Once it starts flowering, it will blossom continuously for up to three to four months.
At the end of the flowering season, though the leaves and shoots dry down, the multiplied bulbs remain alive underneath. "These bulbs can be harvested, cleaned, and stored to be used for the next season," says Sriram.
Edited by Divya Sethu