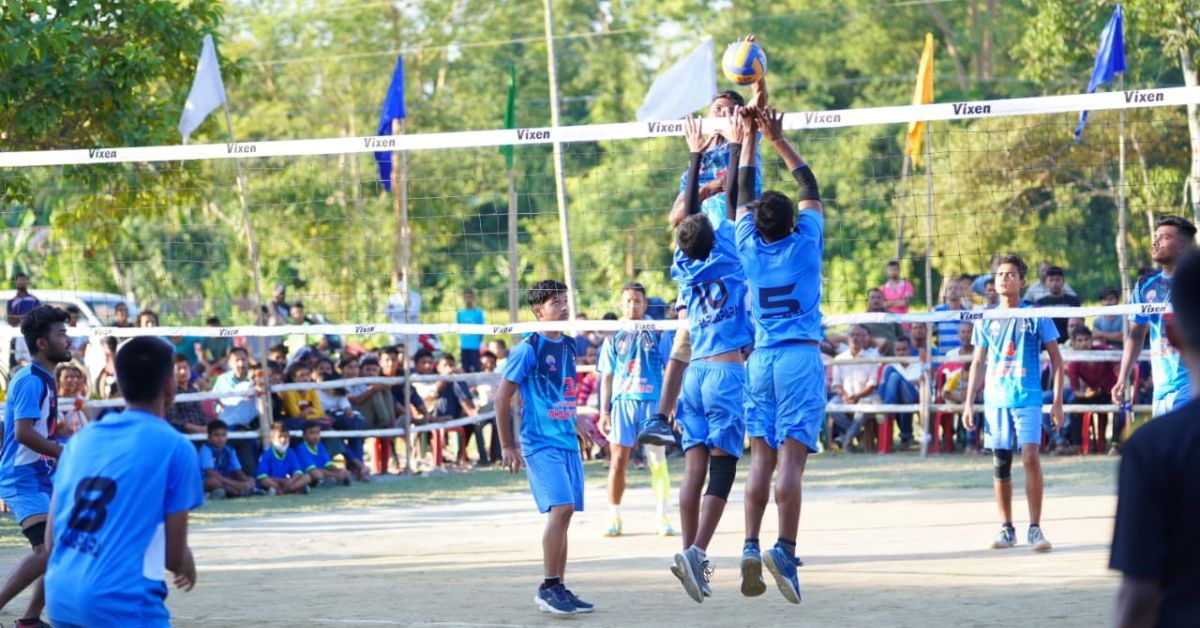 Abhijit Bhattacharya, a retired volleyball coach and the only person from Assam to have played in the national team, is now training thousands of kids from his village in the Brahmaputra Volleyball League (BVL).
---
This article is part of #MakingSportWork, a series launched by The Better India and Sports and Society Accelerator. The series celebrates India's independence with stories of heroes who have spent years working to improve lives around them through sports. Stay tuned for inspiring tales of those who are #MakingSportWork.
---
Abhijit Bhattacharya cannot imagine a life without volleyball in it. It is not difficult to understand why. His volleyball story starts in the shoe shops of Tezpur, Assam. In the mid-90s, a state government coach assigned to the local area had the vision of sending a player from the North East to the Indian volleyball team. What did he do next? He asked around in the local shoe shops if they had a customer who wore large shoes, in the hope of finding an athlete with the height and frame optimal for elite volleyball. This led him to Abhijit's father. An innovative, Cinderella-esque talent scouting strategy.
One thing led to another, and the coach convinced the Bhattacharyas that Abhijit must switch from playing competitive badminton to volleyball. It was a decision none of them would come to regret. Abhijit would go on to fill the large shoes of the coach's vision. He represented the country and even captained the Indian National Volleyball Team between 2003 and 2005. He remains the only person from Assam to have played in the national team. It is a record he wants to do everything to change.
Now in his mid-40s, it was after he retired from the game in 2006 that he put his heart and soul into leading this change.
When Abhijit decided to bring volleyball back to his community in Assam, he thought of all that volleyball had done for him. He wanted the children from his community to experience the joy and thrill of the sport. "The sport is a low investment, easy to learn and play and can be very entertaining for audiences to watch live. This makes it ideal for rural settings," he says.
He made forays into the hinterland of Assam with the support of his employer ONGC and set up an academy in Tezpur. He began a programme called Volleyball Mission 100 to scout volleyball talent from 100 villages in Assam.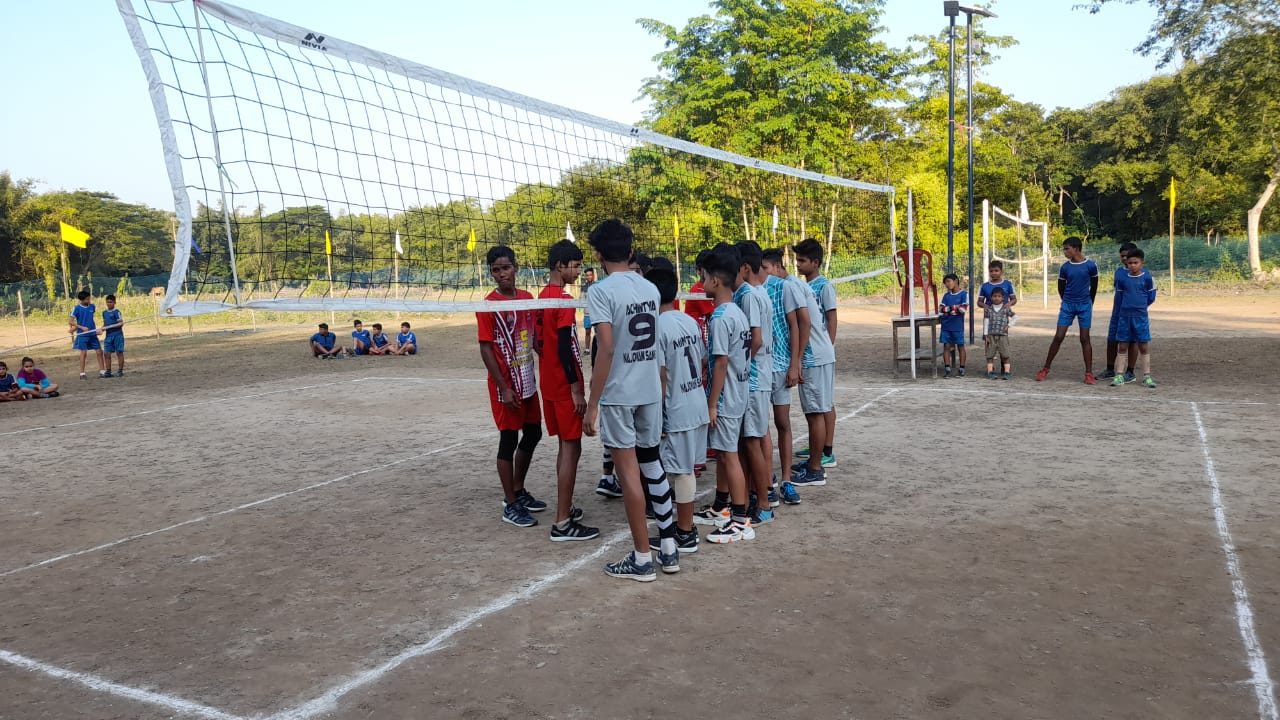 During the pandemic, he went on to hold dozens of online volleyball coaching classes for kids in the far corners of the state.
But when he was urged by a friend to visit a village near his hometown, he came across several children playing volleyball but hamstrung by a lack of equipment. He then made it a personal goal to not only get them volleyballs but to also gather resources for proper training to sustain their interest. Seeing participation grow, he organised a mini-tournament in the village, generating support from the community.
From these simple steps emerged his idea of the Brahmaputra Volleyball League (BVL), recognising what competition and engagement can do for kids.
He started with a WhatsApp message to his peers and friends, asking them to support volleyball by adopting a volleyball team of their choice. All it cost was a few thousand rupees to be the proud owner of a BVL team. The rest has been a journey even he couldn't have imagined.
Nine-time national badminton champion Aparna Popat describes the process of becoming a BVL team owner. "A common friend introduced me to Abhijeet and he ran through the plan with me. He conveyed a lot of clarity with a basic financial plan and a vision of taking the league across as many districts as possible. He was extremely confident with his communication, in fact, it was quite unreal. He said he was only seeking support for kitting and travel. I felt a strong connection with providing kids with the opportunity to play and decided to pick up a team. Immediately, Abhijeet sent me options for kitting, t-shirt colours, etc. for 'my' team."
She adds, "The whole experience of bringing on a team owner was very well thought out. Eventually, the team owners' names were even put on the jerseys. It was a bit embarrassing at first."
Today, the BVL is a tournament played across 28 different districts, bringing together 2,200 players from 93 villages.
In the two editions, the league has had so far, countless success stories have emerged, of which Archana Das is a shining example. Archana came through the ranks and participated in the league in 2020, only for her to go one step further and represent Assam in the U-21 National Championship.
A pro-volleyball community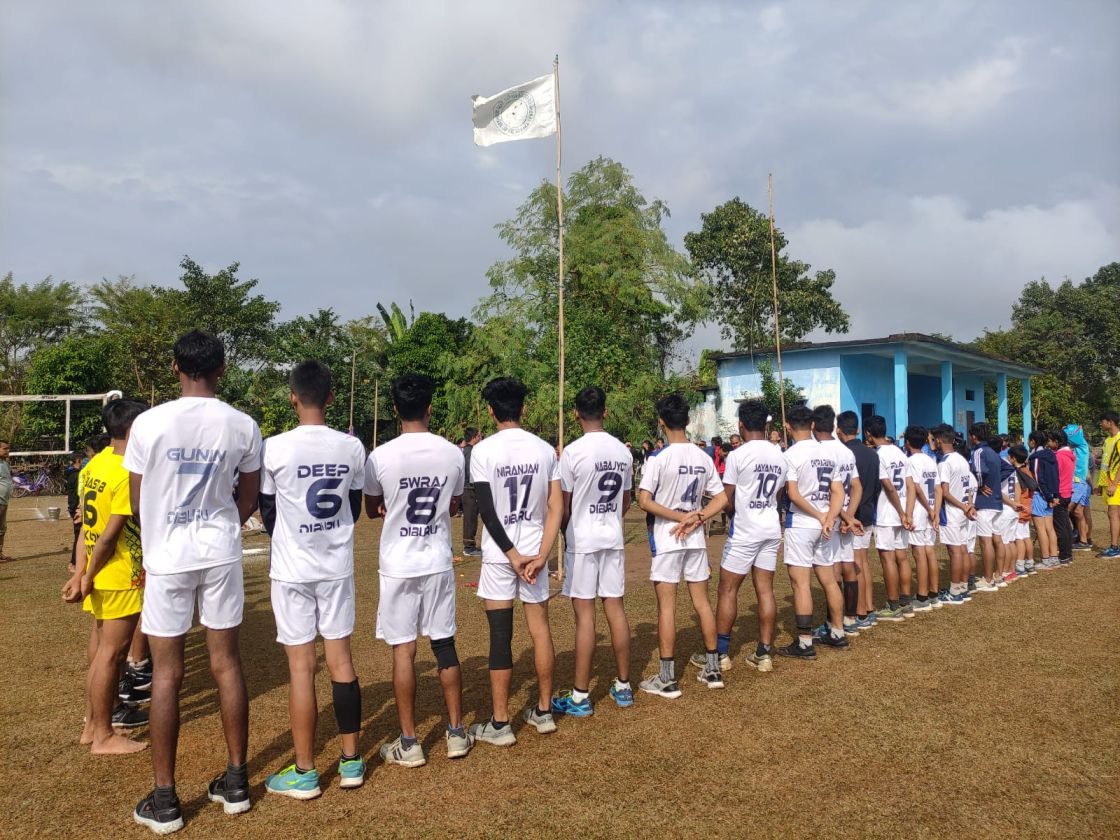 Abhijit wants to take this project further and create new tournaments for younger children, who he feels get fewer opportunities to play the sport competitively. Inviting the best coaches in the country to mentor teams, he wants to make BVL a force to reckon with.
Aparna was impressed at how Abhijit always seemed to be on top of things, whether it was finance, operations, logistics or creating value for stakeholders. "It was all covered calmly and professionally," she says. "Before the tournament started I got to speak to my team's coach and players. I could watch my team play live with someone holding up a phone over a video call and it was wonderful. (in season 2, the matches were live-streamed). Despite not having access to huge funds or sponsorship, Abhijeet was able to keep the ethos of the league alive while always looking to get better."
The league has begun to capture dreams outside sport. Beyond playing volleyball for the first time, the children are getting the opportunity to participate in an organised competition. This means that a lot of them get to travel outside their villages for the very first time, and experience new things, all while proudly wearing a team jersey that has their name on the back. Abhijit speaks passionately about how these little things bring motivation and joy for them and for him and his team.
Aparna agrees. "I believe that the experiences sport gives us – from competition to travel to being a part of a team – has the potential to be life-changing. At the end of the day, sports does all the good things only if you get the opportunity to play. When we give kids the chance to play, we give kids the opportunity to make it the most memorable part of their childhood. That is the exciting element of this," she chimes in.
The impact has extended to the community.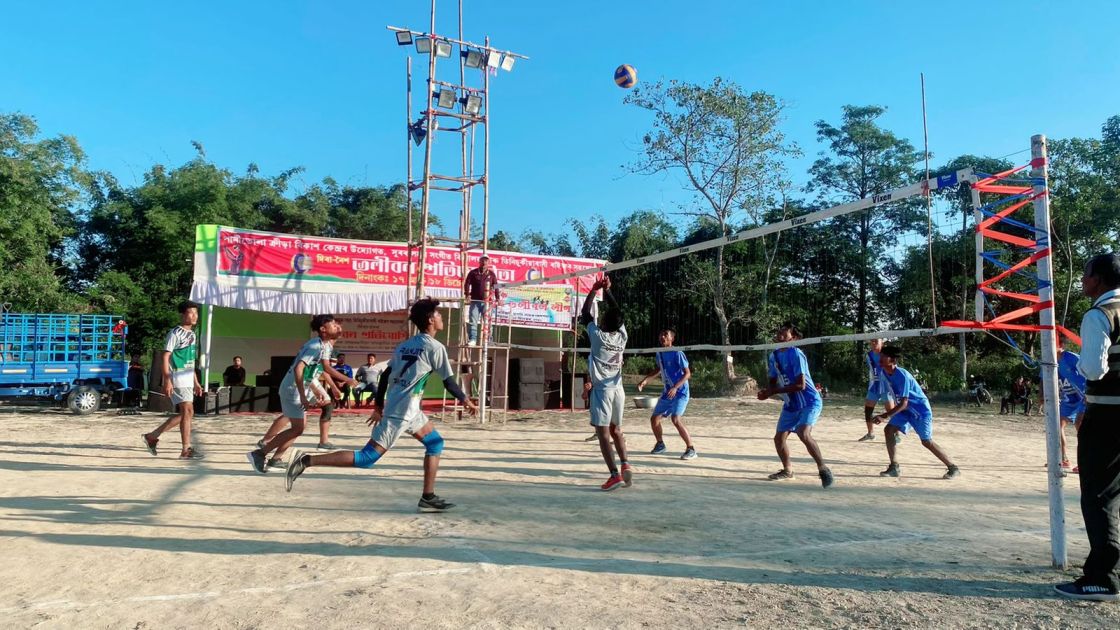 Villages where the BVL is played host the children and others with open arms. People donate vegetables, cook together and serve meals for the players, and create a micro-system of support to encourage the young people further. And the teams are starting to get broad-based support, with sponsors coming in surprising ways. Aparna says she noticed Abhijeet's ability to get people to volunteer. "This is quite common in sports activities in the US, Australia, etc. but not as common in India. He managed to tap into this, showing what is possible when you can involve the community. They were cooking food, helping out with organizing the event and so much more. It was a team effort and helped create awareness and a culture of sport in the community," she says.
"Sports is a medium of change. It is changing entire villages," concludes Abhijit, seeing a bright future for the BVL.
"I don't know how he does what he does. He is everywhere! Nothing seems to faze him and he has almost always managed to find a solution when any problem arose," says Aparna.
Through the BVL and his community outreach, Abhijit has managed to create hope and build an ecosystem of support. The youth of Assam now have a league of their own.
In the game of volleyball, service comes with many types of returns.
Written by Team Billion Plus; Edited by Yoshita Rao 
We bring stories straight from the heart of India, to inspire millions and create a wave of impact. Our positive movement is growing bigger everyday, and we would love for you to join it.
Please contribute whatever you can, every little penny helps our team in bringing you more stories that support dreams and spread hope.