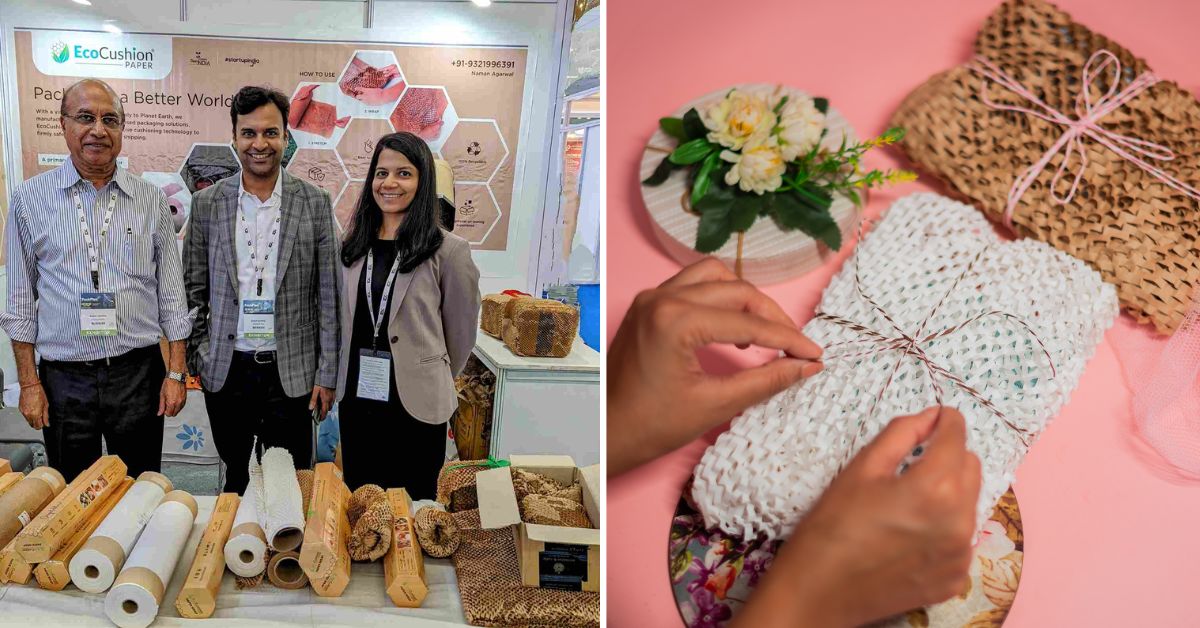 Mahesh, Varsha, and Naman Agarwal, a Mumbai-based family, run EcoCushion Paper, a venture that makes and sells honeycomb paper packaging to offer an eco-friendly alternative to bubble wraps and plastic.
Sometimes, the best ideas come to us in the strangest of circumstances. Take Mahesh Agarwal for instance.
The 62-year-old had been working in Delhi for over 40 years, when in April 2020, he made up his mind to move to Mumbai to be closer to his children.
His kids Varsha and Naman, both in their thirties, took a flight to help their father pack his things, among which were antiques, precious items, and many more things that needed to be safely transported from their childhood home to Mumbai.
Like many people do when relocating, the Agarwal family wrapped their belongings in bubble wrap. But they were alarmed by the amount of plastic they had to use, and aware of what problems this would pose for the environment.
The sexagenarian thought there must be an option more eco-friendly than this. "And if there wasn't," he tells The Better India, "I would find one."
"I'd always wanted my post-retirement life to have a larger purpose. I wanted to contribute positively to society in some way," Mahesh adds.
And his contribution has come in the form of EcoCushion Paper, a Mumbai-based venture that sells eco-friendly packaging to thousands of small businesses. Their honeycomb paper packaging, they say, is 100 per cent recyclable, cost-efficient, and saves up to 80 per cent storage space.
View this post on Instagram
Mahesh explains that in a usual warehouse setting, bubble wrap of 100 metres takes up around 2 ft by 4 ft space, but the paper alternative is thinner and can be compressed, reducing the amount of space required. Moreover, he says with the government banning single-use plastic, honeycomb is starting to turn into a much sought-after alternative, making it cost-efficient.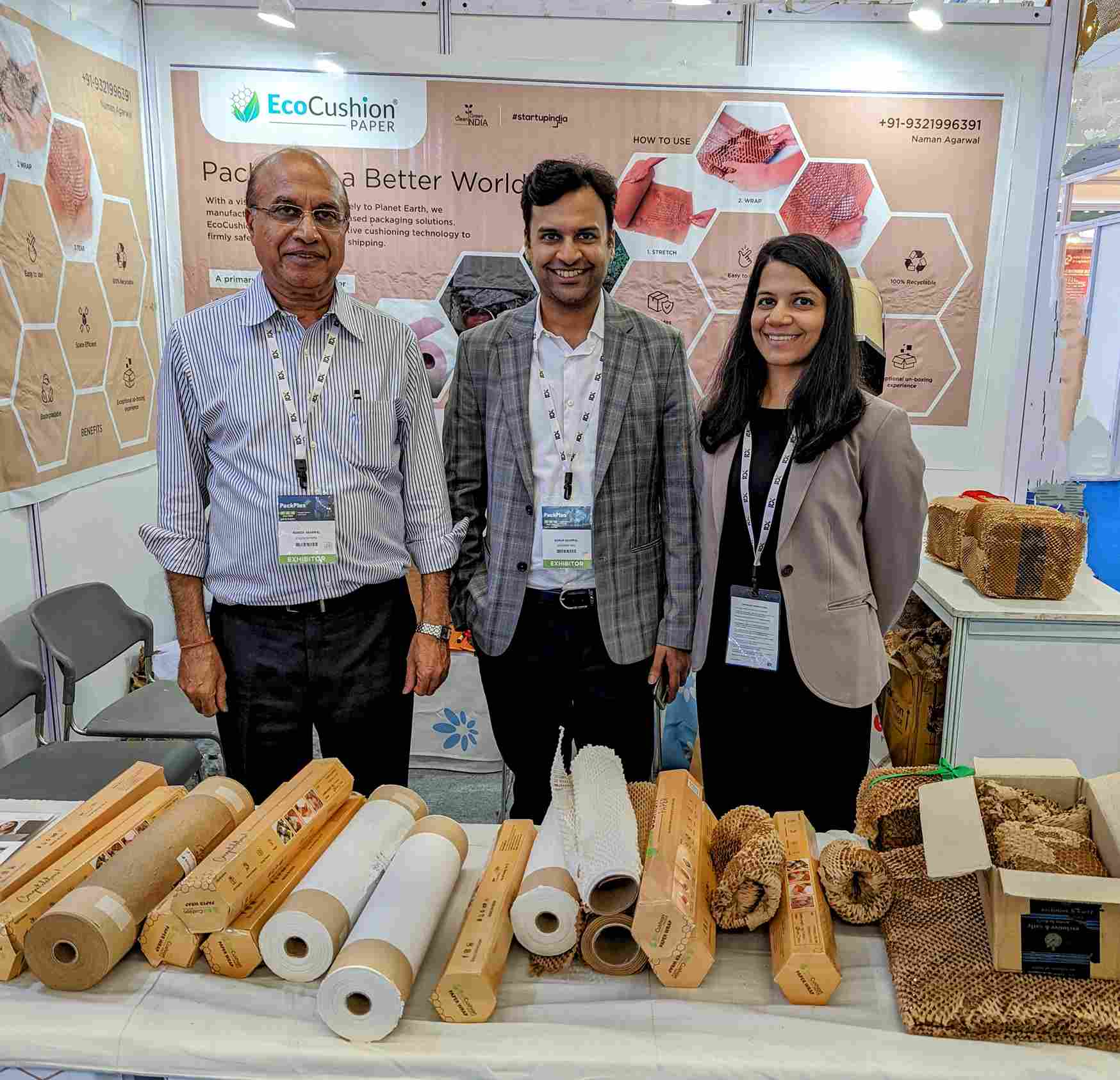 A family venture in sustainability
Varsha and Naman spent the next few days listening to their father's ideas of sustainable solutions to packaging. Varsha recounts that one day, after weeks of research, he found one — honeycomb paper.
As he told shared with them over breakfast why he thought honeycomb paper was an ideal solution, they, too, began to see the possibility of a business.
So father, son and daughter put their heads together and started zeroing on paper thickness, the specifics of setting up a business, their target products, etc. "All this was an attempt to understand the product," says Varsha, adding that they were sure they wanted to start a venture of their own and not simply become resellers.
A big help in the ideation process, she says, was her brother Naman, who had previously worked with a relative in their paper manufacturing venture.
Naman says the five years he spent there grounded him in the principles of the industry. "It helped me build a network, which was a great help later when we were planning to set up our manufacturing unit."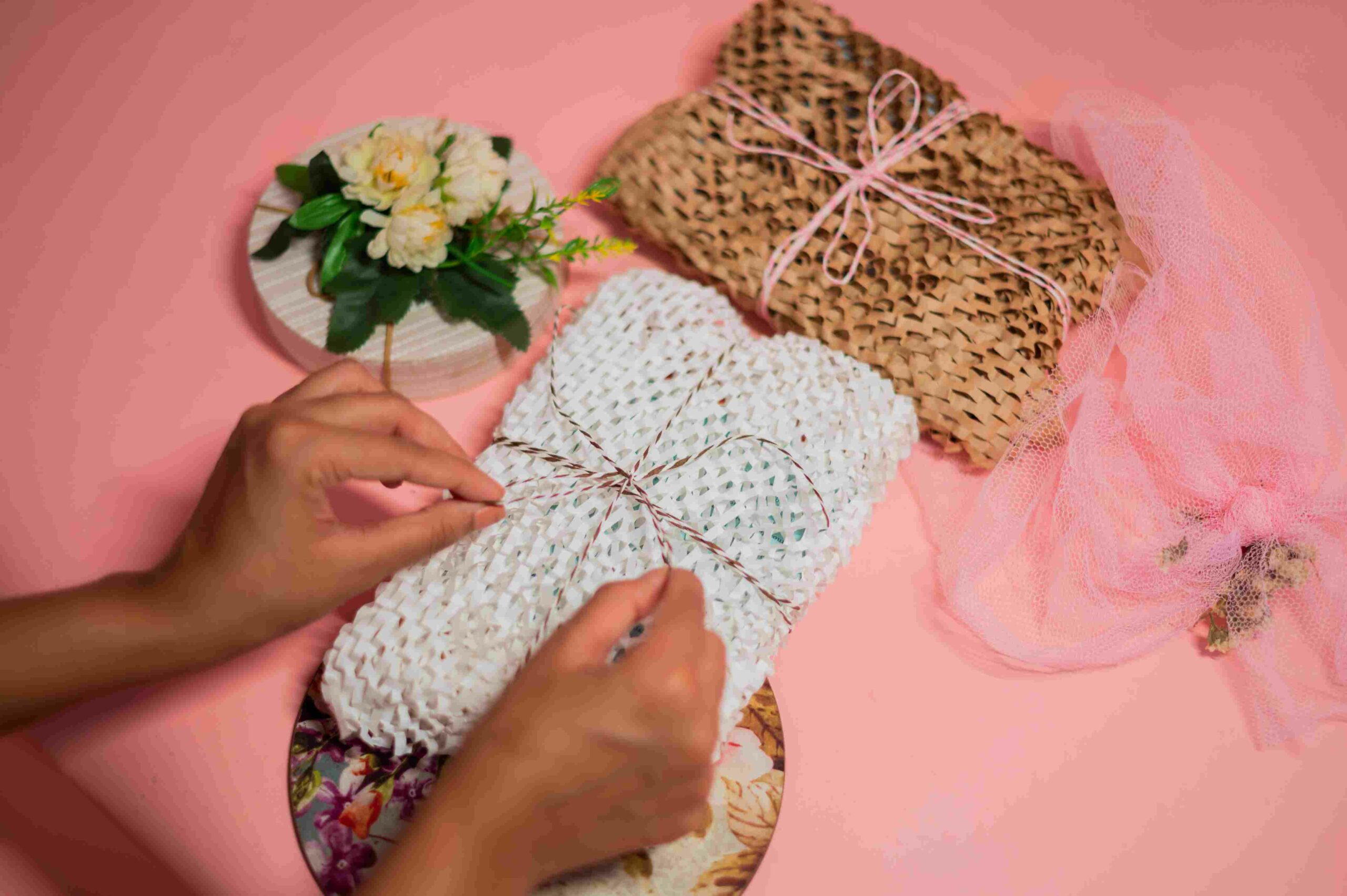 In a maze of varying qualities of paper in the market, Naman had the skills to identify the right grade of paper. With his father, he also spoke to experts from the New Bombay Paper Mills to get an understanding of how the paper could be sourced and used.
"It isn't about just sourcing brown paper and cutting it to produce this honeycomb paper," he explains, adding that they zeroed in on using high-strength virgin kraft paper and fully recycled kraft paper.
Varsha explains, "Imagine a birthday streamer. It is a flat strip of paper with unseen cuts that, when stretched, help the paper evolve into a 3D shape. This bounciness of the paper is due to the innovative technology used to produce the cuts. These cuts increase the paper's height and width, which further adds to the cushioning effect."
View this post on Instagram
She adds, "The focus was coming up with a paper that wouldn't tear even when stretched. By late 2020, we had zeroed in on most of the specifics."
"This idea had such a strong pull for us that as soon as we shifted to Mumbai in June 2021, we decided to start our manufacturing facility and the business by ourselves – something that none of us had ever done before," says Varsha, who left her corporate job at Aditya Birla for the purpose.
Once their small business MSME certificates, manufacturer certificates and legal process were complete, they were all set to start EcoCushion Paper in 2021.
They then began sourcing paper reels and testing to see how they would come out when placed on the machine cutter. The honeycomb paper, they say, is the result of 'a specific pattern in cutting'.
Today, their unit in Navi Mumbai has a capacity of five million metres monthly.
A series of hits and misses
Starting a venture as a family may sound fun, but comes with its own set of challenges. "Everything was new to us," recounts Varsha, adding that the initial period of the pandemic made things tougher.
However, what they viewed as a problem soon became a selling point for the business.
She says, "As COVID hit, people began realising what humans have done to the planet and how the pandemic was a kind of chance given to the world to heal. Our venture was immersed in sustainability and that helped us pitch the idea to prospective clients and small businesses."
It took the family a month to actually start selling their product. Through time, their orders have grown, and so has their team size. From just the three of them, there are now 10 people part of the venture.
EcoCushion Paper, they say, is the first step for them toward being the change they wanted to see in the world.
"We gave clients the assurance that we not only wanted to be partners in their 'go green journeys' but also be in it for the long haul," says Varsha.
She adds that early on, they would see two kinds of reactions from clients. First, they would marvel at the beautiful honeycomb pattern of the paper. But second, and more disheartening, was the shake of their head, accompanied by the words, "We're not too sure".
This is when the family realised there was an invisible barrier they needed to break. "Clients often had concerns about how the paper could serve as a covering for glass products, as the shipping process can be gruelling," says Varsha.
So, what they decided to do was show instead of speak.
She and Naman would go to warehouses and explain how to pack products in honeycomb paper to workers. They would also put fears to rest by doing drop tests. "We would drop ceramics and glass jars wrapped in honeycomb paper from a height of 6 ft, and they would still be in great condition. We have even done this with 8-9 kg tables and paintings, and they have survived the fall." Varsha adds that they continue to do these tests to this day, if a client has doubts.
Along with this, Naman and Varsha would also conduct a 'How to Wrap' series on their social media platforms so small businesses could watch and understand how beneficial this product could be, no matter the material.
View this post on Instagram
"It took us around three to four months to boom," she says.
Today, their product is used by over 2,000 small, medium and large businesses across 28 states of India. The client list includes 1MG, Trent Ltd (Westside), Nestle R&D, MARS Cosmetics, Aadvik Foods, and many more.
A source at Aadvik Foods says "When we wanted to reduce the usage of plastic in our company, one of the biggest challenges was to replace plastic bubble wraps as they had become unavoidable for us as online sellers. EcoCushion Paper came as a great surprise for us. Their product is a great substitute to keep our shipments protected in transit, and it's totally eco-friendly. We have been using it for the past one year without any issues — and because it looks pretty, our customers have also started to appreciate our packaging better."
However, while the client list is one to boast of, Varsha says her father still gets excited when they receive an order from a small business, as this is their way of knowing that they're slowly but surely making an impact.
Creating a lasting impact
What began as a small-scale family venture has grown in leaps and bounds. Varsha says that since their launch, "almost 3 million metres of plastic bubble have been reduced, which is approximately 100 metric tonnes". This has been calculated by counting the amount of honeycomb paper they have sold out.
"Packaging with the bubble wrap requires the same amount of honeycomb wrap," she says. "The figures are equal."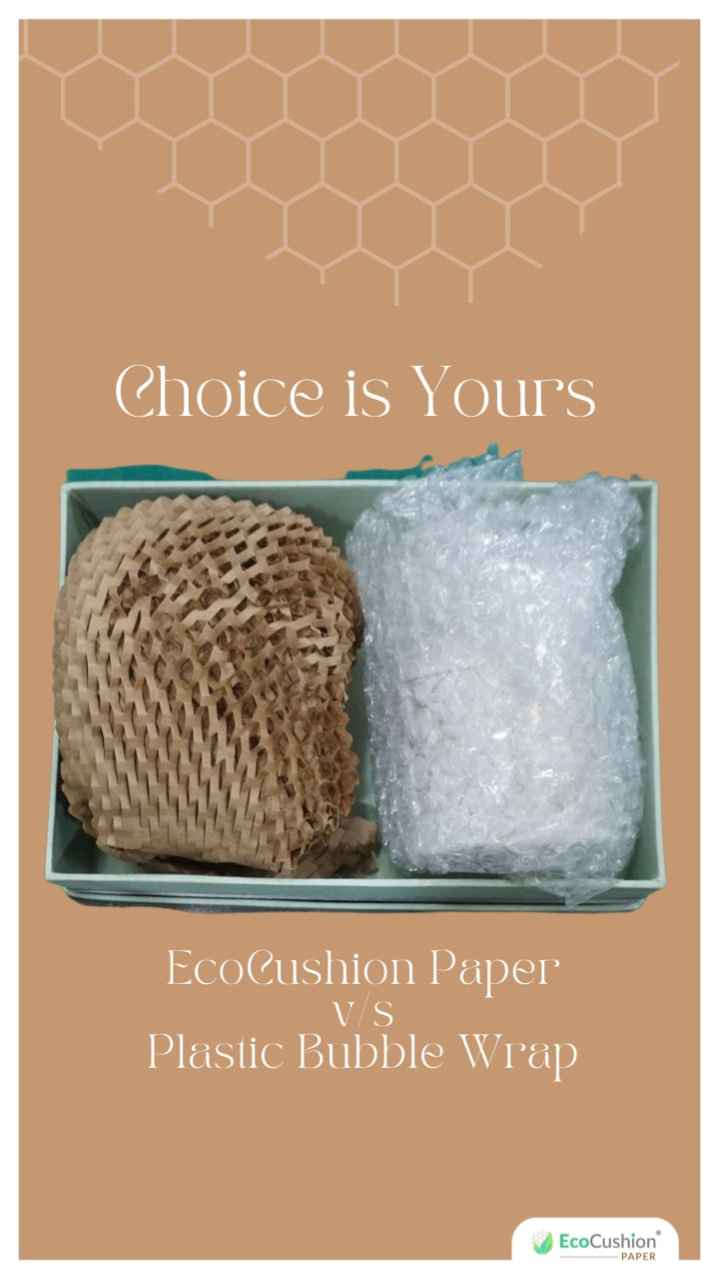 The honeycomb paper retails for Rs 650 for a 100-metre roll and Rs 1,450 for a 250-metre roll. The family sees an average of 170 orders every month. The self-funded business earned a turnover of Rs 1.5 crore in a year, she says.
They are now looking to expand to international markets and export products across countries.
As the business is only set to grow in the coming years, I ask Mahesh what keeps him going at the age of 62, when he could have had a comfortable retired life. He smiles.
"Hamesha se jab bhi innovative product nazar mein aata hai, toh usme full energy ke saath lagne ka mera svabhaav raha hai (Whenever I have come across an innovative product, I have loved putting all my zeal into knowing more.) If I can even contribute a tiny part to the massive cause of plastic bans, I will see to it that I do it well," he says.
For more information and to place an order you can check out their website.
Edited by Divya Sethu
Tell Us More
We bring stories straight from the heart of India, to inspire millions and create a wave of impact. Our positive movement is growing bigger everyday, and we would love for you to join it.
Please contribute whatever you can, every little penny helps our team in bringing you more stories that support dreams and spread hope.