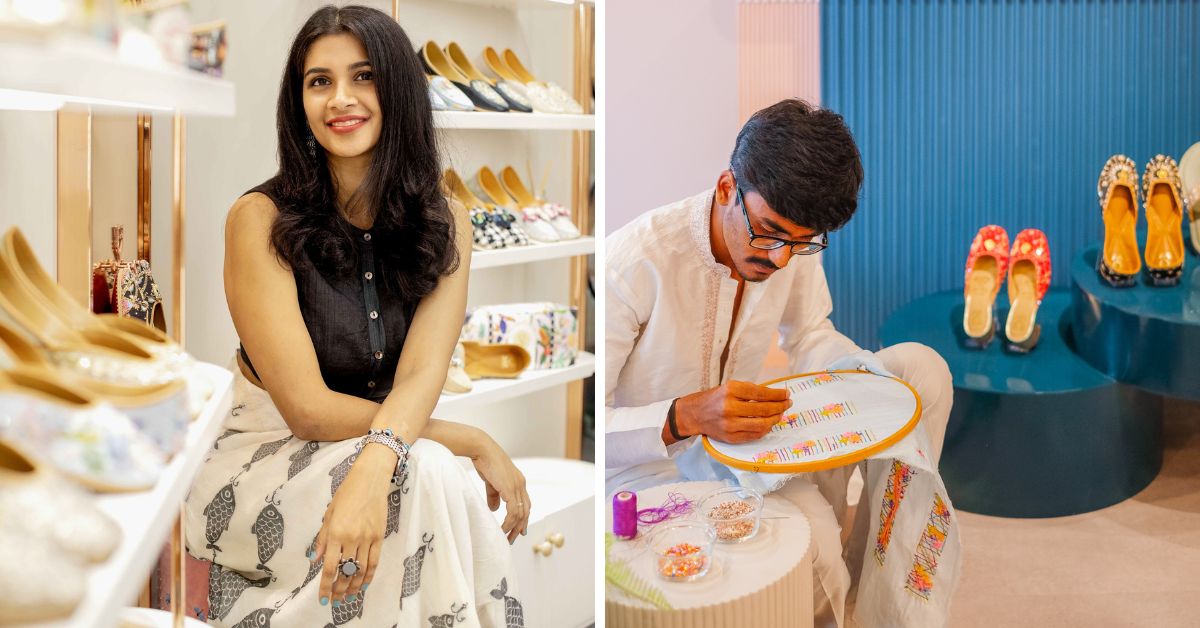 Delhi-born Laksheeta Govil quit her job to build her homegrown shoe startup Fizzy Goblet, which gives modern spins to traditional Indian footwear like jutti and mojari, empowering hundreds of artisans.
Delhi-born Laksheeta Govil says that she was clear from a very early age that she wanted to be an entrepreneur. When she was younger, she'd sell candles, cards and other handmade items to family and friends.
Today, she runs Fizzy Goblet, a popular brand with statement shoes that put modern spins on traditional Indian designs and shoe types. Starting with a single pair of hand-painted shoes, the 33-year-old has been able to grow the business through constant innovation.
Besides online stores, the brand has physical stores in Mumbai, Hyderabad, Bengaluru, and Pune, among others, and sells to countries like the US, UAE, the Netherlands, and more. Among their customers are Alia Bhatt, Kiara Advani, Khushi Kapoor, and Kareena Kapoor. To create their handcrafted quirky designs, Fizzy Goblet works with a team of over 200 artisans from Chanderi, Benaras, Kanchipuram, Lucknow and more.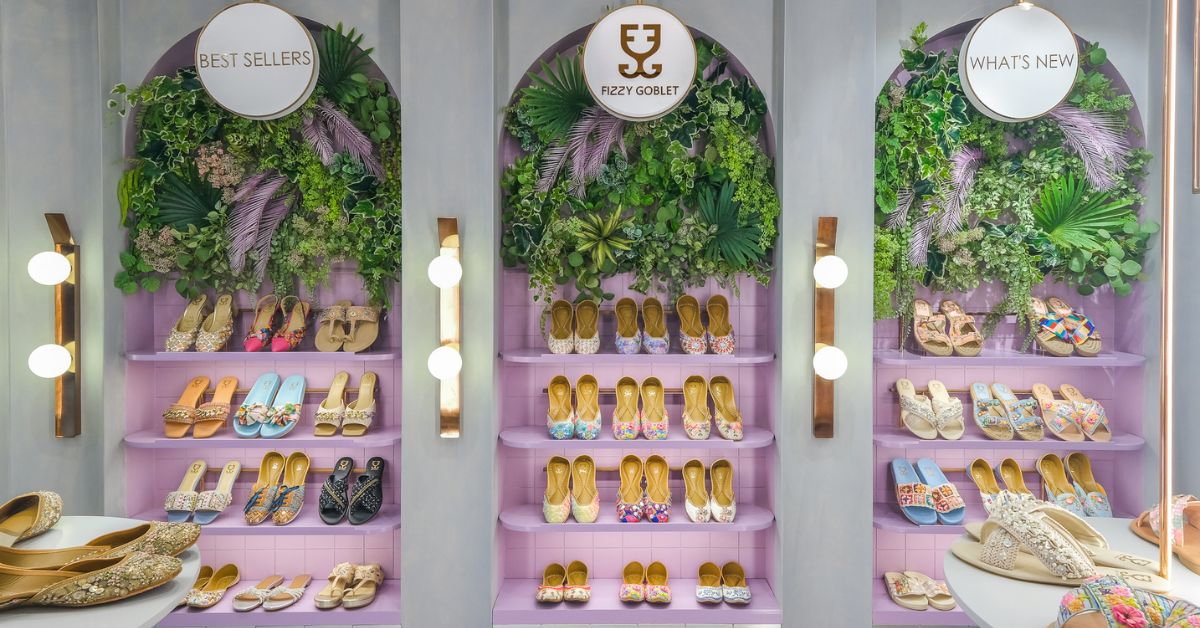 One step at a time
Laksheeta says the idea for Fizzy Goblet developed over time.
It started with her hand painting a pair of white sneakers for herself while in college, studying fashion design at Pearl Academy. "I had seen a pair of statement shoes that I really liked, but they were quite unaffordable at that time. So I decided to make something for myself," she tells The Better India.
Watching her handiwork, students in her college began placing orders for their own pairs. Things went well for a while, but after graduation, she realised this model was not too scalable.
So she took the time to work at several jobs, including at Lecoanet Hemant, and Puma, among others, gaining perspective and learning about couture, women's wear, and above all, attention to detail. "One of the things that kept nicking was that I wanted to do something integral with the silhouette of the shoe," she notes.
Following this instinct, she quit Puma and in 2013, launched Fizzy Goblet.
Laksheeta started with the Indian jutti, which she calls the 'Indian ballerina', an elegant piece of footwear. "When we started eight years ago, many juttis in the market had a lack of padding, which, alongside shoe bites, made them uncomfortable for many people. Nobody was really doing anything in this space. And I felt this is something we should really bring to the limelight."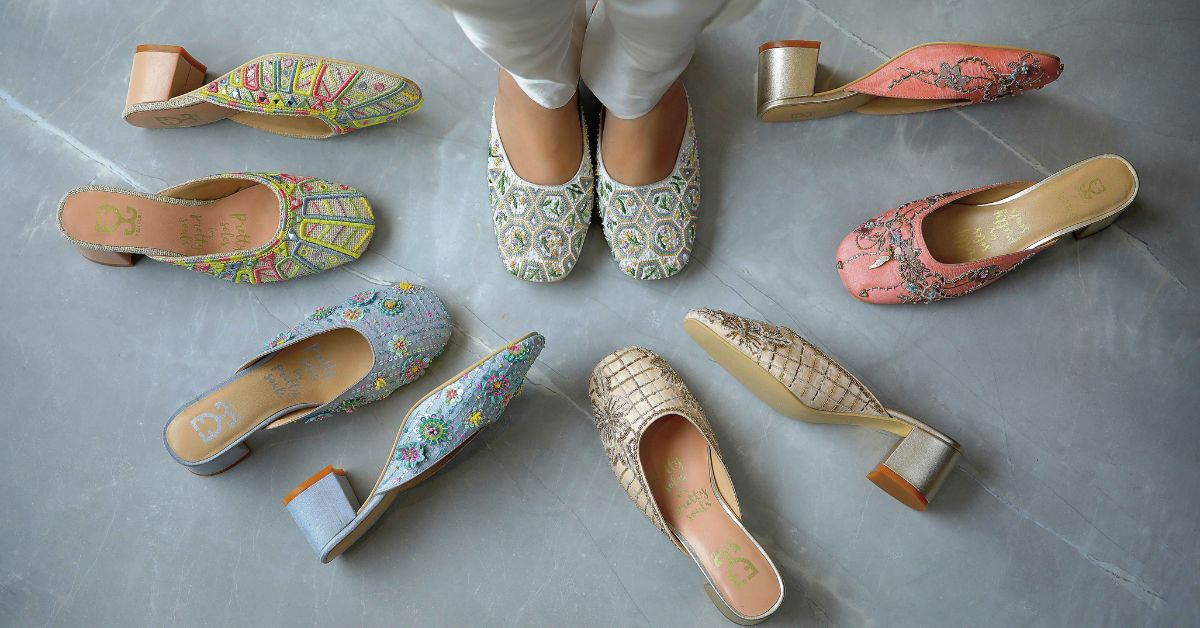 She then embarked on a journey of making the humble jutti comfortable and contemporary, adding padding and making it soft, and structuring the shoe in a way that there would be no shoe bites.
In terms of design, Fizzy Goblet started playing with fabric, embroidery and other elements, making it appealing to a broad audience. "We all love our culture. We just need to find ways to access it in our everyday life. So that's something we've been wanting to accomplish with Fizzy Goblet."
The juttis had a great response, and Laksheeta soon began exploring and innovating, adding sneaker-juttis and loafer-juttis with rubber soles, jutti-heels, kohlas, sliders, criss-crosses, and more to her collection. "It's a lot of playing with colours, prints, textures, embroidery, to create something unique."
While Laksheeta has collaborated with designers like Payal Singhal and Rahul Mishra for such innovation, she does a majority of the designing herself.
"Inspiration is everywhere. It could be something you see when you travel, the painting on ceilings, the content you consume on the internet, or the books you're reading," she notes. For her, designing is a process of "absorbing life around you and doing more new things," and then sketching these out into tangible designs.
While creative blocks are a natural part of the process, those are the times Laksheeta really pushes herself and focuses on opening herself up even more. "Try and read new things, go out somewhere, talk to different people. You explore what other people find inspiring and how you can use it."
She says creating footwear means making something that stands out, and is truly desirable and wearable. "It's given me a different perspective about footwear."
Handmade with love
For Fizzy Goblet's shoes, Laksheeta works with artisans to create handcrafted products. "Our whole ethos is about taking India forward. There's so much culture here, so much beauty, and so many different techniques and specialties. There's so much history and love that goes into making something handcrafted, and we want to make that accessible." They work with embroiderers specialising in Mukesh work and dabka work, among others, with fabrics like silk, linen, jute and cotton.
Since the artisans have a generational and detailed knowledge of their craft, the process ends up being a collaborative one. They offer suggestions about how a shoe can be crafted and its design improved. "That's when it's more fun," she says.
Each pair of shoes takes between 60 and 100 hours to make.
The company started with one artisan, and the team has slowly grown. As the artisans have received more work, they've been able to build growing, thriving practices, Laksheeta says.
Jharkhand-based Mohammad Rajjaak has been working with Fizzy Goblet for five years now, and specialises in zardosi and aari work, learning the crafts from the village community in Godda district. He's generally optimistic about the crafts sector in India, noticing a growing interest in handcrafted items over time.
"There are certainly more opportunities and work with Fizzy Goblet coming along. I get the opportunity to do more designs and create more patterns. I get work regularly and see more people taking it on and wanting to associate with the brand. Laksheeta likes to innovate, so the work here is dynamic and always feels fresh," he tells The Better India.
The joy of creation
Laksheeta has come across several challenges along the way, and prime among them, she says, is the work she constantly has to put in improving herself, physically and mentally.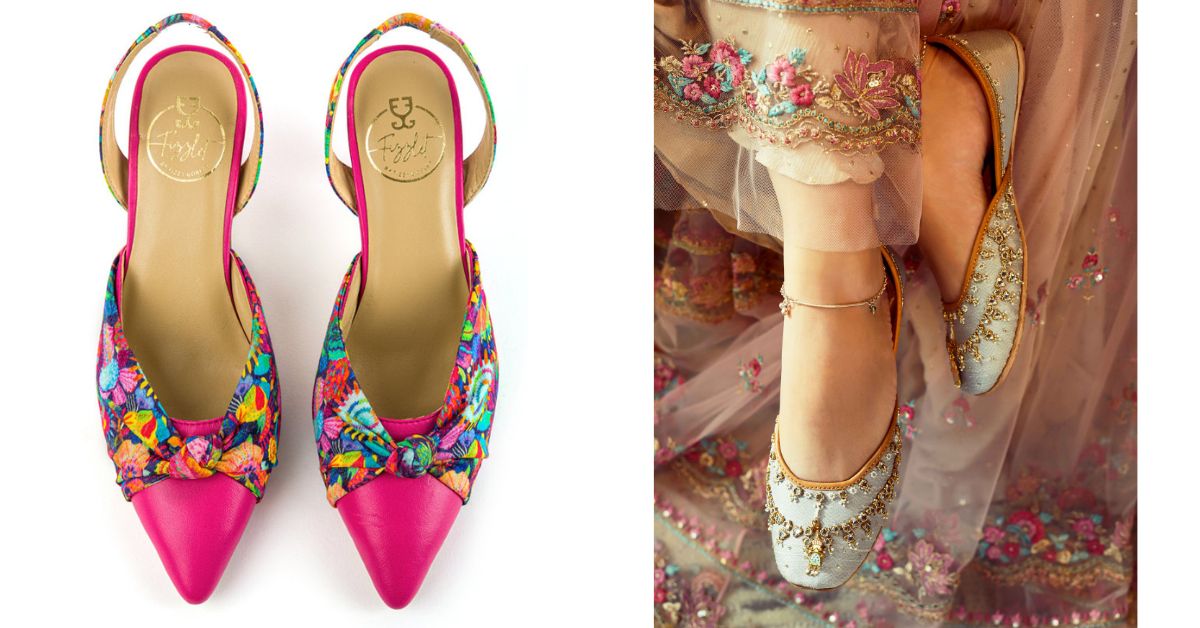 "The brand ends up being a reflection of who you are as an entrepreneur," she says.
While every day might bring a new challenge, this unpredictability is also what she enjoys about running a business. "There are hardly any boring days."
Besides this, Laksheeta also enjoys the joy of creation that comes with running Fizzy Goblet. "Having an idea and watching it turn to life —- the type of satisfaction that gives is unbeatable."
As the startup ecosystem becomes more and more crowded, besides just focusing on marketing, Laksheeta also advises aspiring entrepreneurs to create a standout, quality product.
Edited by Divya Sethu
Tell Us More
We bring stories straight from the heart of India, to inspire millions and create a wave of impact. Our positive movement is growing bigger everyday, and we would love for you to join it.
Please contribute whatever you can, every little penny helps our team in bringing you more stories that support dreams and spread hope.