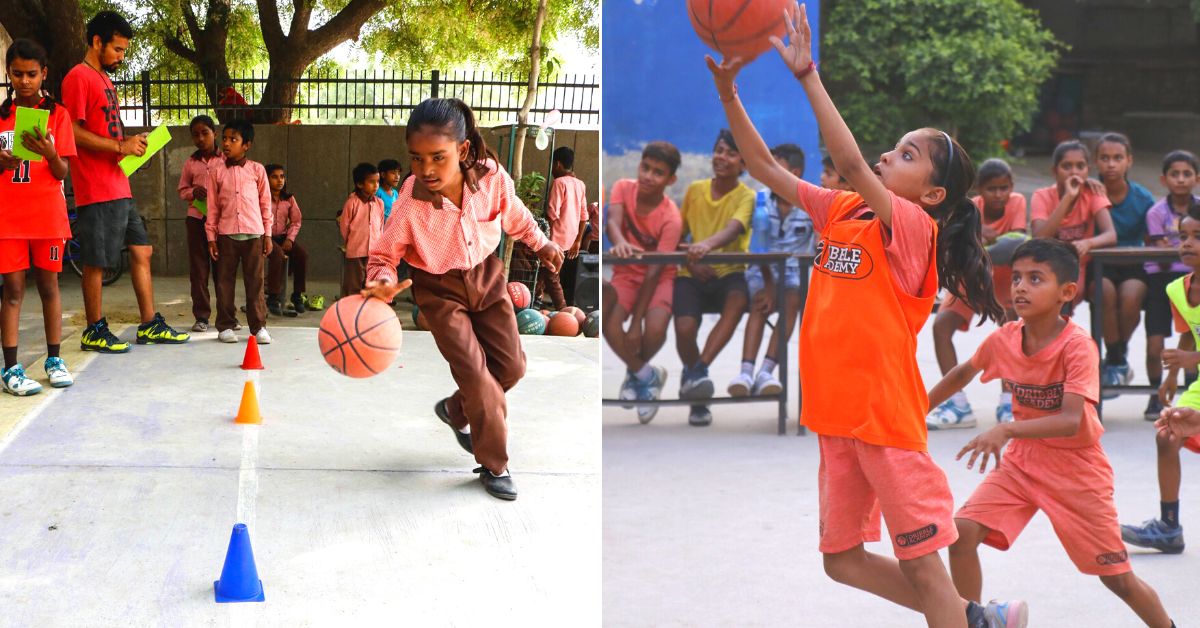 Pradyot Voleti's Dribble Academy began with just four children in Gejha village, Noida. Today, his basketball programme is changing the lives of children from low-income households across eight villages.
---
This article is part of #MakingSportWork, a series launched by The Better India and Sports and Society Accelerator. The series celebrates India's independence with stories of heroes who have spent years working to improve lives around them through sports. Stay tuned for inspiring tales of those who are #MakingSportWork.
---
Basketball has been the most important part of Pradyot Voleti's life since he was 11. From representing Mayo College, Ajmer, in inter-school tournaments to representing Delhi at the Under-19 level, basketball has remained at the core of his identity. Even when Pradyot moved to Mumbai for his Bachelor's degree and returned to Delhi for his Master's in clinical psychology he never lost touch with the game.
"But I was never able to play at my highest potential. I attribute that to the low quality of training while growing up. In India, basketball is a popular sport at the school and college levels. Yet, we've not been able to nurture any high-level talent playing in the NBA or any of the top 20 professional leagues around the world," says Pradyot, in a conversation with The Better India.
Instead of pursuing a conventional career, Pradyot decided that he would change how the game was taught in India. After completing his Master's degree (with substance abuse and addiction being an area of particular interest) in 2013, he began his journey on YouTube, watching a plethora of videos explaining basketball drills to improve the skills of young players, help them strengthen their fundamentals and develop at a faster rate.
"Watching these videos, I realised my calling was to be on the court and help children learn the game. As an ardent NBA fan, I was inspired by the NBA Cares programme, where they go into underserved low-income communities in the United States, promote basketball and do community-related activities," he recalls.
In 2014, Pradyot spent two months at the Elev8 Sports Institute in Florida, USA. "I was fortunate to be mentored by some of the world's best trainers such as Ganon Baker and Cody Toppert, who worked with the Phoenix Suns NBA franchise as their head of player development. In addition to my two-month stint at the institute, I also got the chance to closely observe a variety of college basketball programmes in the United States," he recalls.
For example, Pradyot spent time at Stanford University and the University of Connecticut, two of the most storied women's college basketball programmes in the US, producing multiple WNBA talents. He also had the chance to shadow the Northern Arizona Suns, the former G-League affiliate of the Phoenix Suns. There, he spent 10 days doing scouting reports, video breakdowns, physical therapy and other basketball-related sessions.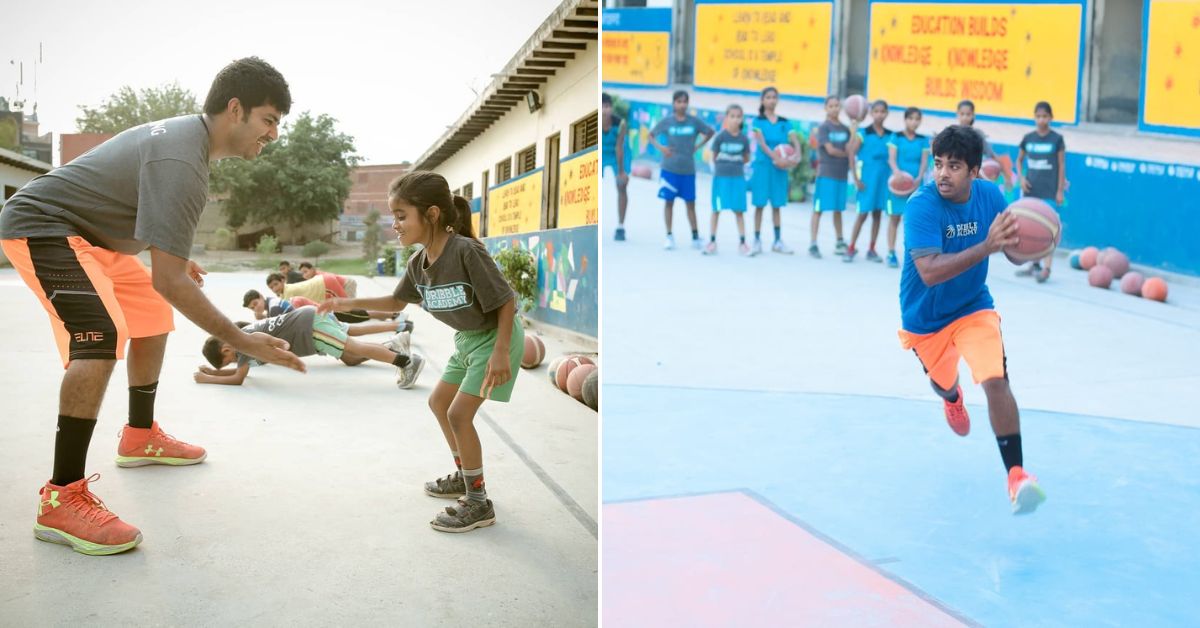 Setting up Dribble Academy
Armed with all this knowledge and experience, he came back to India to set up the Dribble Academy Foundation (DAF) in 2015, which he officially registered the following year. His mission began with just four children, which included his driver's two daughters, two bamboo poles and a hoop in a makeshift dirt court in Gejha village, Noida in Uttar Pradesh.
Today, there are about 450-500 children in Gejha who play basketball regularly. Every day between 3 pm and 8 pm, DAF organises multiple classes since they have only one full-fledged court. They have to run multiple batches to give all these children a space to play. To accommodate more trainees, DAF also recently set up a small court at the Gejha government school.
"Since setting up our programme in Gejha, we've managed to work with over 3,000 children between the ages of 7 and 14 across 8 villages. Children from these villages have gone on to earn full scholarships in good schools and colleges. The essence of what we do at DAF is to bridge the gap of basic sporting infrastructure in villages through basketball," says the 32-year-old Pradyot, who is today a professional basketball coach and skill development trainer.
With the help of their CSR sponsors, DAF has currently set up a programme in Gejha village at NEM Public School, a private school for children from low-income backgrounds. In total, they are currently operating out of six government schools in the Noida area and two interior villages of western Uttar Pradesh in Sambhal Tehsil.
"We have built about five basketball courts in these villages. In some cases, we had an existing court which we have revamped. The entire collaboration works on trust. Our corporate partners are interested in our mission to provide a healthy and active lifestyle for at-risk children from low-income families," he explains.
These children come from migrant families. Their parents are electricians, plumbers, gardeners, domestic help, etc. "They don't have a lot of guidance. We aim to bring structure and discipline into their lives through basketball and keep them away from illicit activities," he says.
Elaborating on their backgrounds further, Pradyot notes that some of the children in his programme were earlier caught stealing, but basketball has brought a change to their perspective and conduct.
"Besides discipline and structure, they also learn life skills and teamwork. These children come from homes where they witness alcoholism, and domestic violence and receive inadequate nutrition. But they still come to the court, play hard, bring results and offer no excuses. There is no bigger motivation for me to run this programme ," he adds.
DAF is also currently collaborating with the Delhi Government to teach their basketball programme in one of their schools. There is existing infrastructure in a lot of government schools. What they do is identify those schools with the help of stakeholders in the government, and utilise existing infrastructure to nurture talent and help them participate in district-level tournaments.
"This is a game which we can take to the streets because it doesn't require a lot of space and investment in terms of equipment. It's a very affordable game and a lot of children can play it at the same time in comparison to cricket," he adds.
DAF is also promoting 3v3 (three versus three) style basketball, which is played in a half-court and gaining a lot of popularity across India.
"We're organising small leagues, tournaments, and just making sure children fall in love with this game and decide to stick with it through the rest of their lives. Out of the 3,000 children, nearly 45 per cent are girls. Besides winning district-level tournaments, some of them have also gone on to achieve full scholarships in schools and colleges," says Pradyot.
Before getting the CSR arms of a few corporations on board for funding, he ran a couple of private training programmes in Noida and skill development camps with boarding schools and federations. Part of what he earned would go to the Gejha village project and that's how they were able to sustain it initially. With CSR partners on board, the funding situation has relatively improved. Support has also come from celebrities like Amitabh Bachchan.
Fun fact: Pradyot won Rs 25 lakh in the Kaun Banega Crorepati game show in 2019. He used this to further expand the academy's programme.
In the next 10 years, DAF hopes to take their basketball programme to 100 villages, where they want to set up full courts and half-courts, impacting the lives of 100,000 children.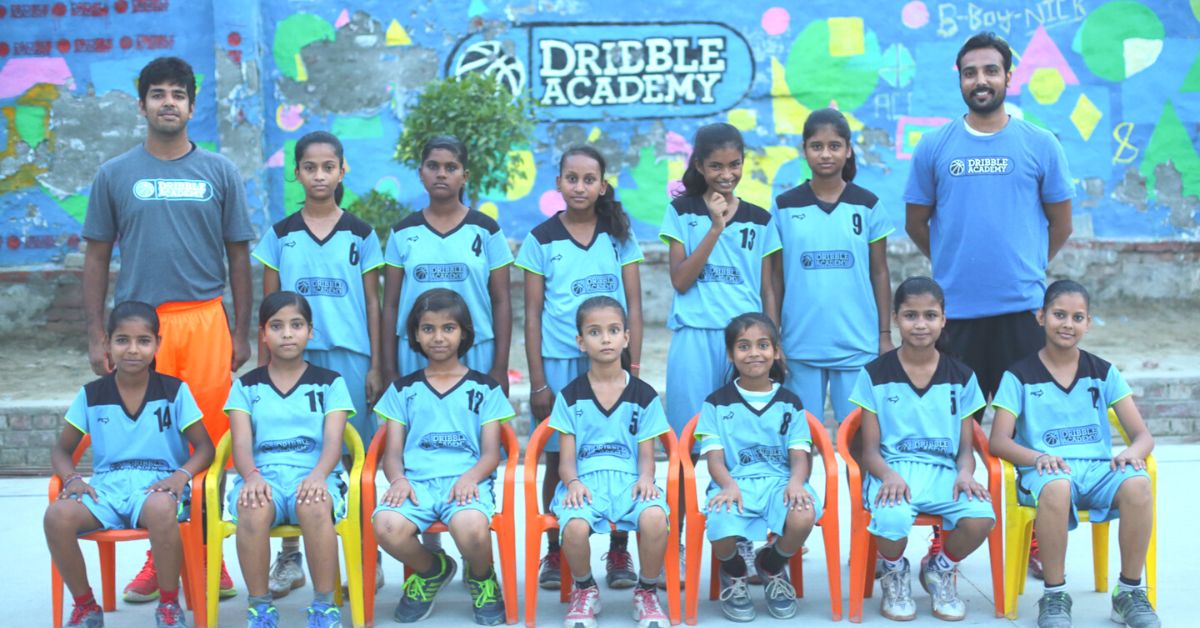 Playing the right way
"The objective is to help them become quality shooters, ball handlers and good at defence and communicating. We also want to improve their ability to play multiple positions on the court," says Pradyot. "We focus on getting players to work on all those skills and make them better athletes. If you see any of our workouts, you will understand what we're talking about in terms of elite skill development which is what other countries have done."
He gives the example of Japan's Under-16 women's team competing against their US counterparts in the FIBA (international basketball federation) World Championships. The Japanese were significantly shorter than the American athletes, but used innovative skills to remain competitive. They still might have lost, but a country which was a minnow just a decade back is now a powerhouse in the women's game.
"That's what we are taking away. These Japanese girls are sharpshooters and good at transition basketball. It boils down to fundamentals," he explains.
In terms of curriculum, the DAF is following the one prescribed by FIBA, and all their coaches stick to it. "The bottom line is that the game needs to be fun, engaging and challenging. Players need to know their strengths and weaknesses and work on decision-making drills in their practice sessions so that they can perform at an elite level when they're coming into games. Practice sessions need to be tougher than games," he adds.
Two of their products—Dinesh Pal and Sachin Yadav—played in the Junior NBA Global Championship in Orlando, Florida, in 2018 and 2019.
Dinesh recalls, "We lost all our matches in 2018. But in the second match we played against the team from Latin America, I scored 26 points and made two assists and two rebounds. Given that I only started playing in 2016, I never knew that one day I would fly in an aeroplane to the US and represent India. Before getting selected to represent India, I played in the Junior NBA Nationals in Greater Noida where I represented Delhi. We competed with teams from other major cities like Bengaluru, Kolkata, Mumbai and Hyderabad, and won."
He adds, "What was also awesome about our trip to Orlando was that we got to meet NBA stars like Dwayne Wade, Danny Green and Brook Lopez."
Sachin, who represented India twice at Junior NBA Global Championship in 2018 and 2019 says, "The exposure and experience we got was very good. The following year, we performed well. We won two or three matches, beating teams from Latin America and Europe. We qualified for the quarterfinals before losing by just two points to the Canadian team who went on to win the tournament."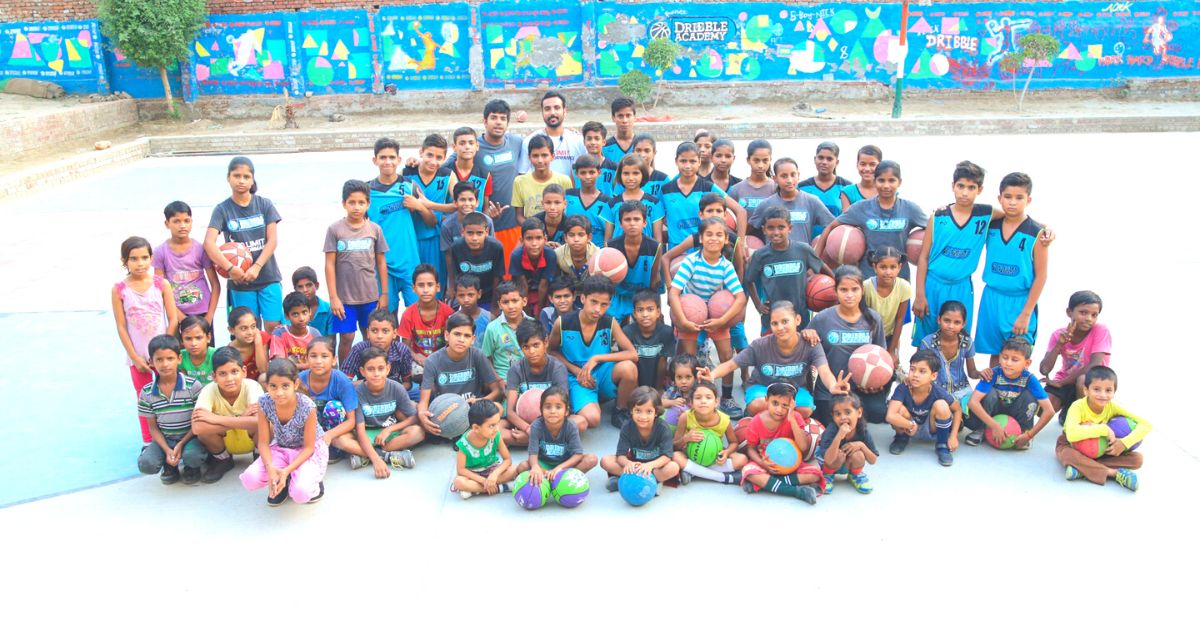 Promoting a healthy lifestyle
DAF's motto is that children at a vulnerable age between 10 and 14 should have a sport that can facilitate a healthy and active lifestyle.
"In terms of an end result, a very small number of them will eventually go on to achieving scholarships. We've had about 12 students who have got full scholarships into schools and colleges, and might have more coming through this year. We are in the process of getting one of our players admission into one of India's top high-performance facilities," he says.
Both Dinesh and Sachin secured a 100 percent scholarship to St. Claret Pre-university College in Bengaluru last year.
"My father is an electrician and my mother a homemaker. Before I was introduced to basketball, I used to play cricket with my friends. Gradually, all my friends stopped playing cricket because Pradyot Sir had started teaching basketball at NEM Public School. Eventually, I enrolled into the academy and started playing basketball because I had nothing to do after school," says Dinesh.
Similarly, Sachin joined the Dribble Academy in 2015. "I did not join the academy for myself, but for my family as their financial condition wasn't very good with my father working as a supervisor in a private company while my mother was a homemaker. Like Dinesh, I joined the academy before eventually enrolling into NEM Public School," he notes.
"Once I discovered a passion for basketball, it was clear that this would be beneficial for me in the long term with regards to physical and mental fitness. Playing the game brought discipline and better time management to my life. I stopped doing pointless activities with my friends. My only objective was to excel in basketball and my academics," adds Sachin.
Both Sachin and Dinesh credit the academy for having changed their lives. "Pradyot Sir and Dribble Academy have helped me a lot. Besides offering excellent coaching, he has also helped me with my studies. In fact, initially, I didn't have basketball shoes because my family couldn't afford them. The academy helped me get a pair of shoes. They also took care of my nutrition requirements, feeding me milk and bananas regularly," says Dinesh.
Meanwhile, Sachin says, "Besides the sport, he taught us personality development, and communication skills and changed our mindset in terms of what we want from our lives."
While Sachin eventually wants to play the game professionally, he doesn't want to lose focus on his studies. Dinesh wants to earn a secure government job with the likes of Bank of Baroda or the Punjab Police and still play basketball after college, although he too harbours dreams of becoming a full-time professional.
"What we're also trying to do is give them enough information about the career options they desire, whether it's to become an entrepreneur, basketball player/coach, engineer or IAS officer. We will try to give them whatever possible support to help them achieve their dreams," says Pradyot.
DAF also runs a literacy centre, which aligns with their basketball programme. All children going through their programme are mandated to learn the basics of computers. They've got volunteers from the US teaching these children how to code.
"With these children, we are also trying to see what the job market requires five years down the line when they graduate high school or college. Through basketball, we want these children to become student athletes, where they're a student first and athletes second. These players have to earn their time on the basketball court. If they don't turn up at the computer class, they can't play the game. We're asking these children to learn and give their best, but excelling isn't necessary. Besides computer lessons, we organise English classes, art and craft, public speaking and current affairs to help them understand what's happening around them," he says.
Ten years down the line, Pradyot notes that he will be evaluating the programme in terms of how many children got to learn this beautiful game and have stuck to it even at the age of 30.
"The agenda is to play and maintain a healthy and active lifestyle. If we can keep them away from crime, substance abuse and other illicit activities, and help them become contributing citizens through basketball, we would have succeeded," he adds.
Meanwhile, this year the Dribble Academy is setting up its Centre of Excellence, a high-performance facility in Jaipur. Here talented children from across India will live and train in an environment where strength and conditioning and basketball skill development and personality development will be a priority to help them maximise their potential. DAF is yet another example of a passionate individual translating his childhood love for sports into creating social impact for thousands of children and their families, one free throw at a time.
(Edited by Yoshita Rao)
Like this story? Or have something to share? Write to us: contact@thebetterindia.com, or connect with us on Facebook and Twitter.
We bring stories straight from the heart of India, to inspire millions and create a wave of impact. Our positive movement is growing bigger everyday, and we would love for you to join it.
Please contribute whatever you can, every little penny helps our team in bringing you more stories that support dreams and spread hope.
Tell Us More