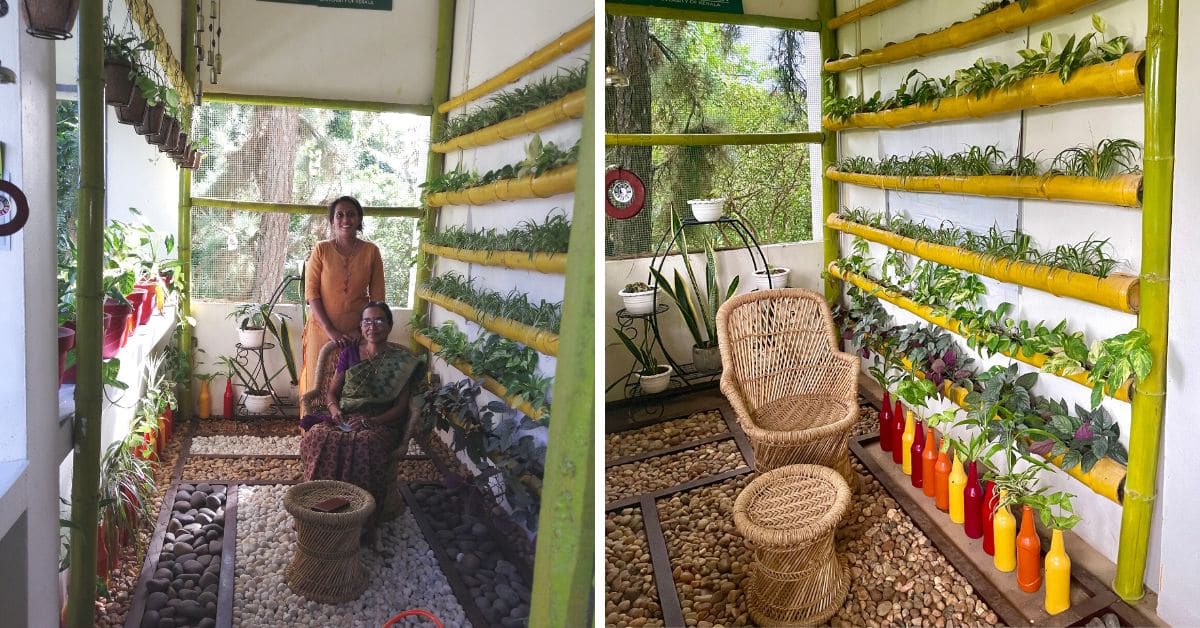 Kerala University student Reshma PR has built a stunning vertical garden with plenty of plants that have rejuvenating and purifying qualities.
There's a special green space on the first floor balcony of the botany department at Kerala University's Kariavattom campus.
Strong sunlight filters through, lively foliage grows out of earthen pots, a small waterfall bubbles in the background, wind chimes tinkle in the wind, and pebbles layer the floor. Located near the library, the Viridescent Haven is a quiet space for visitors to relax and rejuvenate, replete with stools and chairs for students to lounge on.
It was set up by fourth-year PhD student Reshma PR, whose dissertation revolves around indoor air purifying plants with the working title 'Checking the Efficacy of Plants in Removing Common Indoor Pollutants'. She focuses mainly on the indoor pollutant formaldehyde.
Through experiments, she has found that certain indoor air purifying plants can eliminate formaldehyde compounds found indoors from paints, detergents, and other aspects, she says. "And between homes, offices, and vehicles, human beings spend most of their time indoors," adds Reshma. These plants absorb the formaldehyde and increase oxygen, purifying the air.
Reshma built this indoor garden under the guidance of Dr Bindu R Nair, a professor at the department of botany, whose research interests include biosystematics, taxonomy based on the study of plant and animal genetic evolution; phytochemistry, a branch of chemistry concerned with plant and plant products; and molecular biology.
The vertical garden has several locally available, indoor air purifying plants including sansevieria, spider lily, hemigraphis, drosera, and lucky bamboo. These were chosen for their purifying properties, based on a NASA study that Reshma referred to. The space also follows the university's 'green protocol,' which means that the pots and other elements used are biodegradable and eco-friendly.
"Its main component is that plants, along with other nature elements, have the capacity to reduce indoor air pollutants," says Reshma. Studies show that 20 per cent of the body's oxygen is used by the brain to function. Cleaner air allows for greater clarity of mind, and improves focus and concentration.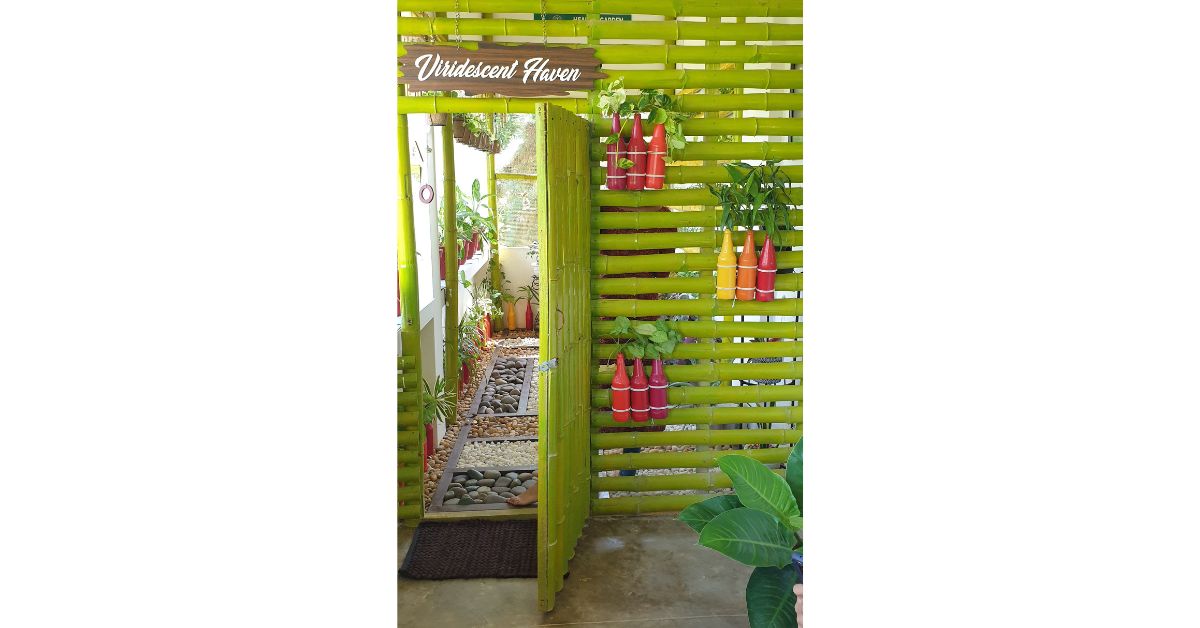 Healing and rejuvenating
Reshma describes the 50 square foot space, funded by the university, as an indoor healing garden.
Dr Bindu says that healing gardens are a popular concept in foreign countries, and when teamed with medication, help with patients' speedy recovery. They aid mental and physical healing and are especially useful for patients in recovery after extended hospital stays. Healing gardens offer patients a space to experience at least short-term relief from some of their symptoms and provide an overall sense of wellbeing and hopefulness.
"Healing gardens are usually set up in countries abroad, especially in hospitals. There are many types of healing gardens like psychiatric hospital gardens, and nursing home gardens. So we thought, why not adapt the concept for a home garden to enjoy the healing power of plants?" says Dr Bindu.
The Viridescent Haven is "a compilation of nature's healing elements," as advertised in their brochure. Every aspect of the space is designed with the goal of relaxing and reviving the mind, offering mental healing.
Mental healing reduces stress and anxiety levels, improves moods, allows for clearer thoughts, increases self-esteem, improves relationships, and reduces the risk of depression. It also improves physical wellbeing, sharpens memory, increases energy levels, and improves the brain-derived neurotrophic factor (BDNF) which improves neurotransmission.
All visitors must put away their mobile phones and mindfully relax in the space for at least half an hour. Besides focusing on the pleasant aroma and visual pleasure that the plants offer, the sound of the wind chimes also has a calming effect.
The small, indoor waterfall also follows this rationale. "According to the blue mind theory, listening to water bubbling can reduce stress, reduce cortisol levels, and improve sleep," says Reshma, about the theory proposed in Wallace J Nichols' 2014 book 'Blue Mind: The Surprising Science That Shows How Being Near, In, On, or Under Water Can Make You Happier, Healthier, More Connected, and Better at What You Do'.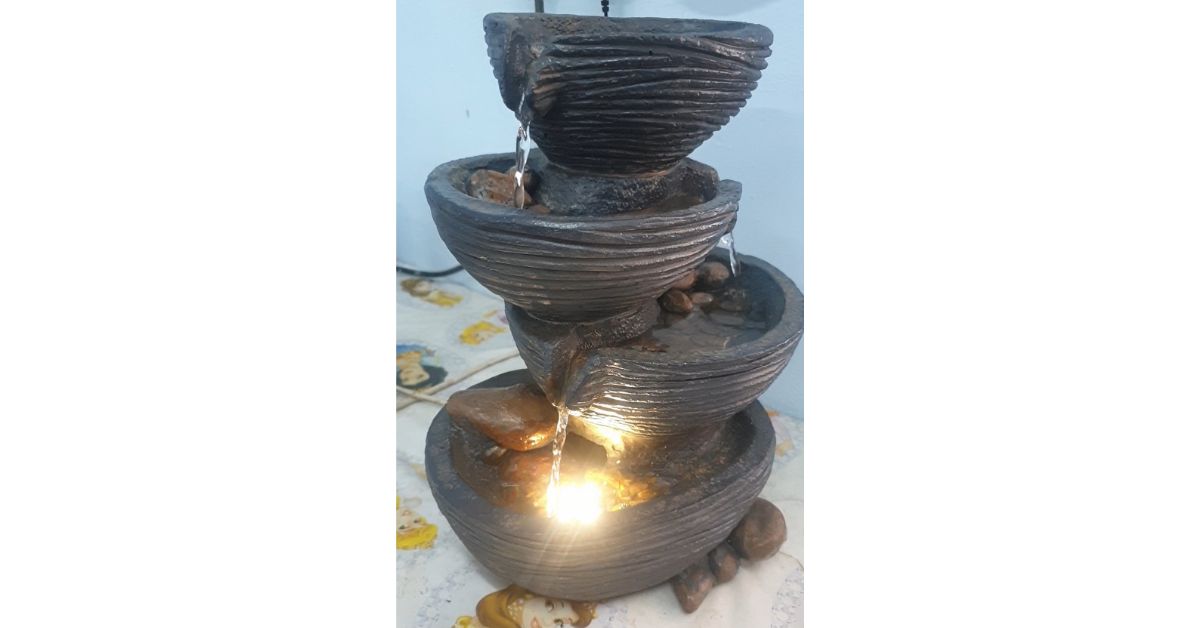 Visitors must also leave their shoes outside and walk barefoot in the garden, which is lined with pebbles. "This is mainly to achieve an acupuncture effect from the ground, which is good for the neuro system," says Reshma. This is called Earthing or Grounding, which refers to direct skin contact with the earth's surface. Connecting with the earth's electrons produces physiological changes like improving sleep, reducing pain and stress, reducing blood viscosity, and normalising the day-night cortisol rhythm.
"When people come to the library, naturally they're saturated. They can come and sit here and enjoy some peace of mind," says Dr Bindu.
There are many benefits of such an indoor healing garden. Most important is its ability to reduce stress, which is vital in today's fast-paced world. "It offers physical and mental healing. It has restorative powers and is a positive distraction," says Dr Bindu. Spending time in nature also boosts creativity and offers rejuvenation to the mind and body.
"Since ancient times, human beings have been connected with nature. From pure air to fresh water, for all our needs we depend on it," says Reshma.
And with her model, she hopes to popularise the concept of indoor healing gardens as opposed to general urban areas, so people can reap the benefits of nature, instead of focusing solely on aesthetic beauty.
Edited by Divya Sethu
Tell Us More
We bring stories straight from the heart of India, to inspire millions and create a wave of impact. Our positive movement is growing bigger everyday, and we would love for you to join it.
Please contribute whatever you can, every little penny helps our team in bringing you more stories that support dreams and spread hope.