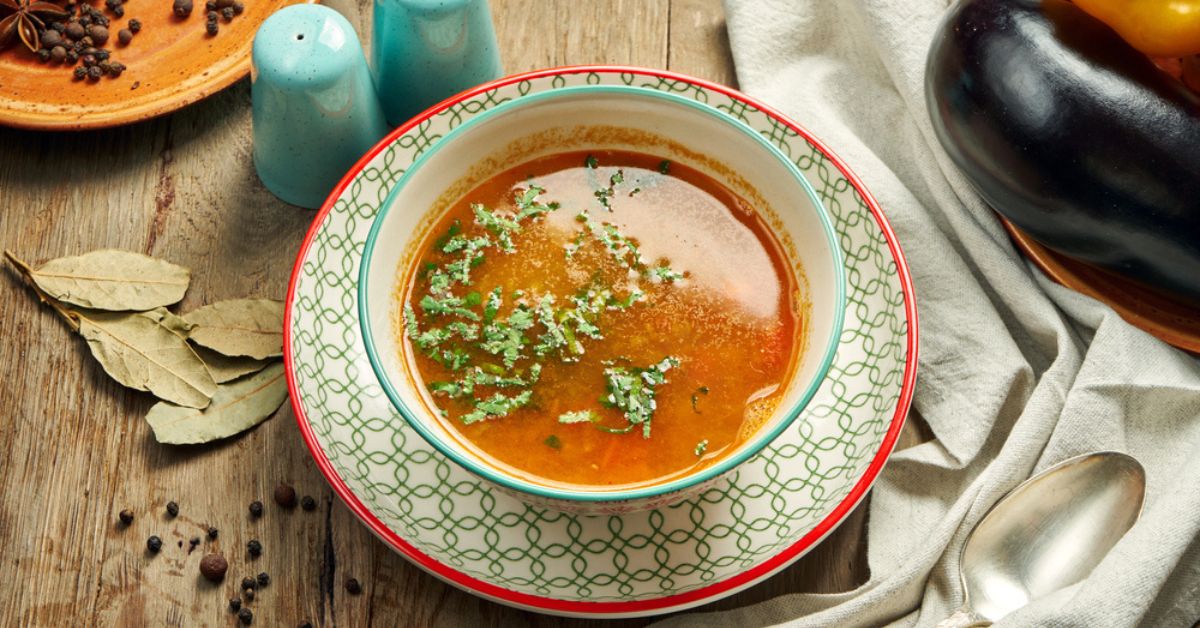 This monsoon, fortify your health with these traditional Indian soups that will warm up your rainy evenings. Recipes included!
When I think of comfort foods during a rainy night, the first thing that comes to my mind is a steaming bowl of soup. Few foods can give you such warmth on a chilly night.
More than being a comfort food, soups are healthy and contain all the goodness of a full course meal. They are also an excellent home remedy to help ease the discomforts of flu and cold, especially during monsoons.
So, here's a list of some of the best traditional hot soups from across India, which could be your comfort food this monsoon.
1. Rasam
One of the most beloved soups of Southern India, there is nothing healthier or more comforting than a bowl of tomato or pepper rasam during a rainy day.
Made with a mix of spices, this traditional South Indian recipe is prepared using tamarind juice as a base. Several other ingredients — turmeric, tomato, chili pepper, pepper, garlic, curry leaves, mustard, coriander — go into the dish, and they're all beneficial for a series of ailments, such as common cold, flue, soar throat and so on.
Rasam is also considered a perfect home remedy for the flu, as well as ideal for digestion. It comes in many varieties and is usually consumed with steamed rice, but can be had as is.
Here's the recipe:
2. Dal soup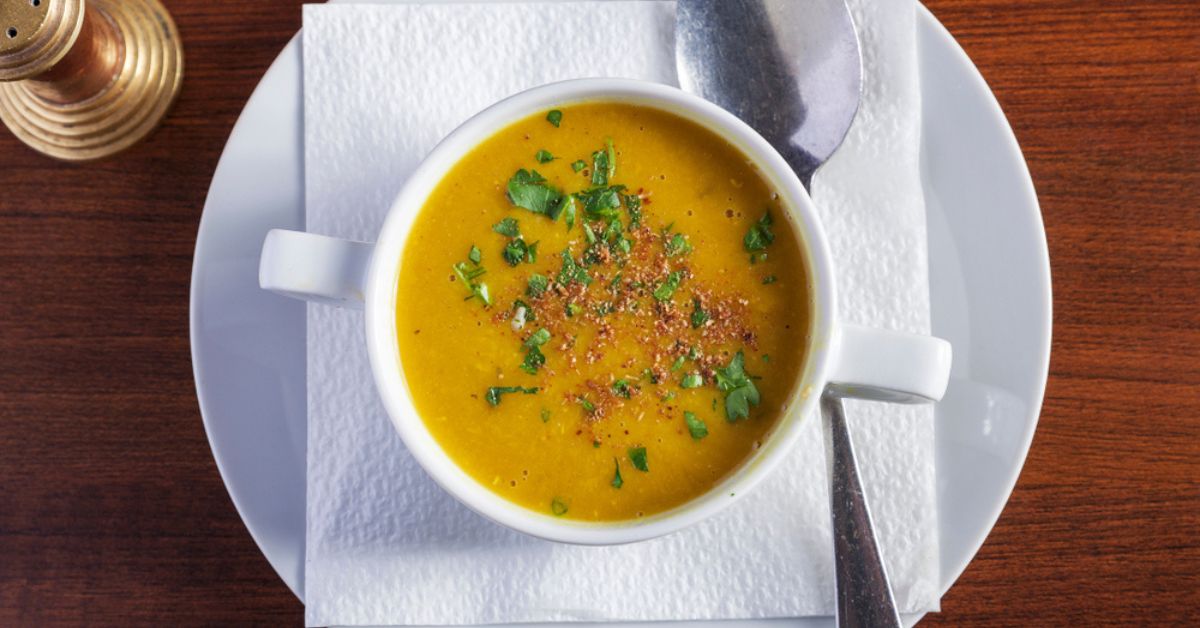 A common accompaniment for rice and chapati, dal is loved by people across the country. The same dish can be made into a soup with a hint of chilli, a few vegetables, and some additional spices.
The soup is protein rich and versatile, and can be made with any type of lentils, or even a mix of a few. You can also add any variety of seasonal vegetables, fresh or dried herbs, or spices to highlight different flavours.
Here's the recipe:
Ingredients:
Three tablespoons of masoor dal
Three tablespoons of moong dal
Two tablespoons of toor dal
One inch ginger, two cloves of garlic
One chopped tomato
One chopped carrot
¼ teaspoon of turmeric
Half teaspoon of salt
Two cups of water
Half teaspoon pepper powder
One and half cup water
Two tablespoons of coriander
Preparation:
In a bowl, take all three dals together, rinse well, and soak for 30 minutes.
Transfer the soaked dal to a pressure cooker and add the ginger, garlic, turmeric, salt, and two cups of water.
Cover and pressure cook for two whistles on medium flame.
Once the pressure releases, cool completely and then transfer to the blender
Blend it into a smooth paste.
Move the dal paste to a large kadai and add pepper powder and water, adjusting the consistency as required.
Mix well and simmer for five minutes and add the coriander.
3. Mulligatawny soup
Prominent among the Anglo-Indian community, the Mulligatawny soup is rich in flavours and is believed to have origins in Madras during the colonial period. It carries the culinary goodness of both Indian as well as English cuisines.
The name of the soup originated from the Tamil word 'milagu', meaning pepper, and 'tanni', meaning water.
Very similar to the South Indian rasams, this soup features a set of ingredients with chicken broth as the base, which can also be replaced with mutton or vegetable stock. The major ingredients of this soup are lentils, chillies, onion, coconut milk, cinnamon, cloves, and black pepper corns. The soup also includes vegetables like potatoes and carrots, and even fruits like apples.
Here's the recipe:
4. Kairiche saar
Kairiche saar or Kairiche Kadhi is another popular dish in Maharashtra, particularly the Konkan regions. It is slightly sour, slightly sweet with a pinch of spiciness. The main ingredient of this soupy curry is raw mango, and it is usually eaten with rice.
While there are several methods to prepare this yummy curry, the major difference in its variations is whether or not coconut milk is used, as it can be replaced with jaggery.
Here's the recipe:
5. Tomato Saar
A tangy soupy curry made from tomato pulp and some spices, tomato saar is a mildly spicy dish from Maharashtra. Almost similar to rasam, this sweet and sour dish is as refreshing as it is good for health.
It is prepared by adding boiled tomato pulp into a temper, made using ingredients like cumin, mustard seeds, tamarind, curry leaves, and so on. Coconut milk is also added to increase the flavour and make it thicker.
As the main ingredient of the recipe is tomato, saar is rich in Vitamin C and antioxidants that are good for immunity.
It is best served with rice and papad, but can also be consumed as a soup.
Here's the recipe:
Ingredients:

Four tomatoes
Four cloves of garlic
Four tablespoons of grated coconut
One teaspoon cumin seeds
Three dry red chillies
One teaspoon mustard seeds
One pinch asafoetida
One sprig curry leaves
Two teaspoons of oil
Salt, to taste
Preparation:
Blanch the tomatoes in boiling water for 10 minutes, remove, and put them in cold water, while retaining the water.
When cooled, peel the outer skin of the tomatoes and blend them into a smooth puree and keep aside.
Grind the grated coconut, garlic, cumin seeds, and red chillies into a smooth paste.
Heat oil in a pan, add mustard seeds, red chilli, asafoetida, and curry leaves and let them crackle.
Add the ground coconut mix and saute for two minutes, until the raw smell of the garlic goes away.
Now, add the tomato puree and simmer for two minutes.
Add three cups of water left over from blanching the tomatoes, season with salt, and let it simmer for 10 minutes.
6. Ulavacharu
Ulavacharu is an authentic Andhra recipe made from ulava or horse gram to form a gravy or rasam-like dish. Popular in Guntur and Krishna districts of Andhra, this dish is believed to have evolved in the kitchens of farmers.
The main ingredient is horse gram. The dish can also be cooked in lentil stock and combined with tamarind paste and several other spices.
Often prepared during festivals or functions, this soupy dish is usually served with rice.
Here's the recipe:
7. Yakhni shorba
Gosht yakhni shorba is a very popular and authentic Kashmiri mutton soup packed with rich flavours and proteins. This tasty and healthy soup makes the best comfort food during the monsoons or winters, and is even recommended for people with a cold or sore throat.
It is a smooth and loose soup with succulent pieces of mutton, as well as whole spices and masala that make the dish packed with flavours. The addition of yogurt lends to the slight tanginess.
Here's the recipe:
Ingredients:
500 grams mutton or lamb
Three tablespoons of mustard oil
One piece cinnamon, two bay leaves, one black cardamom pod, two green cardamom pod, one clove
One teaspoon salt, or to taste
One teaspoon ginger powder
One and a half teaspoons fennel powder
420 ml yogurt whisked well with 120 ml water
Half teaspoon dried mint, crushed
Half teaspoon black cumin
Preparation:
Heat the pressure cooker, pour in mustard oil and toss all the spices. Then add the mutton pieces, saute and stir occasionally till the mutton starts gaining colour.
Add salt, ginger powder, and fennel powder, and pour in hot water. Stir well and bring to a boil. Then pressure cook it and separate the mutton and the stock.
Place a kadhai on medium heat and pour in whisked yogurt. Stir continuously till the yogurt comes to a boil. Continue stirring till the yogurt has reduced by half.
Pour reserved stock into the reduced yogurt and cook for about four minutes by stirring. Add the reserved mutton and cook, stirring occasionally, till the gravy thickens. Toss in dried mint and black cumin seeds. Stir for a minute then remove from heat.
8. Paya soup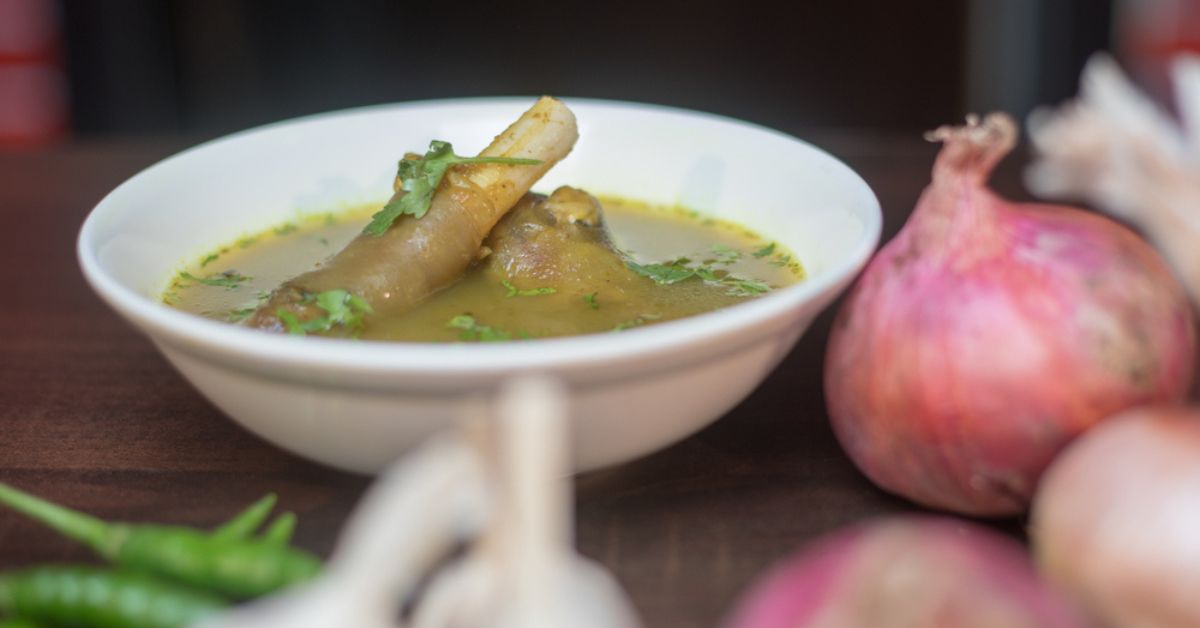 Considered one of the healthiest, the mutton paya soup is made from the legs of a lamb or trotters. This soup is usually recommended for children and old people as it is packed with nutrients like calcium, which is good for bones and joints.
The paya or goat trotters are simmered in a mix of spices to make the paya curry or soup. The chewy bones along with the aromatic and tasty thick soup makes it a delectable dish.
9. Chettinad Kozhi rasam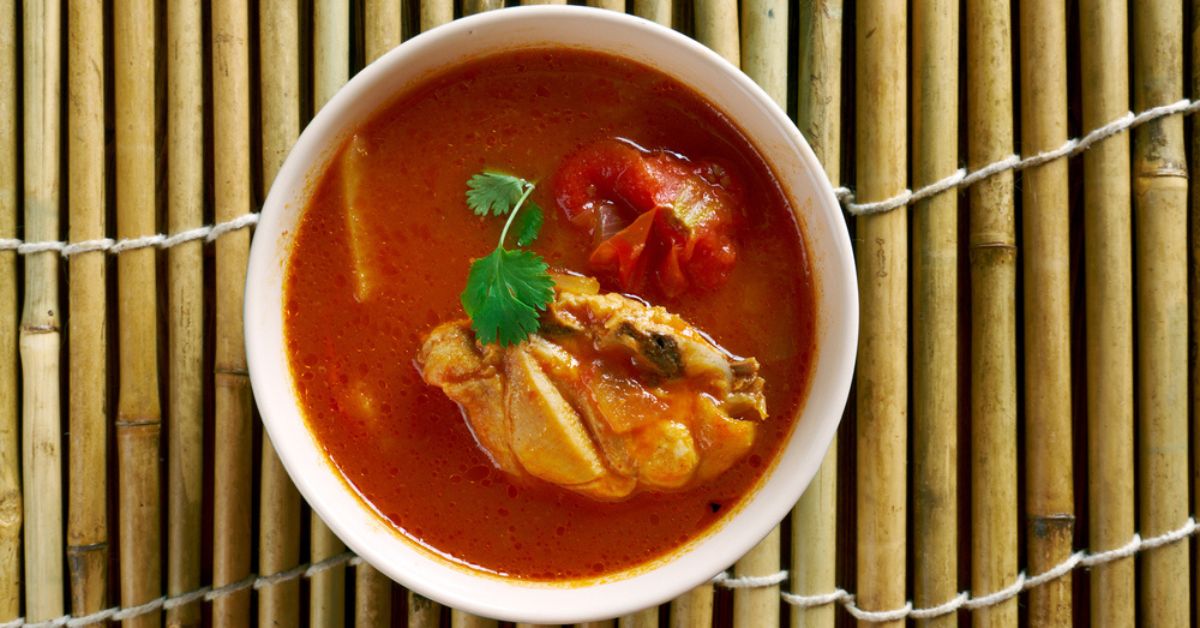 Known for being one of the most spiciest cuisines in India, Chettinad recipes are exceptional due to how flavourful they are.
One such Chettinad recipe is the kozhi rasam, which is made by cooking chicken with a dash of Chettinad spices such as pepper, turmeric, cumin seeds, fennel seeds, and so on. to form a soothing rasam. This spicy soup is usually made in Kali temples during Poosai Poduthal, where they sacrifice chicken and serve it as prasadam.
It is considered an excellent home remedy for flu and cold.
Here's the recipe:
Ingredients:
250 grams of chicken, with or without bones
Shallots and a fully ripe tomato
Two teaspoons red chilli powder
Half teaspoon turmeric powder
Salt as needed
For rasam powder: one teaspoon whole black peppercorns, one teaspoon cumin seeds, one teaspoon fennel seeds, one teaspoon coriander powder, two dry red chillies, two shallots, five cloves of garlic
Preparation:
Add cleaned chicken with the minced shallots, tomato, chilli powder, turmeric powder, and salt, along with four cups of water.
Pressure cook it and simmer the gas.
Cook on low flame for another 5 minutes and switch off the gas.
Prepare rasam powder by grinding fennel seeds, peppercorns, cumin, chilies and coriander powder.
Grind garlic and onion together without adding any water.
Heat one teaspoon of oil in a wok and season the rasam with some mustard seeds, cumin, dry red chilies, asafoetida and curry leaves.
Add the seasoning to the rasam in the pressure cooker.
Add the rasam powder and salt into the mix. Bring the rasam to a nice boil and switch off the stove.
Garnish it with some coriander leaves.
10. Pandhara Rassa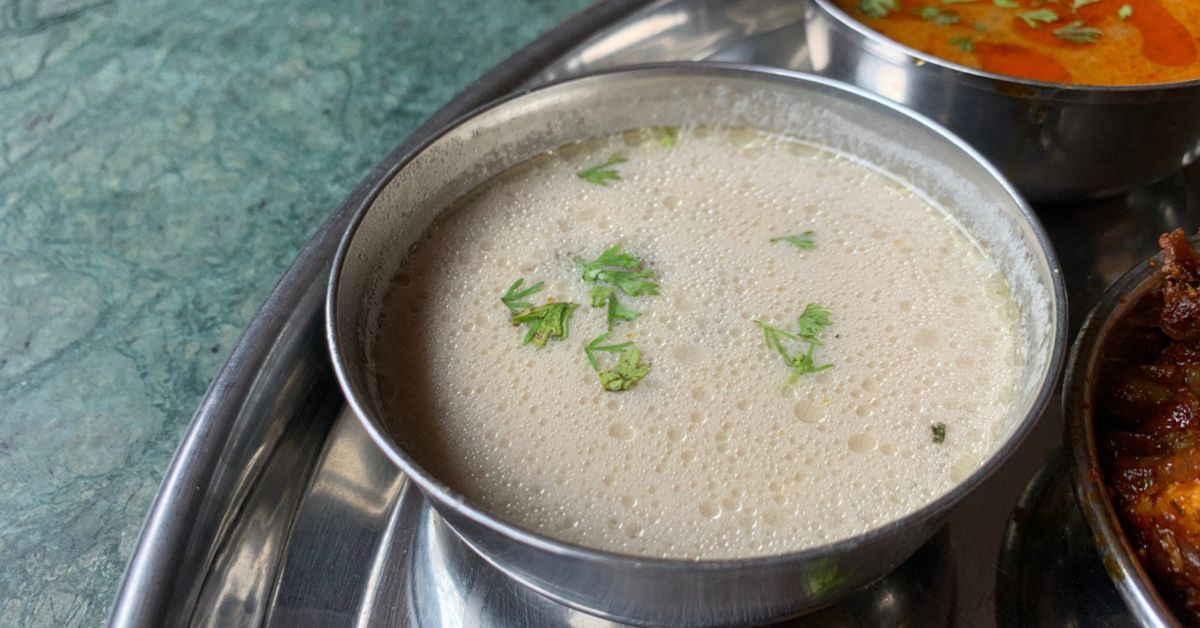 Pandhara rassa, a popular Maharashtrian dish with its origins in Kolhapur, is a soup-like gravy made with either chicken or mutton. This white coloured and flavourful chicken or mutton gravy has a creamy, stewy texture, and is prepared using mutton broth, coconut milk, red chilli seeds, poppy seeds and a few spices.
This non-spicy curry goes well with bhakri and rice.
Here's the recipe:
Sources:
A Comprehensive Review on Rasam: A South Indian Traditional Functional Food, by Agilandeswari Devarajan and M. K. Mohanmarugaraja; published by National Center for Biotechnology Information in 2017.
Tomato-A Natural Medicine and Its Health Benefits, by Debjit Bhowmik, K.P. Sampath Kumar, Shravan Paswan, Shweta Srivastava; published by Journal of Pharmacognosy and Phytochemistry in 2012.
(Edited by Divya Sethu)