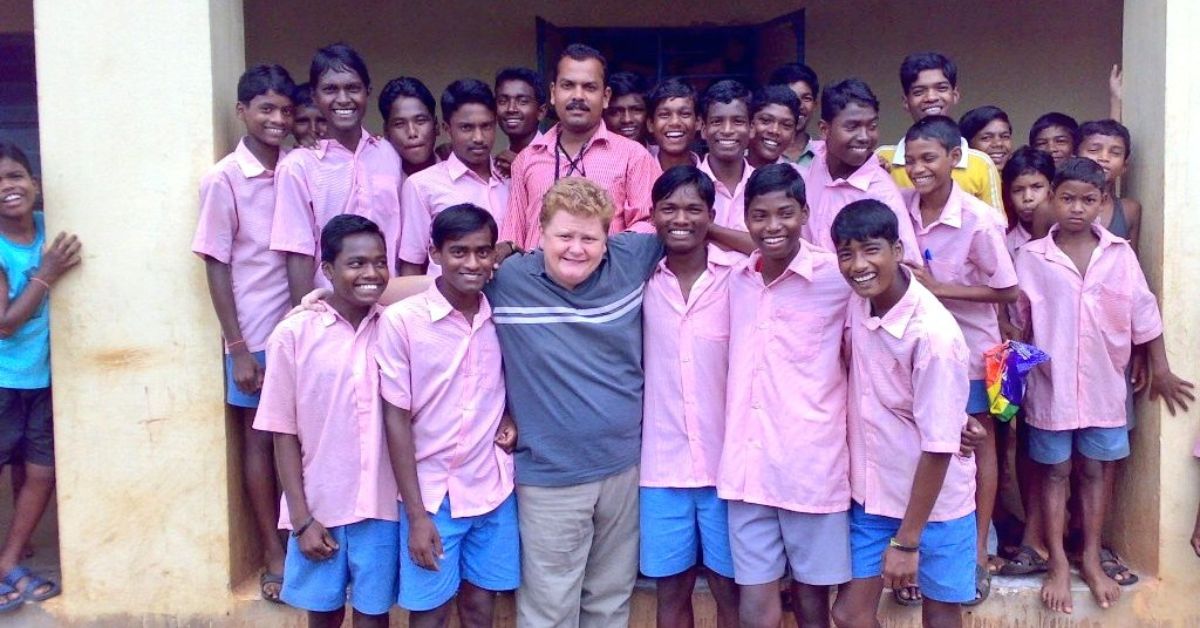 Paul Walsh led a team of tribal boys from Odisha to the TourAid Nations Cup for Under-14 in September 2007. Their story is now on the silver screen in the movie 'Jungle Cry'.
---
This article is part of #MakingSportWork, a series launched by The Better India and Sports and Society Accelerator. The series celebrates India's independence with stories of heroes who have spent years working to improve lives around them through sports. Stay tuned for inspiring tales of those who are #MakingSportWork.
---
"Nobody gave them a chance," remembers rugby coach Paul Walsh, who led a motley team of tribal boys from Odisha to the TourAid Nations Cup for Under-14s in September 2007.
This is the story of how 12 boys from Odisha surprised the rugby world 15 years ago.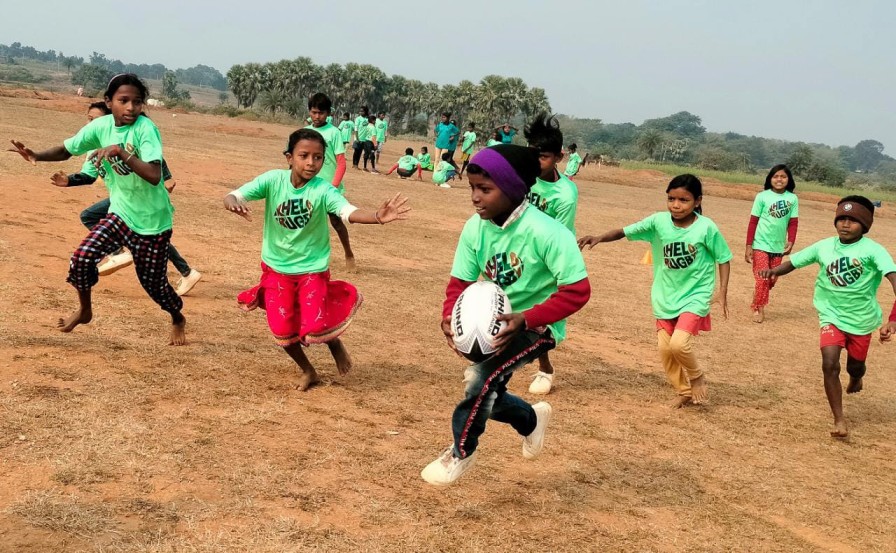 Taught how to throw the ball, and armed with lots of hope, they travelled from Kolkata to London, having been introduced to the sport just months before their departure. This bunch of young teenagers beat the teams from Zambia, Romania, Kenya and Swaziland in the league stage, and then left their best for the final against the South Africans. It all sounds like the storyline of a feel-good sports movie, and that's because it now is.
"I never set out with a great worthy objective. I always tell people that some great things have come out of it, but that was never the intention," says Walsh, talking about founding Jungle Crows Foundation, a sports and social development organisation supporting children and young people as they grow and develop. The foundation was given the same name as the local rugby club Walsh had founded in 2004 in Kolkata, with his friends John and Gary. "We found a lot of interested young people, and they got invested in it," Walsh continues, emphasising that Jungle Crows was born simply out of an interest to spread the sport he loved.
As a British diplomat in India, Walsh had sustained his love for rugby, but hadn't found a lot of local support for it. It was then that he discovered that a bunch of young people were getting interested and even passionate about it. "It just spiralled from throwing about a rugby ball," he says. Since those early days, the Jungle Crows Foundation has transformed into an organisation that operates the Khelo Rugby community development programme and has expanded its projects to other South Asian countries.
Young Rajkishore Murmu had made the move from his village to Bhubaneswar along with his elder brother. He enrolled at the new institution Kalinga Institute of Social (KISS). In 2006, rugby was added to the suite of sports at KISS Rajkishore initially found it very strange, having never heard of or seen the sport before.
"We joined as a joke. It was a bit like hunting and took us back to the times in the village," he recollects.
Three Jungle Crows coaches – Sanjay Patra, Sailen Tudu and Walsh – with the support of Rudraksh Jena (the rugby coach at KISS) held an inter-school tournament in the summer of 2007. They advertised that the winning team would be able to travel to London for the international tournament. After the tournament, a total of 60 kids were selected and trained by the coaches for the next few months, taught about the sport, tactics, and fitness. Twelve players were selected from this pool, primarily for their physical prowess. In a matter of months, they had gone from never having seen or heard of the sport before to becoming a rugby team.
Walsh was convinced he wanted to take these boys for the TourAid Nations Cup in London. The training and preparation were anything but easy. Constrained by a lack of physical equipment, the coaches had to bootstrap and adapt, often using swimming across creeks and climbing trees as ways for the boys to boost their strength.
They were shown the hockey film Chak de India! (2007). They trained on the hard, dusty grounds in the Odisha heat while preparing for a tournament to be played on the grass in cold, rainy London. In the end, it all came together. By the time they reached London later that year, the boys knew the game. Over a few months, the boys were not only taught the sport but received unique life experiences as they traversed across continents. This was their first time on a flight and adjusting to things like the air conditioning in buses and other areas was a challenge, recalls Rajkishore.
The challenges off the field aside, the competition on it was fierce. What followed was nothing short of a miracle. "We didn't know too much about the other teams or their history, so that helped a lot," believes Rajkishore, adding, "Even before the final, we didn't realise how big of a match or tournament it was."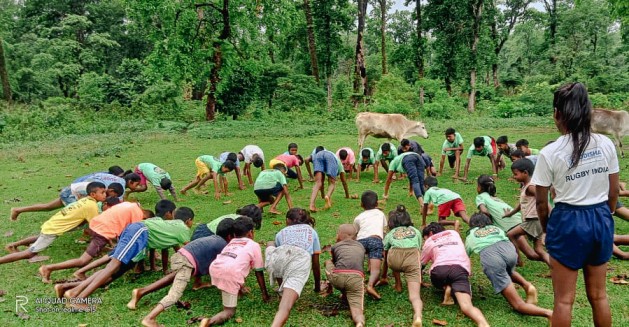 In the final, played at the London Scottish ground in Richmond, they were up against the team from South Africa. The boys initially seemed to fall short, daunted by advanced plays and technical manoeuvres and went 0-5 down. However, just as a sports movie's story arc would have wanted, they eventually came back with three tries and went on to win 19-5. They played a simple but exciting game, and crowds flocked in to see the underdogs as they began to defeat one team after the other.
"We didn't think for a minute that the team would win the tournament. The organisers thought that I was a bit mad to be even bringing them there," Walsh mentions, putting into perspective the feat that the young boys achieved.
After 15 years, the triumph of the team comprising Rajkishore Murmu, Babula Melaka, Hadidhangada Majhi, Bikash Chandra Murmu, Chhitaranjan Murmu, Niranjan Biswal, Barial Beshra, Bukai Hansdah, Sahadev Majhi, Narasingh Kerai, Ganesh Hembram, Gouranga Jamuda has been re-told in the movie 'Jungle Cry'.
Walsh mentions that he still enjoys a good relationship with all the boys, who are now in their late 20s. Rajkishore, who had captained the team in 2007, represented India till the Under-20s stage before turning to coaching at KISS, since having produced many state and even a few national players through the coaching set-up there. Chhitaranjan now plays on the Army Rugby Team and also heads their talent recruitment. Others have also continued their involvement in sport, while a few have found different sources of livelihood. A lot of the young people, both boys and girls beyond the team of 12 "have been given a second chance by playing rugby," according to Walsh.
Some who have trained with the Jungle Crows Foundation have gone on to play rugby for India. The trajectory of these lives, changed by sport, is notable.
"And forget not that the earth delights to feel your bare feet and the winds long to play with your hair," the Jungle Crows Foundation website, fittingly, features this quote from Kahlil Gibran. Walsh says that he did not set out with a larger goal in mind. The journey started by simply wanting to share the joy of his beloved sport. It then transformed into something much bigger than anything he expected.
"If we hadn't won in 2007, there wouldn't be the same name for rugby in India," remarks Rajkishore. "There was rugby before 2007 and the changed world after — there is a massive difference."
The wonder and drive displayed by the 12 boys 15 years ago pushed Walsh and others around him to chart a new course — to try and change lives one tackle, ruck and try at a time.
Written by Team Billion Plus; Edited by Yoshita Rao
We bring stories straight from the heart of India, to inspire millions and create a wave of impact. Our positive movement is growing bigger everyday, and we would love for you to join it.
Please contribute whatever you can, every little penny helps our team in bringing you more stories that support dreams and spread hope.
Tell Us More