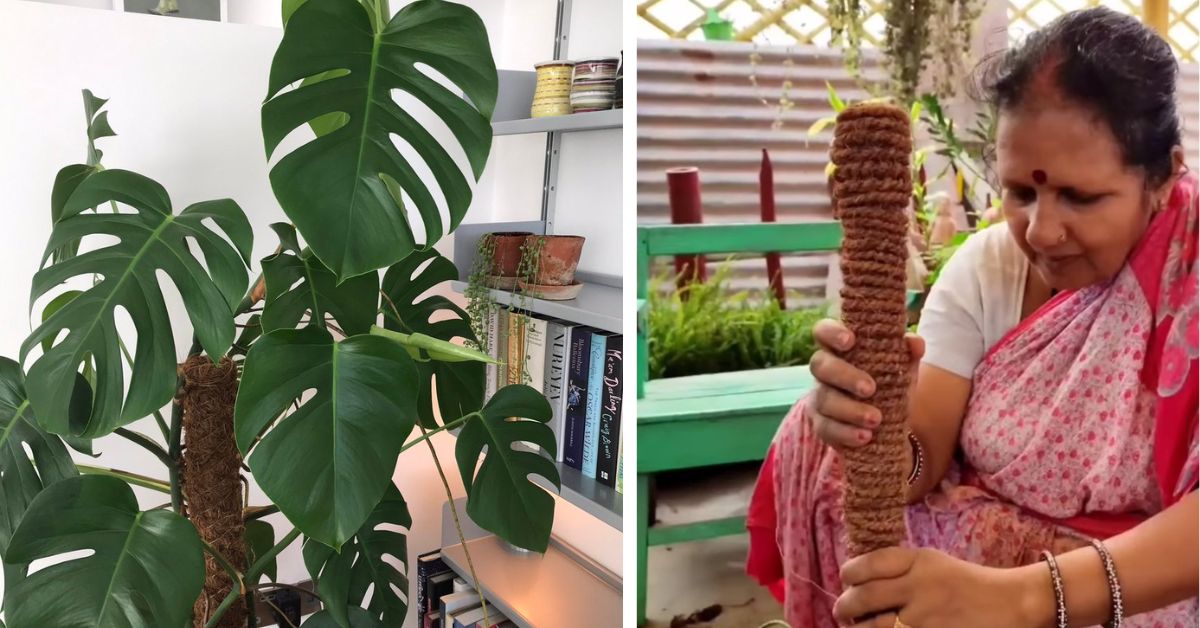 Need an affordable moss stick to help your creepers grow better? Here's how to make a mess-free moss stick at home from jute and PVC pipes.
Every plant parent knows the wonders and woes of nurturing a patch of green on the balcony. While the sight is almost too pretty to behold, there comes the challenge of identifying and tending to the different growth patterns that plants show.
An inherent property that plants have is to grow towards the light. But often, due to lack of steady support or space, the greens begin drooping downwards. In time, their growth becomes horizontal.
Enter moss poles — a unique way of teaching your plants to reach for the sunlight. What the pole does is it lets the plant mimic its natural growing habitat, in the forest. It gives the plant support around which it can entwine itself and grow upwards.
Navigating a slippery slope in gardening
Take for instance the Monstera plant. With its perforated, dark leaves, it is a common feature in homes and celebrated for its ability to purify the air, while lending a chic appearance to the living room.
Most homeowners may notice that as the plant blooms, the leaves begin to flop downwards. While moss poles do provide homeowners with a quick fix for this problem, they are sometimes deemed 'messy' and 'time consuming'.
To this we say, why not ditch the traditional approach of preparing a moss pole and adopt a novel one instead? Here's how you can do it with just a bamboo stake or PVC pipe, jute, glue, scissors and the plant in question.
Step 1
Get a PVC pipe of the desired height. This completely depends upon the height of the plant that you have. A good estimate would be anywhere around 1.5 inches.
Step 2
Start wrapping the jute rope around the pipe using glue to fasten it. Leave the bottom one-third free as this is the part of the pole that will be implanted in the soil. Your moss pole is now ready.
Step 3
Place the pole into the soil while repotting your plant. In order to get your plant to wrap itself around the pole, you need to ensure that the leaves are in touch with it. You can do this by introducing velcro strips or twine or simply vinyl plant tape.
Step 4
As the plant grows further, guide it along the pole.
While this technique can be tried with the Monstera, the Philodendron is another plant that has shown surprising results when a moss pole is used. This is due to its amazing property of growing aerial roots as it blooms, which helps in its attachment to the pole.
Here's a peek at the final product. Happy gardening!
View this post on Instagram
Sources
Edited by Yoshita Rao