Manoj Mathew from Kerala built a stunning eco-friendly house that uses recycled wood, traditional knowledge, and modern design to incorporate sustainability.
Manoj Mathew, who runs an offset printing press and publishing unit in Kottayam district of Kerala, spent over a decade moving from one rented house to another.
But last year, he was finally able to fulfil his dream of building his house.
More than building just a house, he wished for a unique abode that was traditional, close to nature and cost-efficient.
"I had stayed in almost three rental accommodations, before moving into my own house. So, I was clear about what I wanted and what I didn't. While looking for ideas online, I stumbled upon the Laurie Baker model of houses that are eco-friendly and cost-efficient without compromising any comforts. I also came to know about COSTFORD, an organisation co-founded by him, who have been constructing such houses," Manoj tells The Better India.
The project was then taken over by engineer Biju P John and architect Renju from COSTFORD Kottayam who designed the house by incorporating all his demands. Started in 2020, it took them around a year to finish the construction of the house, as the pandemic restrictions and lockdowns stalled the work several times.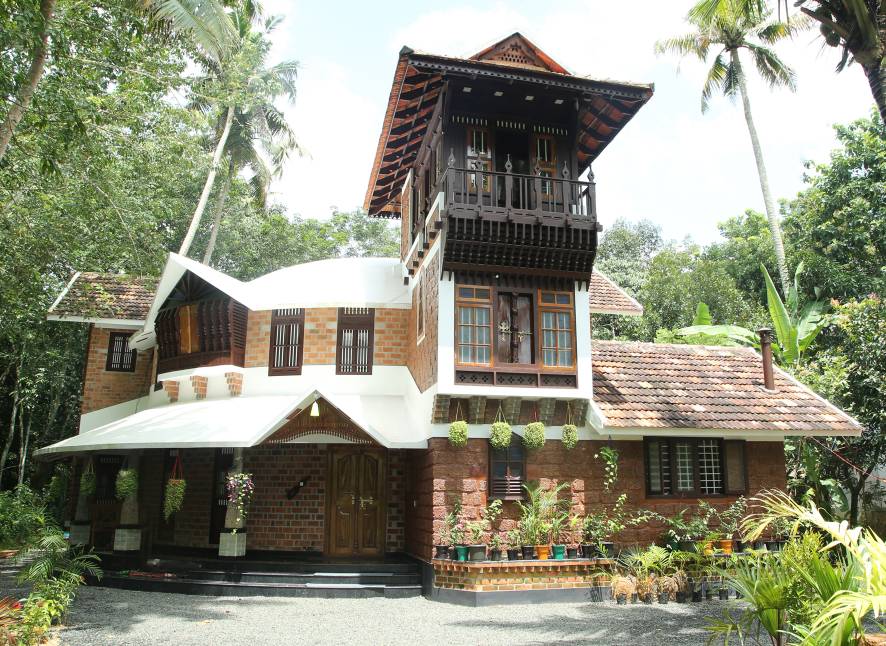 Today, this eco-friendly house at Kottackupuram, Kanakkary village, built in an area of 2570 sqft, is unique in all senses.
According to architect Renju, "We utilised locally-sourced materials for most of the construction, adopted eco-friendly construction methods and lowered the cost of construction."
Redefining old ways
The most interesting part about the house is the usage of recycled or second-hand materials for construction. The wood, that has been used extensively in the construction of the house, was taken from an old demolished house from Poonjar in Kottayam.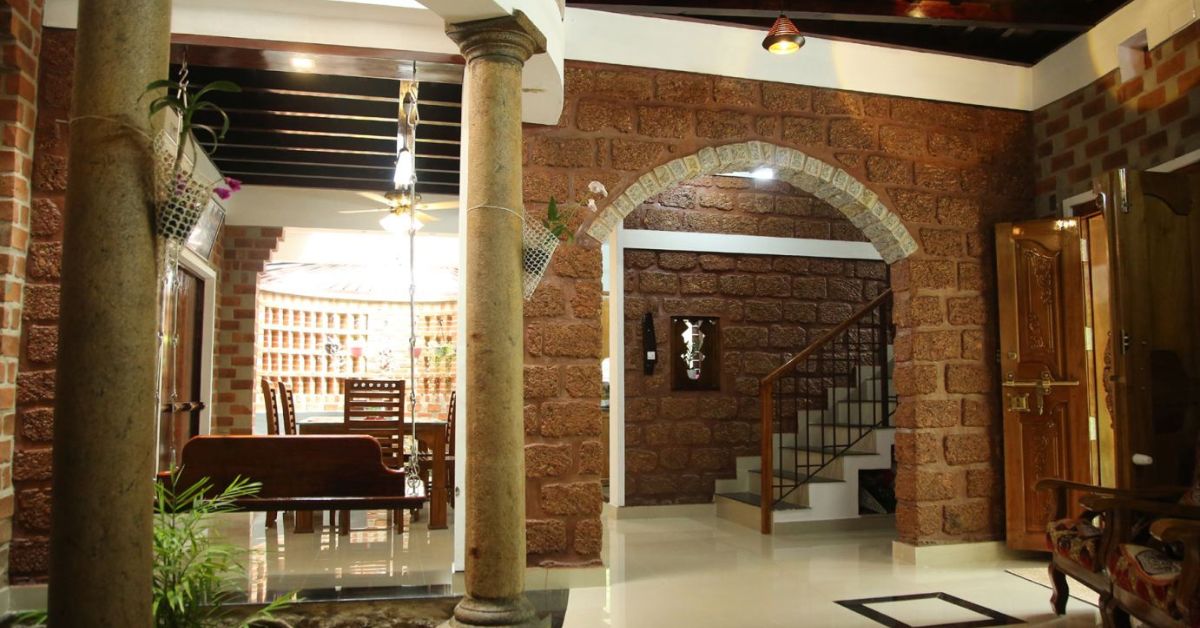 "Since I wanted a traditional house, there was a requirement for a lot of wood which goes into everything like windows, doors, ceilings and even floors. As we aimed at eco-friendliness and cost-effectiveness, we decided to source wood from old buildings which can be recycled and used efficiently," says Manoj, adding that, more than 80 per cent of the wood used in the house was recycled wood from the demolished house which was over 100-years-old.
The wood has been used mainly to build ceilings and floors in certain parts of the house to evoke a traditional touch. Besides, the same wood has been utilised in most of the places except for a few like window frames, doors, etc where they used acacia wood, which is extremely durable.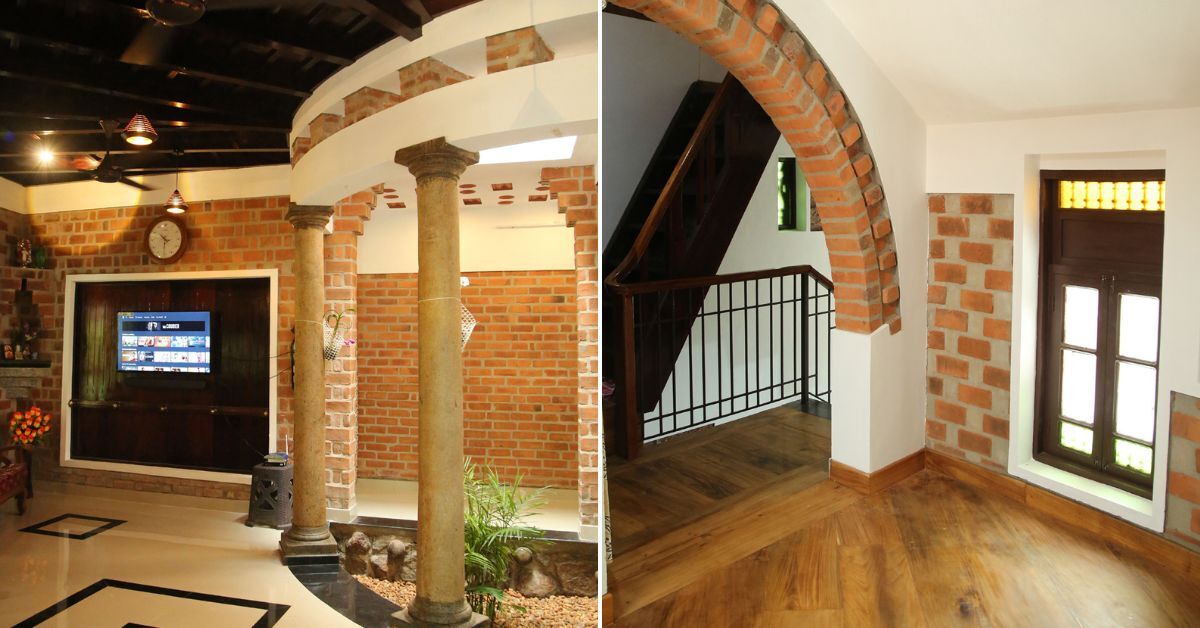 "I had to spend around Rs 1.75 lakh to buy the old house, demolish it and transport it to the site. It is a bit laborious and the materials need some maintenance but are still more cost-efficient than buying new wood. The old wood was later treated with cashew oil (wood preservative) and with a top coat to seal in the preserver," he says, adding that it was a team effort that helped him in procuring the wood and recycling it. "Our carpenter Praveen and lead mason Vijaykumar had immensely contributed to these efforts," he adds.
Apart from wood, they have also used Mangalore tiles from the old house for roofing. "We just had to clean it up a bit. Then we used it as it is without even painting it, to maintain an earthy charm," he says with a smile.
The flooring of the house is mainly using vitrified tiles and granite except for a few places with wooden flooring using recycled wood.
Reflecting tradition & sustainability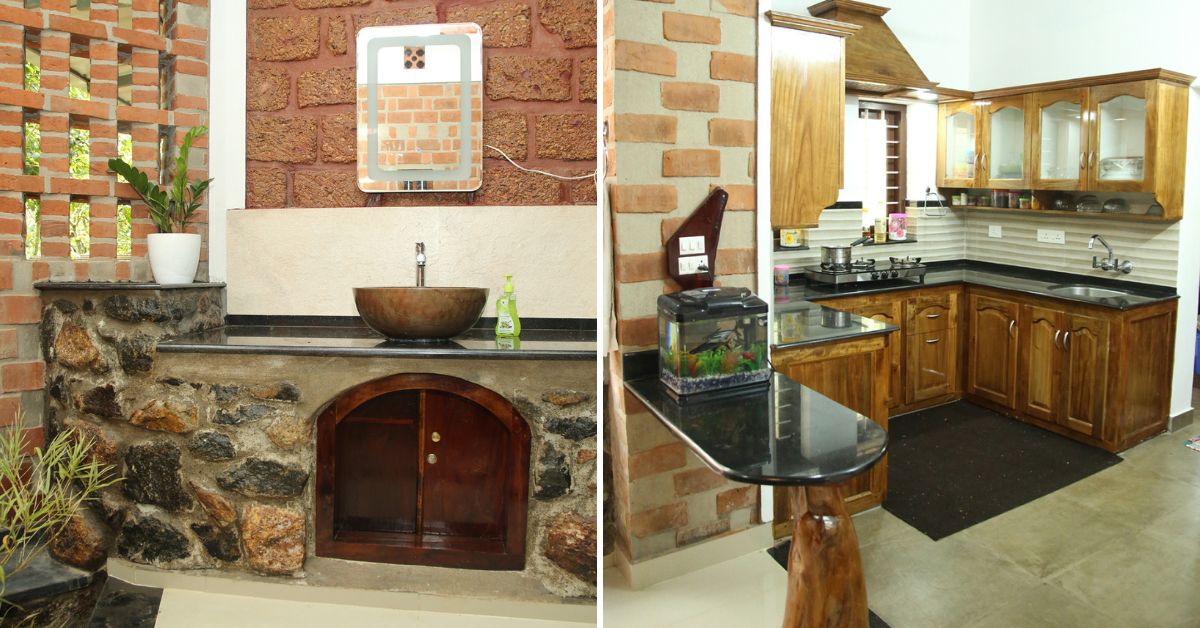 Other than wood and tiles, almost all the construction materials were locally sourced. "The walls are completely built using burnt bricks and laterite bricks. Other than that, sustainable construction methods like the rat-trap bond were used for building the walls," says Engineer Biju P John. He further explains that it is a masonry method where the bricks are placed in a vertical position, which creates a cavity in the wall, thereby reducing the number of bricks and mortar used during construction.
Another cost-effective method used was the filler slab technique, where they use terracotta or clay materials in between the concrete, thereby reducing the load on the roof, reducing the concrete volume and providing better thermal insulation.
"We have used different materials made of clay-like tiles, bowls, etc as the filler slab. This roof construction technique is also very helpful in balancing the temperature inside the house," says architect Renju.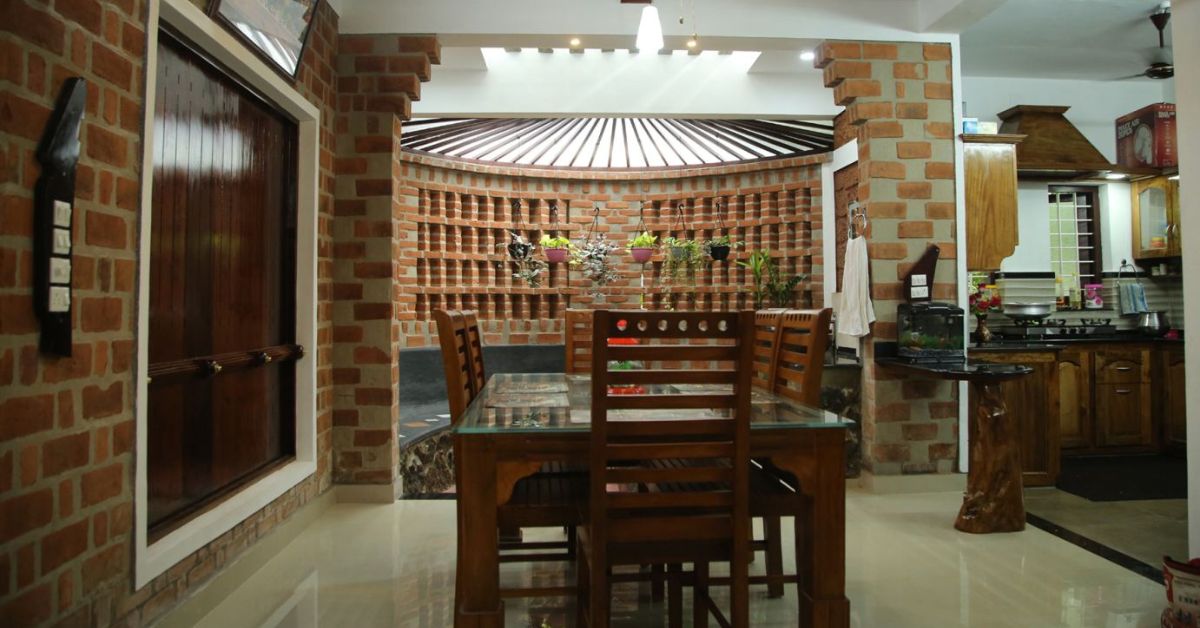 Most of the walls in the house are exposed without plastering except for a few places. "Usually the plastering cost comes to almost 10 per cent of the total building cost of a house. In this case, since we went for exposed walls, we were able to reduce the usage of cement to an extent, thereby cutting the cost as well," he explains.
The two-storeyed house has four bedrooms with attached bathrooms, a kitchen, a dining space, two living spaces on each floor, a courtyard and a beautiful attic space.
"I was particular about adding an attic space in my house as I wanted a traditional touch. Also, I decided to set a living space on the first floor as well rather than converting it into a balcony space," says Manoj.
A house that stays cool
Talking about the difference he feels while living in his new house, he says, "I feel I am much more connected with nature than when I was living in a conventional house. The courtyard and the indoor green spaces bring in natural light throughout the day and provide good ventilation."
Manoj, who used to have an air conditioner in the house he lived in before has not installed it in his new house. "I have not felt the need to use an AC here as the house stays cooler almost all the time. We only use fans, but that too is minimal," he says, adding that it's nothing but the air cavities of rat trap bonds and filler slabs that reduce the heat gain of the building.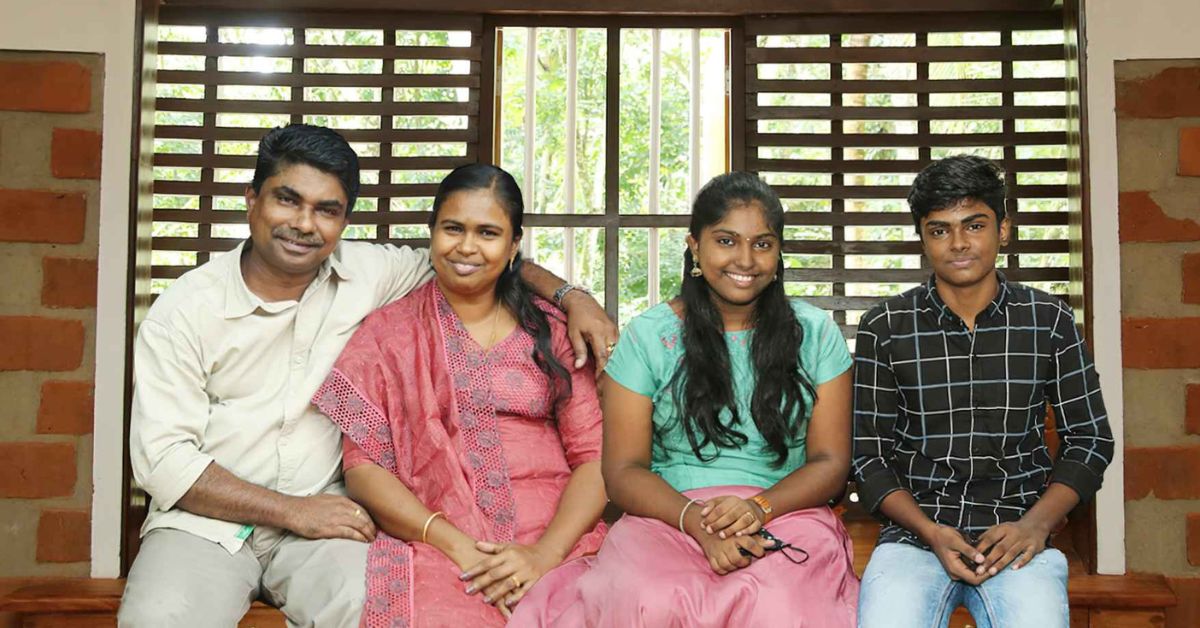 According to Manoj, his favourite part of the house is the centrally placed courtyard around which the living, dining, kitchen, etc have been designed. "I feel the courtyard helps in connecting. We can easily communicate while sitting at the courtyard if someone is in the kitchen or at the dining space," explains Manoj who stays with his wife, two children and parents.
Other than all the sustainable features in construction, the house also features a biogas plant instead of a septic tank, which decomposes the waste and produces methane gas that can be used in the kitchen. "The biogas setup produces enough methane to generate good flames for at least two hours a day," he says, adding that it helped him in reducing LPG usage to a great extent.
The total cost including the designing of the home, raw materials, construction and interiors of the house was around Rs 50 lakh, which according to engineer Biju is much cheaper as a conventional house of this style would cost around a crore.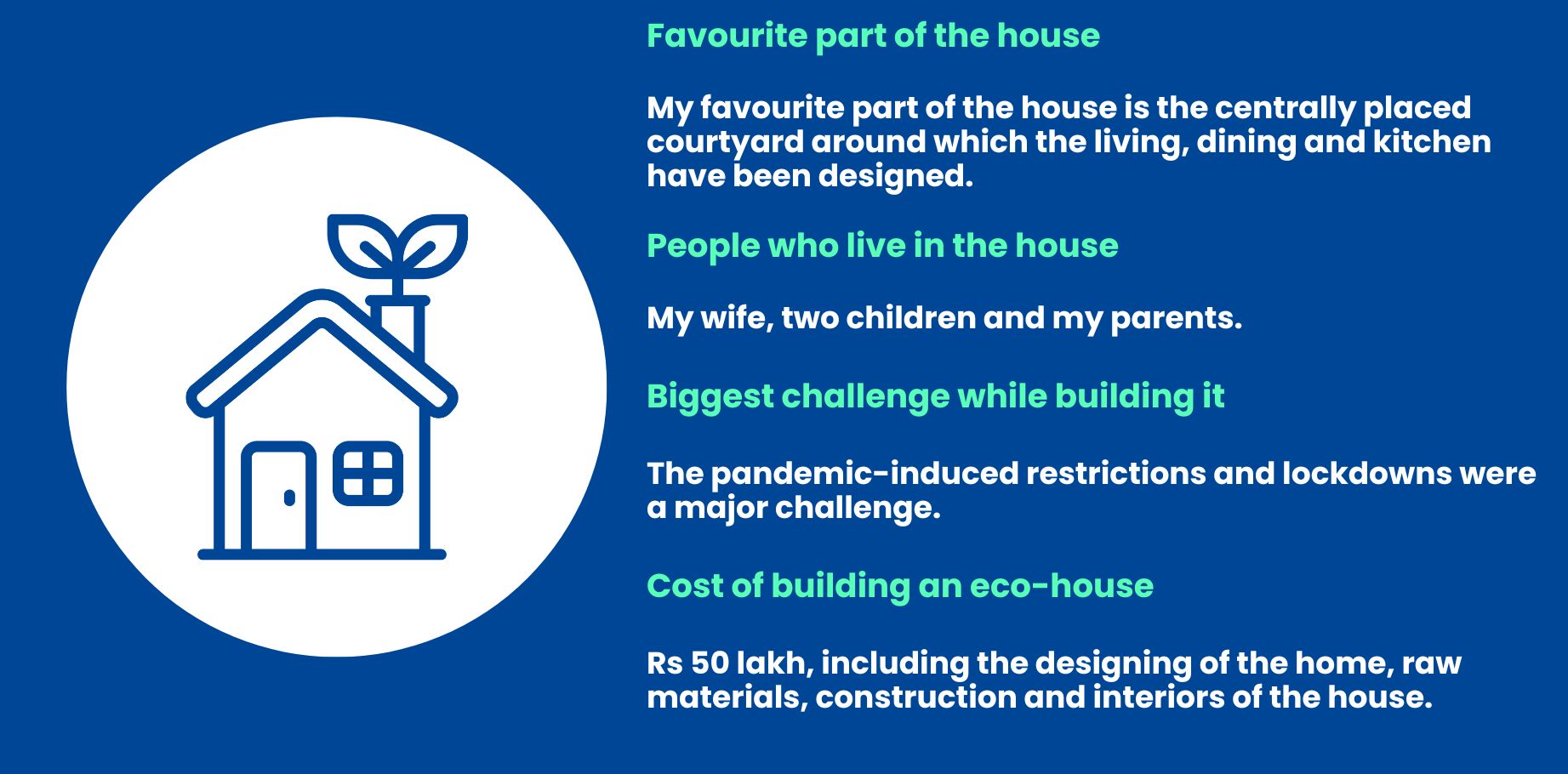 (Edited by Yoshita Rao)