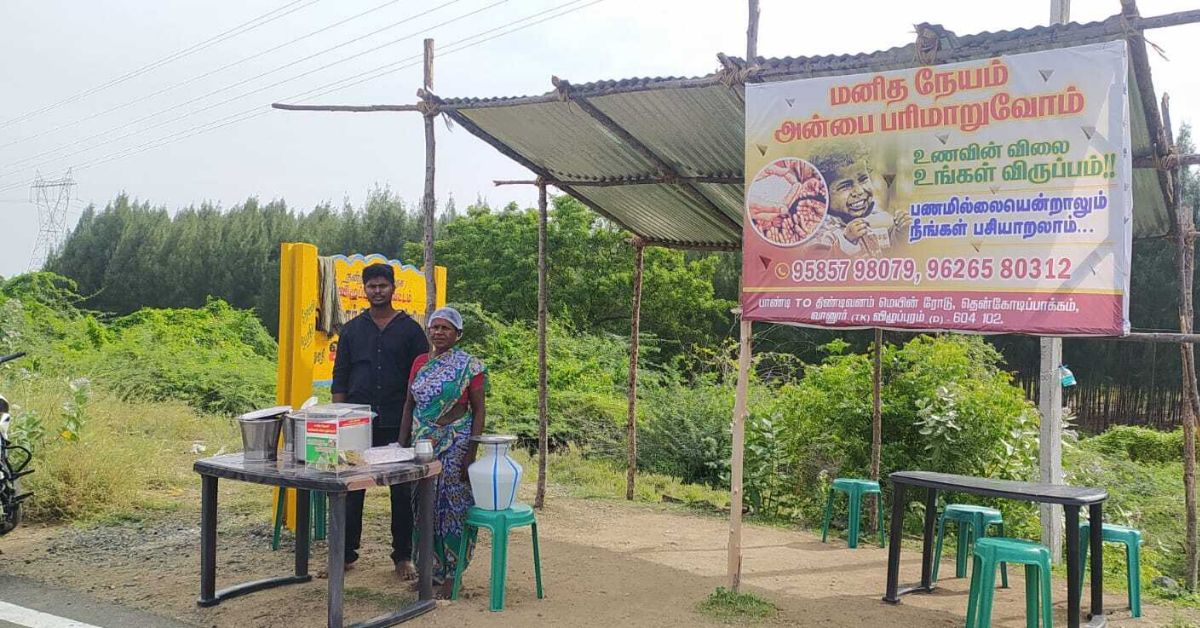 Sekar Poovarasan from Tamil Nadu started Humanity — a roadside food stall that allows customers to pay whatever they can while the poor eat for free.
As I begin my conversation with Sekar Poovarasan, I'm awestruck by his first question. It's not 'How are you?' but 'Saaptingala (Have you eaten)?' Serving food in a 'pay what you can' model, Poovarasan's major concern is whether people have had a meal.
The 25-year-old from Thenkodipakkam, Tamil Nadu, started distributing food to 20 people twice a week with the help of his friends. This continued for almost a year. Why, you may ask?
During the pandemic, many people suffered without food, especially during the lockdowns. The sight of these people who could not afford a single meal a day pushed Poovarasan into action.
What started as a small act to provide food to the underprivileged, has turned into a full-fledged business today. Poovarasan started 'Manidhaneyam' (humanity) three months ago with his mother S Kuppamal. The stall is located on the Tindivanam-Puducherry bypass road. Due to its location, it serves students, people going to work and the poor.
At this food stall, there is no rate card. Customers simply pay what they can, and if they can't, they can eat for free. The cash box at the stall reads, 'Let's serve humanity. Pay what you can'.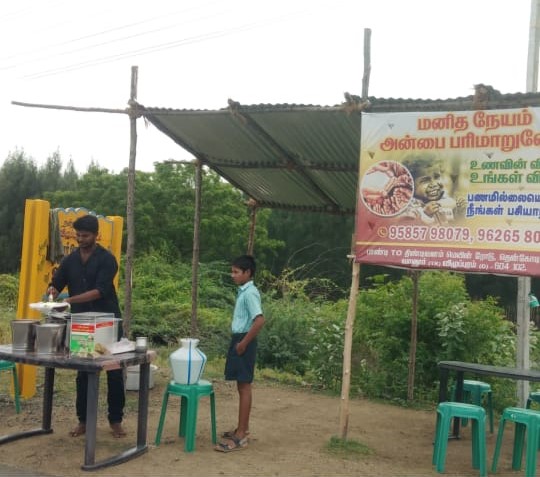 He also has a poster asking restaurants and wedding halls to contact him if they have left-over meals.
Equipped with a diploma in electronics and communication engineering (ECE), Poovarasan lost his job a few months into the pandemic. He was only able to get odd jobs after that, and nothing stuck.
But a chance encounter with an elderly man changed his life, he says.
"I was jobless, while all my other friends were working. I decided to go to the beach one evening. I met an old man from Dharmapuri there and struck up a conversation with him. He looked very sad and lost. He was thrown out of his house. I bought him tea and biscuits and saw the expression completely change on his face. He had a big smile on his face, all thanks to a cup of tea," says Poovarasan.
From then on he decided to do something full-time by serving food to the underprivileged.
'Pay what you can'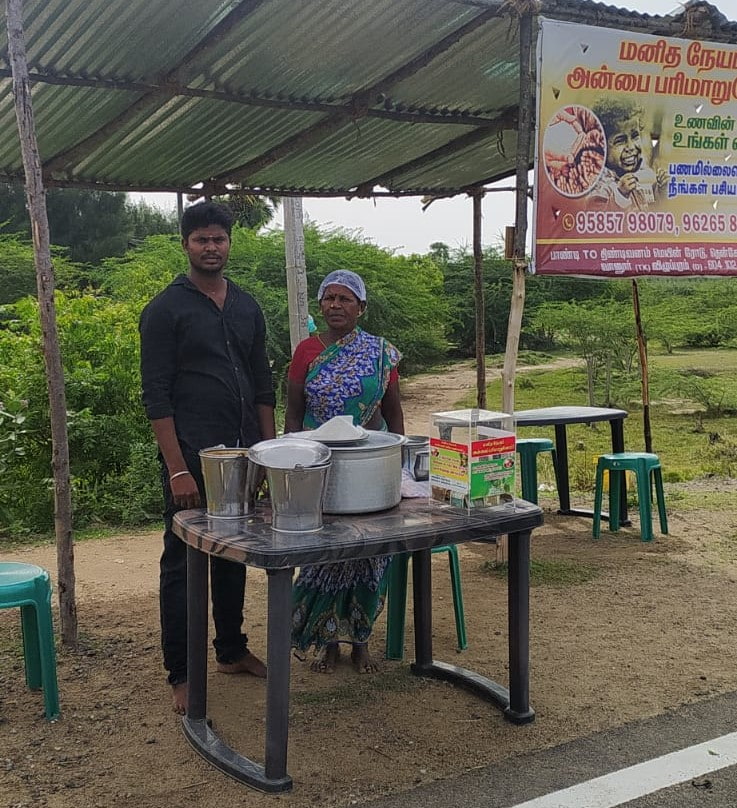 He says he got the idea of people paying as much as they want from the Tamil movie 'Kootathil Oruthan' (2017).
"In the movie, the hero starts a stall where people pay as much as they want. I was impressed by that and hence incorporated the same idea in my stall. When I serve food, I see the happiness on people's faces. That makes me happy, and their smile is enough for me. Knowing that I have served 10 people daily who would have otherwise gone hungry, keeps me going," says Poovarasan.
But to start a venture, one needs capital. This becomes even more compelling when the income is not guaranteed.
Poovarasan's father is retired, which makes him the sole breadwinner.
So, to start this food stall with this model, he worked for a year and saved that money. He even tried to take a loan for his business, but he says banks refused as there was "no guaranteed income".
"As I didn't get a loan, I put in Rs 48,000 of my own savings to start the business. We had to buy a table, chairs, big vessels, and a grinder initially," says Poovarasan.
Today, the stall serves breakfast and lunch. The mother and son duo wake up at 4 am for the preparations. They serve hot idlis, Pongal, vada, chutney, and sambar from 7-9 am.
After going back home, which doubles up as their kitchen, they start working on the lunch menu. They serve two types of rice, like lemon, sambar, curd, tomato, etc. with potato fry from 12-2 pm.
Poovarasan says that they make breakfast and lunch for 50 people.
P Kumar, who works as an electrician, is a regular customer.
"I travel more than 15 km for work and eat at this stall. It's a great effort taken by this young man. I always pay for my meals. That's how they will be able to serve those who cannot pay," says Kumar.
The journey has been a tough one, says Poovarasan, but the satisfaction of feeding people keeps him going. Though, it is still a loss making venture. He says they spend Rs 1,300-1,500 daily and get about Rs 300-400 from customers.
"In the beginning, nobody supported us. But of late, some people have been helping out by buying vegetables and rice for us. We can manage with that."
"I was running around looking for jobs, but this is my true calling," says Poovarasan.
Kuppamal says that her son's vision pushed her toward helping him.
"He always gave food to others out of love. When he thought of starting this, no one else stood by him. But watching him wanting to do a good deed, I supported him. He is earning a lot of 'punyam' (good karma) by doing this. I'm proud of my son. Giving food to 10 people in need is much bigger than earning Rs 1,000 a day," concludes Kuppamal.
If you would like to help Poovarasan, please contact him on +91 9585798079.
Edited by Yoshita Rao