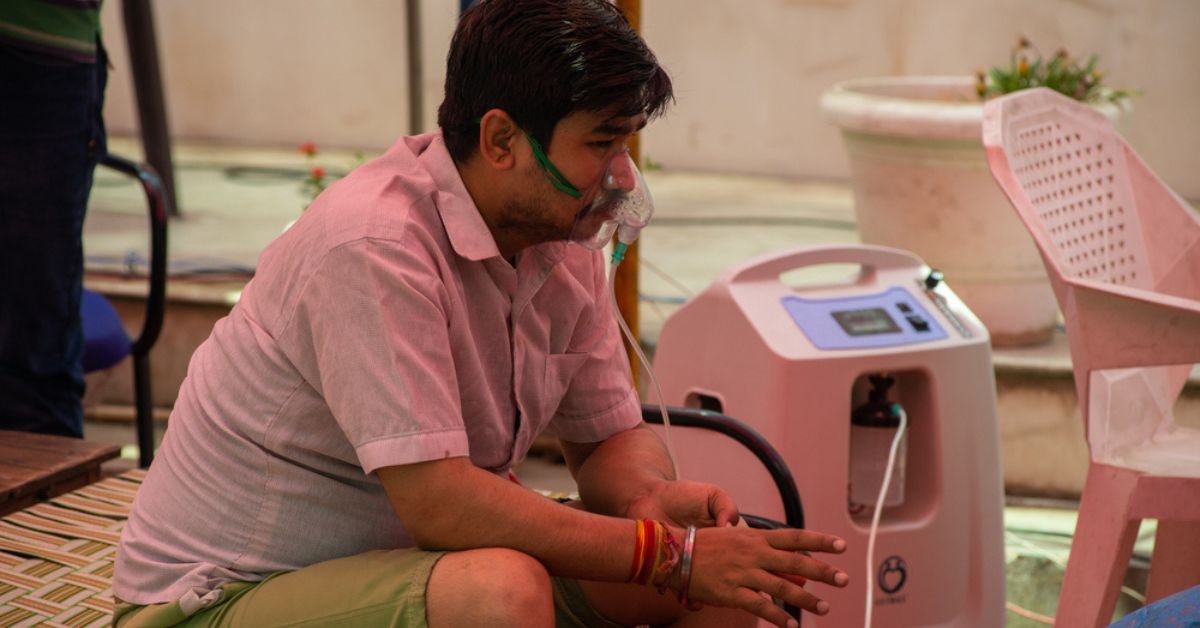 Founded by John Joy and Sanjay Pillai, Bengaluru startup O2-Matic has launched its innovation Portia, a portable instant oxygen generator that provides the life-saving gas in just 40 seconds.
In 2015, mechanical engineer John Joy came up with an award-winning concept of making oxygen readily available anywhere, at any time, and more importantly, during golden hour — the first hour after a trauma or accident has occurred. He won first prize of the Medical Gas Challenge, a hackathon organised by an external agency in conjunction with GE Healthcare the same year.
Around that time, he and fellow INSEAD alumnus Sanjay Pillai had also suffered the loss of family members. "These could have been avoided if people had access to oxygen," says Sanjay in an interview with The Better India.
In 2016, the two founded the company O2-Matic to turn this concept into a reality. While the venture is based out of Bengaluru, manufacturing takes place in Coimbatore. Being a white space product — that is, one that's filling a gap in the market — they had the challenge of creating and working in an entirely new category. "There are no benchmarks globally, no competition for us," says Sanjay.
To make oxygen readily available, the duo has conceptualised the Portia, a portable oxygen generator that produces medical grade oxygen during emergencies. It has a capacity of 200 litres and comes with two replaceable cartridges of 100 litres each. It requires no power to operate, and the founders say it requires only two steps to generate oxygen in 40 seconds.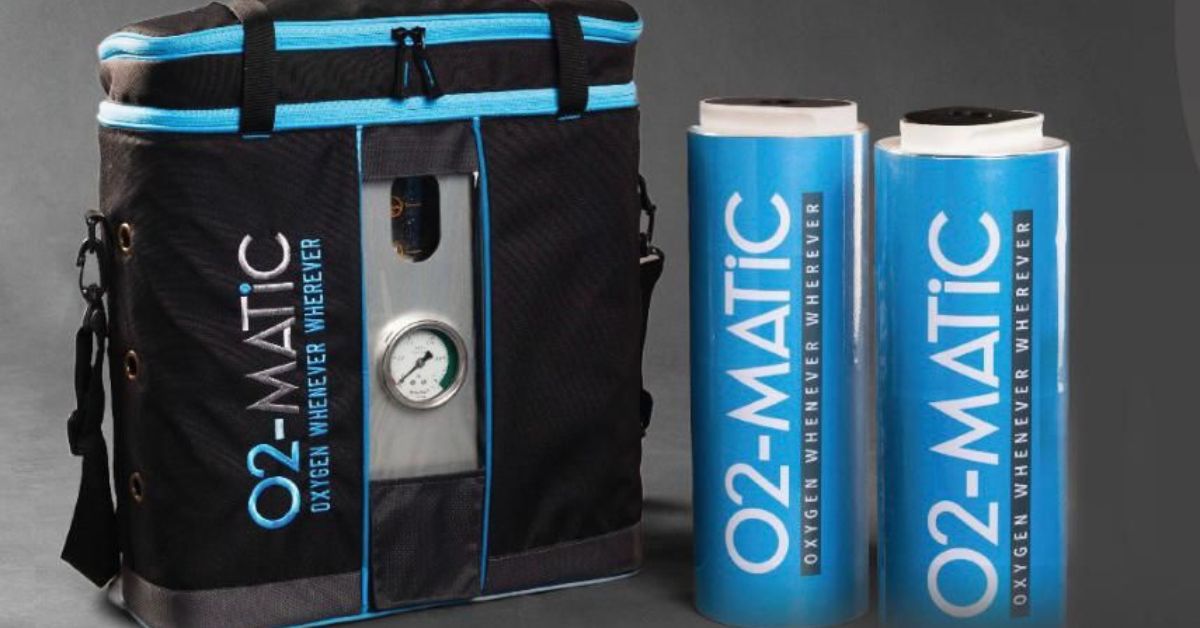 It took the duo about six years to shape the product — from understanding the problem to research and development, and conceptualising the design and portability. The product was finally launched in 2021, and holds global patents and trademarks, except in Denmark, which has a company of the same name.
The problem
To understand the need of the product, John, in charge of the R&D for the product, started by going out and speaking with doctors from primary and secondary healthcare centres, hospitals, and clinics, as well as patients with long term respiratory diseases.
His research led to the finding that in 2015, there were only 234 locations where oxygen is available, of which 60 per cent were commercial grade and only 40 per cent medical grade. Most of these sources of oxygen were in cities. He also found that while there's relatively easy access to oxygen within 25 km of a source, and that oxygen can be made available within a day between 25-50 km, the supply chain starts to break and takes roughly up to 72 hours. Beyond 100 km, the supply is negligible. "In rural parts, there was zero supply chain, mainly because of logistics," says John.
Even in cities, one has to wait for ambulances to reach patients since they're the closest source of oxygen. By the time these arrive, 50 per cent of the golden hour is lost. "A shocking statistic in John's research was that in India, there are a little over 35,000 ambulances in the entire country. And not all have oxygen," says Sanjay.
Two sources of oxygen currently exist, say the cofounders — cylinders and concentrators.
Cylinders need specialised storage and transportation, as well as trained manpower to operate. One also needs special permission from the government to store cylinders. Because of their bulk, deliveries take time which makes it a rather localised solution.
The primary problems with concentrators are that they require a power source to be plugged into and are expensive to maintain. Since they take oxygen from the environment and purify it — anything above 95 per cent is considered medical grade in India — and there's only 21.5 per cent oxygen in the atmosphere, converting it to 100 per cent pure oxygen takes time. They also can't be transported to the scene of an emergency.
So the duo had identified their problem — a lack of access to oxygen.
The innovation
Their solution was to build a device that would complement cylinders and concentrators rather than replace them, making oxygen readily available at public places. "The idea was that we should be able to make it portable, and ensure there's no requirement of trained manpower or specialised storage conditions, as well as no transportation protocol," says Sanjay.
The duo quickly learnt that developing a medical grade product from the ground up in India is not easy. A big challenge was identifying the correct vendors, from design to engineering, that one could trust and partner with safely.
Another challenge was during the design phase. "It had to run without electricity, so it can be functional anywhere from the mountains to the sea," says John. Next was logistics — if they had compressed oxygen, there would be a host of norms to follow when transporting it. "So we had to make the product in such a way that we could ship it like a Coke bottle, which is available in every corner of the country."
With the help of a design firm in Bengaluru, they conceptualised one where instead of compressed gas, they had all the components ready in an isolated manner, and oxygen would only be produced when the chemicals were triggered.
John recalls the moment they had figured out a design that addressed the logistics, the electricity problem, and the portability issues. "It was an amazing moment. We immediately had to build a prototype and see," he recalls with a smile. Today, their product can be shipped by regular courier services all over the country, including Delhi, Tamil Nadu, Kerala, and more.
Besides introducing a whole new category, they also have the task of educating people about the importance of having accessible oxygen. Without oxygen, at about the five minute mark, neurons experience irreversible damage and the probability of death increases. "The critical thing for us is that this has to be understood by the population at large, that oxygen isn't for the heart, but for the brain," says Sanjay.
Portia allows oxygen to be administered in an easy to use format while the patient waits for an ambulance. They're filling the gap between the trauma and the arrival of an ambulance which will offer continuous and stable medical attention.
In their efforts to commercialise the product, they are guided by their mentor and former IAS Officer Madhavan Nambiar, who, besides helping with connections within the ecosystem, also offers help from a business standpoint. "Just because something is unique and required by the market does not mean it will sell. So he helps us bridge that gap," says Sanjay.
The doctor community has also been very supportive, validating the need for such a product. Chennai-based Dr Vijay Chakravarthy says, "In an emergency situation, if a patient doesn't get oxygen, their body tissues will slowly start dying. This will cause cardiac strain. Important organs like the heart, brain will also start dying."
He adds, "Currently we use oxygen concentrators that run on electricity. Without power, they cannot be used. And cylinders are difficult to transport. Since they have pressurised oxygen, they're also explosive, so there's a safety issue."
Dr Chakravarthy also thinks that at a cheaper price, their O2-Matic devices can be brought on for everyday use in hospitals. "Within the hospital, when transporting patients for MRI, CT scan, it will be handy because it is very small. But it's slightly costly, that's one of the disadvantages," he says. "But normal concentrators give about 94 to 95 per cent pure oxygen. The purity they claim is 99.7 per cent," he adds.
Starting sales in 2021, with devices that sell at Rs 34,720, they've sold "a few thousand units," says Sanjay. They also have deals with the Bangalore and Cochin airports to install Portia there. Given their vision of making oxygen readily available in all public spaces, they're now focused on more airports, educational institutions, hotels, and buildings. They also envision Portia helping out in rural areas, disaster relief efforts, and more public spaces.
Learn more about their work and products on their website.
Edited by Divya Sethu
We bring stories straight from the heart of India, to inspire millions and create a wave of impact. Our positive movement is growing bigger everyday, and we would love for you to join it.
Please contribute whatever you can, every little penny helps our team in bringing you more stories that support dreams and spread hope.
Tell Us More