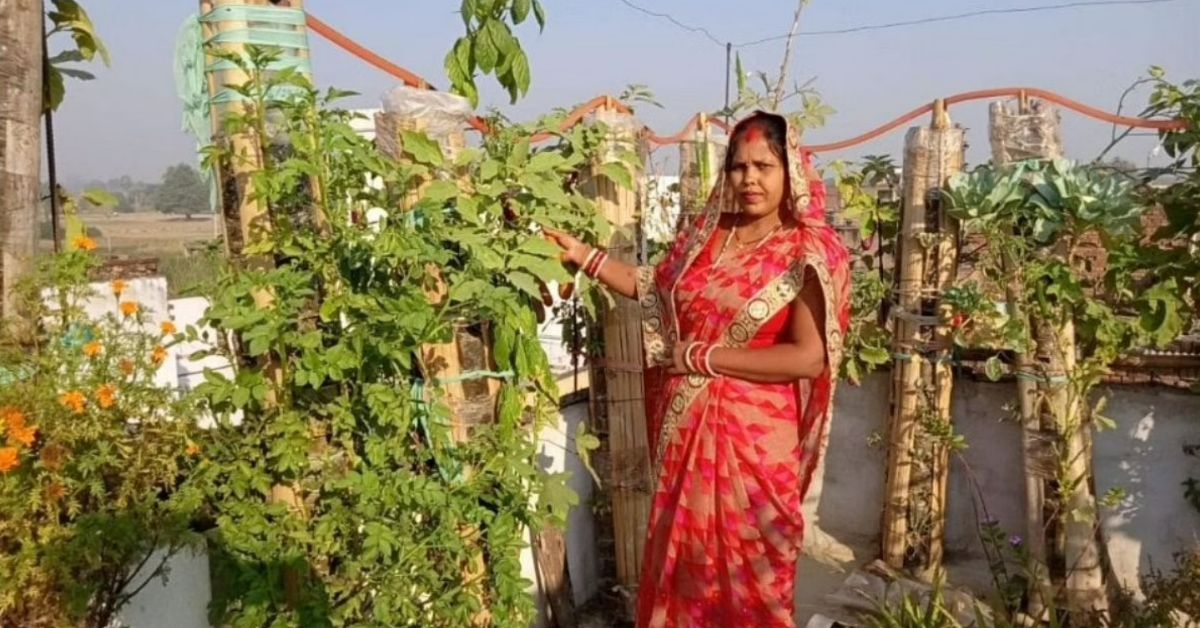 Sunita Prasad, a passionate gardener from Bihar, practices vertical gardening and grows organic vegetables in PVC pipes at home. Watch this video to see how she does it without burning a hole in her pocket.
Vertical gardening is often considered to be an expensive method of farming. But Sunita Prasad, a homemaker from Bihar, is proving this theory wrong. She used two 5-foot PVC pipes and bamboo to harvest up to 5 kg of vegetables and fruits every week.
It cost her less than Rs 1,000 to set up her garden, and just Rs 60 to install the bamboo pipes. She employed vermicomposting to make sure that the produce is organically grown. She grows brinjal, okra, cabbage, strawberry, and many other seasonal vegetables.
"One day while selling goods to a scrap dealer, I took note of a pipe on his bicycle and bought it instantly, in the hopes of creating something innovative out of it. But eventually, it was left laid on the roof with some soil. Many weeks later, I noticed leaves sprouting from it." This was how Sunita decided to start a vertical garden.
"What we eat daily contains chemicals. Vegetables grown from vertical organic farming will improve people's health and save money," says Sunita, who urges everyone to adopt this method.
The 45-year-old gardener says that any produce can be grown in the pipes, from leafy vegetables to tubers. She was awarded Kisan Abhinav Samman last year and also got a chance to be part of DD Kisan's Women Kisan Award show.
Watch how Sunita is growing clean food while tackling misconceptions:
Edited by Divya Sethu