Kolkata-based couple Stuti and Ankit Kothari launched WishCare, a natural skincare brand that champions products made with rice water, to provide affordable ways to nurture healthy skin and hair.
Toiling in the corporate field as a software developer and a digital marketer for years, Stuti and Ankit Kothari, a couple from Kolkata, had no time to take good care of their hair and skin. Working in different cities, the weather, water, and their food habits also contributed to the loss of skin and hair health.
Initially, they tried looking for products that could improve their hair and skin, while also following healthy food habits. But a deeper study into the ingredients of these products showed that most were made with chemical components that would adversely affect health in the long run.
So the couple started experimenting with many natural ingredients available at home, following some tips from their grandmothers. "All of us would have used some natural items like aloe vera, onion and rice water in our childhood, but eventually forget them due to lack of time and curiosity over packed products available in stores. We went ahead to study more about the proportions and concentration of such ingredients and develop homemade products which controlled skin and hair issues. Later, we shared our concoctions with family and friends," says Stuti, co-founder and community head of WishCare, which is bootstrapped.
After receiving great compliments from all of them, Stuti and Ankit felt determined to put together a personal care brand that sells natural products at an affordable price. And thus, WishCare was born in 2018.
"When we went to the market in search of products, we realised that it's hard to find all-natural health and hair. Even if they are available, they are expensive and unaffordable for the middle class. We were certain that once a brand is set up, it should be accessible to all people," she says.
The company was set up by launching many varieties of cold-pressed hair oils like castor, olive and almond. Today, they sell 14 such oils. Soon, the brand also launched serums, moisturisers, hair shampoos and conditioners.
With homely recipes
It was during the first COVID-19-induced lockdown that the couple read more about fermented rice water as an ingredient in personal care products. They discovered that the usage has its roots in Asia.
After eight months of research, they launched products based on rice water.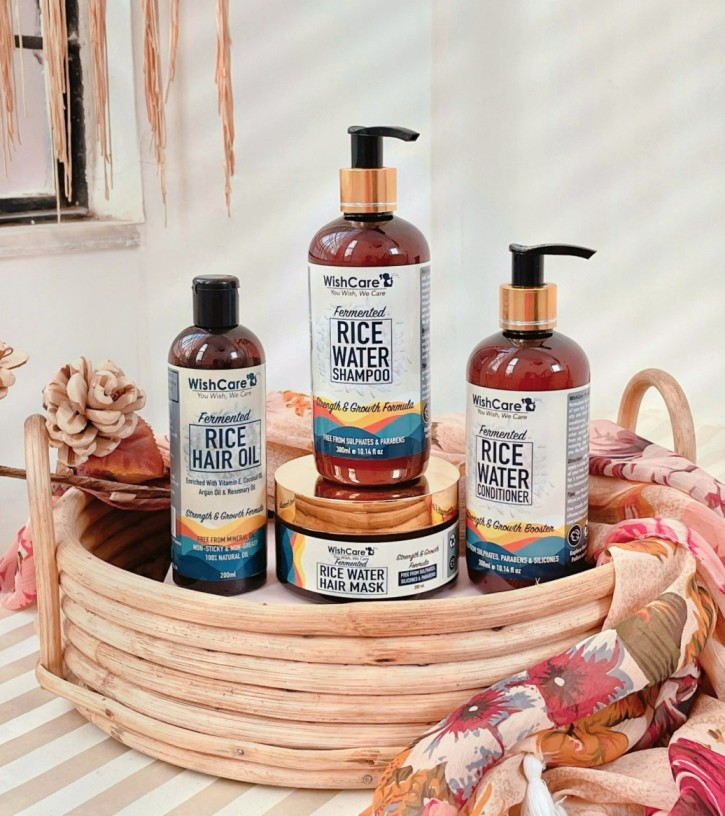 "We have heard from our grandmothers that fermented rice water is good for skin and hair. But we have no idea about how many days of fermenting were required or what the concentration must be. We cracked that after constant research under a team of experts and introduced hair oil, shampoo, conditioner and hair mask based on rice water," explains Stuti.
According to Medical News Today, women in China, Japan, and Southeast Asia have used rice water as a hair treatment for centuries. Yao women, who live in a village called Huangluo in China, are famed for having six feet-long hair. This is said to be because they bathe in rice water. It makes the hair smooth and shiny and helps it grow faster. Rice water contains amino acids, vitamin B, vitamins E, minerals and antioxidants.
For WishCare, rice water-based products are their top-selling goods. "All of our items fall between the price range of Rs 400 and Rs 500. Other than rice water products, our cold-pressed oils and Vitamin C serum are other top-rated products," says Ankit, co-founder of the brand.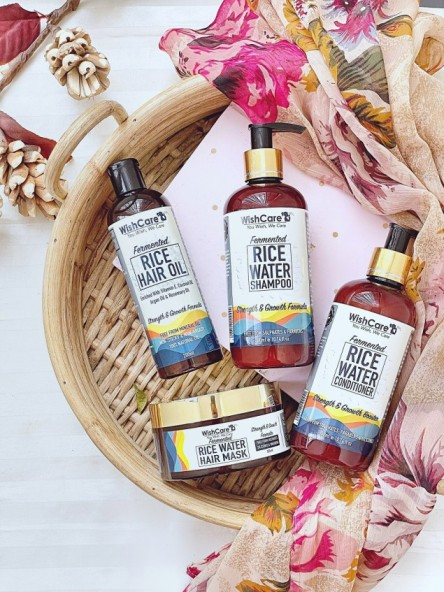 Harsh Dugar, who works in a CA firm in Bengaluru, says, "I have been using the rice water shampoo and hair mask for the past two years. They are fantastic and have considerably reduced my hair fall and helped in healthy hair growth. The affordable price range and use of natural ingredients are the highlights of the brand."
The founders say their success strategy has always been taking constant feedback from customers. "We haven't spent a lot of money on marketing from the very beginning. But we made sure that we heard from each and every customer. Also, prior to launching a new product, we send it over to influencers and regular customers who share honest suggestions, which are incorporated in the product later. Till date, our joyful moment in entrepreneurship has been the day we got our first order and its feedback. We are proud to say that no negative opinions have come up so far," gushes Ankit.
As newbies in the field, the major challenges the entrepreneurs faced were sourcing pure ingredients and educating people about its benefits. The raw materials are sourced from different states. Examples are coconut oil from Kerala, rose water from Uttar Pradesh, and aloe vera from Rajasthan.
"We tend to go behind expensive international brands without caring about what is used in the product's making. For example, most sunscreens available in the market today contain oxybenzone and octyl methoxycinnamate (OMC), two chemical ingredients that cause issues in reproductive health. They can penetrate deep into the skin and trigger allergic reactions, and hormonal imbalances and make the skin sensitive leading to acne and breakouts. Our invisible gel sunscreen is away from such toxic contents and works effectively. WishCare's mission is to educate people about such unknown facts and help them find natural, cruelty-free alternatives," explains Stuti.
According to the founders, who are engineering graduates, the brand sells an average of one lakh units per month and is in the peak period of their growth. The brand also shows environmental responsibility by using recycled plastic bottles to fill their products. They also lead an 'empties return programme' to collect bottles from their customers and reuse them for packaging.
View this post on Instagram
In addition to these, WishCare, which has a "100 per cent growth in sales every year", funds the education of underprivileged girls across India. To date, more than 100 children have benefited as a result of their collaboration with several non-profit organisations.
You can buy the products of WishCare from their website, Facebook or Instagram.
Sources:
"What does rice water do for your hair?", published by Medical News Today on 21 November 2018.
Edited by Divya Sethu