Akash Chaurasia from Madhya Pradesh has won over 20 national awards for pioneering the concept of multilayer farming. Here's how it has helped him and other farmers earn better.
Over the past few years, a new farming model has slowly been spreading to the country's small towns, giving farmers better yields and a more regular, weekly income.
Called multilayer farming, it allows for more crops to be grown on lesser land. Spearheading this movement is the pioneer Akash Chaurasia. With over 20 national awards to his name, the 32-year-old has given practical training to about 80,000 farmers and educated around 12 lakh others about multilayer farming.
Born to a family of beetle nut farmers in Sagar, a small town in Bundelkhand, Madhya Pradesh, he grew up nurturing the dream of becoming a doctor. "But I thought about how illnesses, doctors, and the number of hospitals are all increasing," he tells The Better India. "I realised that the root of all illnesses is what we eat and drink. And I decided to deal with the root of the problem through farming."
Discovering multi-layer farming
Once he committed to farming, Akash spoke to several farmers and started thinking about all the different problems they face today, from water and fertiliser-related issues to climate change and insect attacks to marketing and sales. So in 2014, as a solution to all of these problems, he came up with the idea of planting multiple crops on the same piece of land.
He started with two layers of crops, one underground and the other on the surface. His first crops were tomatoes and bitter gourd, and he experimented with other combinations as well.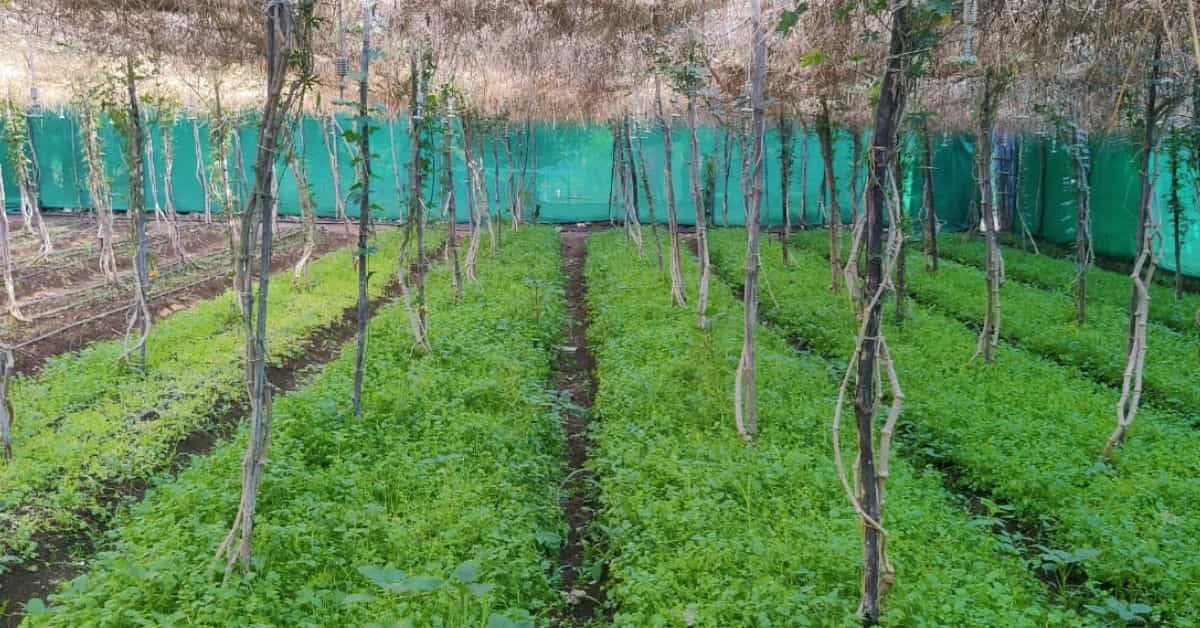 Akash soon ran into his first challenge – grass and weeds. "The seeds lead to a lot of grass, which weakens the crop. And removing them is costly." To combat this, he introduced leafy crops like the ones to be planted on the surface — spinach, coriander, fenugreek and others. By planting leafy crops, which grow fast, there's automatically lesser space for grass. "Within this model, the grass is about 80 per cent controlled."
His next challenge was a lack of space. "Earlier, I didn't have land myself so I knew its value, and how tough it can be." Besides, most farmers today only have marginal farms, meaning "a land holding of two to five acres". One generation later, as that land will get divided, each farmer will have even lesser. So he pushed himself to think of a way of growing more on lesser land.
The inspiration came from the city's multi-storey buildings. "I liked the idea that in less space they arrange for more people to stay." His multilayer model also relies on vertical space. At a height of 6.5 feet, he built a structure out of bamboo and put a jaali on top, so the structure was partly exposed to sunlight and partly shaded. On this he grew creepers, introducing a third crop to the space.
There's also a fourth crop, which includes seasonal fruit trees like mango, papaya, or sapota (chikoo), the tallest component of the multilayer farm.
The many benefits of multilayer farming
The several layers of crops prevent water from evaporating. "About 80 per cent of the water is saved, compared to an open field." He adds that while an open field uses 100 litres of water for one crop, a multilayer farm uses only 30 per cent of that water for four crops. "So each crop grows with about seven per cent water. And compared to an open field fair, about 93 litres of water is saved," he explains.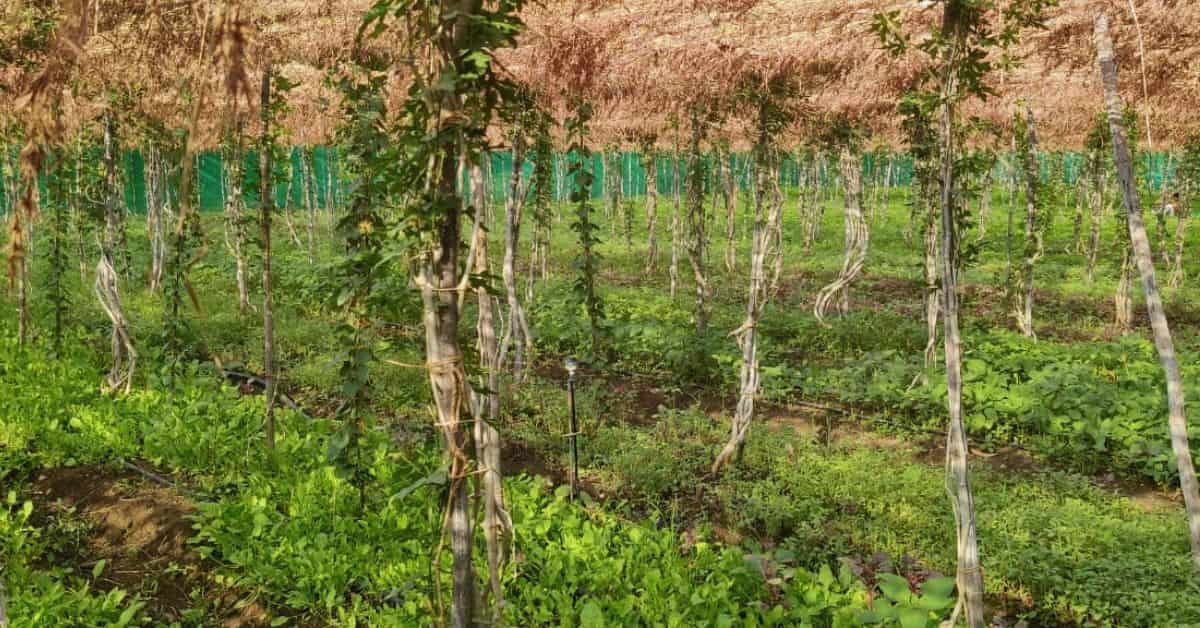 With the four varieties of crops, the farmer is also earning a parallel income from each. For instance, from March to July the leafy green vegetables, in this case, spinach, offer income to the farmer. From April to November, the creepers, like scarlet gourds, are fruiting. In August, the underground crop like ginger matures and makes itself available for selling. And from December to January, the papaya tree gives its fruits. "There isn't a single week in which our income isn't being generated," he adds, talking about how this model makes farmers more economically independent. Akash himself has an annual income of Rs 30 lakh, he shares.
This is also a more sustainable model since the bamboo or sticks the farmer uses are bio disposable, for which the farmer also doesn't have to go to the market or spend money. Compared to a polyhouse which uses carbon dioxide, can't be disposed of properly, and hurts the environment, the farmer, and offers society harmful food, this method is eco-friendly, more profitable for farmers, and offers up good, chemical-free food.
"Good food is everyone's right. So this work gives me hope and energises me. More farmers are doing this means chemical-free food reaches more plates. It feels good when people eat well," he says.
Besides educating people in person, Akash also has a YouTube channel through which he spreads awareness about his work. He has made literature readily available so anyone can practice multilayer farming. "From readying the bed to preparing medicine, all the way till cultivation, I make farmers do all the processes by hand and teach them," he says, adding that farmers don't have to go through the hassle of buying the model from some company of subsidy.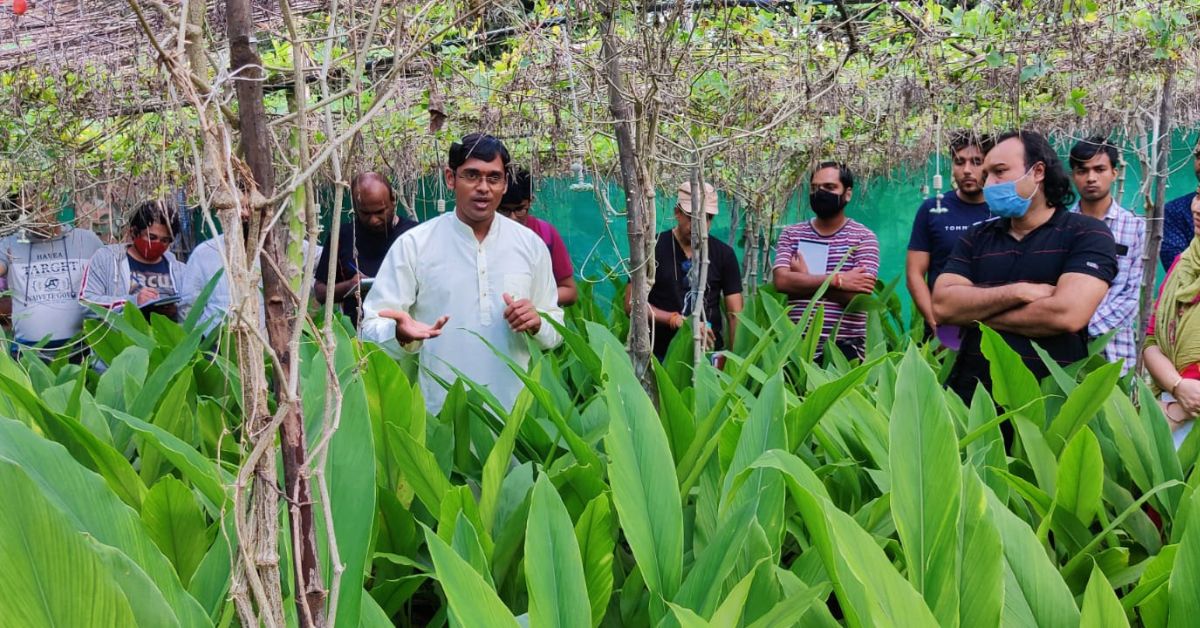 And the model is spreading far and wide. For instance, Sorav Patra, from the Nadiya district in Kalyani, Kolkata, has been practising multilayer farming for three months. "Before I could grow only one crop. Now, I can grow more crops at once. By keeping the height [of the structure] at 6.5 feet, I can even grow another crop inside. Even in three months, I am noticing a strong quality crop. Before I had to wait the whole year for the yield. Now it's already happening," he says.
Akash hopes that as awareness spreads, more people adopt this model. "Normal farming is easy. Take tractors and sow seeds. In multilayer farming, planning the structure requires a lot of engineering."
And while he continues spreading the word, he's also working on other innovations, in the fields of water, biodiversity, food processing, and more, thinking about the complete agricultural process and how it can be developed.
Edited by Yoshita Rao
We bring stories straight from the heart of India, to inspire millions and create a wave of impact. Our positive movement is growing bigger everyday, and we would love for you to join it.
Please contribute whatever you can, every little penny helps our team in bringing you more stories that support dreams and spread hope.