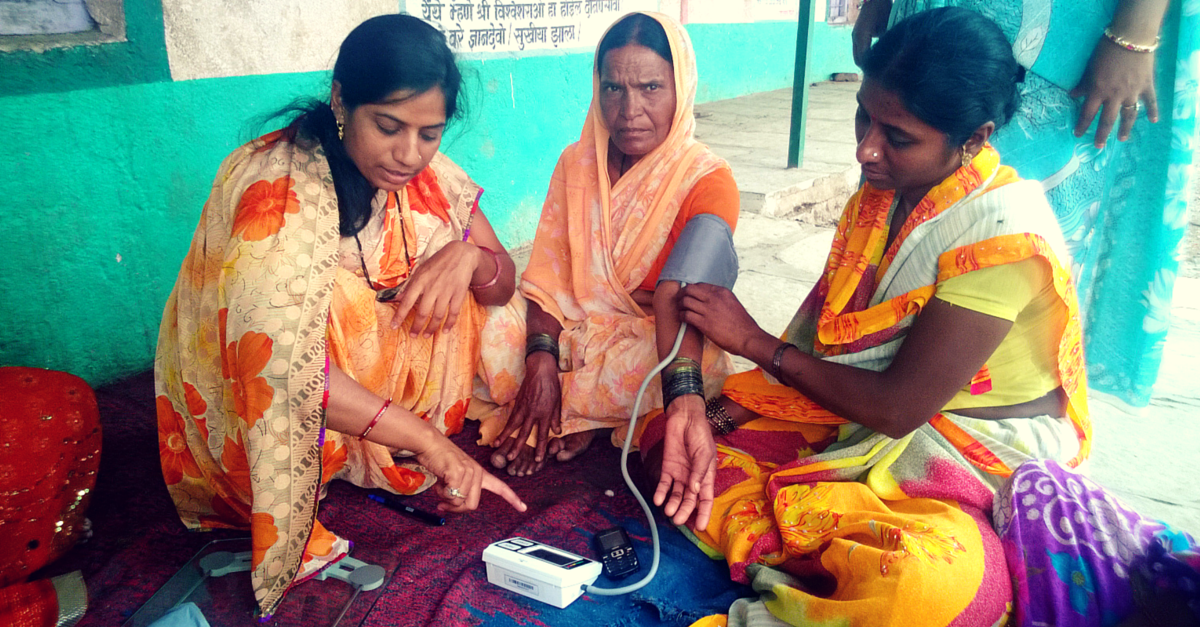 Sakhis are women equipped with health devices such as blood pressure machines, glucometers, etc., along with mobile tablets, who visit rural women door-to-door to conduct basic medical tests and surveys in villages.
---
This article on using mobile technology for social good is part of the
#Mobile4Good
series & is made possible by Vodafone India.
---
Arogya Sakhis are women equipped with health devices such as blood pressure machines, glucometers, etc., along with a mobile tablet, who visit rural women door-to-door to conduct basic medical tests and surveys in Maharashtra villages.
Women often tend to ignore their own health and even their families don't pay much attention to their medical needs. This happens more so in rural areas where awareness about women's health issues is low and the number of doctors dedicated to women's health is even lower.
Into this space has stepped in Swayam Shikshan Prayog (SSP), a learning and development organization that enables community-led sustainable development by empowering grassroots women to take on new public roles as entrepreneurs, leaders and changemakers.
SSP's project Arogya Sakhi is introducing community women to function as community health friends (sakhis) for other women in rural Maharashtra. These women go from door to door, equipped to create health awareness, collect health information, and also conduct some basic medical tests for rural women.
The sakhis charge a nominal fee of Rs. 150 from each beneficiary, which includes cost of generation of report, printing charges, doctor's fee, conducting tests, and even delivering the reports at door steps. After accounting for all costs, a sakhi is usually able to earn Rs. 50 to Rs. 70 per beneficiary.
Using technology to improve the rural health scenario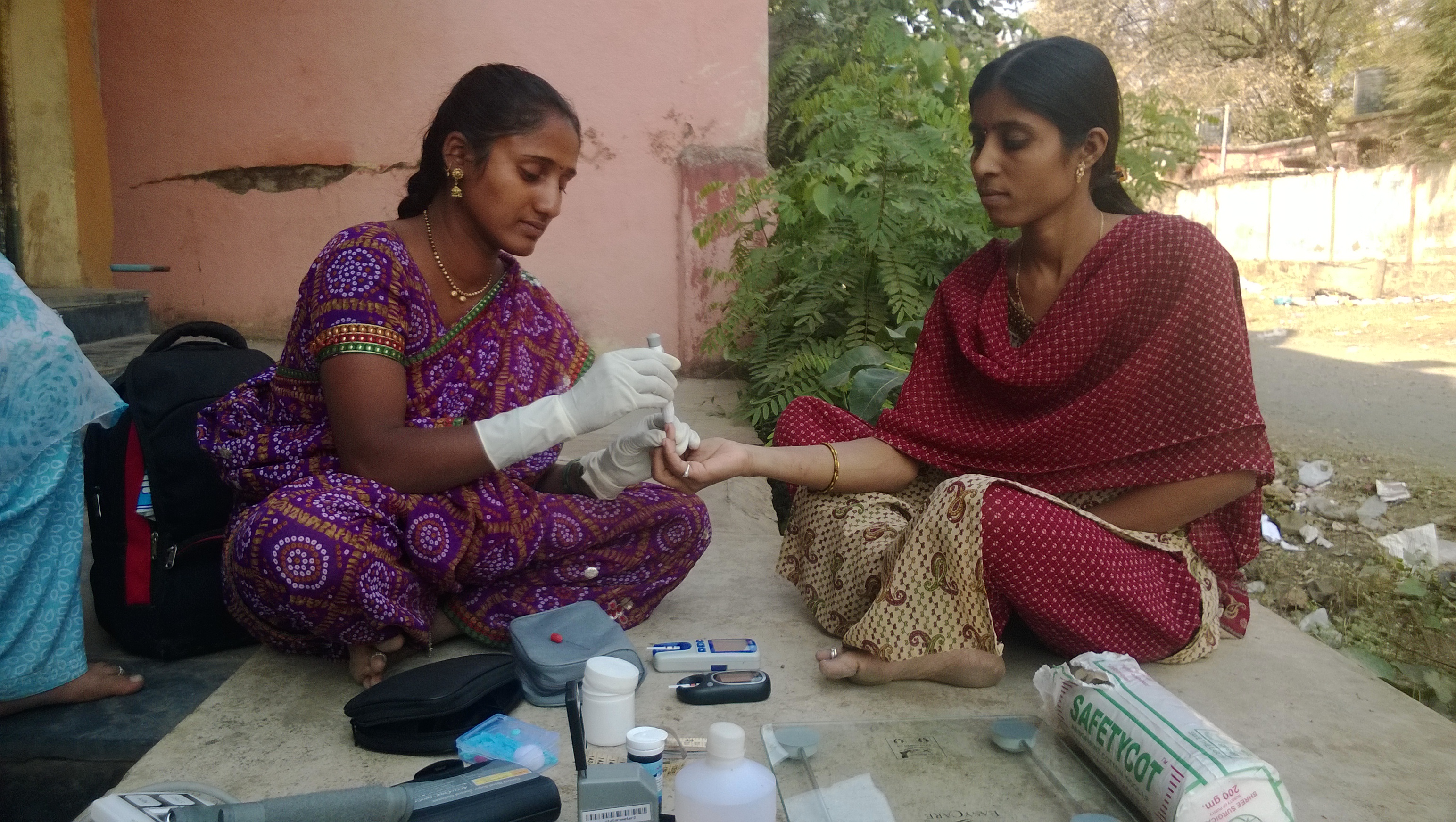 "A baseline survey was conducted to understand prevalent and rising illnesses, availability and access to health services/facilities, and more. The survey showed that 80 percent of women and girls were anaemic, there were several cases of hypertension and diabetes (high blood sugar was seen mostly in the middle-aged community members). Frequent health emergencies affected the economic condition of many families very severely," says the SSP team.
The purpose of the Arogya Sakhi initiative is to mobilize rural communities and create awareness around maternal care, preventive health, and hygiene and sanitation practices.
The initiative had started in 2005 but soon, with advancements in technology, increased awareness and greater need, SSP decided to equip the Arogya Sakhis with a health diagnostic device and a tablet, which had a pre-installed Arogya Sakhi mobile app in 2013.
With the launch of this technology, the initiative shifted online and a server was established to track the progress of the sakhis.
How does the program work?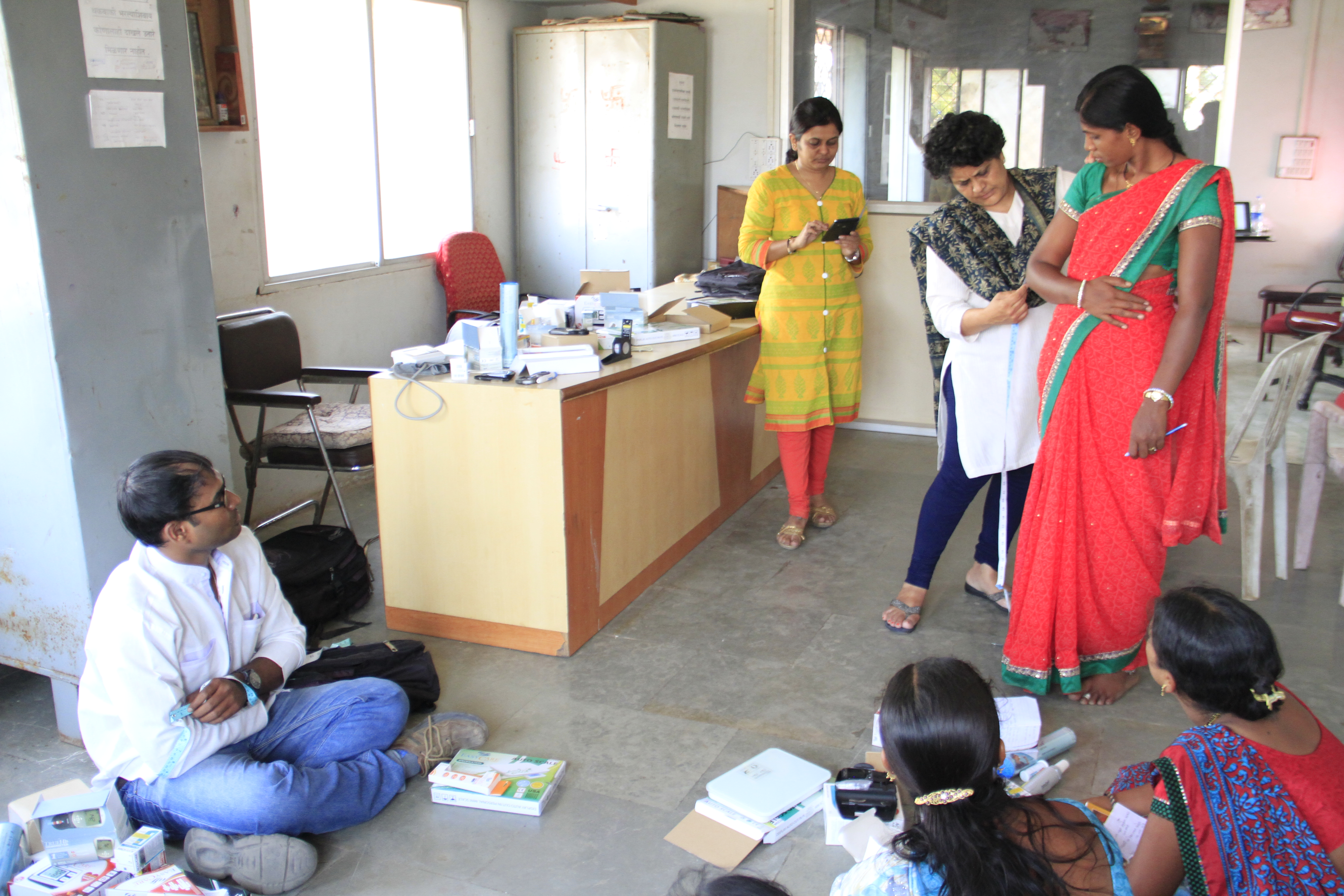 Sakhis, who are equipped with health devices such as blood pressure machines, glucometers, etc., along with a mobile tablet, visit rural women door to door and conduct basic medical tests and surveys in the villages.
They gather the necessary information and upload it on the cloud server using the tablet. The information collected includes a personal medical profile, history of medical conditions, test results, health background, etc.
Once the information is collected and saved on the server, it can be accessed by a doctor located hundreds of miles away from the beneficiaries.
The physician (currently in Pune), reviews the data of each beneficiary that has been uploaded on the server by the sakhis. With the help of experts, he then provides feedback and generates a medical report within two days, which is forwarded to the sakhis.
When the sakhis deliver these reports to the beneficiaries, they also provide them with a basic understanding of the report and convey the necessary care and precautions that need to be taken based on the report. Those beneficiaries who are detected to be at high risk for any diseases are referred to the local hospital network of SSP.
The app was designed and launched by SSP with the help of Sofomo Embedded Solutions Pvt. Ltd, who provided the technical support.
The impact
"This project has helped the Arogya Sakhis provide affordable fee-based preventive health services at the doorstep of underserved rural households – covering a larger population in less time. Also, with the counselling and referral services, sakhis are helping bridge the gap between doctor and beneficiaries by connecting the identified at-risk beneficiaries with local health service providers in SSP's network," says the team.
Having started in 2013 with just two Arogya Sakhi programs in Osmanabad, Maharashtra, this technological initiative has come a long way. It is currently spread over three districts of the state, across 53 villages, and 20 Arogya Sakhis have been trained to benefit over 1,800 women so far.
The Arogya Sakhi team has also reached out to a population of over 15,000 through various awareness campaigns on preventive health care, maternal care, sanitation, nutrition, and hygiene practices.
"Our work just does not end at collecting the necessary data. Apart from conducting door-to-door visits, we also organize community meetings, SHG group meetings, adolescent girls meetings, village health check-up camps, and health talks inviting health experts from government health department and private hospitals," says the SSP team.
The team's efforts have significantly helped reduce anaemia among rural women, claims SSP. Apart from other positive health outcomes, the timely identification of diseases has also reduced health costs for families. And since Arogya Sakhis have a good knowledge about the medical field, they often help local women by connecting them to local health service providers offering discounted services.
Going beyond better health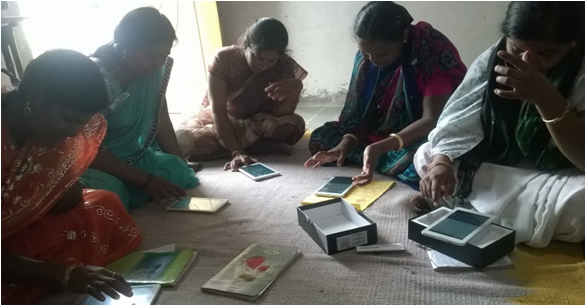 The Arogya Shakti initiative has not just helped local women improve their health but has also empowered many women. The 20 women trained as Arogya Sakhis have found new respect in their families and the community and are earning good incomes now.
"Ordinary women now have become extraordinary women by delivering affordable, innovative, last-mile solutions with the use of advanced technology," says the team.
The SSP team plans to scale up the Arogya Sakhi initiative soon. Sakhis will be incentivized to provide health and nutrition products together with health awareness and counselling. Also, a Health & Nutrition Hub (HNH) will be established and sustained by leveraging corporate sponsors and hospital resources.
"Now, communities are more aware of the importance of health. The SSP team focuses on village level awareness activities and encourages the community members to actively participate. The Gram Panchayat members, SHG leaders and other community resource persons support in mobilizing the communities for participation in the group meetings, health check-up camps, etc.," adds the team.
In the next two years, SSP aims to empower 100 Arogya Sakhis to provide awareness and health services to over 300,000 community members across 300 rural villages.
To know more about their work, check out their website.
---
Vodafone Mobile for Good Awards applications are open till July 31, 2015. Visit their website to know more.
---