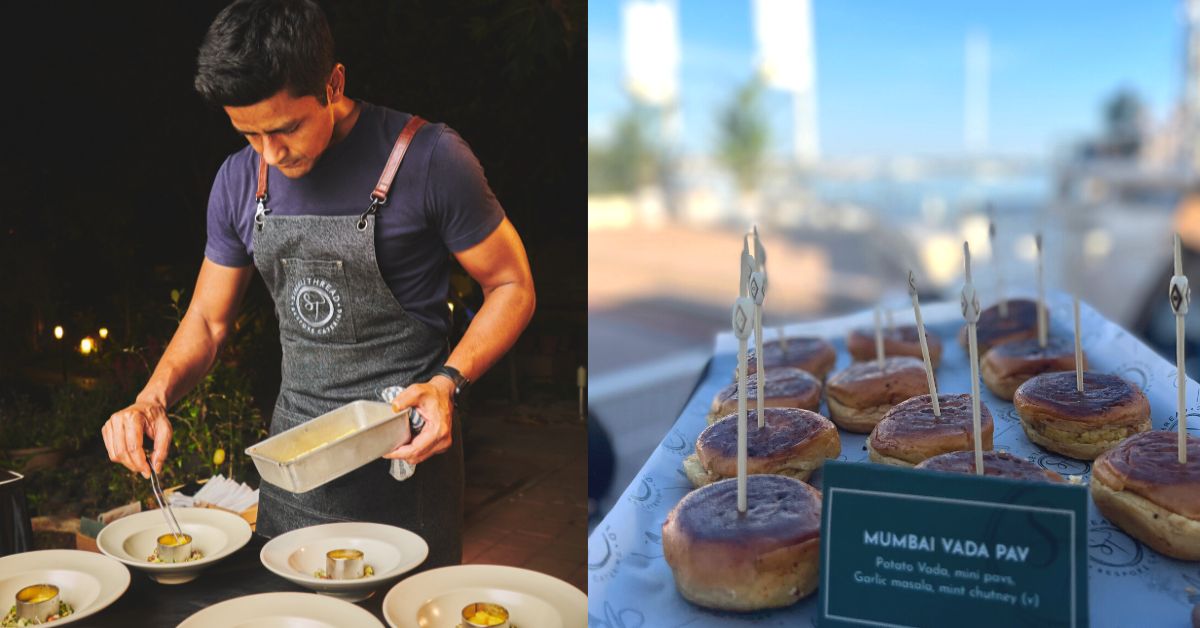 An exclusive with Chef Manu Chandra from Delhi, who headed the catering of the Inaugural Dinner at Cannes.
"Haath mein hai," chef Manu Chandra's grandmother would often tell him while he was growing up, referring to how he had been born with the ability to cook well.
At the time, the young Delhi boy — who would grow up to be one of India's most renowned chefs in the years to come — would dismiss his grandmother's words as an old wive's tale. However, the more time he spent in kitchens, the more he realised there was indeed some truth to it.
"I came to believe in how some people could just put two and two together and create magic," Manu tells The Better India over a call.
So from a young boy who would whip up great dishes, he went on to study at the Culinary Institute of America, New York in 2001, and returned to India in 2004 with one thought in mind — "I wanted to bring back something new and create a difference in the culinary scene."
So when he received an invitation to curate the Inaugural Dinner at the 75th edition of Festival de Cannes 2022, he was elated.
In this exclusive, he talks about what cooking really means to him, the fun and chaos of putting together a menu for the who's who of the world, and why his grandmother's words have been a source of motivation.
The show must go on
What goes into being a chef at the Cannes Film Festival?
"A lot," says Manu.
"When I received the invitation to head the catering for the dinner on 17 May 2022, it was both an honour as well as intimidating," he says, adding that he was never one to be daunted by adversity and decided to take this challenge head-on.
But, while he was prepared for the hard work that lay ahead, he hadn't expected to be doing it alone.
"My team's visas were delayed," he recalls.
So on landing in France three days ahead of the dinner, he started thinking on his feet, even going back to the basics when required. To curate a dinner for some of the most famous people in the world is no easy task. But time wasn't on his side and Manu decided he had to begin somewhere. Sifting through local ingredients seemed like a good start.
"Very meticulously, I began doing everything, right from sieving to cleaning, breaking things down, labelling, and sometimes even working 15 hours a day," he recounts, adding that these instances reminded him of his early days of cooking — that even after all this time, he was still the most efficient guy in his kitchen.
All the while, Manu made adjustments where needed, doubled his speed at other times, and tried to not freak out about being the only person in an unknown kitchen, who had to serve the likes of Indian Ambassador to France Shri Jawed Ashraf, actor Nawazuddin Siddiqui, music maestro A R Rahman, director Shekhar Kapur, writer Prasoon Joshi, actor Pooja Hegde, among a host of others.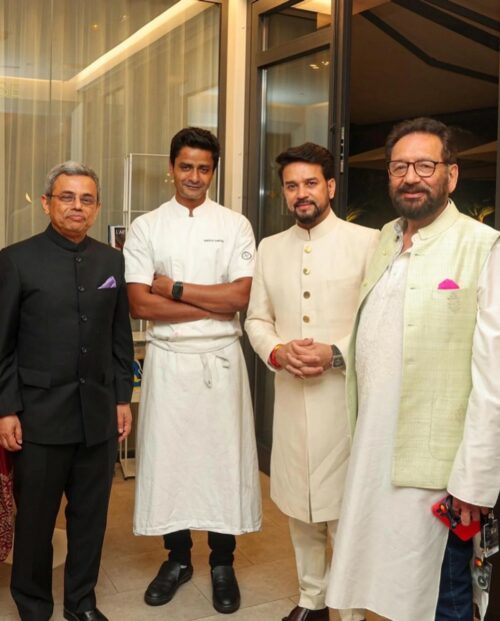 A funny story that he tells me during our conversation is how the other chefs in the Cannes kitchen were under the impression that he would cook big batches of curry. They soon realised it was the contrary. He was very meticulous and precise, and his portions were delicate.
'The menu represented a desert that had a vibrancy to it.'
In the course of speaking about the dinner at Cannes, Manu digresses a little, reminiscing about his childhood.
Through his growing years, he would see a collision of cultures, because his grandparents were from Tamil Nadu and Lucknow. "Food was a pivotal part of our joint family," he vividly recalls, saying that the cooking, discussions around the food, arguments around it, and the way it was celebrated were integral to the household.
These in turn became the grounding experiences and food became a love language for Manu.
So years later, when it came to deciding a menu for the Cannes dinner, he knew it had to be reminiscent of his homeland. He wanted to take India to the world.
"Through the menu, I wanted to tell the story of the desert," he says, speaking of a juxtaposition that in his own words is 'beautiful'.
"Take Rajasthan for instance. Things do not grow here and there is almost nothing when you look around, barring mounds of sand. Now imagine, in this harsh arid region, where you can't see many signs of life, a man walks towards you. He is wearing a colourful bandhani headdress. It is a burst of colour."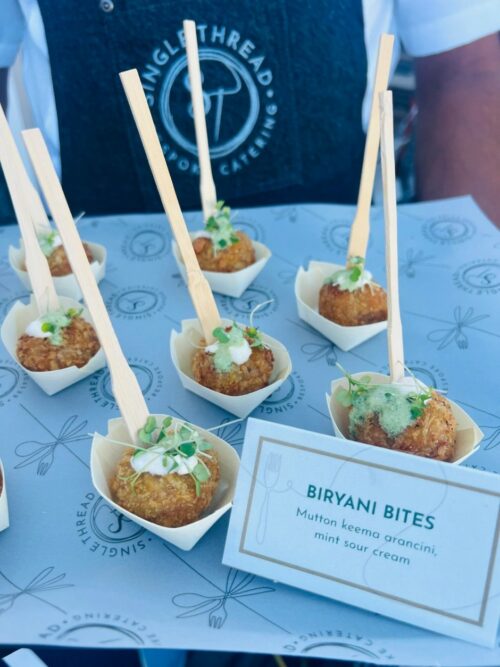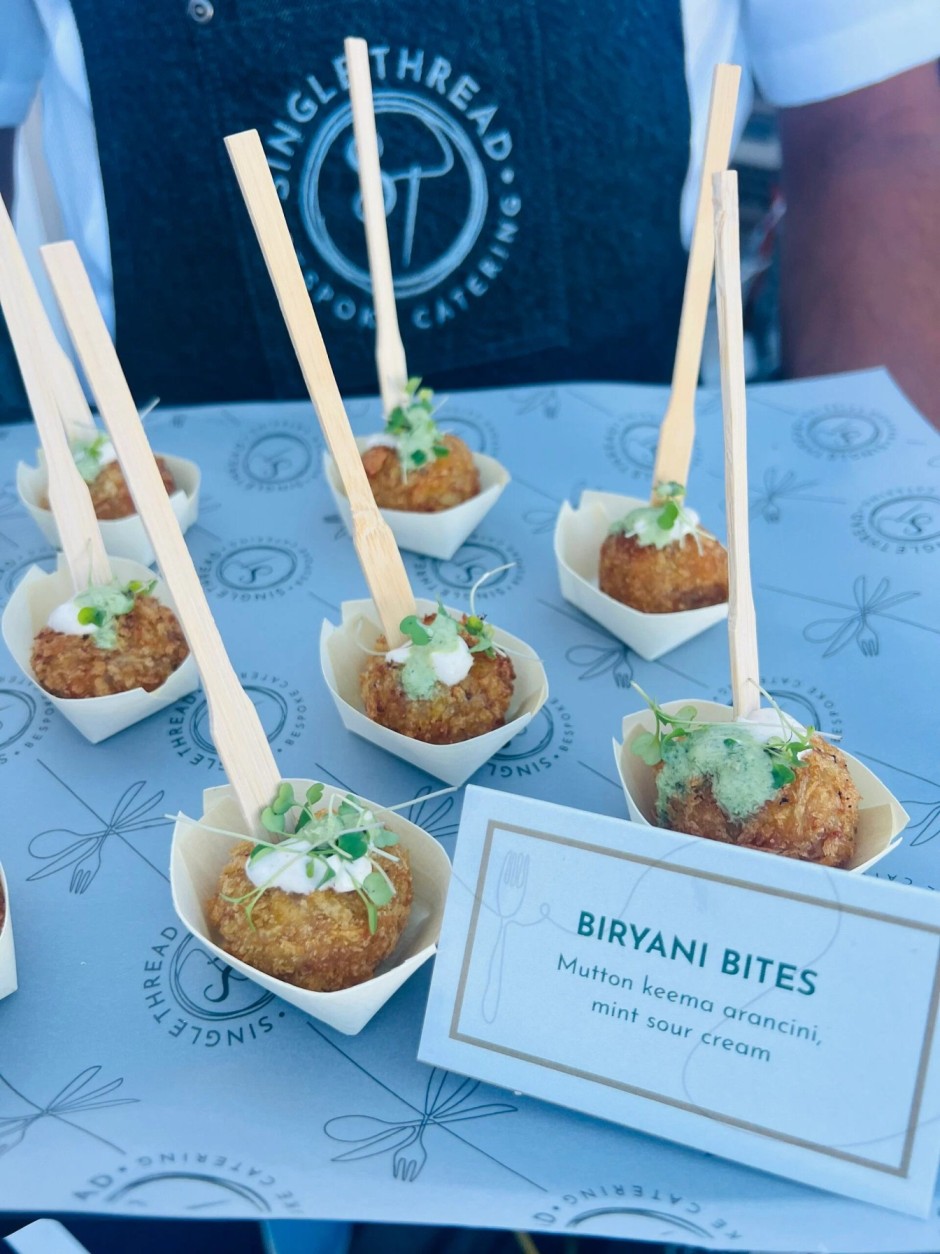 This was the emotion that Manu wanted to reflect through his dishes. "Even amongst nothing, there is a vibrancy, flavour and colour."
That night at the dinner, every guest, he says, recognised and celebrated this fact — the beauty of Indian food and how adaptable it is.
The spread included pyaaz ki kachori en croute with chutney and crème fraîche, pan seared saint pierre (on papad ki sabzi noodles, seasonal vegetables kadhi sauce) gatte and morel pulao (eslette pepper salan, cucumber and onion kachumber) and almond financier served with kalakand, fresh strawberries and saffron sauce.
However, the stand-out dish for us was the humble khichdi, served as a side with laal maas.
As a dish, khichdi is almost a staple on the dining table at every Indian home. Why, then, did chef Manu decide to let it have its space on an international menu?
"To me, the dish means comfort," he says.
He elaborates on the preparation, saying he used 'spelt', a kind of wheat, and mixed this with bajra and daal. "The result was a tasty dish. It was wholesome and reminded me of India."
However, Manu adds that while Indians love their khichdi, rice cooked with something comforting is in every culture — biryanis, pulaos, risottos, paella.
"People said I reminded them of home."
Along with the inaugural dinner, the chef also curated and catered food for the India Pavilion at Cannes. For this, he created special bite-sized canapes such as paniyaram madeleines, accompanied by podi and coconut chutney, vada pav in brioche buns, french duck confit galoutis served on little blinis, mutton biryani arancini balls served with burani raita, and champaran style raw jackfruit samosa with chutneys.
"The idea was to infuse locally sourced ingredients to create an array of bite-sized canapes that reflected the spirit of both India as well as France," he says.
Of trials and errors
In the course of the conversation, Manu casually asks me if I've ever eaten asparagus ka aachar. Puzzled with this strange question and combination, I say no.
"Well, I haven't either," he quips. "But I made it for the dinner."
And so we begin talking about how, in order to curate this feast, he would sometimes take an international ingredient to make a traditional recipe. The results, he says, surprised even him.
"If you are always looking for one specific masala and believe that your dish will be incomplete without it, you will never come up with something fun," he says, adding that Indians are maestros at taking traditional dishes from other countries and putting their own spin to it (he cites the example of penne pasta with haldi).
So why not do the same when it comes to Indian dishes?
"It is a recognition that Indian food can be global in so many ways. And what is more amazing is that people are willing to embrace desi flavour."
This brings the chef to speak of his philosophy when it comes to cooking. With so much appropriation in the culinary world, and scope for new ideas, he says it is important to strike a balance. He also believes in the power of a simple cooked meal. "In so much noise, we've forgotten good quality hospitality and food."
As for what lies ahead, Manu, who is also the brand ambassador for Rajasthan's Godawan Single Malt, has recently started his venture 'Single Thread Catering' in May this year, along with his long-time business associate and veteran hospitality professional Chetan Rampal. This, after 17 years as chef partner at the Olive Group of Restaurants.
Speaking of the road ahead, he says he wants to leave a legacy behind. "We are not immortalised unless our work speaks for itself."
Before we let him go, we ask chef Manu what drives him even after all these years of being in the culinary industry.
He says, in the background of every choice he makes, it is his mother's last words to him that echo loud.
"Whatever you do, make sure you are happy."
Edited by Divya Sethu
Tell Us More
We bring stories straight from the heart of India, to inspire millions and create a wave of impact. Our positive movement is growing bigger everyday, and we would love for you to join it.
Please contribute whatever you can, every little penny helps our team in bringing you more stories that support dreams and spread hope.