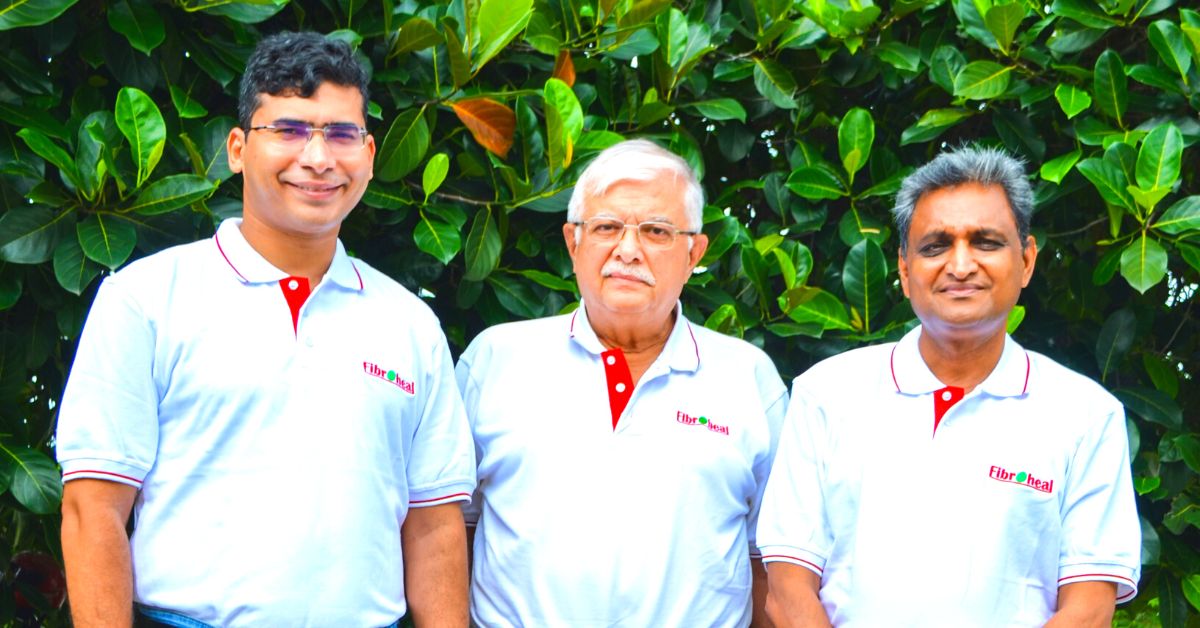 Fibroheal Wound Care, a Bengaluru-based startup founded by Vivek Mishra, Bharat Tandon and Subramanian S, makes silk protein-derived bandages that help heal wounds, amputations and treat burn victims.
Silk is one of the oldest fibres known to humankind, but what if there was an application for it that healed wounds, amputations and helped treat burn victims? Fibroheal Woundcare, a Bengaluru-based venture, has specially developed silk protein-derived bandages.
"Incorporated on 6 April 2017, we are the first company from India, and among a few in the whole world, to have leveraged and commercialised the non-textile biomaterial application of silk for healing wounds. This application is sustainable and has an economic multiplier potential for silk-growing farmers. For patients, this material is affordable, accessible and although unique, reduces the time it takes to treat wounds and offers improved quality of healing," says Vivek Mishra, CEO and founder of Fibroheal, in a conversation with The Better India.
From a small village in Deoria district, Uttar Pradesh, Vivek has a bachelor's degree in pharmaceutical sciences and an MBA as well. With vast experience in the medical device industry and taking products from a conceptual stage to the market, besides identifying gaps in the market and addressing them, he always sought to do something which could impact lives. The purpose was to solve a genuine problem of acute and chronic non-healing wounds and address that gap in wound care management.
Alongside co-promoters Bharat Tandon, who has previous experience in establishing a company in the animal health space, and Subramanian S, a co-founder of a large suture manufacturing company formerly known as Sutures India Pvt Ltd, Vivek built Fibroheal over five years.
"Large amounts of silk are wasted in the value chain from reeling to weaving in the textile sector, which can be better utilised to develop products for biomedical use. Our expertise lies in the non-textile application of silk, utilising the by-products of silk production to develop innovatively and offer cost-effective wound care products. We are also creating employment for many, enhancing farmers' income and improving the economics of silk production in India," he adds.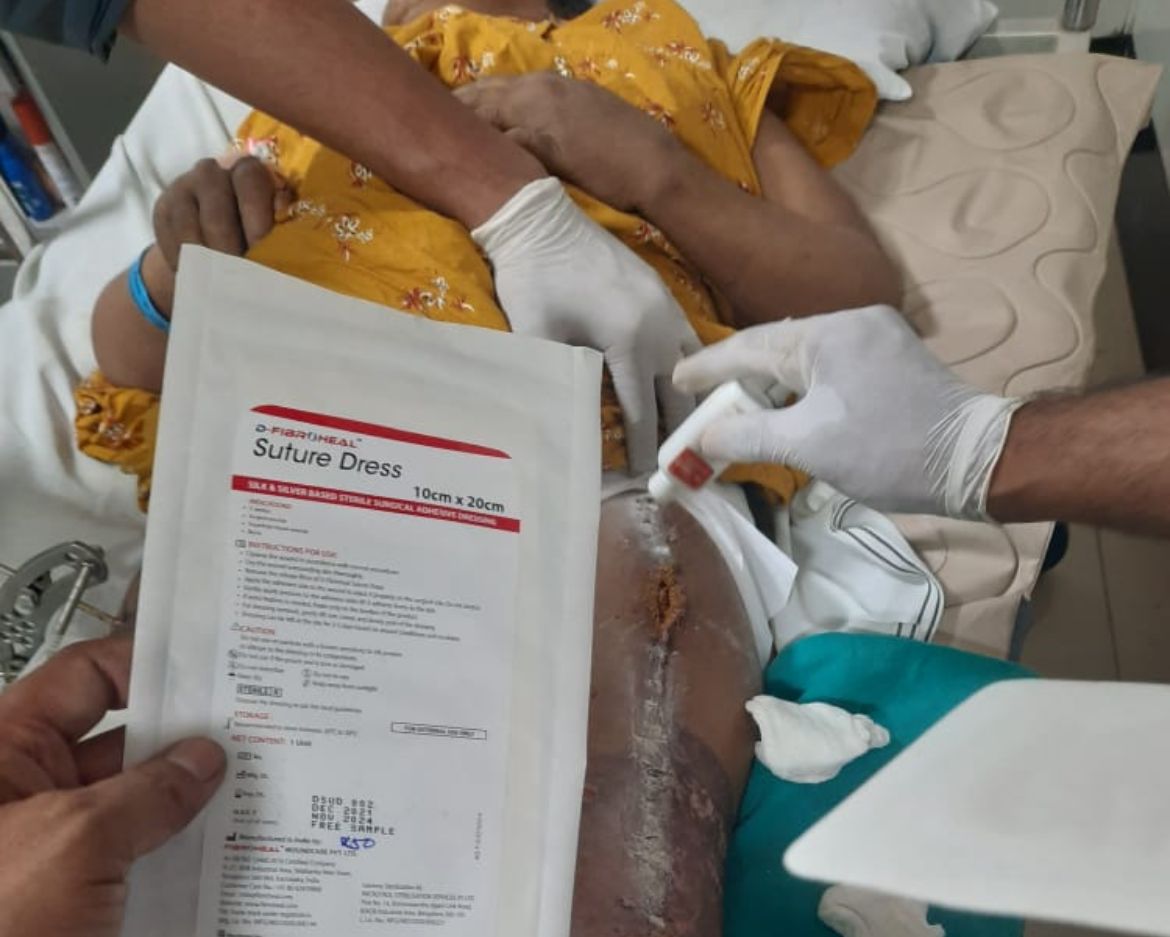 Heals wounds faster
"Silk is a natural green biopolymer and a versatile biomaterial with properties which helps in faster wound healing. This was something that the Department of Trauma Surgery at the All India Institute of Medical Sciences (AIIMS), New Delhi, found back in 2016 during a clinical trial. Conducted by Dr Sushma Sagar, they found that dressing removal was less painful for the silk protein dressing and healing went faster often within seven to nine days. Meanwhile, what the study also found is that traditional bandaging using cotton or paraffin gauze needed 18 to 21 days to heal," he explains.
"Usually, a patient gets healed in 8-10 days depending upon the wound type. A donor site takes about 18-21 days to heal with traditional wound dressing while it takes about only 8-10 days to heal with our 'D Fibroheal' dressing. Also, ease of application and removal without damaging the newly developed cell is what allows Fibroheal to stand out," adds Vivek.
Dr Pauline Babu, a surgeon and retired officer of the Indian Air Force, says, "The adhesive properties of the dressing are very good and the dressings stay in place. The postoperative pain is also noticed to be comparatively less as compared to conventional dressings."
Speaking to Deccan Herald, Dr KT Ramesha, who heads the skin bank at Victoria Hospital, Bengaluru, emphasised these points better and said that silk bandages are being used alongside other advanced healing aids. "But there is also substantial pain mitigation with these bandages as these are moist applications and can easily be removed," he said.
At present, Firboheal is also working with the Indian Institute of Sciences (IISc) to develop larger biomedical bandages to heal massive injuries such as bullet wounds, body lacerations etc.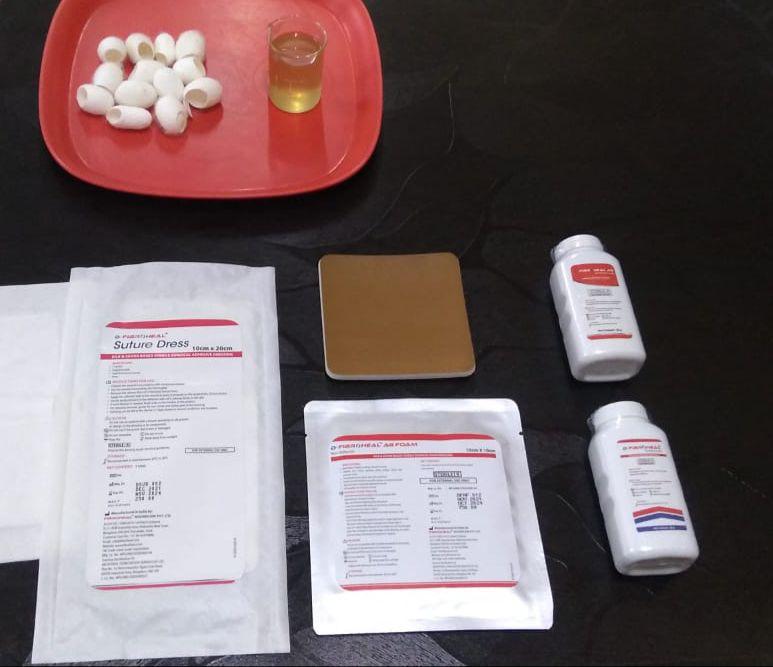 From broken cocoons
Fibroheal bandages are notable for using broken cocoons left behind by the fully grown moth or butterfly. The textile industry, meanwhile, has no use for these broken cocoons.
The venture isolates two proteins—fibroin and sericin— "to develop a biomedical bandage". Fibroin is the primary ingredient. Sericin is the "adhesive element" that binds the fibroin strands.
"Generally, silk textile originates from reared silkworm pupa. The cocoon inside which the pupa resides is dipped in boiling or saline water, following which it unravels as one continuous thread. This thread is eventually used in textiles. The pupa, which dies after getting boiled in hot water, is left behind and used as feed in the poultry industry for chicken broilers. In our case, we allow the pupa to evolve into a butterfly. The cocoon, which is left completely intact with pupa remaining inside, eventually breaks and what comes out is a butterfly or a moth," he explains.
What is left behind is an empty shell or broken cocoon. Fibroheal's foundational material is that empty shell or broken cocoon that becomes unfit for reeling because it needs a monofilament or single thread. Not many farmers allow the pupa to evolve into a moth.
"They generally sell their crop before the pupa breaks. For our medical uses, we need broken cocoons or pierced cocoons when the pupa has exited naturally. To ensure that we get the broken cocoon we have to pay a premium and that's why the price is on the higher side. On average, we pay silk farmers approximately Rs 1,500 per kg for broken cocoons and the prices have gone up. It's always much higher than the normal cocoon rates," he adds.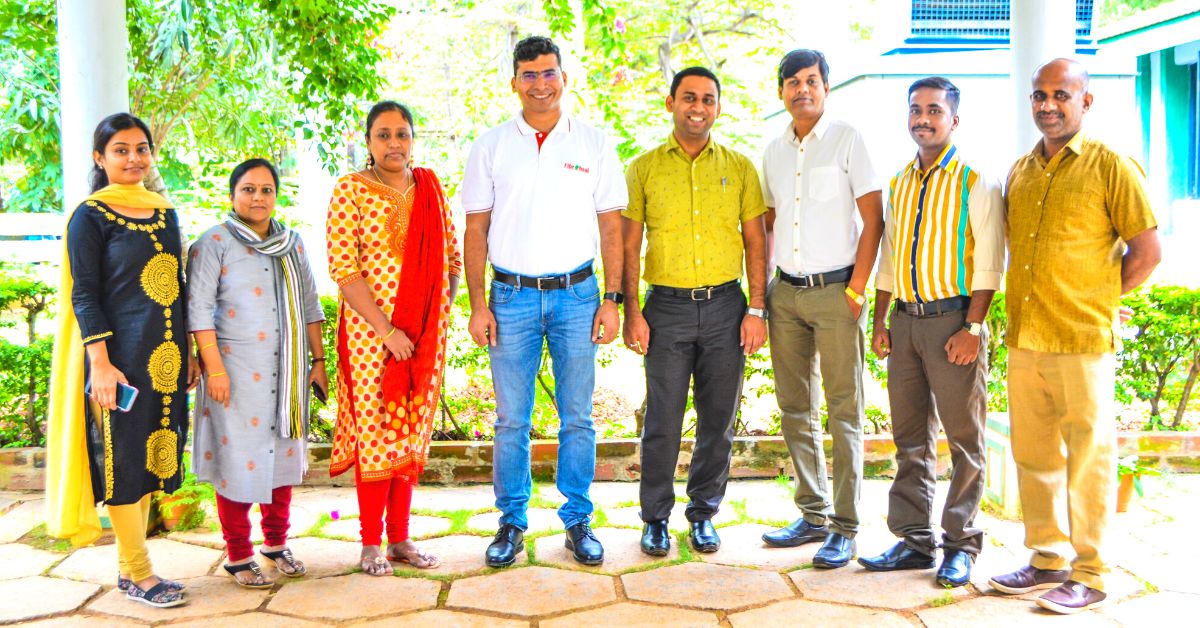 Sourcing that silk
India is the second-largest producer of silk in the world with 33,000 metric tonnes annually, following China. In India, according to Statista, Karnataka stands as the leading raw silk producer, with over 8,483 metric tons of raw silk [Bombyx Mori] produced in the fiscal year 2021.
Based out of Bengaluru, Fibroheal has direct access to good quality silk. With partnerships spread across farmers, silk cocoon markets and the Central Silk Board, among other players, the venture predominantly sources its raw material from Ramanagara and Kolar districts.
"We source Bombyx Mori Silk on a monthly and quarterly basis, depending on our requirements. Sourcing from these silk-rich districts is easier due to proximity and decent logistics. However, the volumes are still not that high and silk cocoons are about 95 per cent protein between sericin and fibroin. Once this gains momentum, the consumption of silk proteins in textile, biomaterials and other applications will go up significantly," claims Bharat Tandon.
So far, more than 150 hospitals across India that procure and use Fibroheal bandages to treat different types of acute, chronic and post-operative wounds, according to Vivek. These include AIIMS-Delhi, Dr Ram Manohar Lohia Hospital, Delhi, Jawaharlal Institute of Postgraduate Medical Education & Research (JIPMER) in Puducherry, amongst others.
The objective moving forward is to expand its manufacturing capabilities further. So far, it has received funding from Telama Investments Pvt. Ltd, C-Camp (Centre for Cellular And Molecular Platforms) in Bengaluru, Biotechnology Industry Research Assistance Council (BIRAC) and Karnataka Information Technology Venture Capital Fund (KITVEN Fund). "We aspire to be among the most comprehensive wound care Indian companies offering products for active and advanced wound care management, and want to enter the export market too," says Vivek.
(Edited by Yoshita Rao)
Like this story? Or have something to share? Write to us: contact@thebetterindia.com, or connect with us on Facebook and Twitter.
Tell Us More
We bring stories straight from the heart of India, to inspire millions and create a wave of impact. Our positive movement is growing bigger everyday, and we would love for you to join it.
Please contribute whatever you can, every little penny helps our team in bringing you more stories that support dreams and spread hope.