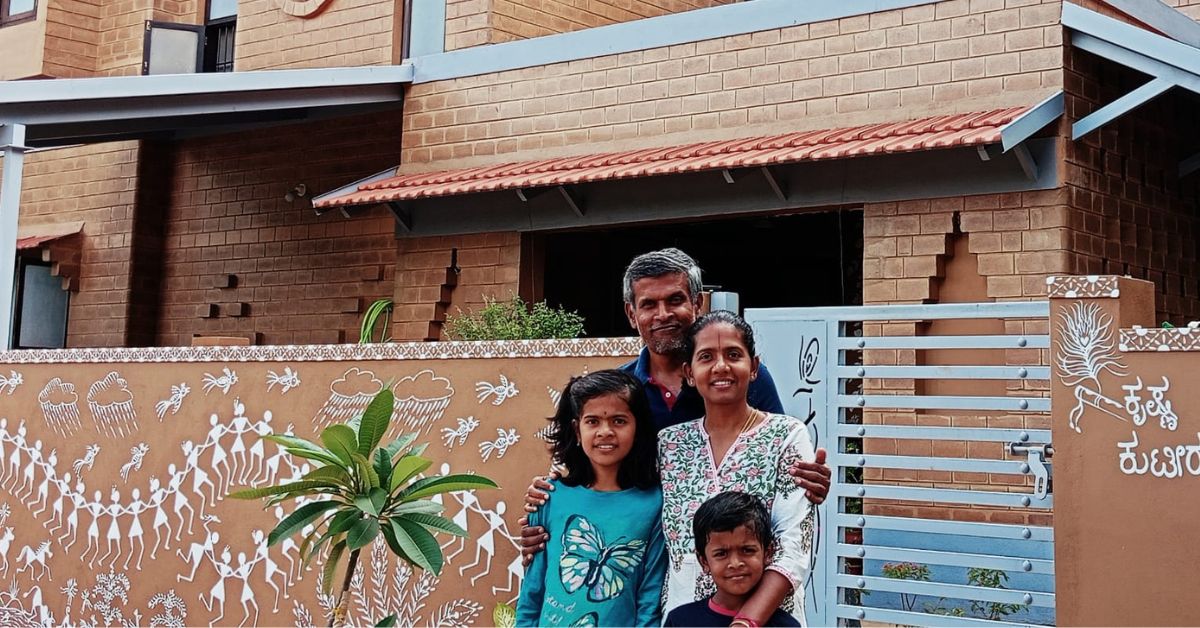 Vani Kannan and her husband Balaji were living in England for 16 years when the birth of their first child caused them to return to India and build an eco-friendly, mud home.
When Vani Kannan and her husband Balaji, who had been living in England for the past 16 years, were expecting their first child in 2009, it was a reality check for them. The arrival of a new baby brought with it a cause for celebration and a chance to introspect.
"During my pregnancy, we began taking into account the number of nappies, plastic bottles, baby feed bottles and more that we were adding to our carts. In the name of bringing up a child, we were going against nature," says Vani, a business analyst turned yoga teacher.  
This revelation was met with the duo researching alternative reusable options. 
A wake-up call
Although they did not realise it, the spark for sustainability had taken root.  
So, when their baby girl was born in 2010, despite resorting to baby food made at home and reusable nappies they knew it wasn't enough. They wanted to do more for the planet. 
In 2018 the couple moved back to India. 
"We wanted our children to grow up rooted in Indian culture," says Vani, adding that she decided to have her kids enrolled in alternate schooling in Coimbatore, a move she later felt wasn't wise. 
"Alternate schooling here was similar to conventional schooling. I realised that if I wanted my children to learn life skills, maybe I should homeschool them," she says, adding that among the many subjects she engaged her kids in, one of them was housebuilding. 
It was interesting for them to learn how different homes employed different construction techniques. 
At around the same time, in 2020, the family decided it was time to expand their sights and move to Bengaluru and began house hunting. 
The prices of apartments shocked them. 
"This is when we came across a Bengaluru firm Mahijaa that has been building sustainable homes for over a decade and reached out to them for our home too," says Vani. 
The couple says they found the ideal start — a 2,400 sq ft property and an architect who was willing to sync sustainability with their idea of a dream home. 
A unique design philosophy
"The idea was to make the home as 'less traditional looking' as possible," says Anirudh Jagannathan, an architect who has been associated with Mahijaa for three years now. He adds that to make this plan possible, he wanted to give the home levels instead of having them spread horizontally.   
Then came the subject of materials. 
In Anirudh's opinion, people usually associate eco-friendly materials with being suited for vernacular homes. In an attempt to change this thinking, he decided to make the home as modern looking as possible.  
Asked what sets a sustainable home apart from a conventional one, he replies that while conventional homes spend more on materials and less on labour charges, this project was aimed at maximising labour and minimising the cost spent on the materials. 
"This way, eco-friendly materials could be used while ensuring that local artisans get employment."
And so began the journey of constructing the couple's mud home in the heart of Bengaluru, a project that began in early 2021 and saw the light of day in 2022. 
A walk through the home
As the couple completes over three months in their new home, they say it has been the best decision they had ever taken. 
"While the birth of our daughter was the moment we began thinking in the direction of eco-friendly, we've let that impact every decision we have taken since then," says Balaji, an IT professional. "Going in for an eco-friendly home is our way of doing our part for the planet."
The bricks for the home were made by mixing six elements — 7 per cent cement, soil, red mud, steel blast, limestone and water. While the walls were made of these, the roofing was done by using mud blocks, thus eliminating the use of cement. 
To get an insight into how this is done, Anirudh says to imagine an RCC slab. 
"There are steel rods that run through and concrete is poured to create a slab. Instead of this conventional approach, we create the base with scrap keyboards, coconut shells, etc. and fill the area with mud to create a filler slab." 
This is durable, he adds and also limits the use of steel and concrete.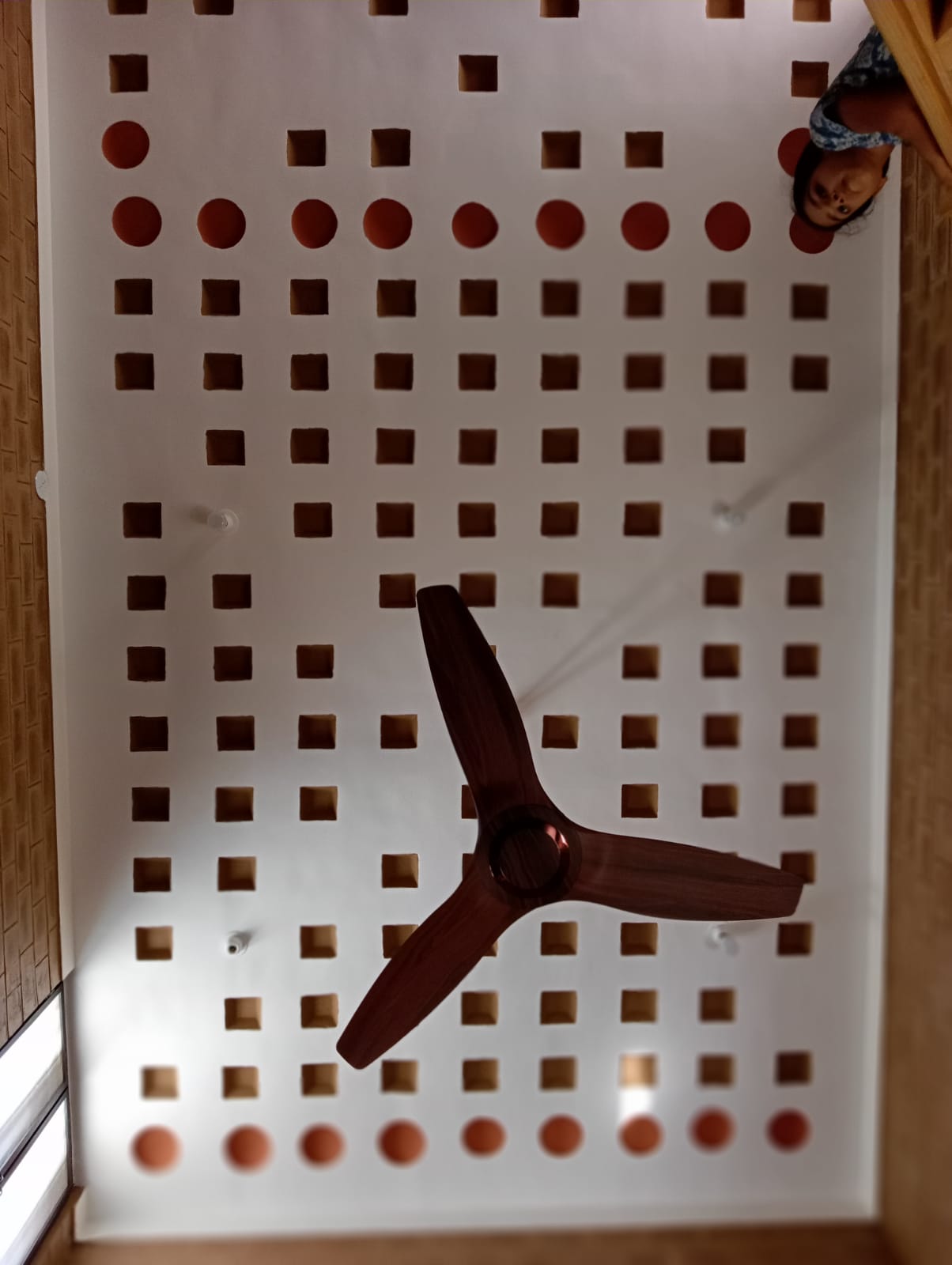 After admiring the ceiling and the walls around, step into the kitchen where you will be greeted with the delicious smells of Vani's cooking. 
The secret behind this, she points out, is the kitchen garden that is outside. 
The 1000 ft garden has methi, curry leaves, coriander, etc, that the couple uses in their food. However, as Vani explains, this is just a mini version of their organic farm — a 2-acre plot of land that they started a couple of years ago. Everything that goes into their food, comes from fresh farm produce.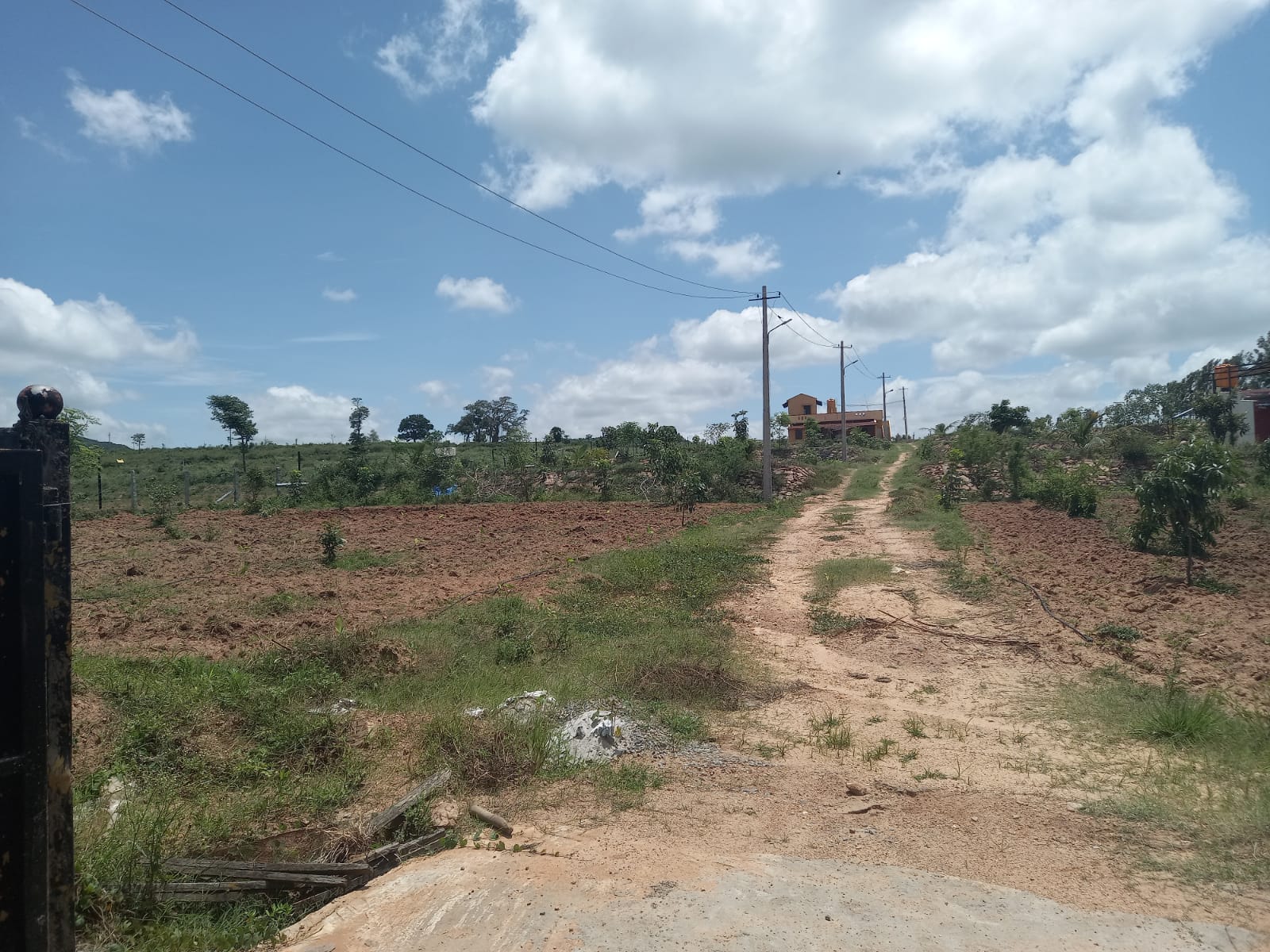 In the hunt for decor, Vani was shopping at a furniture bazaar in Bengaluru when she came across an interesting stall. 
Here was a man who would visit demolished sites and procure wood. He would then repurpose it and sell it.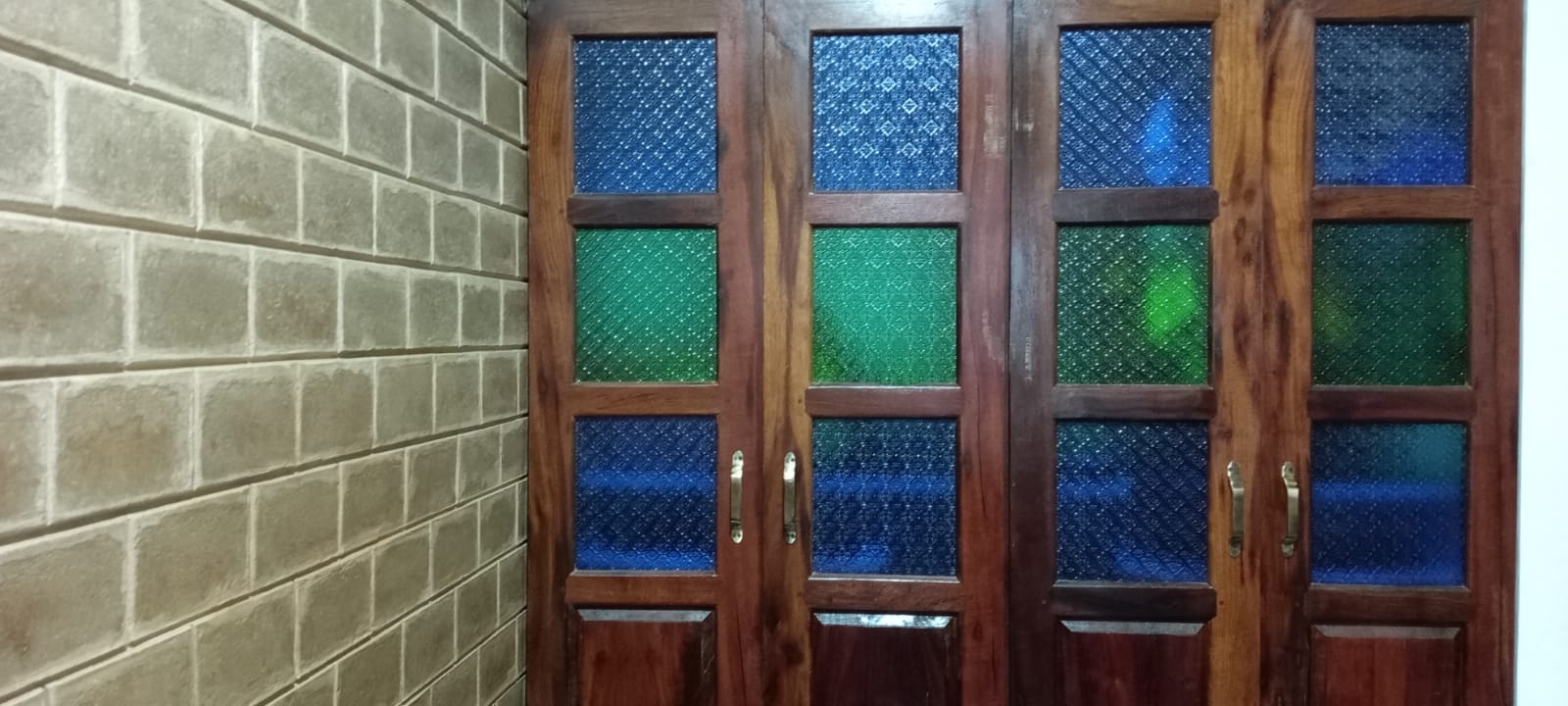 "Our windows are made of this nandi matti," says Vani, adding that it worked out 20 per cent cheaper than buying new wood. "Our main door is around 80 years old," she adds. 
This was previously a teak door that the couple procured from an old home. "When we had enquired about the cost of buying a new teak door, it cost approximately Rs 60,000. However, we paid half the price, including transportation."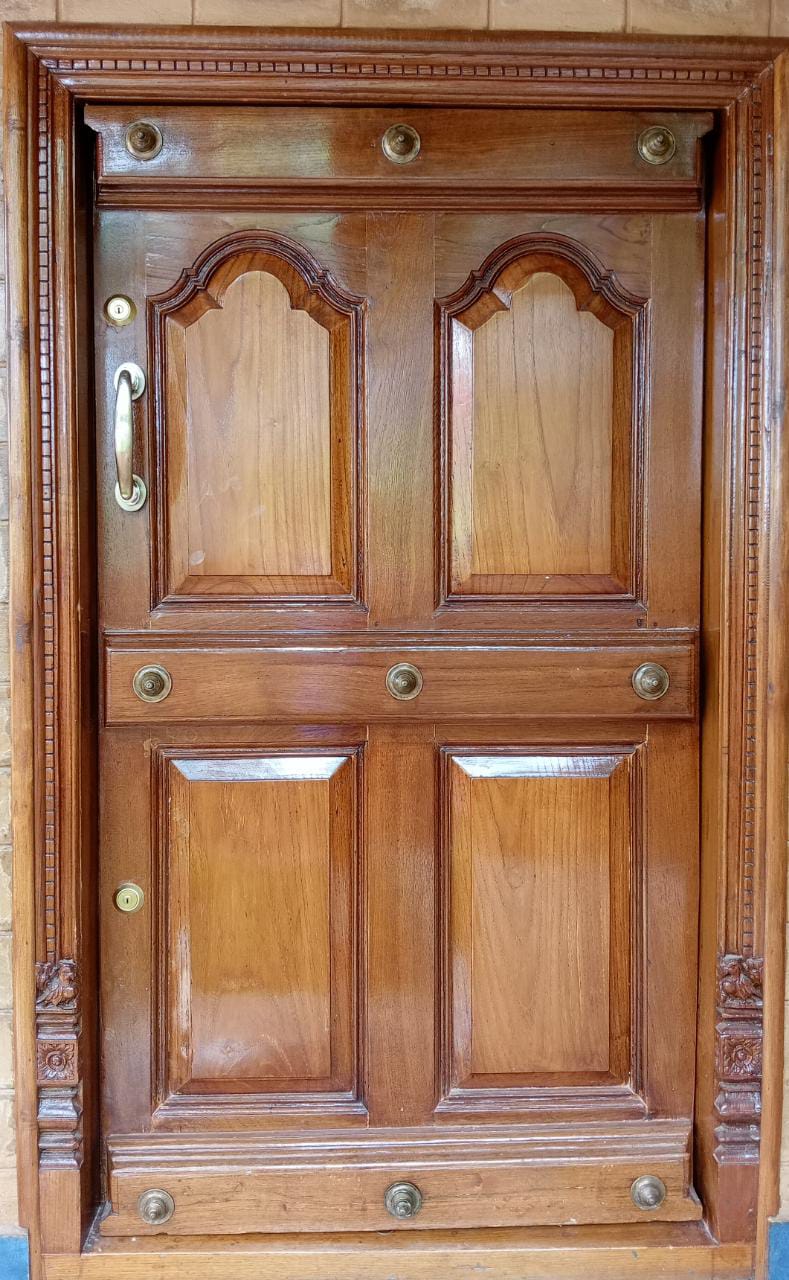 With the wood that was leftover during the construction process, they had it turned into bookshelves. 
'It is so cool, we don't own ACs.'
One notices how, as you make your way from one room to the next, you feel the cool breeze. When you look around, you will see no air conditioners in the home, and the fans are off too. 
Vani says they never needed artificial cooling. "Our architect has designed the home in a way that we only switch on the lights after 6.30 pm while the sunroofs work their magic the rest of the time." 
She adds that the angles at which the home is constructed, ensure that it maximises light reflection.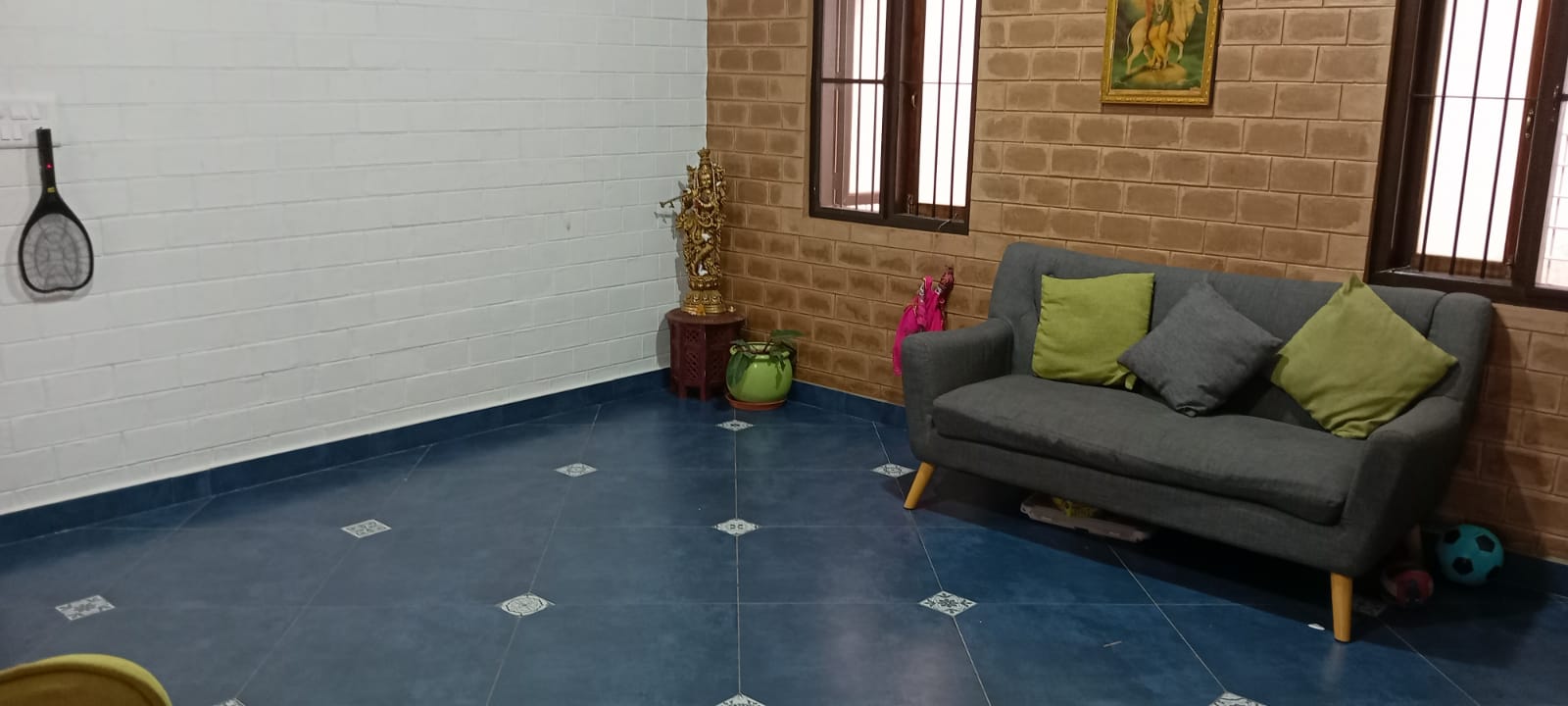 For when the family does need electronics, it is powered by solar energy.  
Through the on-grid system, additional electricity produced is sent back to the grid for Rs 3 per unit, says Vani.
Thanks to the 11 solar panels of 4.8 KW each, the couple does not pay an electricity bill.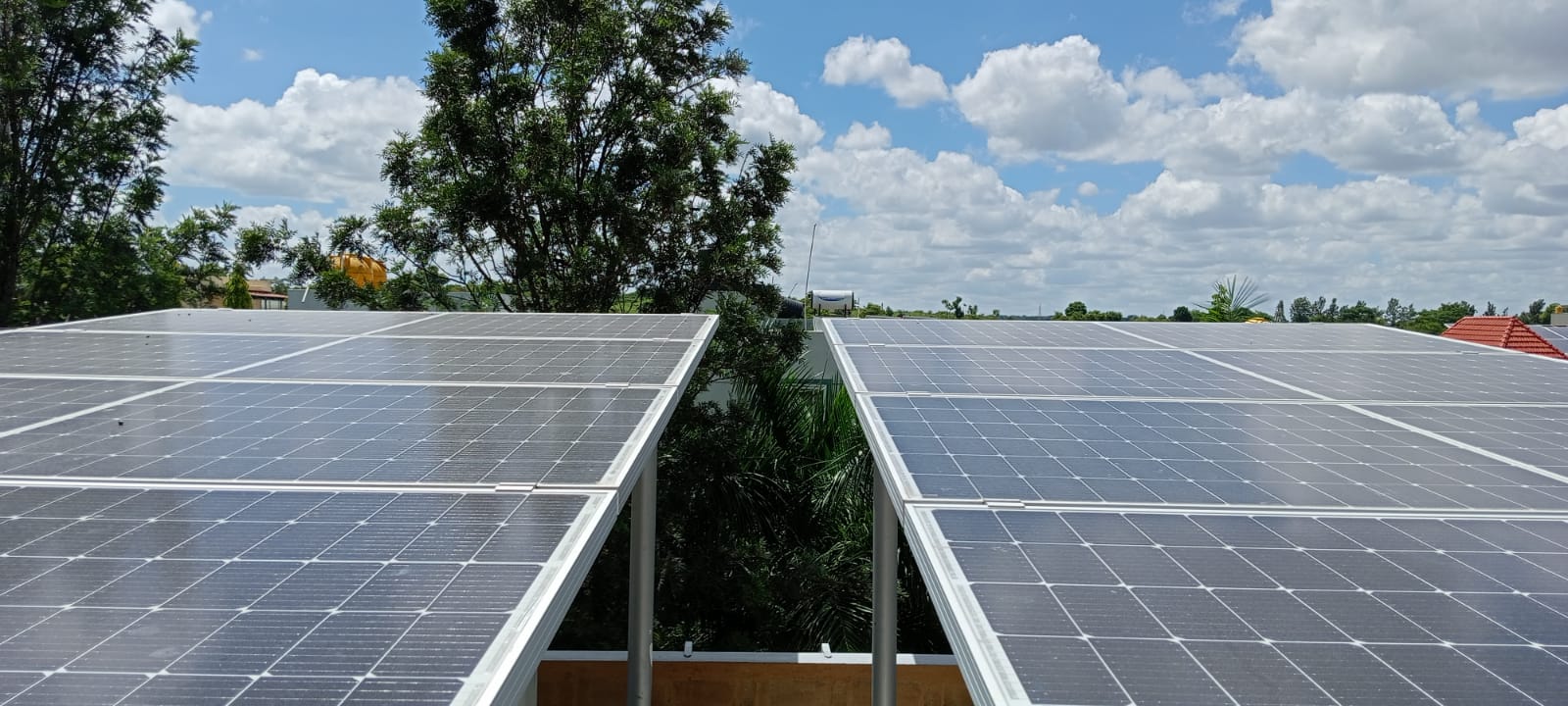 During the rainy season, it is the community borewells located 200 m from their home, that fill up with water and provide them with an ample supply. The three wells, two of them 5 ft and the other 8 ft, supply water to 30 homes in the community. 
With all these eco-friendly measures, the couple stands proud of the home they have created.  
'Building a home is like bringing up a baby.'
To someone who is going in for a sustainable home, Vani says they are in for the best time of their lives. 
"When the home was being constructed, my children would come put water on the bricks to cure them and we would see the carpenter working with the old wood. Being part of the building process is where the fun lies," she says. 
She also advises procuring the materials before starting with the construction. "Respect the workers as this will create a bond with them and be clear about what you envision as a fickle mind will only create room for struggle," she adds. 
Lastly, the couple followed a practice of allocating a 30 per cent extra budget than the estimated expenses. This, they say allows room for change and renovations and surprising tasks that crop up.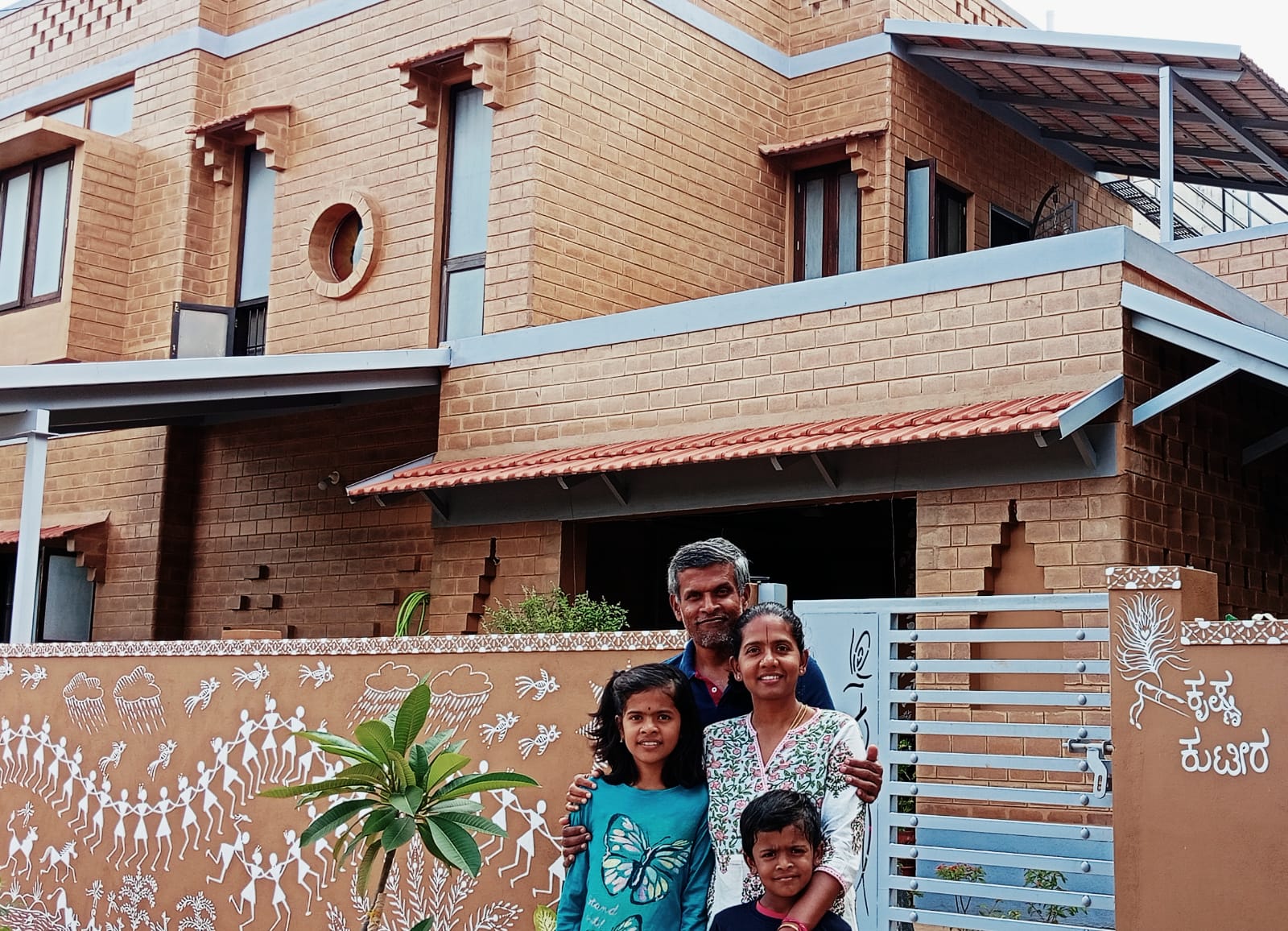 However, the duo emphasise not getting so lost in the final product that you forget to be part of its journey.
"Enjoy every minute of the process." 
Location: Nelaguli village, Kanakapura road, Bengaluru
Size: 2400 sq ft
The time it took to build: 14 months
Answered by Vani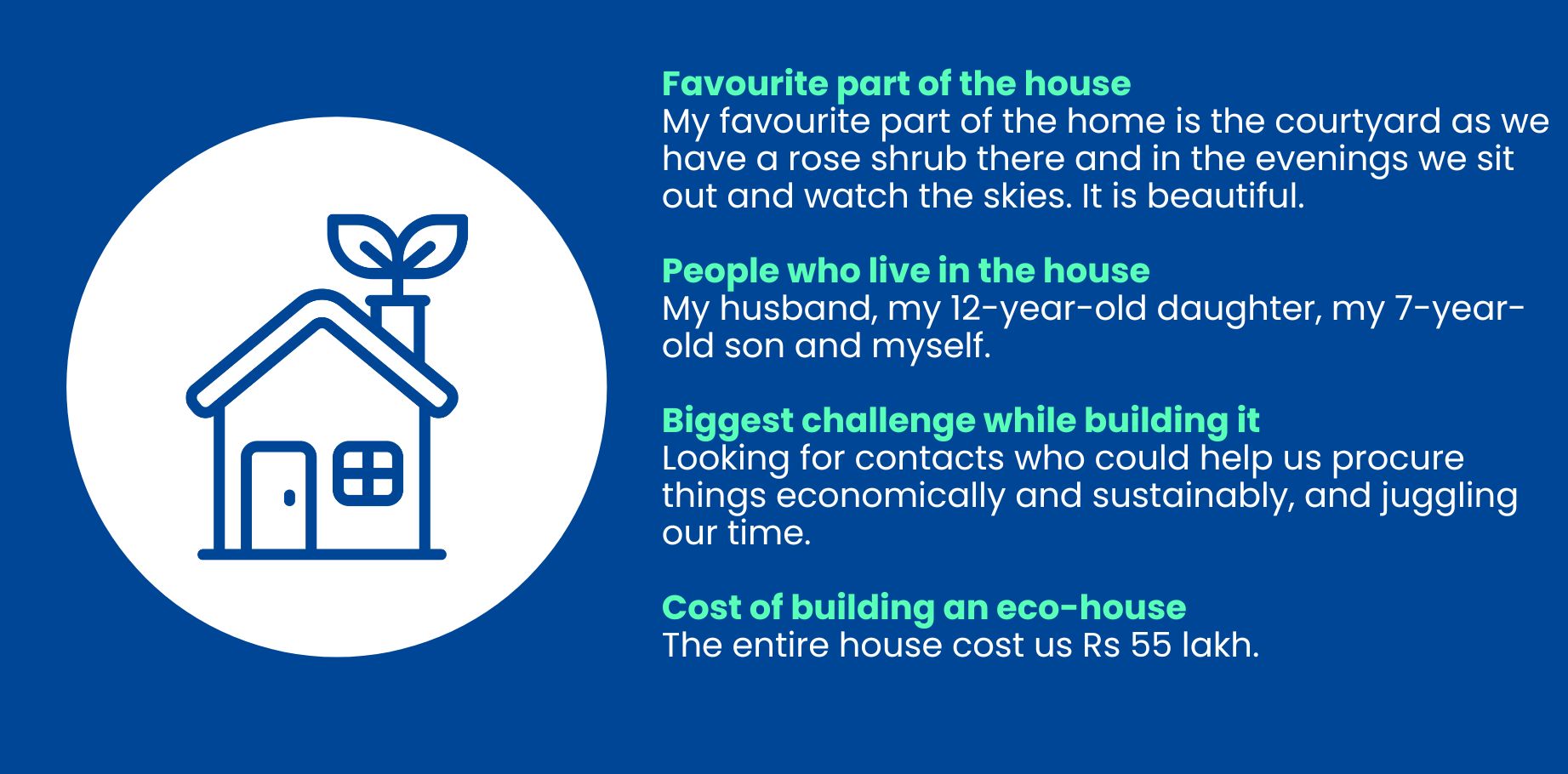 Edited by Yoshita Rao
We bring stories straight from the heart of India, to inspire millions and create a wave of impact. Our positive movement is growing bigger everyday, and we would love for you to join it.
Please contribute whatever you can, every little penny helps our team in bringing you more stories that support dreams and spread hope.