Few would argue against the fact that having telephones makes life infinitely simpler. Unfortunately, there are still places in India, where connections and networks are unable to reach. Such an event secludes these areas into isolation. There is one man who has realised the worth and is trying all he can to connect these areas with the rest of the country and the world.
In Rewa District, in the small Palhar village of Madhya Pradesh, Ramashankar's family has not had regular access to water for over 6 months. They were not the only ones; at least 250 villagers along with them were in a similar situation, ever since the village's only hand pump broke. Lacking access to government authorities and media, the village was unable to voice their situation to anyone for help and, as a result, cleaning, cooking and drinking became a burden being carried in silence.
However, one day, Ramashankar made a phone call that changed everything. Somewhere in May 2015, officers of Public Health and Engineering came to the village and fixed the system.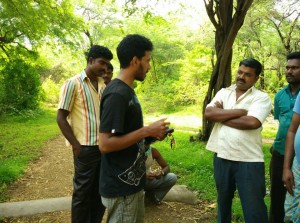 Admittedly, a phone call solving a problem sounds as far from reality as can be, but Ashoka Fellow, Arjun Venkataraman, swears by the opposite. He says, "Ensuring connectivity in remote areas is the first step that can help shed light on problems that are otherwise hard to bring out." Working towards this goal, Arjun's organization, MojoLab, is using technology to connect people in remote villages to each other and to the larger world.
Arjun is not the only one who believes that access to technology and connectivity is a necessity. In 2002, the World Bank surveyed 60,000 people living under the poverty line in order to identify the single greatest hurdle to their advancement. "Above food, shelter or education, the number 1 need identified was access to a voice." This, then, shows that there is hunger among the poor, not only for food, but for a platform to become heard locally and globally. India is no exception to this. Many parts of the country are severely disconnected – not easily accessible by public transport and not connected to any mobile network. Unsurprisingly, these are, more often than not, the very places that rarely make it to our screens and newspapers, and, eventually, many voices voicing out minor problems to human rights violations go unheard. However, Arjun's organization, MojoLab, is working towards changing this reality.
Founded in 2012, MojoLab is a research and development group, aimed at making low-cost technology accessible to each Indian citizen, or as Arjun says, "Right down to Gandhi's last man". MojoLab works on various projects, among which, setting up a wireless mesh in rural India where mobile networks are not available, is an integral part.
Another area of their work is maintaining and deploying the Swara technology, an audio platform with a simple "press 1 to record, press 2 to listen" interface that can be used to report information, news and grievances. This has been put in practice in various instances, from ad-hoc problem reporting in Indian villages and sharing gender based violence reports in Afghanistan to formalizing data collection in hospitals in Chhattisgarh.
One example of MojoLab's earlier work is the CGNet Swara platform, where villagers in remote areas can report grievances by a simple call, thus allowing them to get exposure and crowd-source support from outside the confines of their village. While this system brought buried issues to the surface, it was only effective given the response system Arjun built. He brought together a group of urban professionals and several illiterate village community members (the Hackergram community), who not only take immediate action on the problems reported, but work diligently to design long term sustainable solutions to the underlying concerns.
Today, 10% of the calls turn into actionable projects, driven by the community affected, the freelance professionals and the government officials. Arjun says that "this is precisely the power of the system: empowering both the rural community as well as urban professionals to be part of grass-root solutions."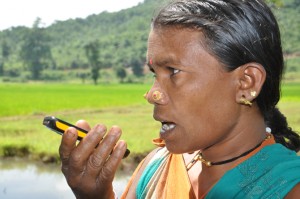 Later in the organization's life, MojoLab used its Interactive Voice Response (IVR) system in healthcare through the Health Data Collection System. At the Jan Swasthya Sahayog hospital in Ganiyari, Chhattisgarh, doctors were struggling with documentation and collection of statistical data. Typically, community health workers would call in to report births, deaths and pregnancy information, but the system required manual entry of this data by another person who was on the other side of the phone line and was constantly present. This, then, makes it highly likely for information to be lost forever.
However, Swara intervened to set up its familiar "press 1 to record, press 2 to listen" interface, so that community health workers could call in and, using the IVR Interface, record necessary information. The information could then be filled in a database for later reference by another community health worker when possible.
Even with these success stories, Arjun believes that access to connectivity is only in its beginning. In fact, through MojoLab, Arjun is now working on setting up a wireless mesh to create an intranet network in rural India. He says that "this will make villagers take ownership of their own communication tool, and that in itself is a powerful step towards empowering them." The delivery model of this project is particularly interesting because a small device can convert TVs to connectivity mediums, hence allowing low cost and easy-to-use communication platforms. While this has been introduced in certain rural areas, Arjun aims to grow it in a way that it reaches middle income families in cities across the country.
Looking ahead, Arjun hopes to expand his work to other parts of India and, ultimately, wants to see a systemic change whereby various community members, whether or not they are affected by a problem, come together to gather resources and put pressure on authorities. "This", he says, "is what will shape the future of India – turning kindness into actionable steps that do not require MojoLab or any other organization to be sustainable. As long as we provide connectivity, most of the work will be done".
This article has been written by Fatima Ezzahra Daif, Summer Intern at Ashoka India.
Like this story? Or have something to share? Write to us: contact@thebetterindia.com, or connect with us on Facebook and Twitter (@thebetterindia).
We at The Better India want to showcase everything that is working in this country. By using the power of constructive journalism, we want to change India – one story at a time. If you read us, like us and want this positive movement to grow, then do consider supporting us via the following buttons.
Please read these FAQs before contributing.