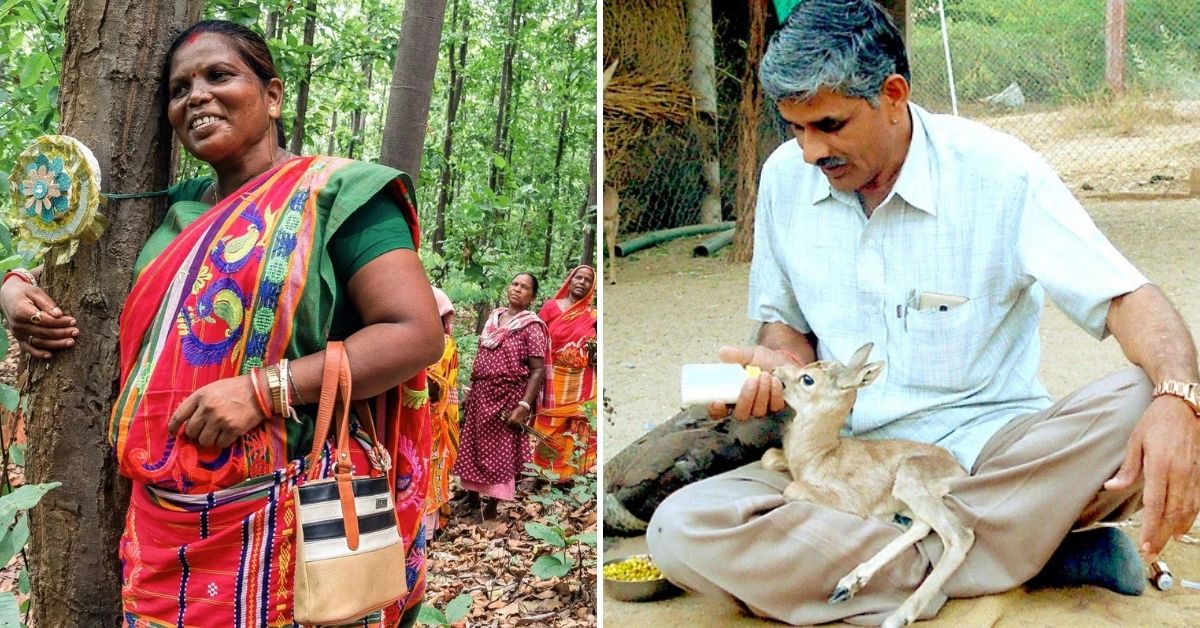 Way before the climate crisis came into discussion, there were a few farsighted people who understood the implications of human activities and worked selflessly towards conserving nature. Here are three such individuals.
This article is part of a deep dive to celebrate Environment Day by highlighting individual and community action that leads to large scale impact on the planet. ItStartsWithMe is the second chapter of 'Shaping Sustainability', an exclusive series by The Better India, to give our readers an in-depth understanding of how Indians are making sustainability a priority in all walks of life. Find more stories from the series here
This Environment Day's theme 'Only One Earth' urges each one of us to stand in solidarity with Mother Nature and be the change we want to see. With extreme winters, unexpected heatwaves and early monsoons looming, the theme reminds us that we need to be a part of the change. It also highlights the need for preserving and propagating environmentally-friendly policies for a sustainable future on earth.
But way before the climate crisis came to our attention, there were a few personalities who had the farsighted vision to understand the implications our actions would create. Their actions were considered ahead of time, as these eco-warriors stood tall, dedicating their lives to protecting the forests and wildlife. They also educated and encouraged others to join their efforts while working towards the green goal.
Here's a list of a few such eco-warriors from India, who have been working hard for over decades with their unique efforts to improve environmental sustainability:
1. Bah Tambor Lyngdoh

Many Indian tribes consider the forests as sacred groves—a place where the pantheon of local deities resides. The belief that everything in the forest must stay in the woods, to not invite divine wrath, forms the basis of wildlife conservation.
At a time when population explosion is driving commercialisation, what remains unabashedly rampant are deforestation, poaching, and the uprooting of trees. In such dire times, the ancient beliefs of the indigenous tribes have stood as protective sentinels for the lush yet vulnerable Meghalaya forests.
In Meghalaya, conservationists like Bah Tambor Lyngdoh are taking this belief a step further and attracting foreign funding to save thousands of hectares of forested area and simultaneously empowering local tribes through this initiative.
Bah Tambor, is the Project Director at the Khasi Hills Community REDD+ Project, an UN-supported initiative that aims to save the earth's forests and enable local, tribal communities in the process.
"If sacred groves were to extend to the entire Meghalaya we will be able to reverse the damage caused by climate change," Lyngdoh told IndiaSpend.
The Mawphlang village in the East Khasi district is a part of the largest of the 200 sacred groves in Meghalaya. The project was started in 2007 in Mawphlang, as a village movement to revive and strengthen sacred groves by making sure the trees were not cut, the produce was untouched and animals were not poached.
Over the years the project expanded to over 62 villages by involving local councils called Himas; the target was to revive 27,000 hectares of forests.
It started as a small village project, and now the impact can be seen in over 3,500 households and in the 1,000-year-old trees that loom above rare orchids and herbs.
2. Jamuna Tudu

In a small village of Jharkhand called Purbi Singhbhum, a group of women assemble around the trees for a holy ritual every year.
While this image might seem familiar, the intent is rather novel. A trend started by Jamuna Tudu, these women tie colourful rakhis (threads of protection) around trees, vowing to protect them forever.
The ritual is both a spiritual and a social statement of non-violent war against the forest mafia and poachers, who for years have been plundering the natural resources while the villagers stayed mum in fear.
Jamuna's first battle was with the timber mafia, who chopped down trees with complete disregard for the law or tribal traditions. Realising that she would get little help from authorities, she took matters in her own hands.
She then created a group of 25 women from the village and armed them with bows, bamboo sticks and spears. They marched into the forests to take down the forest predators. "There were too many scuffles with the mafia. I told my women that in this journey we would come across both good and bad times, but we have to struggle to save the forest," Jamuna told The Week.
Today, she is known as the 'Lady Tarzan', who with the support of over 6,000 members, has managed to save 50 hectares of forests in the last 20 years.
3. Lakshmikutty Amma

A poet, expert on poisons and teacher at Kerala Folklore Academy, Padma Shri Lakshmikutty Amma is affectionately known as the 'Vanamuthassi' (Grandmother of the Jungle) by the hundreds who trek to her home deep in the Kallar forests near Ponmudi for treatment.
Even in her late 70s, she continues to nurture around 150 herbal medicine plants and has saved over 350 people bitten by poisonous snakes.
Every day, Lakshmikutty wakes up at 5 am and continues her herbal experiments late into the night.
"I have been prescribing traditional medicines for snakebites for the past five decades, making use of knowledge handed down through generations. See the snakes here? They will not bite me as I am living in harmony with the nature around me," she told The New Indian Express.
All her knowledge on herbal treatment, Lakshmikutty says, was passed on from her mother, who worked as a midwife.
And with neither Lakshmikutty nor her mother making a written record of the medicinal plants, Kerala's Forest Dept has decided to compile a book on her expertise.
Interestingly, beyond the world of natural medicine, the Padma-winning healer is also known for her satirical poems and writings.
4. Peera Ram Bishnoi

Peera Ram Bishnoi is a mechanic who earns his livelihood working at his small puncture repair shop near National Highway-65. But not just that, there is something very extraordinary about the story of this ordinary man.
In the last decade, he has saved over 1,180 injured and distressed wildlife.
The words of slain Amrita Devi Bishnoi that every Bishnoi child is asked to memorise are what keeps him going.
Loosely translated the proverbs mean, 'If a tree is saved even at the cost of one's head, it is worth it', 'Be compassionate to all living beings'.
One day when he was heading to his tyre puncture repair shop on the highway, he saw a speeding motorist run over a chinkara (Indian gazelle).
"The chinkara was severely hurt and dragged itself across the road before collapsing. I saw it gasp for breath, cry in pain for help. My heart shivered. I ran to the spot, picked the distressed animal in my lap, hailed a vehicle and took it to the veterinary hospital," he told The Better India.
Peera Ram paid for the treatment from his own pocket and took it home. He continued this work for the next five years, where he took care of all distressed animals and birds and nursed them back to health with home remedies. His family, animal lovers themselves, extended their complete support to him.
His work also inspired people around his village of Dhamana and neighbouring villages to bring him any casualties. But it also drew ire from hunters, poachers, and trophy hunters and even faced several threats to his life.
"If I watch someone shoot wildlife, I'd rather die protecting it than watch that brutal massacre. I will not bow down to these hunters and poachers. These species are more precious than our own lives," he says.
Sources:
As Climate Change Depletes Forests, One Of India's Greenest States Turns To Its People by IndiaSpend, published on March 23, 2019
How women saved a forest from timber mafia by The Week, published on November 6, 2017
Lakshmikutty Amma: A life in tune with Mother Nature by The New Indian Express, published on August 23, 2018.
Edited by Yoshita Rao
We bring stories straight from the heart of India, to inspire millions and create a wave of impact. Our positive movement is growing bigger everyday, and we would love for you to join it.
Please contribute whatever you can, every little penny helps our team in bringing you more stories that support dreams and spread hope.
Tell Us More