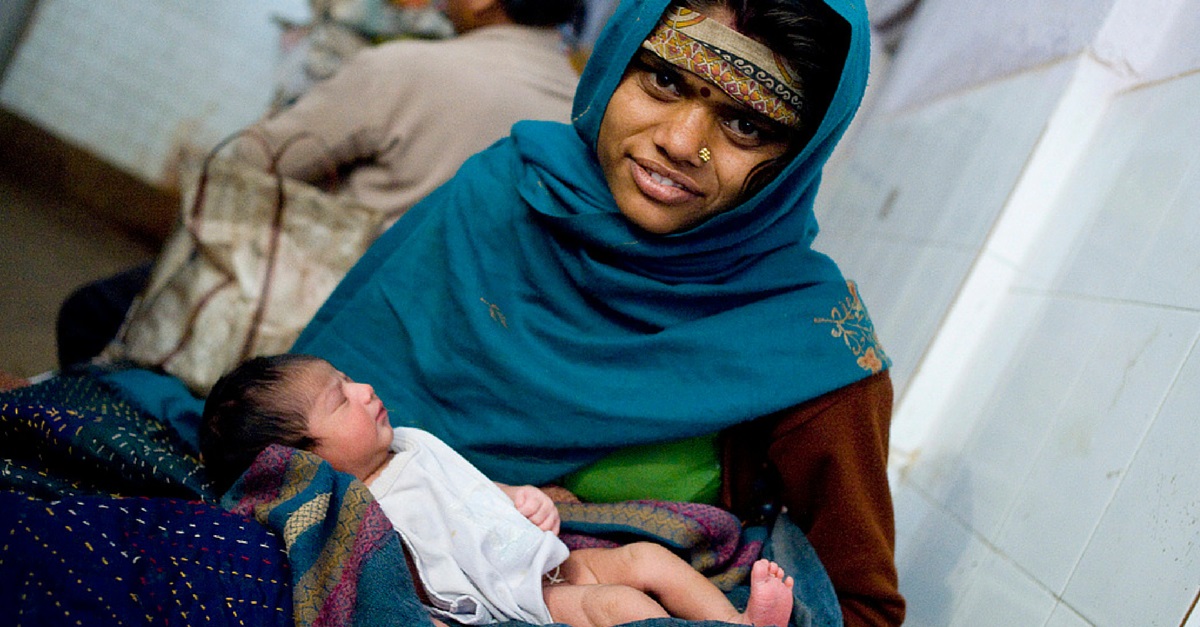 From producing oxygen whenever and wherever required to using fertilizer products for making anaesthetics, these medical innovations that came out of a jugaad-a-thon could improve health conditions in rural India.
---
This article on medical innovation has been made possible by GE Healthcare and CAMTech India for
Jugaad-a-thon
.
---
From producing oxygen whenever and wherever required to using fertilizer products for making anaesthetics, these medical innovations that came out of a jugaad-a-thon could improve health conditions in rural India.
Imagine a primary health centre somewhere in rural India with limited resources and medical supplies. Now think of a 4-year-old suffering from severe pneumonia and in extreme need of oxygen therapy. The lack of oxygen here can lead to the death of the child.
It was this, and many other similar medical problems, that various teams came together to solve in a competition called jugaad-a-thon. Organized by CAMTech India along with GE Healthcare, this medical jugaad-a-thon brought together engineers, doctors, clinicians, entrepreneurs, designers, and more people from different fields, with the world's brightest minds, to develop innovative health technologies. This event, held in the last week of June 2015, was conducted with a view towards helping transform reproductive, maternal, newborn, and child heath in and outside India. There were 1,054 participants and here are some of the winning entries:
1. Producing oxygen instantly – wherever and whenever required.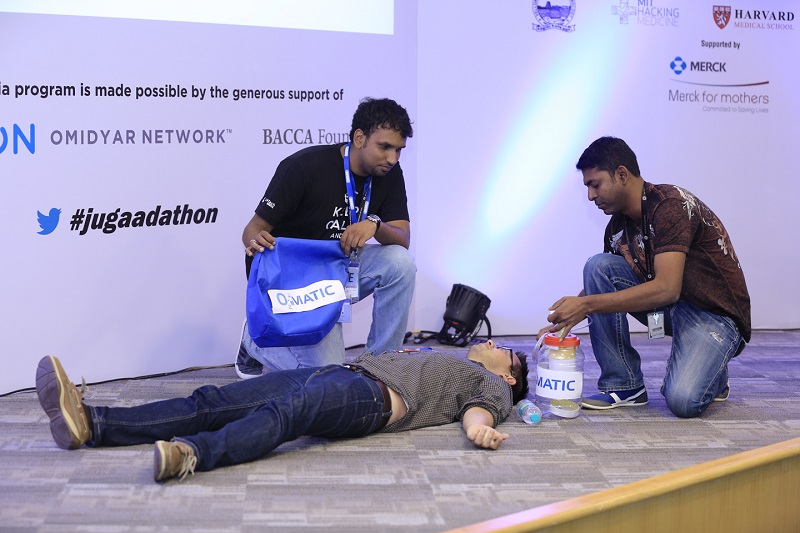 Based on the knowledge that it is often challenging to transport oxygen tanks to rural India, this team of 12 was inspired to come up with the idea of producing oxygen instantly with the help of a kit-style product they named the O2MATIC
Oxygen cylinders and similar resources are not easily affordable for many primary healthcare facilities. At the same time, supply and use are limited because of bad roads and lack of a consistent power supply. The team, therefore, came up with the prototype of a durable and portable kit that can produce oxygen whenever required, ensuring its availability during emergencies.
How?
While the team cannot divulge the exact methodology used, they say oxygen was produced using simple procedures, powered by basic chemistry, using commonly available chemicals and water – thus no need of electricity and an end product that is highly cost effective.
Impact:
As stated by the team, this product can be used:
• during emergency situations in rural areas (PHC, caretakers who visit house by house, etc.)
• in areas affected by natural calamities where transportation, access and electricity is a challenge
• as emergency kit other than the O2 cylinders in ambulances
• as emergency kit in hospitals and communities
• as emergency kit in locations where pressurized oxygen is prohibited.
• in mines for treatment.
The future:
After the initial design, the team is now working on a portable kit style prototype that is intuitive in design and can even be used by an unskilled person to generate oxygen using a modular apparatus.
2. Making anaesthetics available for surgeries in rural India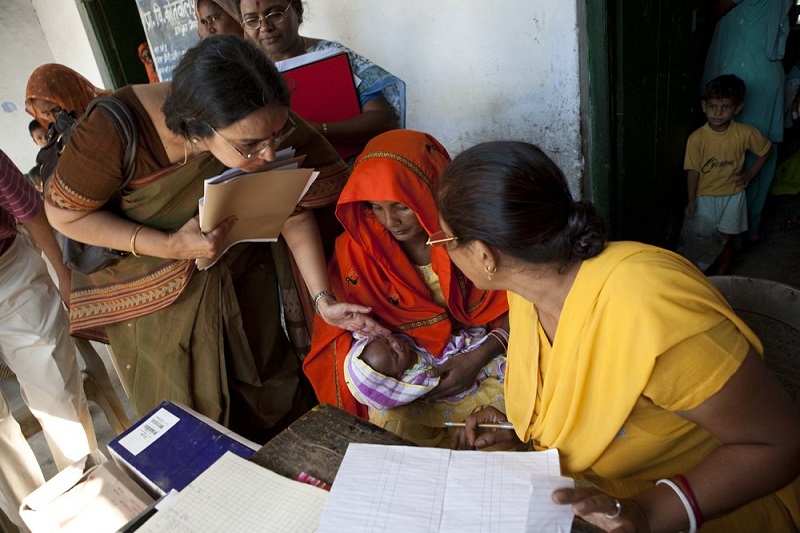 Picture used for representation only. Source: Flickr
This team of innovators, who call themselves the Nitro Boosters, came to a shocking realisation — that one third of women who have surgical treatment in rural India lose their lives because of the absence of proper nitrous oxide supply, which acts as an anaesthetic. Thus, with the simple idea of making surgeries for women in rural India safer, they came up with this robust, safe, consistent and cost effective solution.
How?
With the assumption that there would be some fertilizer factories in the vicinity of rural areas that they are planning to work in (because of the presence of agriculture as the primary source of income there), the team did some further research. They learnt that fertilizer units have a 45 percent surplus of raw materials every day. Thus, by using the by-product of another industry, the team decided to make a cost effective product. The advantages of this product, as explained by the team, are the following:
• Cost effectiveness: The model caused nearly a 93 percent reduction in the cost of nitrous oxide cylinders due to the use of a by-product of another industry.
• Steady supply: Since the 85 fertilizer factories in India are spread out evenly, the problem of steady supply can be solved with the help of storage systems and the huge surplus which can be produced.
• Safety: The nitrous oxide produced by this process is of high purity.
Impact:
With this product, the problem of unsteady supply of anaesthetic gases can be countered, thereby saving many lives during surgery in rural India. As an added advantage, there is decreased emission of nitrous oxide into the atmosphere.
The Future:
The team is now working on experiments to find out the volume of nitrous oxide that they can produce. They are also trying to figure out the locations of fertilizer factories and getting in touch with them to take the process forward.
3. Helping newborns hear at the right age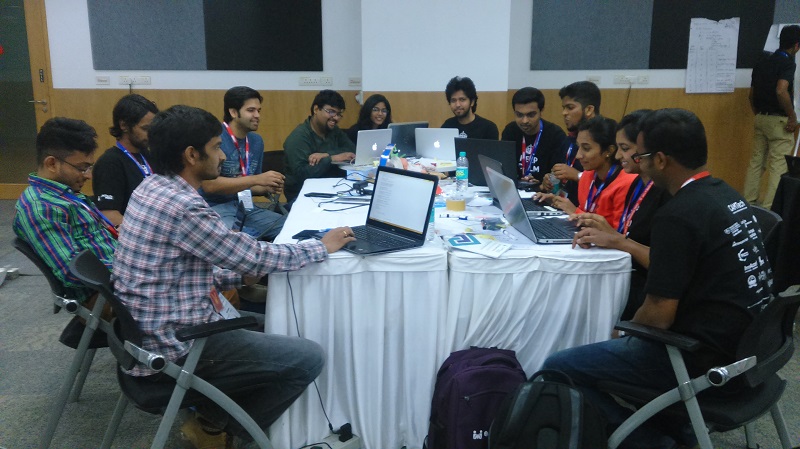 Fifteen thousand children every year are born with hearing impairments in India. Unfortunately, because of unreliable screening methods used in rural India, a majority of these children are rehabilitated as late as at the age of five. This delay in screening leads to permanent disabilities, which could have been prevented if brought to notice early on.
As one of the team members, Dr. Jagdish Chaturvedi, an ENT expert, states – "Most corrective surgeries have reduced effectiveness as age advances. It is ideal to correct the deafness surgically within the first 18 months of life or as early as possible. Out of the 25 million children that are born in India every year, it is estimated by experts that only less than 20 percent are screened with gold standard devices such as Oto-Acoustic Emissions (OAE) in a reliable manner. However, for the remaining 80 percent, most are not screened for hearing loss and the few that are, are screened in a conventional way by subjective behavioural assessment for newborns, that is, by producing a series of calibrated sounds through noisemakers and assessment of responses in the baby that may vary from eye/body movements to startling and crying. This process typically takes around 30 to 40 minutes per baby and involves several different steps that a health worker needs to carry out. Hence, there is a critical need to develop a technology that can carry out the behavioural hearing assessment objectively in a reliable manner."
The 12-member team worked on Project Awaazz, with the aim of converting a subjective behavioural hearing screening for newborns into an objective screening process. This meant going from an unreliable skill and training intensive process to a simple, reliable and easy to use technology, which can enable professionals in conducting these screenings in the most remote corners of the country without any difficulty.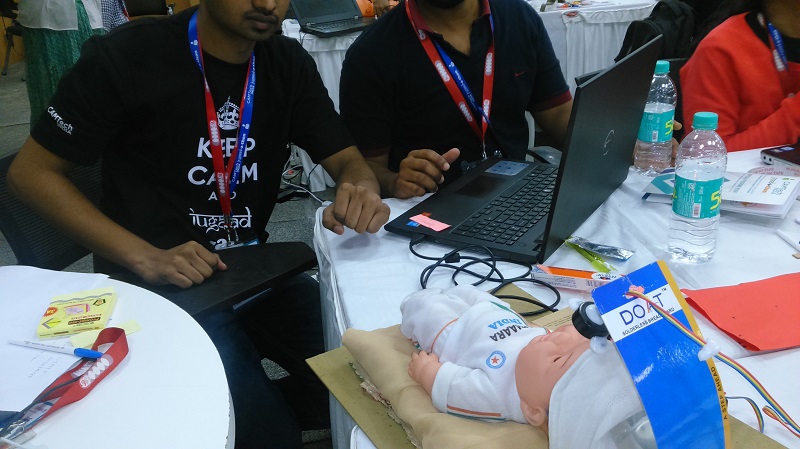 How?
As explained by the team, this overall system will help health workers get the most accurate results and a better chance to follow up:
"The idea/technology involves a digital and medical electronics application where motion sensors and IR sensors (embedded in a blanket and cap with an eye piece) accurately assess the baby's eye and body movements within two seconds of response to a sound stimulus. They communicate this objective information to a software application that will be installed in a mobile phone/tablet which will ensure adherence to the standard steps and analysis of the babies responses to provide an objective red or green response (Deaf/No Deaf) to the health worker using this app. If the baby passes the test then the health worker follows up at 3.5 months, 6, 9 and 12 months. If the baby fails this test then the health worker refers the child to the closest centre that performs a gold standard screening test called OAE (Oto-Acoustic Emissions). If the child fails that as well then an Auditory Brainstem Response (ABR) is carried out. Based on the overall results a cochlear implantation or brain stem auditory implantation or standard hearing aids may be indicated to treat the hearing loss at the earliest."
The future:
The long-term goal of the team is to achieve a large impact with this technology, for which, it is important that the government adopts it for implementation of neonatal hearing screening via health workers in rural parts of India. With this in mind, the team is currently working on a pilot clinical study with the first step being the creation of a more refined and robust prototype.
With so many useful jugaads in the making, let's hope that health in rural India will see steady and consistent improvement. Here is GE's Vikram Damodaran speaking about their work in maternal and infant care:
Dr Ruchi Dass, Founder of the HealthCursor Consulting Group speaks with GE's Vikram Damodaran on Jugaadathon 2015 and GE's work in maternal and infant care.

Posted by GE India Technology Center on Sunday, June 28, 2015
To know more about jugaad-a-thon, visit here and here.
Featured image credit – Flickr
Like this story? Or have something to share? Write to us: contact@thebetterindia.com, or connect with us on Facebook and Twitter (@thebetterindia).