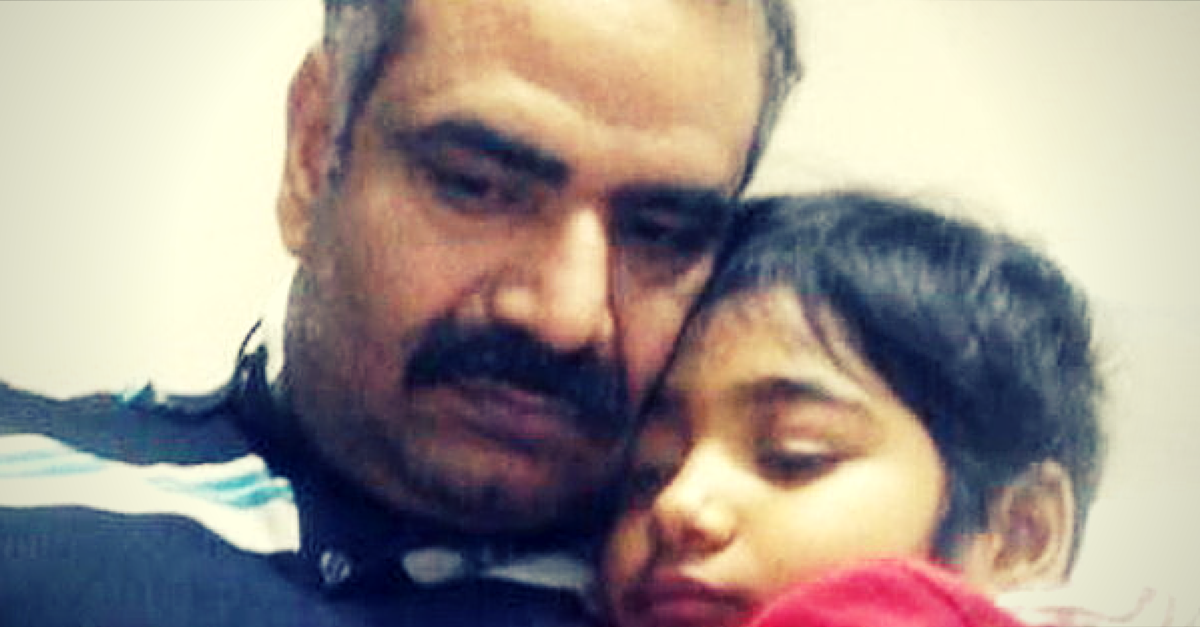 Young Abeeha took her last breath in India. Yet, her father has nothing but appreciation for his late daughter's Indian hosts, the Indian doctors and medical staff who treated her, and even the Indian army.
Young Abeeha took her last breath in India. Yet, her father has nothing but appreciation for his late daughter's Indian hosts, the Indian doctors and medical staff who treated her, and even the Indian army.
"Now that the lines are there,
let them be there…
Someone must have drawn them in anguish,
now use them to divide the field into two halves
and come, let's play the game of kabaddi…
Now that the lines are there, let them be…"
– Gulzar
Thirteen-year old Nalain Rubab Imran, or Abeeha as she was affectionately called, must have known the real essence behind these lines by Gulzar. And hence, despite the LoC, a symbol of hatred on both sides of the border, this little angel crossed over from Pakistan to India and left us behind with a lesson of love.
Mr. Hamid Imran, her father, has written a thank you note in the Pakistani newspaper Dawn:
"Neither can I forget the pain caused by the sudden death of my daughter, nor the love which I received in India".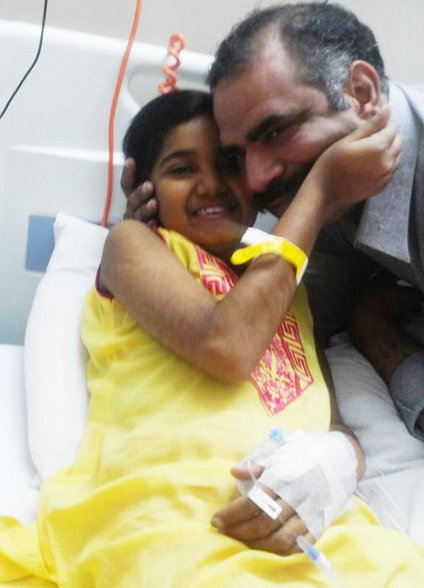 Abeeha was a resident of Chakwal, Pakistan. She went through a liver transplant once in Saudi Arabia, where her father was working in 2011. But again this year, doctors advised another transplant. The transplant would have cost Rs. 5 million in Pakistan, so Imran decided to head towards Apollo Hospital, Delhi, India.
However, this was not going to be easy. Abeeha's mother, Mrs. Sajjda Imran, was pregnant and in need of medical attention too. Moreover, they did not know a single person in this unknown country, which was more like an enemy to them until now.
Imran had graduated from the Govt. High School in Chakwal, which was built by Sardar Chet Singh Kohli in 1910. Sardar Chet Singh belonged to Chakwal, Pakistan, before the partition of India and Pakistan. His noble deeds are well documented there and the people of Chakwal remember him even today. He built schools and hospitals there before migrating to Delhi after the partition. Coincidentally, Mr. Rattan Deep Singh Kohli, the grandson of Sardar Chet Singh Kohli, visited the school recently on the occasion of its 100th anniversary. He still cherishes the affection that the residents of Chakwal bestowed on him during his visit.
"During my visit to Chakwal in October 2010 when the school celebrated its 100 years, and again in 2012, the people of Chakwal and the students of the school showered so much love and affection on us that it cannot be expressed in words but only felt. My wife was in tears most of the time she was there as they addressed her as the daughter-in-law of Chakwal and were full of praise and thanks for what my elders had done for Chakwal. Beautiful articles in the Pakistani newspapers 'The News' and 'Aman ki Asha' were published about our visit," recalls Rattan Deep Singh Kohli.
One of the old students from the same school gave Imran the contact details of Kohli in India. When Imran, along with his wife, Abeeha and a donor, Manzoor Hussain, reached Kohli's home, the latter, along with his wife Paramjit Kaur, warmly greeted them.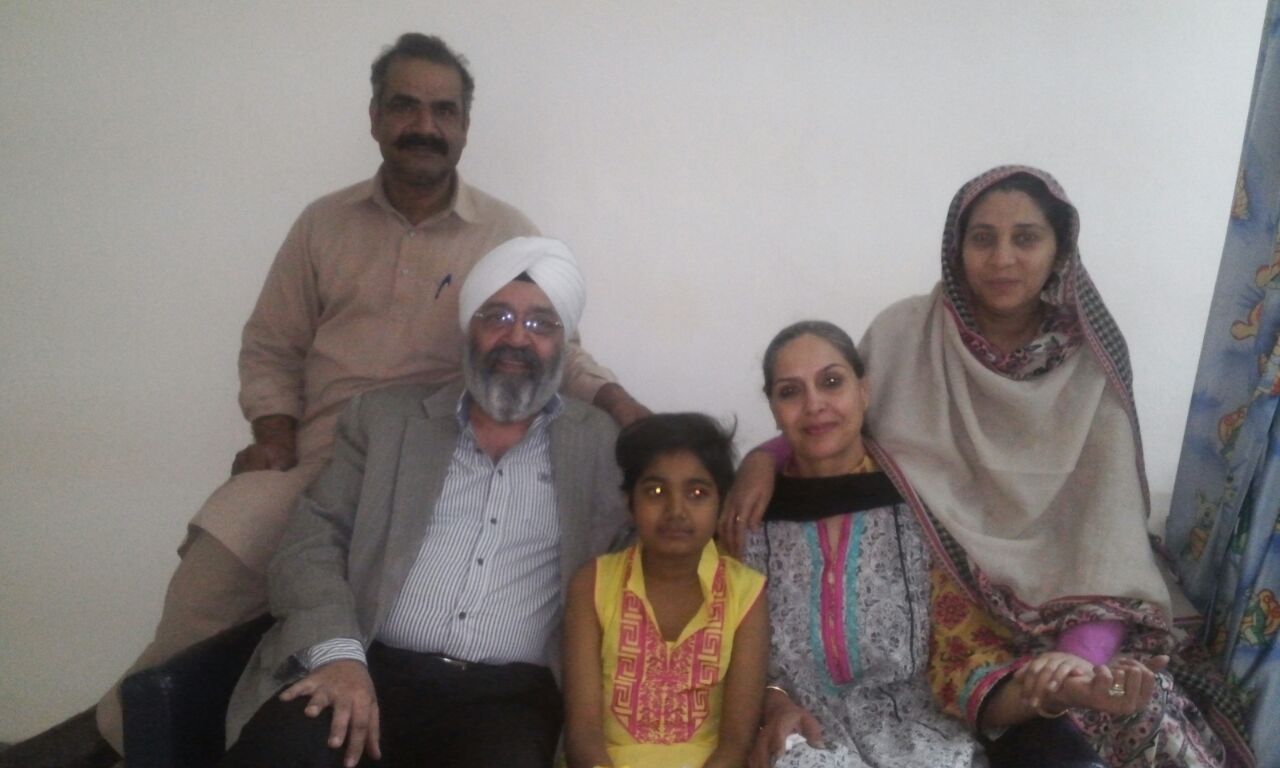 "When Hamid came to India for Abeeha's surgery, we did not know each other. He came with a reference from another old student of the school who I had met when I visited the school. From the moment we met, Abeeha became very fond of my wife Paramjit. When my wife offered to cook special food of Abeeha's liking, she and her family were thrilled as she was finding hospital food boring and tasteless. So, my wife would make different items for her and the family as per their choice. For non-veg items, I used to get items especially from Muslim vendors and cook for them. I knew Muslims only eat Halal. So, when I told Hamid the meat was Halal, he said in Punjabi: 'Bhai jaan, sade waste thuhade ghar di har sha Hak Halal hai (dear brother, for us everything from your house is Hak Halal).' My wife and I were very touched by these words," says Kohli.
Abeeha was successfully operated on, on 16th March 2015. Mrs. Sajjda Imran had to leave for Pakistan due to her health condition. But she left feeling assured that Abeeha would be cared for by Paramjit who treated Abeeha like her own child.
The next few days were critical. Abeeha's health started to deteriorate. But Paramjeet was there with her all the time. For Abeeha, Paramjit was like a second mother. She not only cooked and took food for Abeeha but also for other Pakistanis who were getting treated in the same hospital. The Kohlis also invited some of them home and made the Punjabi delicacies that they were missing. Paramjeet shared duties at the hospital and spent three to four hours there, everyday.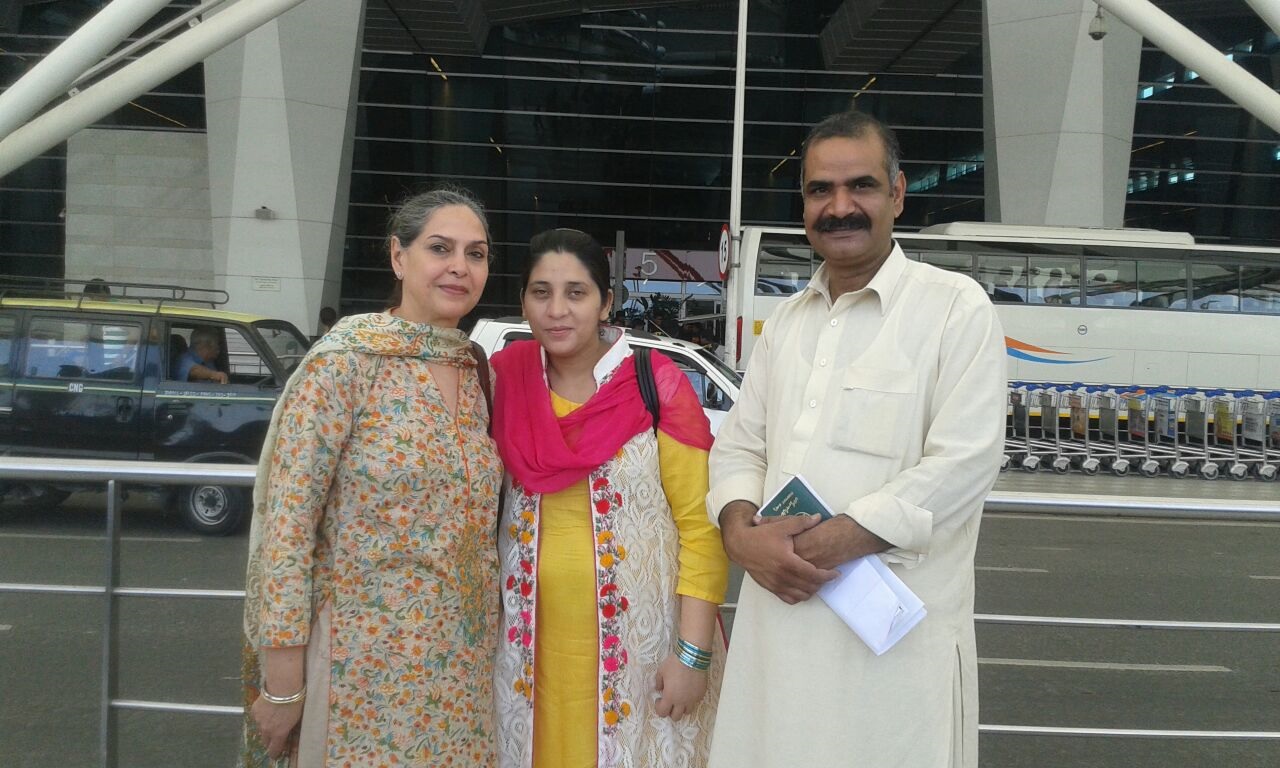 "During our stay of over three months, we never felt for a moment that we were in some foreign country. Rather, the exceptional love, affection and care showered by Kohli sahab and his family made us feel that we were at some hospital in Chakwal," says Imran.
"Kohli sahab, his wife Paramjit Kaur, and their younger son Gurjap Singh Kohli, used to visit us thrice a day. Mrs. Paramjit would cook special food for us. We did not face any problem in Delhi," Imran adds.
But on 7th May 2015, Abeeha lost her battle with death.
"She often used to say that she loved India. She loved this hospital and the doctors here and she would also say that once she was fine she would become a doctor and join this hospital. I miss her!" says Paramjit.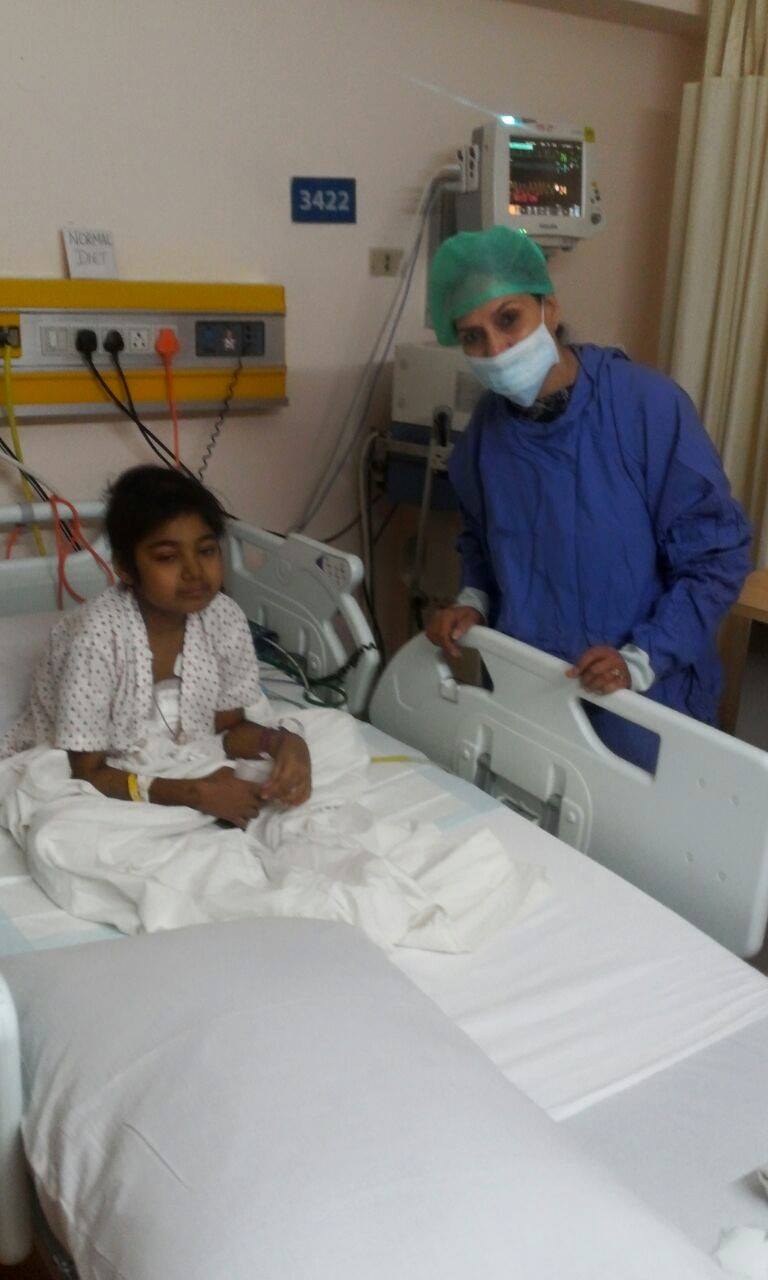 Imran had taken a treatment package of 21 days at the hospital. However, the rest of the fees were waived off by Apollo Hospital. Imran can also not forget the way he was treated at the border by the Indian Army while taking Abeeha's body back to Pakistan.
"When our ambulance stopped at the border, a soldier rushed to the vehicle and put a piece of green cloth on it so that the body could be saved from the scorching heat."

– Hamid Imran
Even though Hamid Imran went with tears in his eyes from India; he did not forget the love that Rattan Deep Singh and his family bestowed on his daughter during their stay here.
"Partition may have divided us and forced us to leave our ancestral birthplaces, but even after 66 years, the love of the people for each other has not diminished. The love of the people will one day overshadow the politics of both the countries and bridge the hostilities between them," Mr. Kohli believes.
Speaking to TBI from his home in Pakistan, Imran said: "I accept my fate. As a father I did whatever I could, with whatever resources I had, for my daughter. As a Muslim, I accept Allah's will."
Imran could not find enough words to express his appreciation for India: "I want people to know what ordinary Indians are like. Not just Mr. Kohli, but the wonderful doctors and nurses at Apollo Hospital who did their best to save my daughter – Dr. Subhash Gupta, Dr. Sibbal, and so many others."
"I also want people to know that people on both sides of the border don't care about politics. The human bond between them runs much deeper," he added.
Abeeha's diary was found full of thank you notes to the Kohli family and to the doctors of Apollo Hospital, Delhi. "I love India!" wrote the little angel, before leaving for heaven.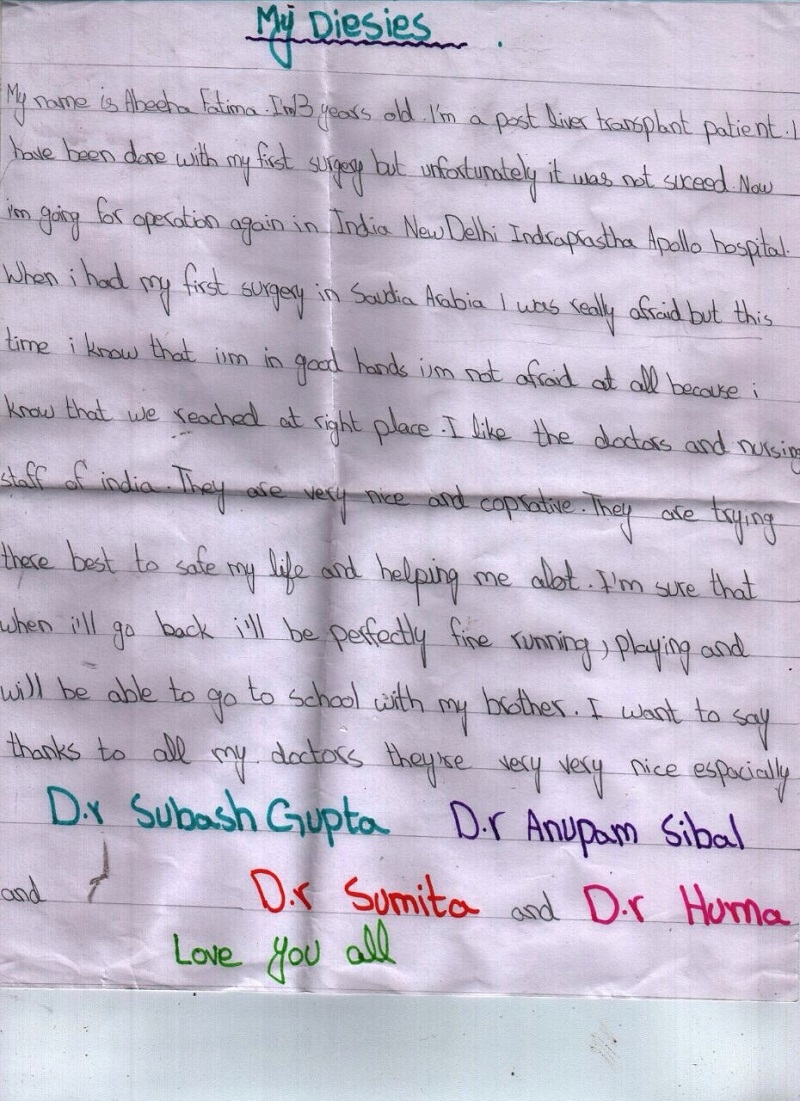 "My daughter was meant to take her last breath in India," concluded Imran. May young Abeeha rest in peace now.
Like this story? Or have something to share? Write to us: contact@thebetterindia.com, or connect with us on Facebook and Twitter (@thebetterindia).
About the author: A Mechanical Engineer, Manabi Katoch has been brought up listening to Tagore's poems and stories, so she is kind of an emotional person within. She loves writing poems and stories on social and political issues. Few of her poems can be viewed on www.poemocean.com and satires on www.mindthenews.com. She has worked with Wipro, Frankfinn and Educomp in the past.
We bring stories straight from the heart of India, to inspire millions and create a wave of impact. Our positive movement is growing bigger everyday, and we would love for you to join it.
Please contribute whatever you can, every little penny helps our team in bringing you more stories that support dreams and spread hope.