Cat Cafe Studio in Mumbai: Since 2010, Mriidu Khosla's inspiring efforts have helped provide medical aid to over 10,000 stray cats in the city. Here's how it started.
Owing to her father's transferable job, Mriidu Khosla (38), an independent filmmaker based out of Mumbai, had switched 11 schools by the time she went to university.
"I'd say it was a culturally-confusing childhood. It was hard for me to make friends, but one thing that kept me going was being onstage. Whether it was writing or performing, art was the only way I could express myself. My parents, though, were conservative and asked me to take up electronics engineering; those four years weren't the finest of my life. I felt trapped and would skip my classes to attend theatre festivals and workshops instead," she says.
Following her graduation from Mumbai University in 2005, Mriidu managed to convince her parents to let her pursue a masters degree in filmmaking from the New York Institute of Technology. It was here that she worked her first job on the production team of Literary Living, a TV show that aired on the now-defunct Black Family Channel.
Besides being starry-eyed in the city that finally let her explore a career she was passionate about, what caught her eye was the dignity with which animals were treated here — a stark contrast to the apathy she'd witnessed in India.
"It was just so real and kind. I ended up visiting a lot of shelter homes and spoke to staffers about the animal abuse cases they took in. So many of them were struggling, but they never made it sound difficult. They were happy to be part of a larger mission," she notes.
Back to Mumbai after her three-year visa expired, Mriidu was inspired to adopt her first pet in 2008 — a five-year-old stray cat with a hernia. "Maximus was hit by a stick or kicked in the stomach — the veterinarian said it was a case of animal cruelty. Unfortunately, she couldn't make it through her surgery. The loss was too much to fathom, but it made me realise that there are too many felines who are not only prone to being abused but also left to fend for themselves on the street," she adds.
So in 2010, when Mridu founded Zycpher — a creative agency that creates digital content and films for e-commerce platforms and fashion brands — its workspace also served as a home to scores of abandoned felines in the city.
It was only in 2015, however, that she co-founded the Cat Café Studio, with her sister Charu Khosla (36) and Jason Moss (35), a batchmate and friend from her NIT days, as a social enterprise to exclusively cater to their needs. Over the past decade, she says, the trio has not only been able to find new homes for more than 2,000 rescued cats but also helped provide medical assistance to over 10,000 of them.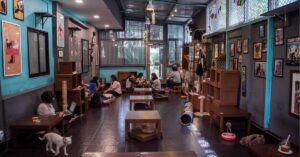 A Paradise for Cats
Located on the ground floor of a one-storey bungalow in Aram Nagar, Versova, the Cat Café Studio offers its visitors a tasteful selection of beverages and snacks with the opportunity to interact with Tao, Otis, Sourdough, Tikka, Noor, Daze, Krispy and Nugget — a few of their 30 resident cats.
Unlike other animal cafés though, people can give these felines a permanent home.
"The dining area is your typical coffee shop, frequented by a lot of writers, journalists and artists who like to work out of here. But when they buy a cake or a milkshake at Cat Café Studio, they know it's going towards a good cause. Besides sustaining operations, all proceeds from our sales go towards sponsoring the food, medication and surgeries for our resident cats," Mriidu tells The Better India.
The separated cat 'paradise' section, as Mriidu calls it, has low-level seating to enable better interaction between visitors and the playful felines. It was only in September last year that the Café resumed its operations after being shut for 15 months in light of the COVID-19 pandemic. Since then, visits to the cat area have been chargeable by the hour, at Rs 200 per person.
"These funds go a long way in ensuring our cats get the care they deserve. We do have a few kittens, but our focus has always been on housing senior and vulnerable cats with special needs, whether that involves physical disabilities, blindness or trauma-induced behavioural issues. They can't go back to living on the streets, and you'll realise why when you come here to interact with them," she adds.
Mriidu points out that for the same reason, the adoption process at the Cat Café studio is longer and stricter than most animal-welfare organisations.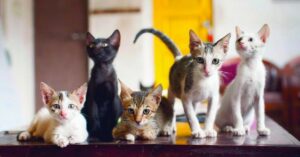 "We have two adoption counsellors who fill in visitors about a particular cat's medical history. They're encouraged to spend as much time with the cats as possible. In fact, the more questions they ask us, the keener we are on seeing them as potential adopters," she explains. "We go the extra mile to ensure that they're ready to commit for at least 15 years, and what would happen in case they get married or transfer to another city. Only when we're assured that they know they're adding another member to the family, do we let the cats go."
"When it comes to our country, the myths around felines are very harsh. So while Cat Café Studio primarily serves as an adoption centre, we also wanted to create a space where people could simply discover what fascinating creatures they are. Our main objective has always been to project them in a positive light. Even when they're jumping about and scratching you, it's not like they're trying to attack you, this is just how they are!" she says.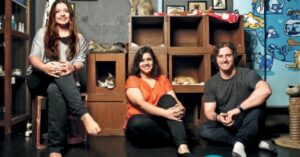 Making a Difference
Mriidu says when Charu finished a degree in dentistry from Bapuji Dental College and Hospital, Davangere, in 2011, she wasn't keen on establishing her practice. The same year, she decided to join her sister as a producer at Zcypher, helping expand its operations from just being a film division to fulfilling photography and design projects. A year later, Jason had also moved to India and joined their team as a cinematographer.
In the past couple of years, Zcypher has built an impressive clientele across various segments, including the likes of Amazon, Tata Cliq, Pantaloons Fabindia, Kay Beaty, GQ and Vogue. But when the trio first started working out of a small studio a decade ago, what set them apart was their collective passion for animals that led them to shelter vulnerable stray cats in Aram Nagar.
"We also fed and took care of dogs in the area, but cats were much easier to accommodate in the limited space we had. We were quite aggressive at the time and constantly got into fights with people who'd throw stones at strays. Some others would spot an injured one but just went about their business. Jason was especially appalled but we never thought that he was trying to say bad things about our country. He was right — here were animals in distress and there was a prominent lack of observation. It made me realise how blinded we can be as a community," shares Mriidu.
"We were not scared to pick up serious cases where a cat had just been run over and probably had no chances of survival. Amidst our work at Zycpher, we would continually learn about the treatments they needed and give them medication. Charu could help because of her medical background and Jason, too, knew a lot because his mother was a nurse," she says.
"We started putting out leads on Zcypher social media accounts and interacting with animal feeders and NGOs in the city. Eventually, people started showing up for adoptions. We made a dedicated cat space out of our studio's terrace and started serving them tea and coffee. My mother also brought in cakes and pastries she'd baked herself. We did it to get people to spend more time with our cats, but it was a good way to impress any potential adopters," she adds with a laugh.
But the trio soon realised that to ensure the sustenance of their efforts, they needed to establish a separate entity to streamline the adoption process. In 2015, they branded the Cat Café Studio after renting and redesigning a bungalow in the same neighbourhood. Zycpher, too, functions out of the bungalow's top floor.
"We couldn't indefinitely rely on Zcypher's profits to take care of the cats, but another reason why we moved out was that we wanted to create a holistic environment for adoption. At the Cat Café Studio, people understand the felines' distinctive personalities and make a decision only after they feel connected with them," she says.
Even as revenue from the Café's sales helped a great deal in sponsoring the requirements of these cats, says Mriidu, the trio also wanted to set up a dedicated facility that would offer affordable medical assistance to strays across Mumbai.
"The smallest of check-ups at a private veterinary clinic cost at least Rs 500. A lot of the rescued cats were brought to us by people living in chawls and slums, and they definitely can't keep up with such expenses," she notes.
Soon after they turned to external funding, the trio received a Rs 9 lakh donation from the Macquarie Group and set up their NGO unit, The Feline Foundation in 2017.
"During our early days, we had got quite close to Dr Hitesh Swali, a veterinarian who ended up heading our medical operations at the Feline Foundation. It took us two years to set up a community clinic in another nearby bungalow, but we now offer consultations and treatments for as low as Rs 150," she says.
Mriidu points out that the Cat Café Studio is often mistaken to be an NGO, but it only houses rescues from The Feline Foundation. "It's the veterinarians' call to determine whether or not the cats are fit enough to go back onto the streets. But if not, they find a home with us," she says.
Presently, the community clinic at The Feline Foundation has three full-time veterinarians and two veterinarian assistants who not only provide deworming and sterilisation surgeries but also enable the hospitalization of critical cats for as low as Rs 250 per day.
"Our sterilisations are priced at Rs 1,800 for male cats and Rs 2,500 for female cats. This is much lower than procedures at private clinics, which cost up to Rs 12,000. We also have a dedicated ward where people can leave their cats for up to a week after," she says, adding that the clinic recently crossed 6,000 sterilization surgeries.
"The whole idea was that now a person can even walk with 10 cats and not worry about going broke. What's more, if you come in with a cat that is in bad shape or even dying, and don't have a single penny for their treatment, we fundraise the procedural costs on Ketto for you. It might be as small an amount as Rs 7,000, but we've met our goals every single time," she says, adding, "So far, we've received funds from all over India. We've also received the donations of anaesthesia gas, an X-ray machine and an incubator, which play a crucial role while attending to critical cases."
Mriidu's film 32 White (2019), a documentary drama exploring the high suicide rates of dentistry students in India, was received well at international film festivals. She's presently focusing on funding and releasing her pet project Feeders, a documentary on the hardships faced by women who feed thousands of stray animals across the country.
"Animal feeders played a huge role in helping out with our rescues and treatments. Our team, too, has a long way to go, not just in terms of hopefully opening more adoption centres, but helping change the general perception of animal welfare in the country," she notes. "For some reason, fighting for animals [rights] takes the lowest precedence, but a lot of people want to help out and don't know where to get started. I know we can create a much larger difference with collective, well-thought systems."
For further information, you can contact Cat Café Studio and The Feline Foundation.
Edited by Yoshita Rao