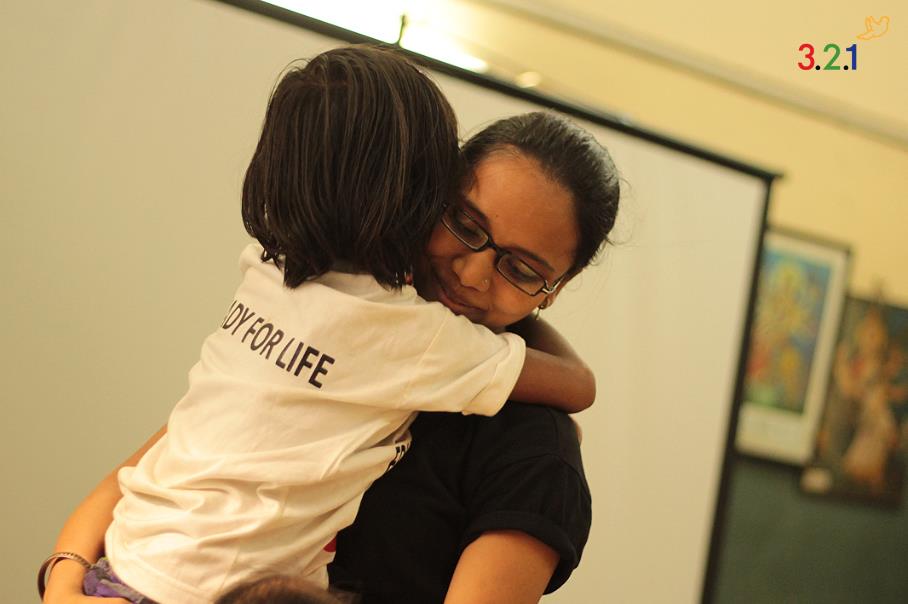 The story of Seema Kamble, who started off as an Akanksha student, did the Teach For India Fellowship and now works with 3.2.1 Education Foundation. Seema's story and her journey display her true commitment towards solving the education crisis in India.
Today, Seema is the Head of Academics at the 3.2.1. Education Foundation. From leading curriculum design to overseeing student learning and teacher training, she does it all with humble aplomb. Armed with her zeal for an excellent education for every child, she goes about her work with the aim of learning something new every day. Looking at Seema Kamble, one simply sees a headstrong, confident young woman ready to take up any challenge that comes in the way of her passion for education.
The Past
Seema comes from a low-income community – both her parents have served with the Indian Defence Forces. It was in her 5th grade – when the family had to shift from their erstwhile home in Colaba Defence Quarters to Worli due to financial problems – that her experience of living within the community began. It was a confusing time for Seema – having been used to an environment of discipline, she suddenly had to learn to cope with chaos. As an added challenge, she was forced to shift schools from the private Navy Public School that she used to attend earlier to a municipal one – a school where the emphasis was on literacy rather than on education, and on rote learning rather than on understanding. She even faced corporal punishment for the first time – the acceptable method of school discipline back then. It was her first encounter with education inequality and, in her words, "I wasn't able to cope with the dip in my educational standard." It was also tremendously difficult for her to focus on studies while living in the community as there were always disturbances and distractions that threatened to sway her concentration. It was around this time that Seema began to lose faith in herself and started to feel like she didn't belong.
Crossing Paths With The Akanksha Foundation 
Akanksha had just started a learning centre in Nehru Planetarium, Worli. Seema was in 6th grade at the time and she went to see what it was all about, thinking it's probably a system of free tuition classes for school children. Her first reaction was that of surprise – Akanksha was nothing like the school she'd been attending for the past one year. There was immense focus on values and mindsets and an astonishing sense of possibility. The teachers at Akanksha believed in their kids no matter what – and that led her to join. From the very beginning, Seema's teacher Rajshree Doshi pushed her towards excellence. "She believed in me and walked with me every step of the way with the aim to help me rise to my own expectations."
In the Maharashtra municipal school system, English medium schools are only till 7th grade. So when Seema reached 8th grade, she had to shift back to a private school. Since the learning standards there were higher than that of the municipal school she had been attending, her academic performance dipped again and old fears of being inadequate came rushing back. 'Rajshree Didi', as Seema refers to her, patiently and lovingly saw her through it all. "I was an average student and would often try and bunk the Akanksha classes – for no specific reason. Rajshree Didi would come to my house every time and drag me back!" That was the kind of commitment the teachers at Akanksha had towards their kids. It was in her 10th grade that Seema's mother spoke to her about substituting her Akanksha classes with tuition classes instead. "She said that I was the only remaining hope of the family and wanted me to prove to the world that no matter the circumstances that we had encountered, they should not be the excuse for me not attaining an excellent education. I ran to Rajshree Didi and implored her to do something, anything to help me stay!" Rajshree subsequently spoke to Seema's mother and she stayed with Akanksha till the end of her school term.
A Sense Of 'Giving Back'
Seema graduated with a B.Com from Lala Lajpat Rai College of Commerce & Economics, Mumbai. Before she joined college, she began interning with Akanksha in the HR Department. The idea of wanting to give back had germinated in her mind. Once college started, she started to volunteer at the Akanksha centres as a teacher with the aim of transferring her learning to more kids – to be the Rajshree Didi to another Seema. "I would go to the centre in the morning, then head to college for my classes and from there go for tuitions – it was hectic but so immensely satisfying! Even though I would reach home every day only around 10 pm, I also started to use my time after that teaching the kids in my community. The purpose was clear – empower as many kids as I can."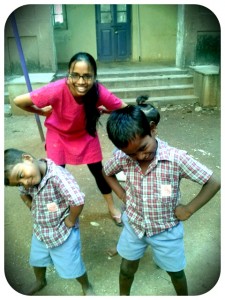 Teach For India and The Fellowship Experience
Seema had started working with Akanksha full time in PR & Marketing after finishing college when the idea of doing an MBA struck her. "It was the career option of choice back then and the thought of pursuing a degree that could help me achieve financial stability – given the struggles my family & I have seen – seemed very attractive. It became my dream and I started to prepare for the entrance exams with lots of help from Sriram Bhaiya at Akanksha." Around the same time in 2009, Teach For India was getting ready to begin operations and welcome its very first cohort of Fellows. Through Shaheen Mistri – Founder Akanksha Foundation & Teach For India – Seema was always connected to TFI but never really thought of joining as a Fellow – "Even though Shaheen Didi urged me to apply, I gave my MBA entrances instead." 2010 came and Seema found herself sitting in an Akanksha conference room as Shaheen explained to her the importance of becoming a part of the TFI movement – it was this conversation that finally convinced her to apply. "I was apprehensive that I might not be on par with the knowledge and skill-set level of the other applicants but I was also confident of my understanding of the community and the kids." Her acceptance to the TFI Fellowship came at the same time she got accepted to Welingkar Institute of Management, Mumbai with a 100 percent scholarship to their MBA program. But by that time, Seema had already decided – she'd rather work towards achieving educational equity in her country. "It was too easy to use an MBA as an escape route, it was harder to stay and work to solve the problems I've encountered myself. Being someone who thrives on challenges, my path automatically became clear."
The Fellowship was extremely challenging – especially because she chose Pune rather than Mumbai as her placement city in order to work outside of her comfort zone without the distractions of family & the community. "In my 1st year, I remember coming back crying almost every day as I berated myself for being a horrible teacher to my kids." There was no dearth of difficulties – from having monkeys in her classroom that shortened her students' already limited attention span to the principal doubting her teaching abilities just because she was less than half her age. But there were also instances that restored her faith – an impulsive hug by one of her students, the school principal's appreciation of her work with the kids, her students finally starting to do well in school exams. By her second year, Seema started to get involved with the Pune Municipal Corporation as well – helping out wherever she could – be it curriculum design or funding. This experience is what developed her in-depth understanding of education at its very grass root level. She finished my Fellowship with a musical put up by her kids on Charlie & The Chocolate Factory – a dream come true. "It was funded by the government – there was actually an instance where, when my kids were making a presentation on the musical to a group of govt. educational officers, one of them simply couldn't believe that they were municipal school kids!"
Career With The Education Sector and Joining 3.2.1.
Education became a default option to pursue after the Fellowship – "I had seen the changes that could be brought about at a small level and wanted to be able to scale it up from a macro perspective." Gaurav Singh, a TFI 2009-11 Fellow, first put the idea in Seema's head. "I remember him telling me at Teach For India's first InspirED conference that if he ever started a school of his own, he'd like me to be a part of it."  In 2012, as she was filling out TFI's placement applications, Seema came across the vacancy of a kindergarten teacher at 3.2.1. Being apprehensive about taking up a a full time teaching job due to persistent health problems, she digressed in applying but Gaurav soon called to change her mind and the decision was made. "We started off with a group of five Teach For India Alums and the job description was to be all hands on deck! Together, we were recruiting kids, looking for funding, hunting for school premises & designing the curriculum all at the same time! We ran from house to house in various communities asking for enrolments – and though we faced the hurdle of having no standing/reputation to base our pitch on, we also had 75 kids whose parents put them with us without question or objection. I remember us not even having a school venue 12 hours before our formal school opening! But the journey was fun and we were all united by one mission." Seema taught her kindergarten class for the first year and went on to additionally become the grade leader in the next – finally rising to her current role as Head of Academics.
The Indian Education Landscape and the RTE
"Education inequality is still being perceived as a problem rather than a crisis in India. When you are faced with a problem, you try to look for solutions. Let's try this or try that. In the case of a crisis, you jump straight in and do whatever you have to survive. That is the scale at which we need action and reaction on the subject of education in our country today. We also have a lot of ancillary problems that lend to the overall educational crisis. Health & Hygiene for example. If sanitation levels in a particular community are low and it results in the child falling sick repeatedly, how can we expect him to attend school regularly and be able to pay attention in class? Or take Poverty for instance. In a family who has 8-9 members with an average total income of Rs. 5000 per month, how could they possibly focus on the education of their children as a priority over basic hunger & survival? Another thought that comes to mind is that teaching as a profession is no longer aspirational – teachers are underpaid & undervalued – how can that possibly help in attracting talent? If we don't have the right kind of talent, how can we ensure the idea of an excellent education? As a nation, we need to adopt a holistic approach to be able to make any real impact." A viewpoint that strikes home.
Seema also feels that though a lot of policies within the RTE do bring in results – "With the Mid-Day Meal Scheme, the idea of a free meal in school atleast helps ensure that children from low income communities attend school regularly!" –  but at the same time, a lot of these policies are not thought out all the way through. For example, the RTE has a plan to ensure student enrolment but not for retention, and the idea of education within the RTE is defined by literacy – the ability to read and write – rather than actual learning and overall child development. "The policies need to corroborate with learnings at the ground zero level with enforcers like teachers, parents and school principals. What might make sense on paper might completely fall through in action. It also makes sense for the government to partner with NGOs who've been working in the education space – in a non-restrictive way. It'd definitely help bring innovative and far-reaching solutions on the table."
There are times in your life when you witness that rare display of courage, conviction, compassion and commitment. The ones that compel you to relook at your own life choices and become inspired to do more. Seema has been one such instance and my hope for the world is to see many more Seemas marching to the forefront of the problems we all seek to address. More power to you Seema!
Written by Alankrita Khera – Manager, Communications, Teach For India 
Tell Us More
We bring stories straight from the heart of India, to inspire millions and create a wave of impact. Our positive movement is growing bigger everyday, and we would love for you to join it.
Please contribute whatever you can, every little penny helps our team in bringing you more stories that support dreams and spread hope.